Expert Review
Peugeot 308 SW Estate (2017 - 2022) review
The Peugeot 308 has some very tough rivals out there in the shape of the Ford Focus Estate, Volkswagen Golf Estate, Vauxhall Astra Sports Tourer. So, can it keep pace with the best?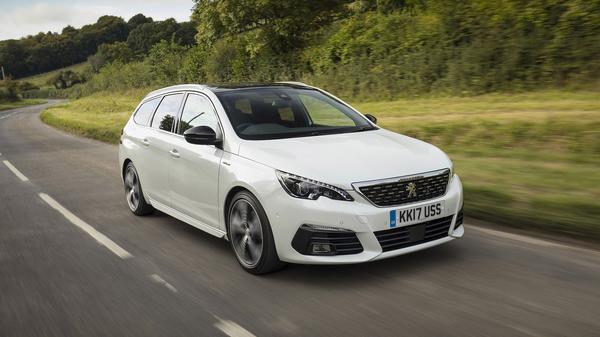 Words by: Ivan Aistrop
Published on 7 November 2019 | 0 min read
The Auto Trader expert verdict:
The Peugeot 308 SW (or 'station wagon') is a family wagon that competes with exceptionally good rivals such as the Ford Focus Estate, Vauxhall Astra Sports Tourer and Volkswagen Golf Estate. It sets itself apart from the rest with its style, its high level of equipment and its civilised road manners.
Reasons to buy:
Attractively priced and well equipped
Impressive cabin quality
Big, practical boot, even for an estate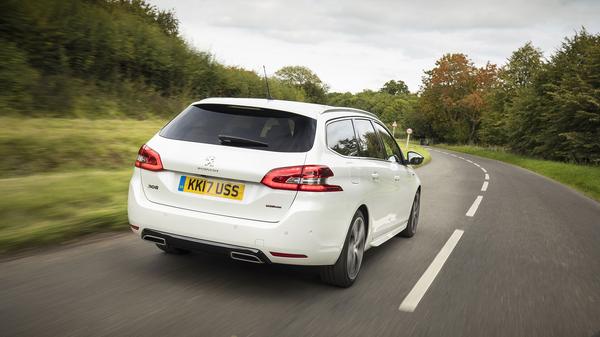 Running costs for a Peugeot 308 SW
The Peugeot 308 SW isn't quite as affordable to buy as some of its rivals, but its resale values are competitive, which will help keep long-term running costs under control, and the price is reflected in the impressive amount of standard equipment you get for your money. Where the 308 does make a really good case for itself, though, is on efficiency. There aren't many rivals that can match it on that score, which will inevitably save you money on fuel and tax.
Expert rating: 3/5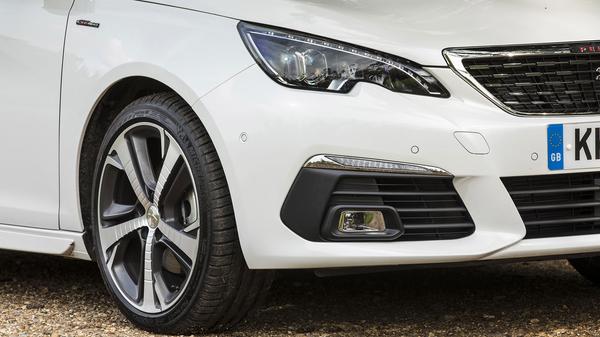 Reliability of a Peugeot 308 SW
Peugeot's reliability record has been very solid indeed in recent years, and in 2019, things got even better when the brand took top spot in the manufacturer rankings of the JD Power UK Vehicle Dependability Survey. The car comes with a three-year warranty, where the first two years are unlimited mileage, while the third is limited to 60,000 miles. That's comparable with most rivals.
Expert rating: 4/5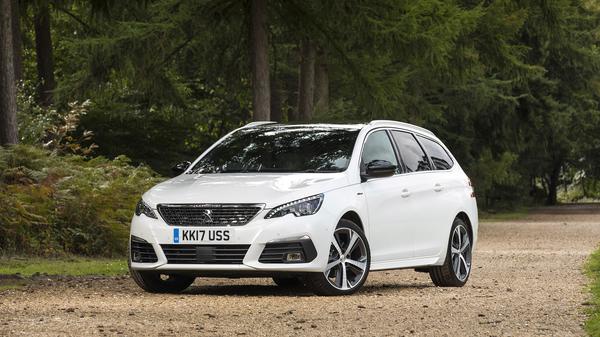 Safety for a Peugeot 308 SW
The standard roster of safety kit includes six airbags and is supplemented by various optional safety packs. One such pack includes active cruise control, which can brake automatically to keep a safe distance from the car in front and return to a preset cruising speed when the road is clear. Also available is autonomous emergency braking, which can warn of an impending collision and, if no action is taken, apply the brakes to avoid or minimise the impact. Many rivals have this technology fitted as standard, but it doesn't cost too much to add to the 308 as an option.
Expert rating: 3/5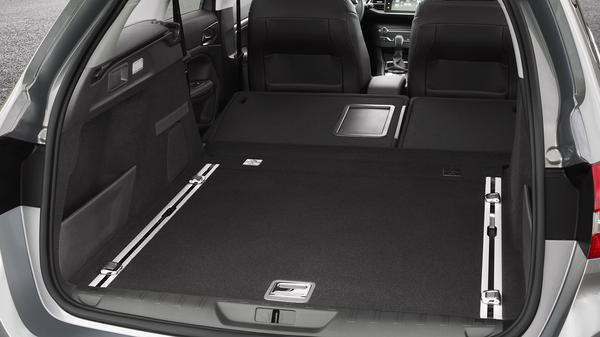 How comfortable is the Peugeot 308 SW
Judged by the norm of the class, the 308 is reasonably spacious, with adequate head- and legroom for four adults, or five at a pinch. The boot, on the other hand, is among the class best at a whopping 660 litres, and that expands to 1,775 with the rear seats folded down, putting it well ahead of its most obvious rivals. Best of all, it could hardly be easier to swap between the two configurations: the rear seats drop down with the use of just one lever to leave a perfectly flat floor, and they're easy to raise back to the upright position again. It's also neat that the luggage cover can be stowed under the floor when not needed, and that the boot sill is nice and low, making it easy to load and unload. There are a few ergonomic quirks to be found in the cabin. The strange driving position (you look over the small steering wheel – rather than through it – to see the dials, meaning some drivers will have to set the wheel lower than is comfortable) won't be to all tastes, and there's also the fact that pretty much everything (even the air-con) is controlled by the slightly fiddly touchscreen system, but this does result in a nice clean design for the interior which – along with the impressive standard of materials – helps make the cabin feel sophisticated. On the road, the 308 feels comfortable enough most of the time, and it's only on the very worst lumps and bumps that the suspension struggles to cope. You're only exposed to a very low level of mechanical noise and vibration, too, which also helps make the 308 a very relaxed and civilised car to drive. It's not the sharpest-feeling car of its type, with quite a bit of body roll, and steering that's rather numb and slow, but it does feel stable and predictable in the bends. The sportier GT models have lowered suspension to give sharper responses (and a slightly firmer ride as a result), but again, the remote steering and the body's reluctance to change direction give the car a slightly languid character.
Expert rating: 4/5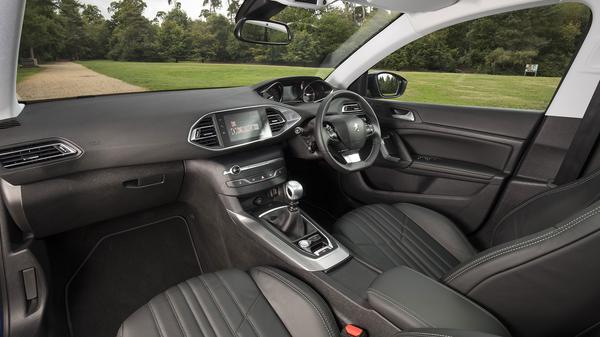 Features of the Peugeot 308 SW
All versions of the 308 – even the entry-level Active version – come with an impressive amount of standard equipment that includes climate control air-con, automatic lights and wipers, rear parking sensors, alloy wheels LED daytime running lights and a touchscreen infotainment system with sat-nav, DAB and Apple Carplay/Android Auto. Allure trim adds front parking sensors, a panoramic roof and part-leatherette upholstery. GT Line cars add a bunch of racy styling upgrades and a reversing camera, while GT trim gives you even more styling goodies, keyless entry and go, and leather and alcantara seats.
Expert rating: 5/5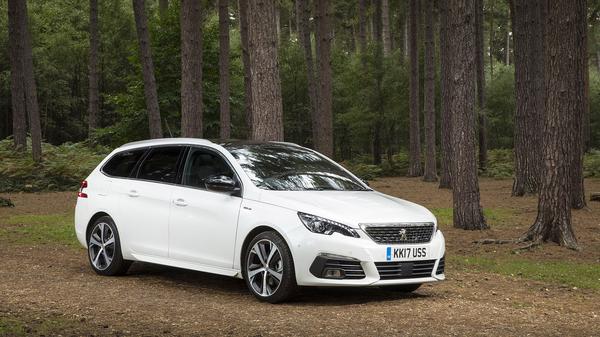 Power for a Peugeot 308 SW
Peugeot has an excellent reputation for producing strong, frugal diesel engines and the latest 130 horsepower 1.5-litre unit is an absolute a pearler. It's a little grumbly when you fire it up and first pull away, but once it's up and running and you learn to use its strong mid-range power (changing gear early, rather than holding on and revving the engine hard), it's exceptionally smooth, super-flexible and surprisingly rapid. The engine is available in 100 horsepower format, too, but we haven't tried that one yet. Of more interest to more buyers, though, will be the turbocharged 1.2-litre engines, and if anything, they're even better. The 110- and 131 horsepower versions have all the gutsiness you need for getting around briskly and easily, provided you're prepared to keep the revs on the boil. The little engine is also impressively smooth and quiet, adding refinement to its list of virtues. The GT model has a 2.0-litre diesel engine with 177 horsepower, which can sound and feel quite gruff and rattly, especially under hard acceleration, but it does turn the 308 into a bit of a rocket ship thanks to its exceptionally muscular mid-range power delivery.
Expert rating: 5/5