Expert Review
Hyundai i30 Fastback (2020 - ) review
Updated with fresh looks, new tech and fuel-saving mild hybrid tech, the Hyundai i30 Fastback's distinguishing feature is offering a quietly quirky alternative to the hatchbacks it competes with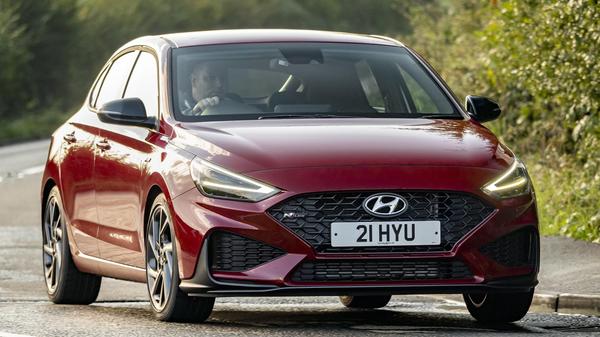 The Auto Trader expert verdict:
Available new from £21,250
Basically a regular hatchback with a boot, the i30 Fastback is a quirky option in an area of the market dominated by more regular five-doors, including the standard i30. The arrival of a new generation VW Golf, and the Seat Leon, Skoda Octavia and Audi A3 based on the same foundations, has forced rivals like Hyundai to up their game and this new model introduces new tech, revised looks and the option of mild hybrid engines in an effort to keep pace. If you're after this size of car but don't want a conventional hatchbacks alternatives to the i30 Fastback include saloon versions of the A3, Toyota Corolla or Mercedes-Benz A-Class, against which the Hyundai looks great value but struggles to make its voice heard.
Reasons to buy:
Comfortable
Smooth mild-hybrid engine
Good spec for the money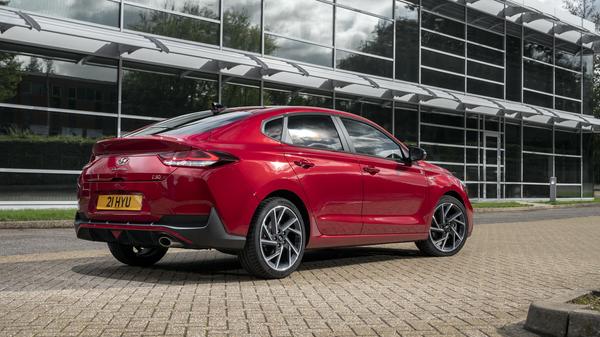 Running costs for a Hyundai i30
Perhaps reflecting the Fastback's niche appeal Hyundai has restricted the model range to just one trim and a single petrol engine, now with
mild hybrid
assistance in the name of improved efficiency. These systems are now becoming widespread and, although they can't power the car on the electric motor alone like the Toyota Corolla saloon you might also be considering, they are a cost-effective way to better CO2 and mpg numbers. We got close enough to the official 47.1mpg of the automatic version we tested to suggest these figures are believable and on a par with the equivalent Audi A3 35 TFSI saloon and Mercedes A180 saloon. The Hyundai is also cheaper. The bigger thorn in its side is the comparably priced
Toyota Corolla saloon
, which is significantly better for
company drivers
on things like
Benefit In Kind
thanks to its full hybrid powertrain.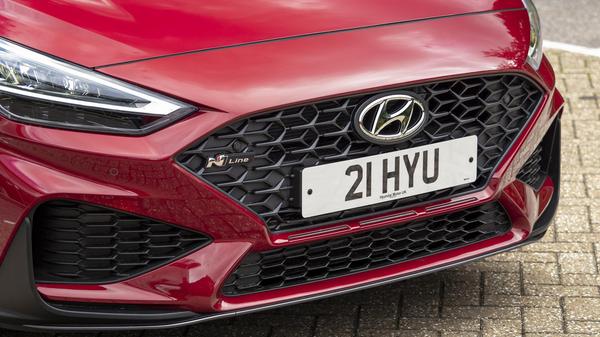 Reliability of a Hyundai i30
Hyundai typically scores well on reliability, and backs this up with a five-year warranty to cover you for the duration of a typical 48-month
finance
term. Unfortunately Toyota offers the same on the Corolla, meaning no advantage there. Your five-year cover does, however, include roadside assistance and five annual 'health checks' for your Fastback.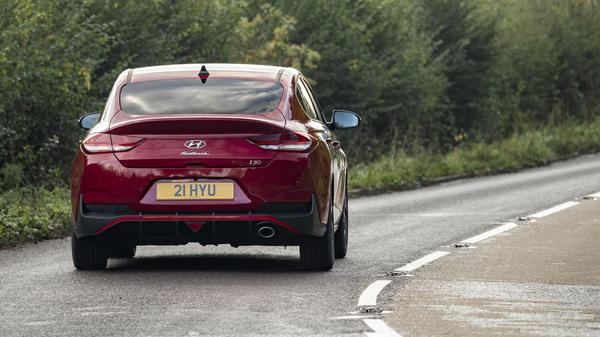 Safety for a Hyundai i30
With just one trim option to choose from on the Fastback there is no need to deliberate over which safety features you need because they all come as standard. These include driver attention warning, alerts (and then tweaks to the steering wheel) if it thinks you're drifting out of your lane and all the usual airbags and automated emergency braking you'd expect. New for this model is a warning if you fail to react to the car in front pulling away at the lights or in a traffic jam, the threshold for the system even more impatient than short-fused fellow motorists who toot their horns if you don't pull away the second the lights turn green. And about as annoying. Luckily you can turn it off if you're willing to delve into the menus.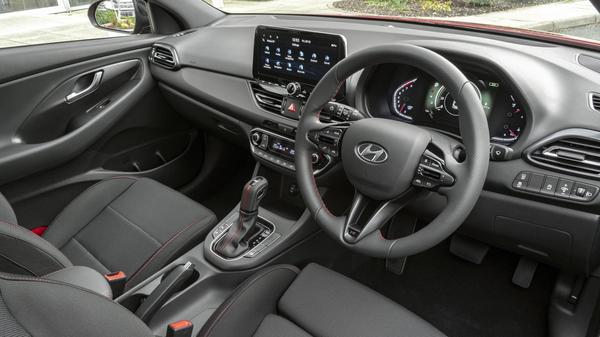 How comfortable is the Hyundai i30
Although the sole trim line carries the sporty N Line branding inspired by Hyundai's hot hatch models the Fastback has a leisurely, comfort-oriented vibe that is actually rather pleasant compared with all the 'sport' pretensions of its rivals. True, this chilled approach extends to its cornering and it takes a distinctly conservative approach to turning into bends but, so long as you're not in a real hurry, that's not a problem. There's an unflashy functionality to the i30 Fastback's interior, which means it has all the adjustment in its seating position you need, has typical rear space for a car of this size and does everything you'd wish of it with no fuss at all. It sounds like damning with faint praise to say there's nothing stand-out here but nor is there much to criticise, though if you want a little more pizzazz many rivals offer a more interesting place to spend your time. The Fastback shape adds a little more boot capacity compared with a regular hatchback, albeit with a sloping rear window and well-like drop over the big sill to the boot floor.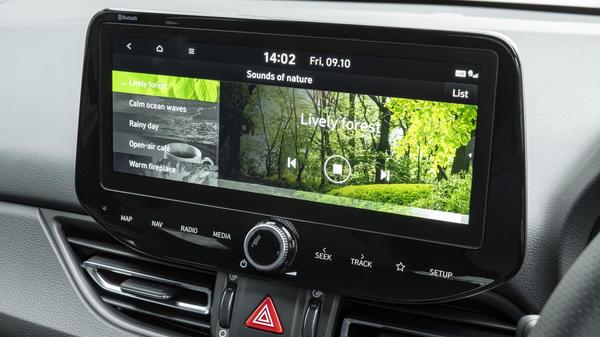 Features of the Hyundai i30
With only one trim option on the Fastback and metallic paint as the only cost option there's no need to spend ages deliberating over the brochure or configurator because everything else is included, which is a refreshing change compared with the German brands and their labyrinthine pricelists and hidden extras. The most obvious new feature in an otherwise functional interior is the big new touch-screen in the middle and a wide range of functionality that even offers a range of stress-busting 'ambient' soundscapes, including footsteps crunching on fresh snow, the chatter of a busy café (for those who remember such things) or crackle of a log burning stove. True, the latter does make you worry the car might have caught fire but it's a characterful touch in an otherwise unflashy package. Once that novelty has been enjoyed you can explore the actually useful features, which include a five-year subscription to Hyundai's Bluelink connected services, live updates for the built-in navigation and full wireless connectivity for your phone via
CarPlay or Android Auto
.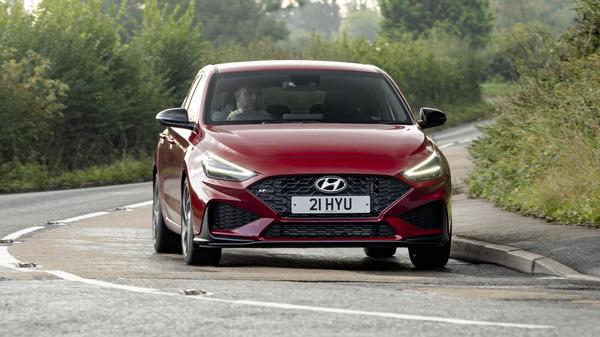 Power for a Hyundai i30
The single engine option on the regular Fastback is a 1.5-litre four-cylinder turbocharged petrol and the option of a six-speed manual or seven-speed automatic gearbox. The mild hybrid system expands the scope of the fuel-saving stop-start system, to the point where on the manual it automatically 'decouples' the engine from the gearbox when you're off the accelerator for greater efficiency. We'd be interested to try this out but our test car was the automatic, which is smooth and unobtrusive in keeping with the rest of the car's understated image. The 160 horsepower is healthier than the equivalent engines in the Audi A3 or Mercedes A-Class and the Fastback ticks along without any fuss or, fair to say, much excitement. Meanwhile, a manual handbrake is a sufficiently rare feature on a modern car we were initially confused at why the car didn't want to pull away, given we've become so accustomed to self-releasing electronic parking brakes. We're here to make these embarrassing mistakes so you don't have to…