Expert Review
Ford Mustang MACH-E SUV (2020 - ) Electric review
Ford takes EVs mainstream in typically aggressive style, the Mustang name reinvented for the electric age as a zero-emissions crossover
The Auto Trader expert verdict:
Available new from £42,530
Ford's first pure electric SUV carries the mighty Mustang badge. While it's no muscle car, there's more than a whiff of exciting performance and desirability about it, and the cost is almost a joy. You could win a brand-new Ford Mustang MACH-E in January's electric car giveaway! Head over to our giveaway page for more info.
Reasons to buy:
Good electric range
Excellent value
Plenty of space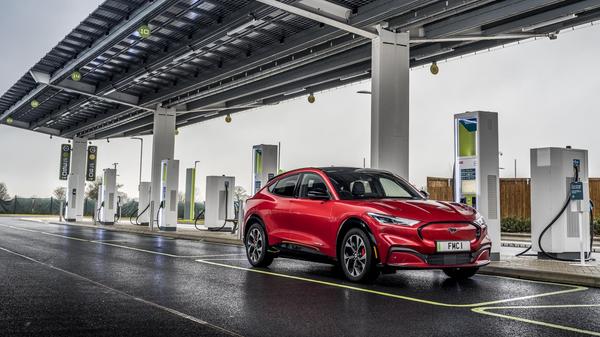 Running costs for a Ford Mustang MACH-E
The upfront price of the Mustang Mach-E is appealing. We're used to medium or large electric cars commanding premium prices, but the Ford starts at just over £40,000 at launch which, considering plenty of tiny city electric cars cost just £10,000 less, suddenly feels like value for money. The cheapest model is the rear-wheel drive standard version, rising up to all-wheel drive with an extended range thanks to a
larger battery
. When you also consider the far lower ownership costs of an electric car (no
VED/'road tax'
, low
Benefit In Kind
tax, no congestion charge, cheaper servicing, cheap electricity and so on) you start to wonder if this might be the most wallet-friendly electric car launched so far, in terms of bang per buck.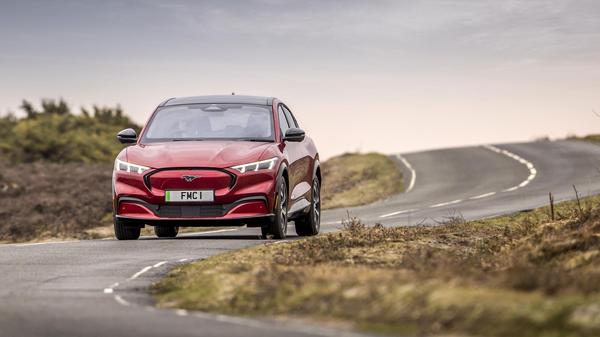 Reliability of a Ford Mustang MACH-E
We have high hopes here. Ford as a brand normally fares mid-table in reliability indexes and owner feedback, and, given Ford's legacy, you'd hope for fewer build-quality glitches than the far newer Tesla. Ford's infotainment system is usually pretty reliable too, unlike some of its glitch-prone competitors. There's an eight-year battery warranty, which is more-or-less standard across the industry now.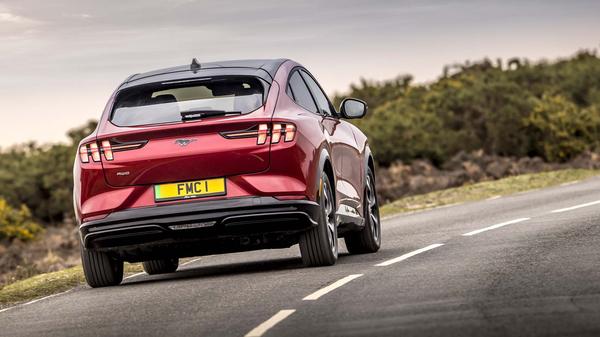 Safety for a Ford Mustang MACH-E
There's a huge amount of safety kit offered on the Mach-E, from the usual blind-spot warning system, to front and rear parking cameras. The standard 'Pre-Collision Assist' pack gives you collision mitigation, forward collision warning, dynamic brake support and evasive steer assist. Adaptive cruise control and lane keeping assistance are also standard while the 'Technology Pack' on higher-spec models includes automated parking assist and a 360-degree camera. The only unique feature to Ford is the funky new electronic keypad on the door pillar, which lights up when you approach, and allows you to key in a code to unlock the car. Gimmick? Sure, but it does look cool.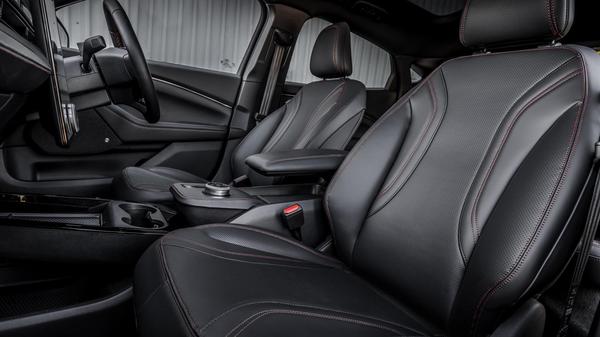 How comfortable is the Ford Mustang MACH-E
We love the passenger and boot space inside, and the hands-free electronic tailgate, which opens to provide a wide, flat platform on which to perch at the end of a walk. Jury's out on the fancy new button to open each door; it might prove annoying in the long-term. You can play around with the amount of sound that intrudes into the car to your heart's content. Activate or deactivate the fake engine sound then adjust the driver modes for more or less noise. We preferred it all off, and to revel in the sound of silence. The ride is firm, as so many two-tonne electric cars' rides are. If you want a silky-smooth ride, you'll have to pay more money for a car with dreamy air suspension.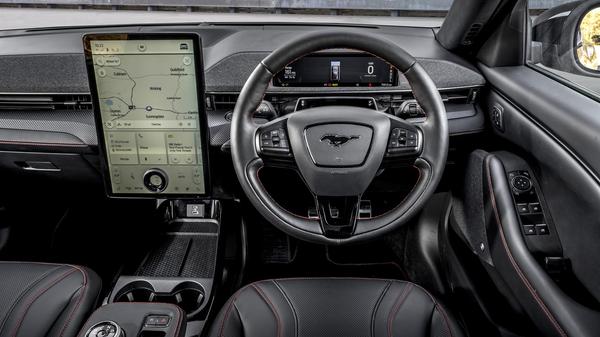 Features of the Ford Mustang MACH-E
Ford's Sync infotainment system remains pretty dull to look at (have they seen Peugeot's twirling 3D graphics?) but, in the Mach-E, it now occupies a giant tablet screen, akin to those found in Teslas. The only actual button is a massive silver donut-shaped dial for the volume which perches on the glass screen, looking quite cool. You get a wireless phone-charging pad, which is rapidly becoming a must-have for drivers who constantly lose charging cables (which is to say, everybody), and a very futuristic glass roof, with no messy blind, which stretches the length of the cabin and curves gently round it. There are a couple of different storage options between the front drivers and an arm rest, but fewer places for rear occupants to store their belongings.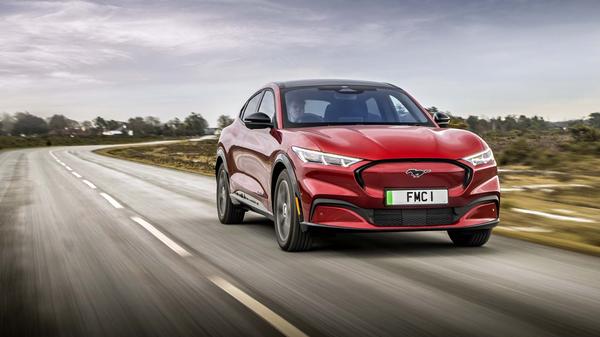 Power for a Ford Mustang MACH-E
There are four versions on offer. In ascending order of cost they comprise Standard Range with rear-wheel drive (maximum range 273 miles), Extended Range with rear-wheel drive (379 miles), Standard Range with all-wheel drive (249 miles) and Extended range with all-wheel drive (336 miles). The added weight of the all-wheel drive system is what pushes the range down. We tested the last version, which offers 351 horsepower and 0-62mph in 5.8 seconds. There are three drive modes: Whisper, Active and Untamed. You can guess which soaks up electricity the quickest. But it's also the most fun, with a background growl and an instant oomph from the pedal. This isn't a sports car - don't let that Mustang badge fool you - but it is a swift, chunky, smooth SUV with a real quality flavour about it. And at that price, we're not complaining.