Expert Review
Audi Q8 SUV (2018 - ) review
The Q8 is a sporty-yet-luxurious flagship for Audi's SUV range, and it delivers expressive styling and an ultra-modern interior. Read our review to find out how it measures up.
The Auto Trader expert verdict:
Available new from £70,340
Audi's flagship SUV is designed to be a sportier accompaniment to the company's other big SUV, the Q7, and to that end, it has a much more aggressive look. This styling may prove to be as divisive as it is distinctive, but buyers will still be impressed by the Q8's beautifully modern interior, plentiful technology, strong practicality and muscular performance.
Reasons to buy:
Distinctive styling
Excellent interior finish
Good interior space and a big boot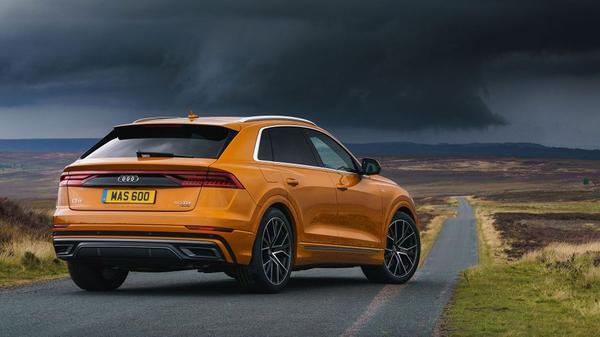 Running costs for a Audi Q8
You wouldn't expect a big flagship SUV – especially an Audi one – to be a cheap car, and it really isn't, but importantly, the
Audi Q8's
price is competitive with those of its main rivals. If you're talking about the basic S line version, that is. The range topping Vorsprung model adds almost 20 grand to the price, which makes it considerably pricier than most rivals, but the Vorsprung model does add pretty much every optional extra it's possible to add to the S line. Audi has the edge on most rivals when it comes to official fuel economy and CO2 emissions figures, though, which will have much to do with a 48-volt mild hybrid system. More on that later. This system is unlikely to have any major impact on servicing costs, either, but from a wear-and-tear perspective, the fact that the smallest wheel size is 21 inches in diameter means tyre replacements will be costly. It's also worth investigating Audi's servicing packages to cover other consumables.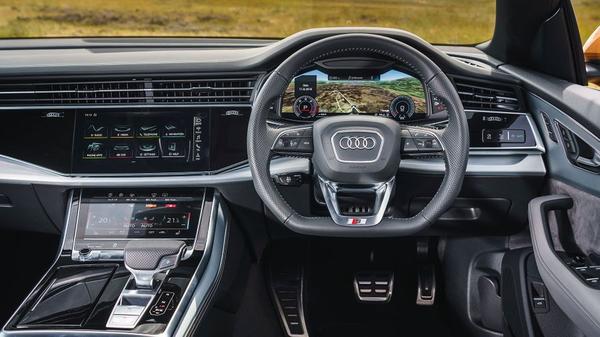 Reliability of a Audi Q8
Audi's
position in the manufacturer rankings of Warranty Direct's Reliability Index is low, although the study has no data on the Q8 or the latest
Q7
with which it shares most of its mechanicals. It's a similar story from JD Power's annual Vehicle Dependability Study, which had Audi near the bottom of its rankings for the past few years. Many of the Q8's advanced driver assistance systems already feature in other models in the range, which is reassuring from a reliability point of view as they've been tried and tested. While past performance from Audi as a whole doesn't inspire confidence, we'll have to wait and see how the Q8 performs before we condemn it. As with its other models, Audi provides a three-year standard warranty up to 60,000 miles. Owners have the option to add a fourth year of warranty cover up to a total of 75,000 miles at an additional cost that varies according to model. The same process applies to adding cover for a fifth year or up to 90,000 miles.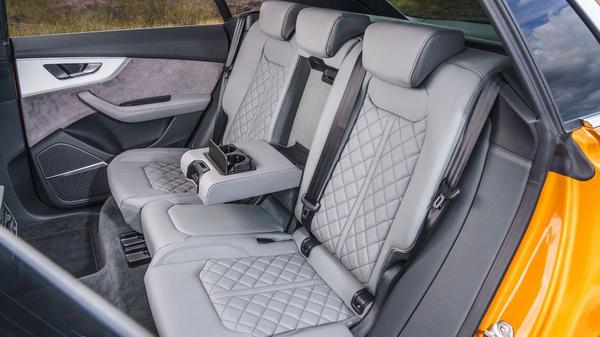 Safety for a Audi Q8
All versions of the Q8 come with six airbags and LED matrix headlamps that can bend their full beams around oncoming cars so as not to dazzle other motorists, along with driver assistance systems including automatic emergency braking and lane departure warning. If you're prepared to raid the options list, the Q8 can be specified with 39 separate driver assistance systems, but many of them come as standard with the Vorsprung model. These include - among many others - a 360-degree camera, camera-based traffic sign recognition and a more sophisticated cruise control system that basically amounts to semi-autonomous driving.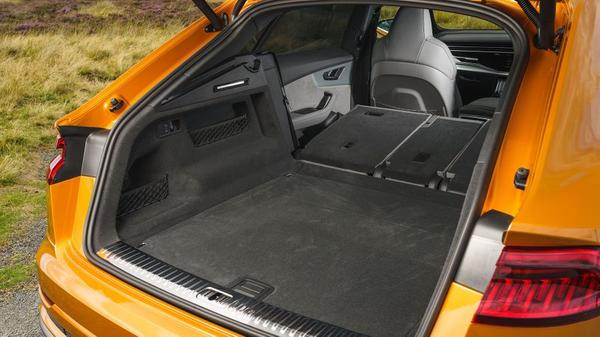 How comfortable is the Audi Q8
Being the top-tier SUV in Audi's range, the interior of the Audi Q8 draws from the same high-tech elements that feature in both the
A8
and
A7
. The result is a dashboard that is almost devoid of physical buttons, instead utilising digital touchscreens where possible. The high-gloss black dashboard features a 10.1-inch screen at its centre, below which lies a secondary 8.6-inch display for adjusting climate and seat settings. When turned off, these screens partially blend into that black dashboard surface, complementing what is already a very clean design. Using all this stuff does take some getting used to, but considering the amount of functionality it controls, and how complex these functions are, it's a fairly intuitive system to use. Now a familiar sight in most Audis, the instrument cluster is a 12.3-inch configurable display, and there's a sizeable head-up display also available. Importantly, the cabin also features materials that are of incredibly high quality that make the car feel incredibly posh and maintain Audi's reputation for delivering some of the very best interiors in the business. It may be the sporty SUV of the line-up, but the Audi Q8 isn't short of practicality. Unlike the Q7, the Q8 is only a five-seater, but the car's long wheelbase results in good rear passenger legroom, even for whoever has to sit in the middle seat. The glovebox is massive, too. The boot can carry a generous 605 litres of luggage, which can swell to 1,755 litres when the rear seatbacks are folded down. Those seatbacks don't quite sit perfectly flat, but there's only a gentle slope to negotiate. The boot also has an electrically operated tailgate, while the wide opening and low load lip also help make it easy to load. For those that tow, the Q8 will be available with a useful Trailer Assist function. This takes all the hassle out of reversing when hitched up to a trailer, and it's quick and easy to operate via the dashboard's dual-screen setup. The Q8 comes with standard air suspension that varies its stiffness and its ride height, according to which of the various driving modes you select. Even when set to the most forgiving 'Comfort' mode, the ride still has a slightly firm edge, so it doesn't feel as wafty as you might expect. However, it's still compliant enough to keep you comfortable on most surfaces, and at most speeds. Select the sportiest mode, though, and we think it might be too harsh for some buyers. Yes, this mode does make the handling sharper thanks to marginally better suppression of body roll, but even in Comfort mode, the Q8 feels impressively sharp for a big, heavy SUV, so you're best off just sticking in that mode. There's also an all-wheel-steering system that's optional on S line and Edition 1 cars and standard on Vorsprung models, and this helps agility further - as well as making for more stable high-speed lane-changes - by turning the rear wheels in the same direction as the fronts. However, the benefit of the system is more noticeable at low speeds, where the front and rear wheels are turned in different directions to improve low-speed manoeuvrability and tighten up the turning circle. Four-wheel drive is standard fit, and the car's off-roading credentials are further helped by short overhangs and suspension that can raise the car's ride height, and as a result, improve ground clearance. Don't go thinking that the Q8 is some accomplished mud-plugger, though, as it'll only ever be suitable for very minor off-road work.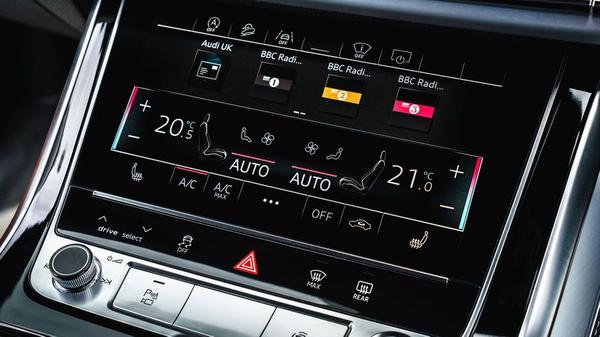 Features of the Audi Q8
Affirming the Q8's performance bent, the range kicks off with the sporty S line version. This comes with a self-parking system, a reversing camera, cruise control, two-zone climate control and electrically adjustable and heated front sports seats finished in a mix of leather and made-made suede. Sitting above the S line is the Edition 1, which has a panoramic glass sunroof, heated front and rear seats and black exterior trim. The top-spec Vorsprung model carries a sizeable price jump, but does add a lot more equipment, including full leather upholstery, four-zone climate control, extended LED ambient lighting, head-up display, soft-close doors and an upgraded Bang & Olufsen stereo.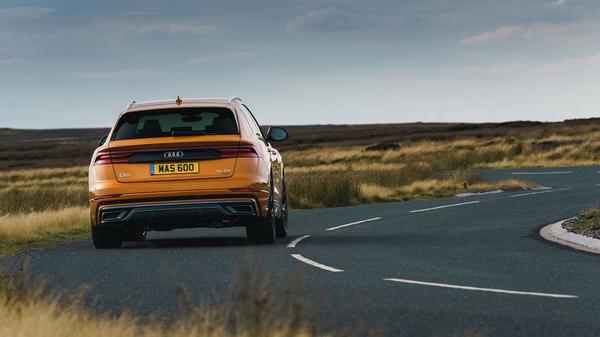 Power for a Audi Q8
We've tried the Audi Q8's sole diesel engine, which is a 286-horsepower, 3.0-litre turbocharged V6. It comes as standard with an eight-speed automatic gearbox and Audi's quattro all-wheel-drive system. The Q8's generous torque ensures strong, muscular performance from low revs that keeps life easy, and more meaningful pressure on the accelerator pedal results in very impressive acceleration indeed. All that torque helps in the towing department, too. However, it's the Q8's gearbox that hampers how responsive the car feels. Ask for a sudden burst of acceleration, and the gearbox takes a second or so to figure out what it wants to do, and then another second or so to actually do it. The combined delay results in a curious feeling of, well, nothing happening, followed by an enormous burst of all-at-once thrust. It's a shame, because otherwise, the gearbox slips through changes with the kind of smoothness you would expect from a luxury car. Aiding fuel consumption is a mild hybrid system that uses a 48-volt battery in the rear of the vehicle. When the Q8 is coasting at speeds between 34 and 99mph, this enables the combustion engine to shut off for periods of up to 40 seconds while the battery powers the onboard systems. The engine then restarts seamlessly once you press the accelerator.There's a petrol option too, with 340 horsepower, but we've yet to try it. Beyond even this Audi offers two high performance variants. The SQ8 has switched from a high-performance diesel and now uses a mighty 4.0-litre petrol V8 with 507 horsepower - check out
Rory Reid's video review
for what that does to the car. If, for some reason, that's still not enough there's the excess all areas
RS Q8
with a 600 horsepower version of that engine and an even more aggressive character.