Best Of
Best used cars under £10,000
Erin Baker finds the best used cars for budget of £10k - starting with hatchbacks.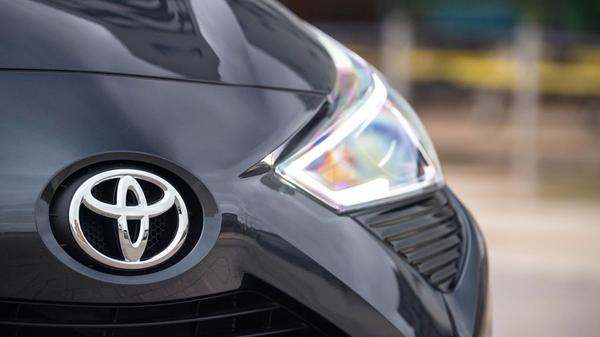 Ever here at your side, we explore what you can get for under £10,000 in the used car market, if the
new cars
available for under £10,000, like the
Dacia Duster
or
Toyota Aygo
, don't float your boat.
Meanwhile, Rory Reid, in the video below, goes one step further and picks his favourite
used cars for under £7,000
, which is the price of a new
Dacia Sandero
, the UK's cheapest car.
Watch: UK's Cheapest New Car vs £7,000 Used Gems

Ford Focus
Great price: £9,781
Example ad
. View more
Ford Focus on Auto Trader
We found a great 2017 1.0-litre Ecoboost Focus on site, in Titanium spec, which means air-con, satnav and rear parking sensors. The catch? 34,000 miles, but if you don't do high mileage, that'll average out quickly. Ford's 1.0-litre Ecoboost engine comes with various power choices but the 125-horsepower job gives you enough boost for swift overtakes while keeping fuel bills low. The Focus has always had legendary handling, no matter which generation you go for. Interiors can get a bit worn, but at this price, we'll swallow some scuffs.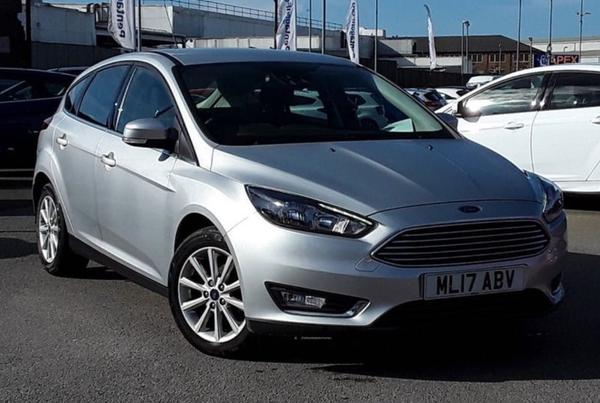 Volkswagen Golf
Great price: £10,000
Example ad
. View more
VW Golf on Auto Trader
With just 28,000 miles on the clock, we were tempted by a 2014 SE TSI Bluemotion Golf with a 1.4-litre petrol engine and VW's smooth DSG automatic gearbox, bang on the money at £10,000. You can pay a lot for a used Golf if you go down the route of bodykits, big engines and high spec including cruise control and tinted glass, but 1.2- and 1.4-litre engines provide way more kick than they used to and are perfect for round town. The lower-spec interiors of Golfs often wear better than their more expensive counterparts.
Mazda3
Great price: £8,925
Example ad
. View more
Mazda3 on Auto Trader
. We found a 2.0 SE-L Nav example from 2017 with 49,000 miles on the clock which is a little high, and Mazdas generally aren't cheap. But here's the thing: Mazdas are brilliantly reliable. We ran an MX-5 with almost 100k miles on the clock for years, abused it, and no problems. The manual gearbox is a delight, and the petrol engine loves to rev and pull hard. It also looks way better than a Focus. You'll not be disappointed.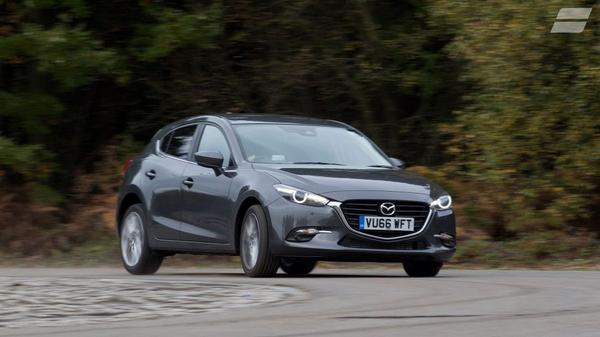 Audi A3
Great price: £9,500
Example ad
. View more
Audi A3 on Auto Trader
. An Audi A3 under £10,000 feels like a gamble because this is an expensive car from a premium brand. But if you skip back a generation from the current one, you'll find a good-looking, reliable hatchback with great engines and gearboxes, smart interiors and all the creature comforts if you don't mind high-ish mileages. We found a glossy black TFSI Sport 1.2 from 2015 with 40,000 miles on the clock which isn't scary. Sports seats, voice control, USB connectivity and more. Servicing and repair bills will be more costly than Korean alternatives on this list, but that's a premium badge for you.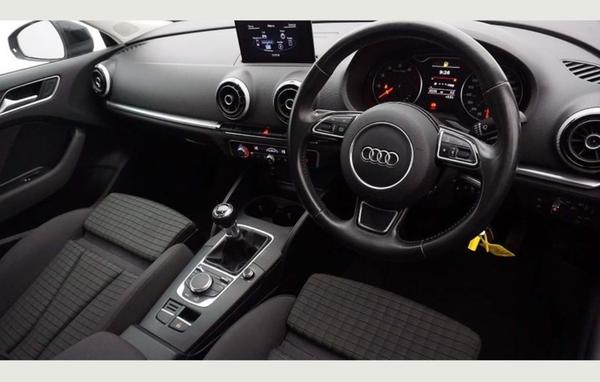 BMW 1-Series
Great price: £9,492
Example ad
. View more
BMW 1-Series on Auto Trader
. Like the Audi A3, the BMW 1-Series carries a badge premium, so you'll need to go back a few years to find a fair purchase for under £10k, but it's entirely do-able: we found a 2015 116i Sport with 48,000 miles on the clock. Engineering quality in BMWs shines through, so a five-year-old example will still provide a very satisfying drive, and the fuel consumption should hover at about 40-45mpg.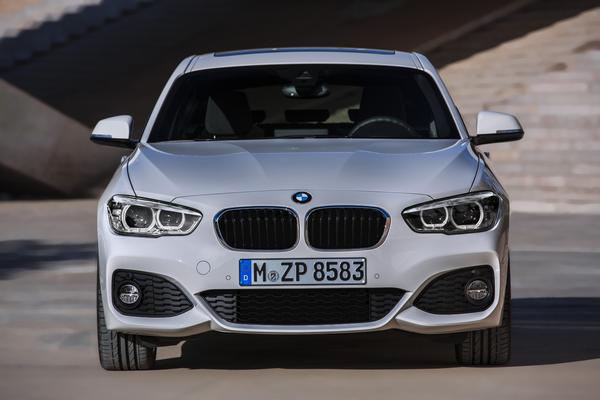 Vauxhall Astra
Great price: £10,595
Example ad
. View more
Vauxhall Astra on Auto Trader
. The Astra is often overlooked, but, partly due to the more popular Ford Focus and VW Golf, there are very good-value examples to be had, and the Astra has great steering and supple suspension. Stick to petrol engines (unless you do a high daily motorway mileage) for fewer worries about reliability, city-centre charges and refinement. We found a 2017 1.4 turbo petrol in Elite Nav trim, with manual gearbox, that just sneaked over the £10,000 at £10,595 but after negotiations…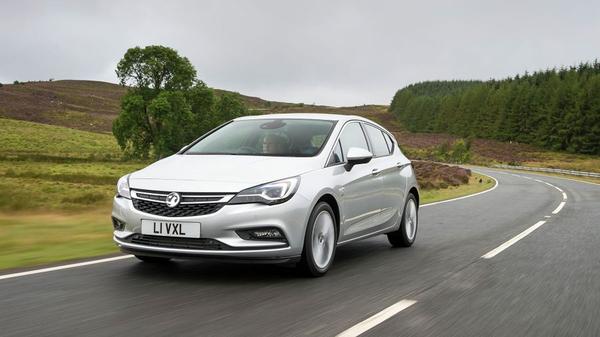 Hyundai i30
Great price: £8,450
Example ad
. View more
Hyundai i30 on Auto Trader
. We saw a lovely pale-blue, 2016 example for £8,450, with a 1.4-litre petrol engine and 31,000 miles on the clock. Hyundais, like Kias, have great reliability track records and servicing costs are very reasonable. The brands share engines, transmissions and chassis, but Kias tend to be more popular in the UK for their styling. Which means you can often get a better deal on the Hyundai counterpart. They come with a five-year warranty from new, inset of Kia's seven-year offering, so watch how old you go…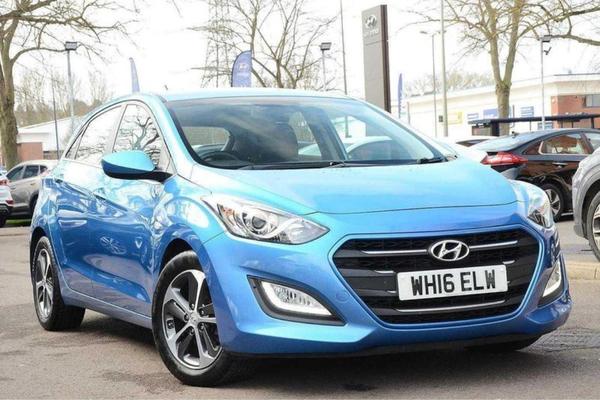 Seat Leon
Great price: £9,190
Example ad
View more
Seat Leon on Auto Trader
. If you want an Audi A3 or VW Golf but can't quite get what you want for your budget, try the Seat Leon. All three brands are owned by the VW Group so share engines and parts. You just won't get quite the same class of interior or styling, but we found a lovely 2016 TSI SE 1.4 example with 33,000 miles, metallic paint, and high-class technology pack including Bluetooth, DAB, satnav and one owner from new, for under £10,000.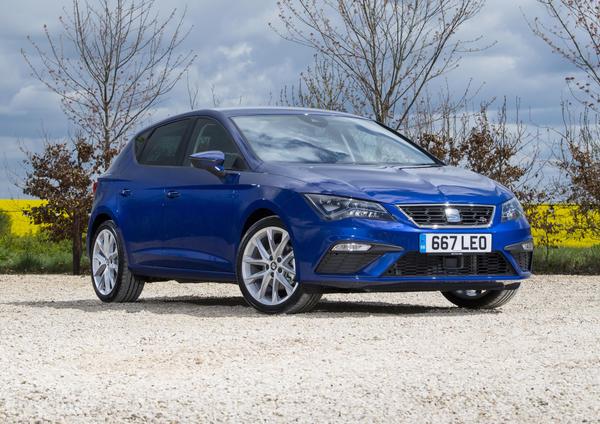 Mini Hatch
Great price: £9,262
Example ad
. View more
Mini Hatch on Auto Trader
. Yes there are cheaper hatchbacks out there, and you're paying extra for the chic urban styling, but why not? Minis remain a joy to own, and we found a 2016 1.2-litre Mini One in cream with a leather steering wheel, and chrome and carbon trim for £9,262. Given it's all about the styling, you'll be wanting this stuff. Minis have BMW engines, gearboxes and underpinnings so you won't be buying a donkey, but running costs won't be the cheapest.