Used Jaguar XJ
With 432 used Jaguar XJ cars available on Auto Trader, we have the largest range of cars for sale across the UK.
Used Jaguar XJ cars available to reserve
Used Jaguar XJ cars in stock
Is the Jaguar XJ a good car?
Read our expert review

Words by: Ivan Aistrop
"The Jaguar XJ is a charming alternative to the benchmark in this class, the Mercedes S-Class. It looks sleeker and drives sharper than the big Mercedes, but can't quite compete when it comes to space, luxury, and the latest technology. Still, it's definitely worth looking at if you're after a high-speed cruiser for covering long distances, and the entry-level diesel models are fantastic value."
Read the review by category
How good does it look?
The Jaguar XJ marked the dawn of a new era for Jaguar when it was revealed back in 2009 - and even after all this time it remains the most distinctive luxury saloon around. It looks sleeker and sportier than its rivals from Audi, BMW and Mercedes, with swooping lines, an exaggerated, long bonnet, low roofline, and blacked-out C-pillars. The looks been tweaked over the years, and the latest version has full LED headlights, a larger grille, a gloss black rear bumper, plus LED taillights and a pair of oval exhausts. As you go up the range, the XJ get steadily more aggressive: the entry-level Luxury model features 18-inch alloy wheels, but choose the Portfolio, R Sport or XJR models and you'll be buying a big saloon with all the desirability of a sports car.
What's the interior like?
Unfortunately, once you step inside, you get a sense of the XJ's age compared with its closest rivals. Its digital dials might have seemed cutting-edge before, but with the Mercedes S-Class and BMW 7 Series now boasting huge dual screens, touch-pad controllers, and even cameras to track your gestures, the Jaguar seems a little out of touch. The driving position is good, though, with 14-way electrically adjustable seats and an electric steering column fitted as standard. Sadly, although it's easy enough to see where the long bonnet ends, the tilted rear screen and thick pillars make it very tricky to see what's behind. So, it's fortunate that the XJ comes with a reversing camera as standard. One thing the XJ does well inside is to look luxurious, with huge chrome air vents, a big analogue clock in the centre of the dash, and soft blue lighting for the instruments. It's a shame, though, that some of the materials featured simply don't feel as expensive as they do in the best cars in this class, especially the plastics and switches on the centre console.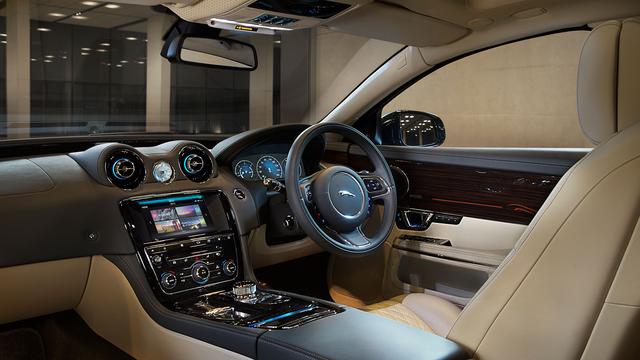 How practical is it?
Luxury saloons like the XJ need to be as palatial in the back as they are in the front; but, while there's lots of space to stretch out in the front, there might be some complaints from those in the rear seats. Admittedly, the XJ has loads of legroom, and will be comfortable over long distances (especially the long-wheelbase version), but its sloped roofline eats into rear headroom, and most adult passengers will feel hemmed in. You can opt to have the car either with a three-seat bench or two individual, more luxurious chairs, with heaters, coolers and even a massage function. Working 'Business' tables that fold out from the front seats are also available as an option. The 479-litre boot is big enough for a few medium suitcases, but smaller than what you'll get in many rivals, with an awkward shape that makes loading and unloading a hassle. You can fold down the rear seats to increase the room available, but not on all versions - so be sure to check if you need the flexibility.
What's it like to drive?
Few luxury saloons can change direction as swiftly and nimbly as the XJ can. It's a genuinely agile machine, cornering with little body roll, and it feels lighter and smaller than its competitors when you drive it in a more sport fashion. The steering helps make you feel part of the action: it's quick and direct, weighting up nicely as you apply lock - and the rear-drive chassis is perfectly balanced. This sharp handling is one of the main reasons you might buy an XJ, but it's also one of the main reasons you might not. That's because it does come at the expense of low-speed comfort. The XJ comes with adaptive suspension as standard, but even in its softest setting, with the larger alloy wheels, poor road surfaces will be felt too much by those in the cabin.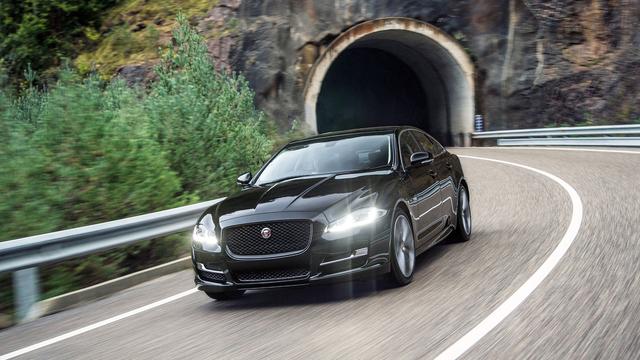 How powerful is it?
There are three engines to choose from in the XJ, but the 3.0-litre V6 diesel has all the pulling power you could possibly need. It's smooth and quiet at most speeds, and gives almost as much acceleration as the supercharged V8 petrol engine. The only other option is a supercharged V6 petrol, which is a little bit more powerful than the diesel, and a tiny bit smoother and quieter, but has nowhere near the same strength in the middle of the rev range. All the engines come with an eight-speed automatic gearbox, which is effortless, smooth, and rarely chooses the wrong gear when left to its own devices. The combination of strong engines and seamless gearbox makes the XJ a fantastic long-distance cruiser, with enough power in reserve for overtaking. If you need a little more acceleration, the V8 engine is only available in the top-spec XJR, but it does pack a huge punch, with 0-62mph taking just four and a half seconds - which makes quicker than many fully fledged sports cars.
How much will it cost me?
Jaguar has priced the XJ to cost a little bit less than the equivalent BMW 7 Series, and a lot less than the Mercedes S-Class, but roughly the same as an Audi A8. However, it also won't hold onto its value quite as well as the big Mercedes, so you'll lose more money in depreciation from new. Running a car this size is obviously not a cheap enterprise, and of the three engines, the diesel is by far the most efficient, averaging a claimed 49.6mpg, and emitting 149g/km of CO2 - which matches most of its rivals, except for the 7 Series. Petrol models are considerably thirstier on fuel, and will therefore cost you more in road tax, too. As you'd expect, insurance, servicing and replacement parts will all be an order higher than they would be in the brand's smaller saloons, the XE and the XF.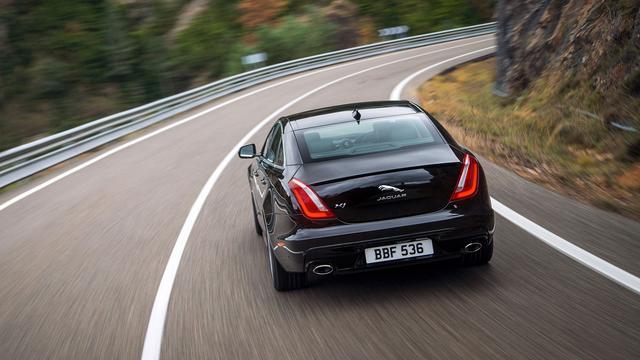 How reliable is it?
The previous XJ did not fare well in reliability surveys, but the current model bears almost no relation to that car - so it would be unfair of us to tar it with the same brush. However, as it's a low-volume car, there is very little solid data about its durability. Owners on our website painted a mixed picture, with some praising its reliability, while others reported a variety of electrical and suspension faults, so it's hard to gauge how each individual XJ will hold up. Jaguar as a brand enjoys a better reputation in the Warranty Direct reliability index than some of its key rivals, such as Audi and Mercedes. The XJ has certainly been around long enough now that any problems or common faults will have been reported and rectified, and the engines and gearbox are well proven. As standard the XJ comes with a three-year, 100,000 mile warranty, which can be extended by up to two years, for a small extra cost.
How safe is it?
Despite its age, the XJ still comes with a whole raft of clever safety equipment fitted as standard. That includes technology like low-speed emergency brake assistance, lane departure warning, traction and cruise control, and six airbags. Not quite the eight you get in an S-Class, or 10 you get in a Lexus LS, but a full complement, nonetheless. On Luxury and Premium Luxury models, there is an optional Highway Pack, which adds full LED headlights, Blind Spot monitors and Traffic Sign Recognition - plus a system that'll beep to warn you when a car is coming as you're reversing out of the driveway. This kit is standard on Portfolio trim upwards, but another pricey option, the 360 degree 'bird's eye view' parking cameras, will cost you extra, regardless of trim. To keep the XJ secure, it comes with an alarm and immobiliser; and, a tracking system, linked with an app that also lets you start your vehicle remotely, can be fitted to cover the three-year warranty period.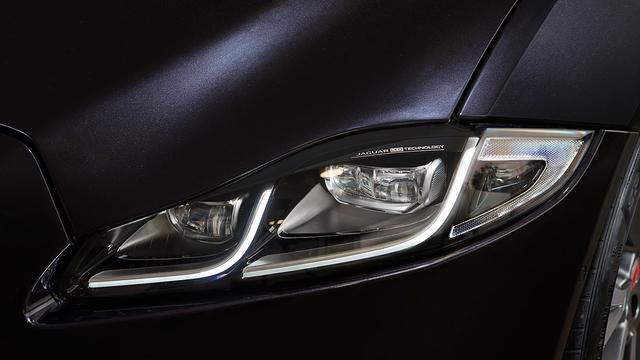 How much equipment do I get?
Budding business people, fear not - even the most modest cars in the XJ line-up come packed with all the equipment you could possibly want or need. Heated leather seats front and back (which are electrically adjustable in the front), keyless entry and start, full-length glass sunroof, all round parking sensors, four-zone climate control, the list goes on and on. Climbing up the range adds bigger wheels, sportier body kits, nicer wood and leather trim across the interior, and posher and more powerful sound systems, but nothing you couldn't readily live without. That makes the least expensive versions the best value, especially as the top-spec models will lose their value more quickly, and their high prices make the car too close to stronger rivals.
Why buy?
The reasons for choosing the XJ are simple: if you like driving more than being driven, and want something that'll stand out from the crowd rather then blend into the background, then this is the luxury saloon for you. It may not be quite as efficient, luxurious or stuffed with clever technology as its newer rivals, but it's a superb way to cover long distances, and proves that Jaguar know how to build an exciting car to drive, regardless of size.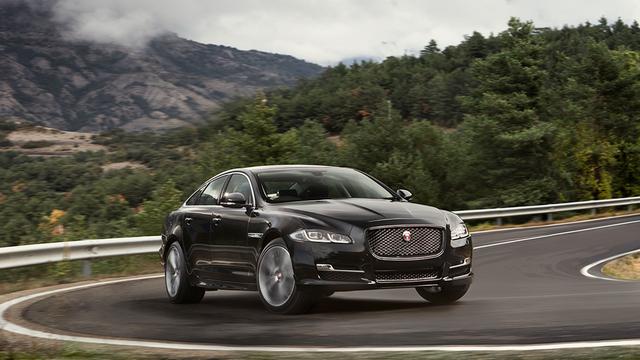 Good points
Car is very comfortable and fun to drive.
Bad points
The fact that I had a problem with a broken...
MARGARET
Published 2017-09-15
Good points
The engine. Responsive, quiet, economical. Really...
Bad points
The infotainment system is awfully unreliable...
ALASDAIR
Published 2017-12-02
Good points
The interior is lovely and it's an attractive...
Bad points
The driver's R sports seat is too hard and the...
RICHARD
Published 2017-10-25
Jaguar shows off revised XJ luxury car
With new or revised rivals coming from Mercedes, Audi and Lexus, the latest revisions to the largest Jaguar saloon should make it a more attractive purchase.
Jaguar XJ Saloon (2015 - ) review
The Jaguar XJ is a luxury saloon aimed at rivals like the Mercedes S-Class and BMW 7 Series, but with sharper looks and a sportier drive
Jaguar XJ Series Saloon (2009 - ) review
Read the Jaguar XJ saloon (2009 - ) car review by Auto Trader's motoring experts, covering price, specification, running costs, practicality, safety and how it drives.