Used Ford Fiesta
Since its launch in 1976, the Ford Fiesta has provided an affordable, entry-level car to countless drivers – becoming one of the most popular cars in the world. Practical and versatile, the Ford Fiesta is now in its seventh generation, meaning there are plenty of used Ford Fiesta's on the market today. Newer models are smoother and quieter, but a wide range of engines and trim levels mean there's almost certainly a used Ford Fiesta suitable for you.
Used Ford Fiesta cars available to reserve
Used Ford Fiesta cars in stock
Is the Ford Fiesta a good car?
Read our expert review

Words by: Auto Trader

Additional words by: Dan Trent
"All good things come to an end and so it is with the Fiesta, which is now heading for retirement as Ford gears up for full electrification. The increasing difficulty of making money on small cars is another motivation, which is a shame because the Fiesta has always combined affordability with sharp driving manners and an unpretentious sense of style. For this final hurrah Ford has packed in an impressive range of technology behind the updated face (the blue oval logo now on the grille itself), it being somewhat bittersweet that this last of the line remains a superlative small car and just as relevant as it always has been."
Read the review by category
Running costs for a Ford Fiesta
Unlike the Vauxhall Corsa and Peugeot 208, the Fiesta doesn't offer an all-electric version. Nor is it offered with an efficient diesel engine any more. Instead, there's a choice of petrol engines including one with a mild hybrid system (branded 'MHEV') to reduce fuel consumption. It won't drive the car on electric power alone like a Renault Clio hybrid or Toyota Yaris but it helps deliver an efficient performance boost by taking the strain off the petrol engine and making the start-stop system work more effectively. If our experiences are anything to go by resulting 'real world' fuel consumption figures are pretty much on a par with the more expensive Toyota and Renault, and a pragmatic way of making your money go further in terms of day-to-day running costs.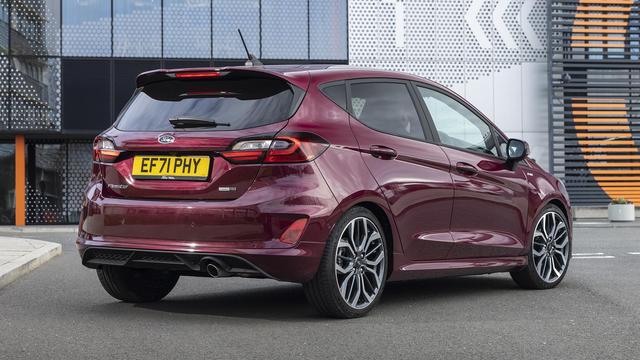 Reliability of a Ford Fiesta
Ford has a solid reputation for reliability, and the Fiesta is also well regarded. The engines are used to good effect elsewhere in the Ford range and have proven fairly bulletproof, while the technology also has an untarnished track record. For those worried about longevity, Ford offers customers a three-year warranty for everything except wear-and-tear items such as tyres and brakes, while customers have the option to purchase an extended warranty either through Ford or a third party. Rivals such as Kia and Hyundai offer longer warranties of seven and five years respectively, but the Ford offering is pretty standard for the industry.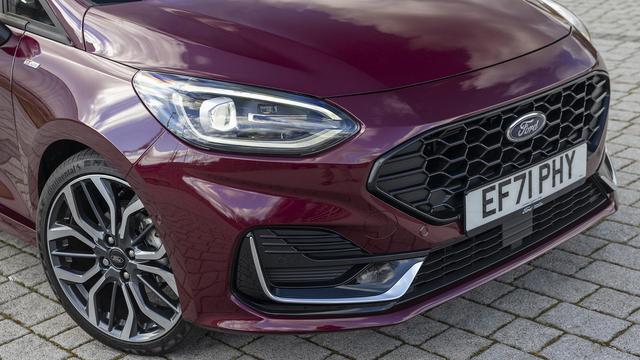 Safety for a Ford Fiesta
Whether through customer expectation or regulation, the requirement to add increasingly complex driver assistance technology is one of the reasons Ford and others are struggling to make small cars like the Fiesta economically viable. Which is reflected in the fact you have to pay extra for a Driver Assistance Pack to get even the automatic emergency braking system nearly all modern cars now have as standard. The pack isn't too expensive and this and various other options can add an impressive range of technology, though. But the gizmo count looks basic against newer rivals.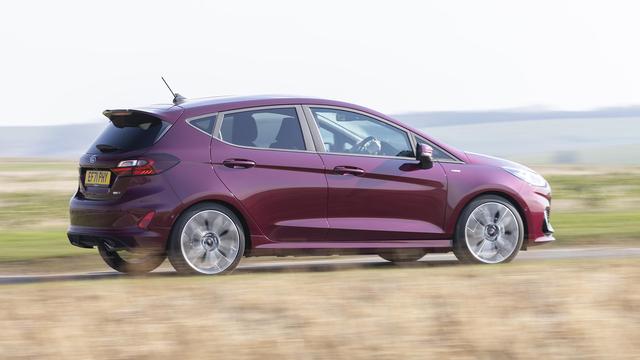 How comfortable is the Ford Fiesta
Though still a small car the modern-day Fiesta drives like a much bigger one, and feels a lot more substantial than its predecessors. Indeed, back in the day you probably wouldn't have taken one much beyond city limits but, in its fancier trim levels, a modern Fiesta has proper big car features and refinement. In typical Ford fashion it also proves cars don't have to be fancy or expensive to be rewarding to drive, either, the sharp responses to the controls and natural sense of fun as enjoyable on city streets as they are on twisty country roads. Depending on your priorities there are three different set-ups to choose from, ranging from the standard suspension to the raised arrangement on the Active versions. While the latter is meant to offer additional clearance for bumpy car parks and the like it might also be preferable for the stiffer boned who find taller-riding cars easier to get in and out of. Going the other way ST-Line like the one you see here has a sportier setting, which makes the handling more fun but can give you a jolt over sharper bumps, especially on the larger wheel options. Credit to Ford for offering the choice, though it is another thing to think about when considering which Fiesta suits your tastes and needs. In terms of space and practicality the modern Fiesta may feel more solid and is a comfortable place for the driver and front seat passenger but it's still a little tight in the back and in terms of luggage space, rivals like the VW Polo and Skoda Fabia offering more of the latter.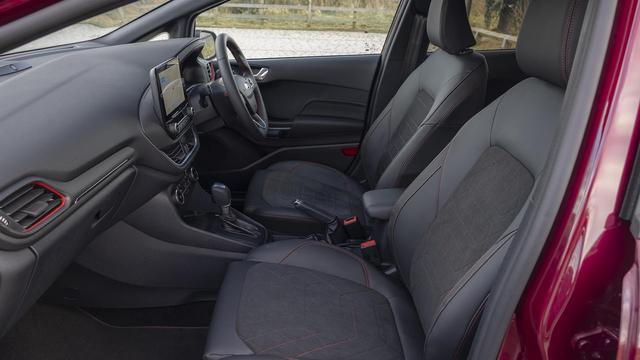 Features of the Ford Fiesta
This updated version of the Fiesta is well-equipped as standard, with even the entry-level Trend version getting the 8-inch central touch-screen and Sync 2.5 system through which you can run your phone apps via CarPlay or Android Auto. Beyond that you can upgrade to increasingly fancy versions of the Sync 3 system, which has built-in navigation, voice control and a supporting phone app and can be paired with a desirable Bang & Olufsen speaker system if you like your music. At the top level you can even combine it with a fully digital instrument cluster, which feels very fancy in a Fiesta! In typical Ford fashion there's nothing glitzy in the cabin, and though there are lots of buttons on the dash and steering wheel by modern standards they all work logically, with the same going for the Sync operating system. The 'X' versions of the various trim levels build on the decent basic specification with nice-to-haves like part faux-leather upholstery, heating for the seats and steering wheel and a rear-view camera. The heated Quickclear windscreen – a godsend on frosty mornings when everyone else is battling with their ice scrapers – is thankfully standard on all Fiestas.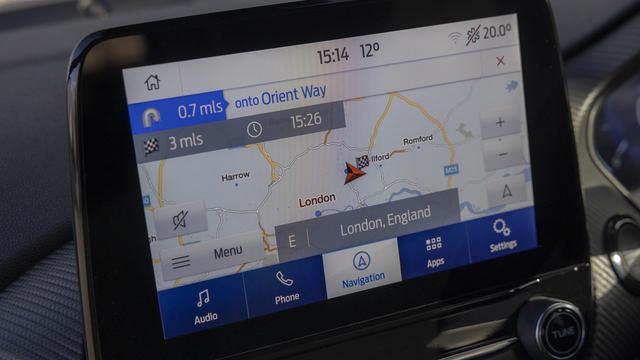 Power for a Ford Fiesta
All Fiestas are now petrol powered, the basic 1.1-litre the only weakspot in the range for its lack of power but, thankfully, only available on the base model. The rest use versions of the Ecoboost branded 1.0-litre, whose turbocharged rush of power punches well above its weight and is combined with impressive efficiency. The more powerful 125 horsepower versions get a small electrified boost from the 'MHEV' mild-hybrid system, which fills the pause before the turbo kicks in and makes the stop-start system faster to react and less obtrusive. We tried this engine with the seven-speed 'Powershift' automatic, which will be an attractive combination if you do a lot of town miles or have a busy commute with lots of slow-moving traffic. The 200 horsepower ST is a proper hot-hatch, meanwhile, but if you want a taste of its character with more affordable purchase, fuel and insurance costs the 125 horsepower ST-Line with a manual gearbox is a pretty convincing alternative.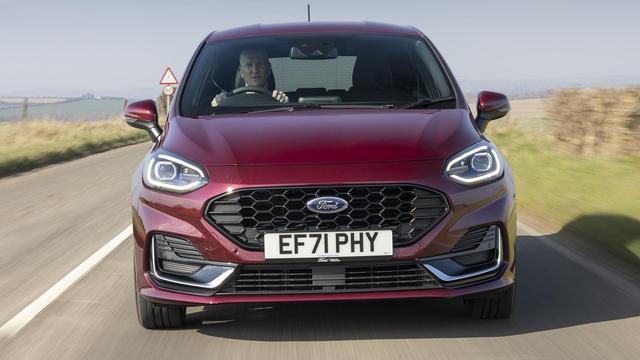 Good points
Bigger boot space, comfortable to drive
Bad points
1.25 engine doesn't manage well
SHARON
Published 2019-06-05
Good points
Had a fiat punto from new for 15 years and hated...
Bad points
None...
CRAIG
Published 2019-05-28
Good points
Fun to drive handling superb.
Bad points
Not found any yet.
JEFFERY
Published 2019-05-23
Frequently asked questions