News
Frankfurt Motor Show 2015: Smart fortwo Cabriolet
Not your average two-seat convertible; the new Smart fortwo Cabriolet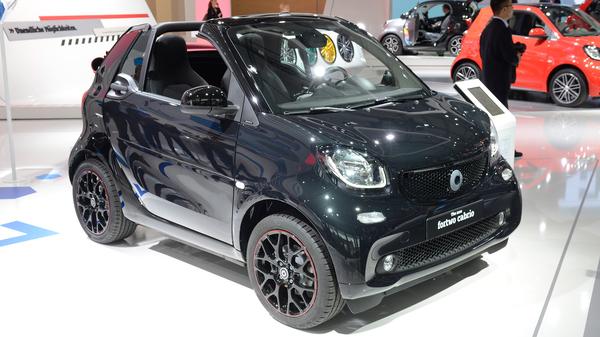 Open-top version of fortwo city car
Roof folds flat in 12 seconds; opens electronically at any speed
Intermediate sliding sunroof setting or full-on roof-down convertible
The new Smart fortwo Cabriolet has been revealed at the Frankfurt Motor Show. It joins the coupe version of the fortwo city car, which went on sale earlier this year, and the open-top model will compete with the Fiat 500C and the Citroen C1 Airscape when it goes on sale in February 2016.
The fortwo Cabriolet's roof is a bit more intricate than your average convertible hood. There are two options for driving with the roof down: the first is a full-length sliding sunroof, where the centre section of the hood slides back leaving the top section open but the rear part in place. The second is a full-on convertible setting, with the back section of the roof and the rear screen folded right down. The roof rails can also be removed and stored in the boot to turn it into a fully-fledged cabriolet. Smart has dubbed the roof 'tritop' due to its three different settings (closed, top open and completely down) and it's a traditional fabric item as opposed to a metal folding hardtop. The soft top (which can be ordered in three different colours – blue denim, red or black) opens electronically at any speed and takes 12 seconds to fold flat; plus, it's possible to open it remotely from outside the car via a three-button key.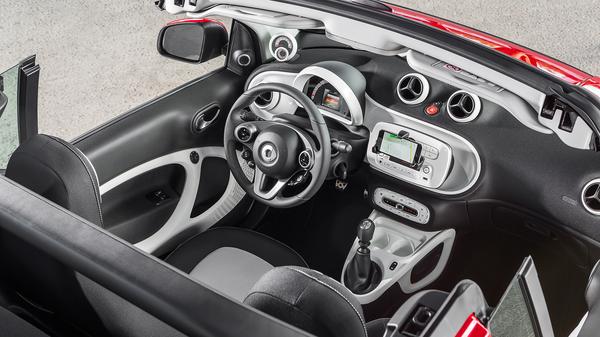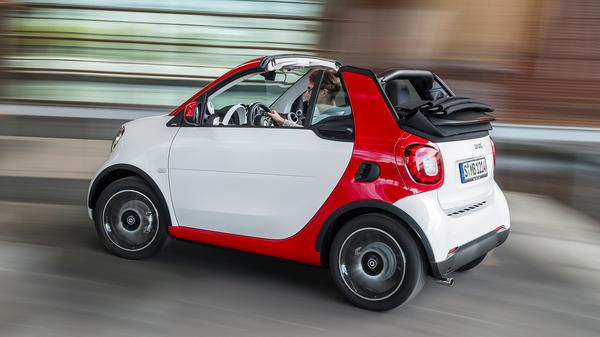 Convertibles are usually a little less stable than equivalent fixed-head cars, but Smart has compensated for this by strengthening the underside of the fortwo and the pillars among other elements. It claims the new model is 15% stiffer than the previous version.
Engines and transmissions remain the same as those offered with the fortwo Coupe. That means there's a choice of two three-cylinder petrol engines (both of which are mounted at the back of the car): a 70bhp 1.0-litre unit or an 89bhp turbocharged 0.9-litre item. The latter engine also has more torque (67lb/ft versus 100lb/ft) and will hit 62mph in 10.8 seconds when fitted with the standard five-speed manual gearbox compared to the former's 14.9 seconds. Fuel economy and emissions are identical for both engines when fitted with a manual gearbox at 65.7mpg and 99g/km of CO2. However, the performance and economy figures alter slightly if you go for the twinamic automatic transmission: the 89bhp 0.9-litre engine drops to 97g/km and increases to 67.3mpg with a 0-62mph time of 11.7 seconds, while the 70bhp 1.0-litre model's 0-62mph time slows to 15.5 seconds.