News
Frankfurt Motor Show 2015: Infiniti Q30
Production version of Infiniti's Q30 hatchback revealed at Frankfurt Motor Show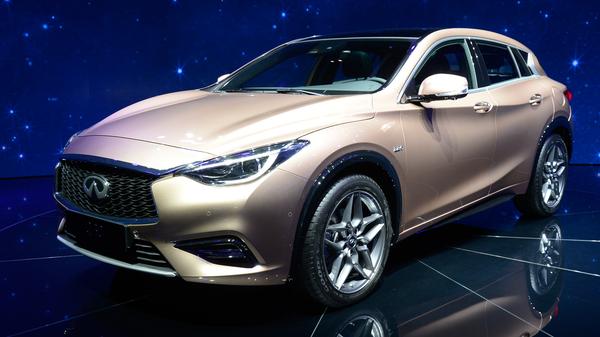 First Infiniti hatchback
Built in UK at Nissan's Sunderland plant
Rival for the Mercedes A-Class and Volvo V40
Infiniti has unveiled the Q30, its first ever hatchback, at the Frankfurt Motor Show. However, according to the company, it isn't exactly a hatchback; rather, it's an 'Active Compact' car.
The company would have you believe it's a kind of halfway point between a hatchback and a small crossover, mainly due to the raised ride height, but the reality is it will still compete with premium hatchbacks such as the Mercedes A-Class, the Audi A3 and the Volvo V40. It certainly won't be a full-on crossover, as the firm wants to reserve that corner of the market for its QX30, which will arrive later in 2016. The car's styling has changed little from that of the Q30 concept, which was revealed at the 2013 Frankfurt Motor Show. The production model has maintained the concept's wavy lines, slender headlamps and broad grille, although the ride height appears to have increased a little. The interior looks classy – which it will need to be if the Q30 is to compete with the likes of the Audi A3 – and it features an infotainment screen mounted on the top of the dashboard, with a separate, smaller screen for the driver in between the dials. Infiniti has also covered the pillars and the roof lining in a posh suede material known as Dinamica.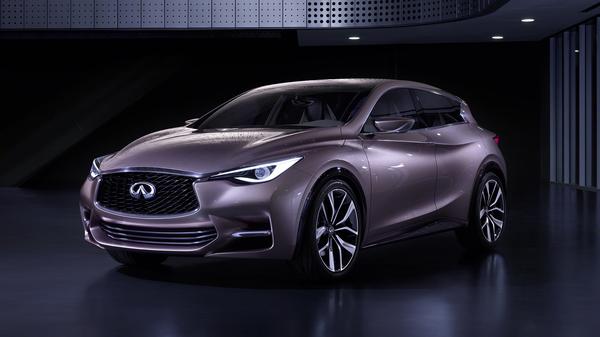 Details on engines are still to be confirmed, but it's likely the production Q30 will be available with the 2.1-litre diesel unit from the Q50 saloon, itself borrowed from Mercedes, and both automatic and manual gearboxes. The Q30 will also use the same platform as the Mercedes A-Class and the Mercedes GLA SUV. The bigger Q50 saloon has a 2.0-litre turbocharged petrol engine, so there's every chance that could make its way into the Q30 as a flagship hot hatch version. If that makes the cut, then it may well bear the Eau Rouge badge, familiar from the performance version of the Q50.
The Q30 has been developed and tested in Europe, so Infiniti is hoping it will be better suited to UK buyers' tastes than some of its previous models. It will also be the first Infiniti to be built in the UK; production will take place at parent company Nissan's factory in Sunderland. The Q30 will go on sale in the UK at the end of the year. Prices have yet to be confirmed, but a starting figure of around £23,000 is likely.