News
Coming soon: BMW M5 Touring
BMW confirms next M5 will be hybrid powered and, after success of M3 Touring, include an estate version as well

Words by: Dan Trent
Published on 26 June 2023 | 0 min read
The enthusiastic reception for the
M3 Touring
must have flicked the 'fast estate car' switch at BMW, given news the next generation M5 will also be getting its own Touring model. This is big, given the last time it built a Touring version of the M5 back in 2007 the disappointing sales prompted BMW to say it wouldn't be going there again. So, what's changed its mind?
Well, with rivals like Mercedes-AMG and Audi's RS division catering to the niche but enthusiastic audience for supercar-chasing estates maybe BMW M felt it had to get back in the game. And after the critical success of the M3 Touring it felt suitably confident to have another crack of the whip with its M5 big brother. What's more, this one will be a hybrid, too. This and its saloon equivalent will be based on the
next generation of 5 Series
, which we've already had a first glimpse of in regular and
fully electric i5 form
. BMW isn't saying much about the combination of internal combustion and electric power in this new generation of M5 but, given the outgoing version of the saloon has 625 horsepower from a petrol engine alone, expect this new hybrid to be packing some serious grunt.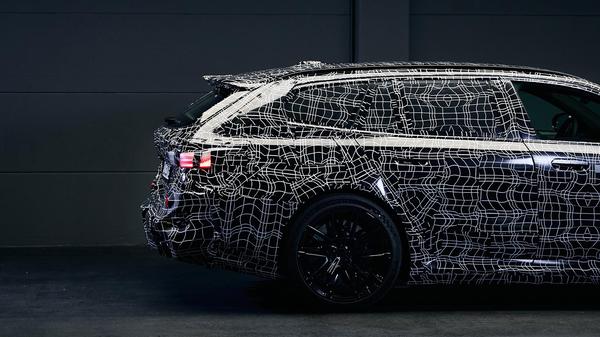 If we were to speculate we'd guess this new M5 will share a version of the hybrid system in the forthcoming
XM
high performance SUV, this combination of a 4.4-litre turbocharged V8 engine and electric motors generating a total of 748 horsepower and 1,000Nm of torque in its most explosive Red Label trim. In the regular XM you can do over 50 miles in pure electric drive as well, the V8 ready to join the party when you select the appropriate driving mode and want to enjoy the full M experience.
We're a little way of knowing if this new M5 Touring will match those kind of numbers, but based on what's come before and what we know about the brand's direction of travel into hybrid and pure electric power it's sure to be very, very fast indeed. While just as practical as any other 5 Series estate. Enough to match the
Best Luxury Car
award owners gifted the equivalent
Audi RS6 Avant
in the 2022 Auto Trader New Car Awards? Check back with us in 2024 to find out!