Long Term Review
Living with a... Land Rover Discovery
Erin Baker and her family spent nine months with Land Rover's big family SUV. Here's how they got on.
I've had this
Land Rover Discovery
for six months now; you won't see previous reports on it here as most of my ownership of the car predates my time at AutoTrader. My partner and I have four boys between us, so a seven-seater is (unfortunately, for me as a petrolhead) a prerequisite. We've had a
Volvo XC90
,
Ford S-Max
,
Hyundai Santa Fe
and now this Discovery.
In terms of looks, it's not to everyone's taste -
Land Rover's
latest version of this
SUV
has lost its boxy appearance and its split tailgate at the rear, although when you open up the massive boot, a flap still folds out to sit on, so in reality it's lost none of its practicality. Inside, however, we really can't fault it. The black leather and dark wood is great for hiding stains caused by family use. The two seats in the third row are proper seats with proper seatbelts, leg room and their own storage areas, and there's enough boot space with them up for four bags of supermarket shopping. We've also had roof rails and a top box for six months because we went to Cornwall with all four boys which necessitated more space for their balls, kites, bats, wetsuits, fishing nets....
On the road, the Discovery is the best of the seven-seaters I've had so far, in terms of overall package. That 2.0-litre engine is fine for everyday family driving and saves you some fuel over the 3.0-litre V6 version. The long, square bonnet stretches out in front of you, a reminder of this car's rugged origins. If it's rapid cornering and fierce acceleration you're after, choose another car, because the Discovery forces you to relax on the road, which is no bad thing if you're naturally a speed demon.
We're probably one of the few families that has taken our Discovery properly off-roading, and it's extraordinary to see its capabilities in the mud then drive it home. The kids love it: there are USB ports for all seats so each boy can plug in his screen. We adults love the graphics on the touchscreen for sat-nav, music, temperature and more, although the electronics have been somewhat temperamental, with the screen freezing, or not showing the reversing camera. We're going to miss the Discovery. We're swapping it for a
Discovery Sport
with seven seats. I already know that while we'll miss the extra space inside, we'll welcome the smaller size when it comes to parking on our road.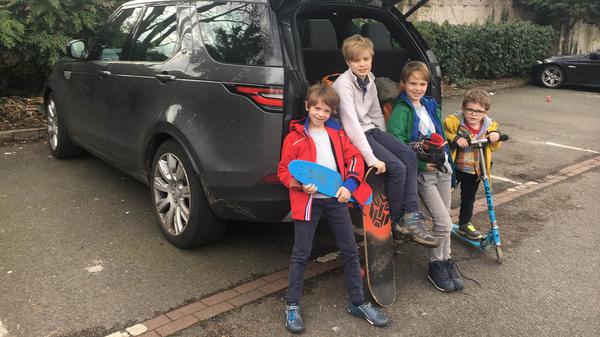 Saying goodbye to the Land Rover Discovery
Mileage: 4,975
I'm coming to the end of my time with the
Land Rover Discovery
, which I've had for nine months. I'm swapping it for a
Discovery Sport
next month, which still has seven seats, but in a much smaller package.
While I'll miss the interior space of the Discovery, I won't miss searching for a parking space big enough to home it (yeah, yeah, women can't park etc.). The Disco has been phenomenal family transport for a household with four boys. The only other car that compares favourably is the
Volvo XC90
, which just beats the Disco on space. But there's something about driving a Land Rover which is still so satisfying. It's British, it is the consummate off-roader (not that anyone puts theirs in a position to really test it), and the Discovery is a classy choice: less ostentatious than the
Range Rover
, and less flash than a
BMW
or
Audi
. Our Discovery has been brilliant on long journeys, really comfy and quiet, and has never faltered mechanically.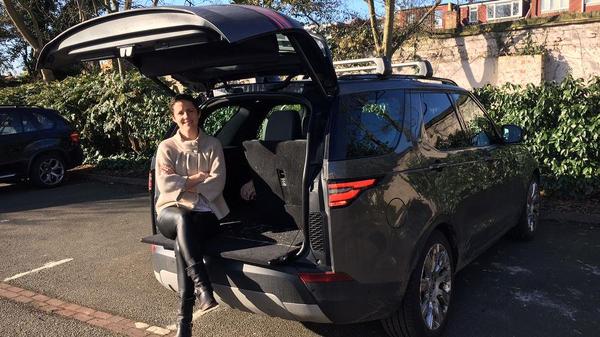 Unfortunately, the same can't be said for the electronics which seems to be a common problem with Land Rovers. Our Disco has never been 100% right: first it was the rear parking camera which didn't work, then the parking sensor noise distorted occasionally, and recently our iPhones won't play through the infotainment system.
It's not just us – another journalist has also had problems with his long-termer's electronics – we both agree it's such a shame because, apart from that, Land Rover is building stunning cars that look great and feel brilliant to drive. I really hope the Disco Sport behaves itself better because I want very badly to be able to recommend these cars to people, but for that amount of money, you'd want one with no problems... Meanwhile, we get our Discovery back today for one more week with dog accessories fitted, including full-height partition and rubber mat to protect the boot (although we've had hay bales in there recently for an episode of
The REV Test
, so no need really...), because I'm doing a shoot with Land Rover's partner, Barbour, and their doggy accessories next week. The Disco will have some Labradors and miniature Schnauzers in the back, instead of four muddy boys. Very little difference. Thankfully, the black leather and plastic surfaces scrub up well after heavy use....
Model: Land Rover Discovery SD4 HSE
Price as tested: £60,980 Engine/gearbox: 2.0-litre four-cylinder diesel, eight-speed automatic Power: 240 horsepower Torque: 500Nm Top speed: 121mph 0-60mph: 8.0 seconds Economy: 43.5mpg CO2/BIK tax liability: 189g/km 37% Boot space (seats up/seats down): 248/2406 litres Total mileage: 4,257