First Drive New 2016 Alfa Romeo Giulia first drive review
The new Alfa Romeo Giulia is an all-new compact saloon designed to take on big-hitters from Audi and BMW, with a focus on styling and dynamic thrills. Can it live up to the hype?
First published: 13th May 2016
Auto Trader Verdict:
In many ways the Giulia reminds us of Jaguar's XE, with flashes of brilliance, dynamic flair and style that set it apart from its rivals. Yet like the baby Jag, it's accompanied by tiny flaws that you feel could have been eradicated with a bit more polish. Yes, there are better all-rounders in the class, but the fact that a new Alfa Romeo can now be considered alongside them all is a minor miracle in itself.

All-new executive saloon arrives to shake up premium segment

2.2-litre diesel model gets 178bhp, emitting 109g/km of CO2

On sale in the UK in September, prices yet to be announced
What is it?
The second coming of Alfa Romeo, or perhaps the third. No, hang on a minute, that's not really entirely fair. Yes, it would be easy for the casual observer to have grown cynical over recent years at the prospect of a brand new Alfa, especially one that is entering the murky, shark-infested waters of the premium saloon market.

And yet, if the new Giulia - armed with new all-aluminum engines, a new rear-drive chassis, new eight-speed gearbox and a hot-rod version with over 500bhp - really can deliver on the promise of a good-looking, lithe-driving alternative to the norm, everyone wins.

Jaguar has proved with its XE that an assault on the established executive hierarchy can be done, and although the exact prices remain under wraps, in most areas the Giulia stacks up rather well.

We drove the most powerful diesel model, which makes a respectable 178bhp, and drives the rear-wheels via an eight-speed automatic gearbox as standard. Other choices include a slower 2.1-litre diesel, a 197bhp petrol, or the full-fat 503bhp Quadrifoglio.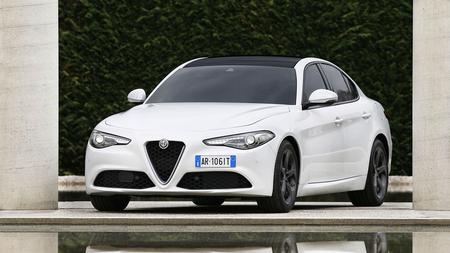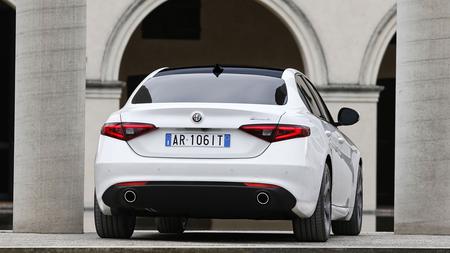 What's it like?
Surprising, different, and ever so slightly frustrating. If that sounds like a rather strange cocktail to swallow, then please bear with us.

Let's start with the surprises, because they're wholly positive. Roll back a few years and the 156 and 159 were both long on style and rather short on dynamic ability, but the reverse is true in the Giulia.

We ended up on some really challenging roads (the full works, with nasty cambers, sharp bumps, and patchy surfaces) and the Giulia soaked up and dealt with every bit of punishment the asphalt metered out.

Its springs are soft enough to allow it to feel genuinely supple, even on optional 18-inch wheels, but while it leans naturally into bends, it never feels sloppy or loses its taut body composure.

This trait, combined with a very quick steering rack (perhaps a touch too quick) mean the Giulia feels a good degree sportier than the majority of small saloons. It darts into tighter turns, grips, and will push into gentle understeer if you approach a tad too quickly.
Yet while the steering is fast, it's also light, and this takes getting used to. Fortunately, it doesn't feel nervous on the motorway, but it's all to easy to overcome the front tyres by working the wheel too hard.

The second major (and pleasant) surprise is the eight-speed gearbox. It'll be fitted as standard on all UK Giulias, and if you go for the 'Super' trim, you also get a gorgeous set of aluminium shifters.

It's a slick operator when left to its own devices, but the paddles are so tactile and the changes so crisp that you'll find yourself regularly switching to manual and flicking through the 'box for fun.

Having eight forward ratios also helps the engine feel zingier (we tried a six-speed manual, which definitely felt slower and less flexible) and keeps the revs down at high speed; it hovers around 1,600rpm at a 70mph cruise, which is ideal for keeping the new 2.1-litre diesel quiet.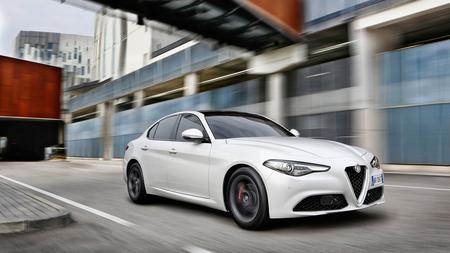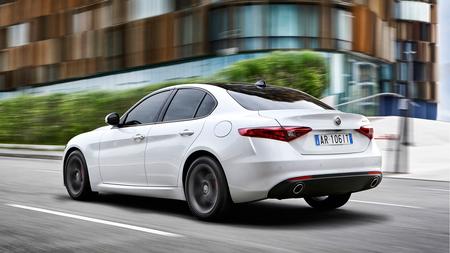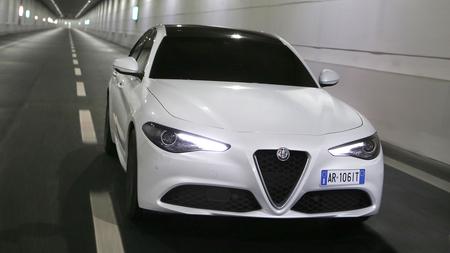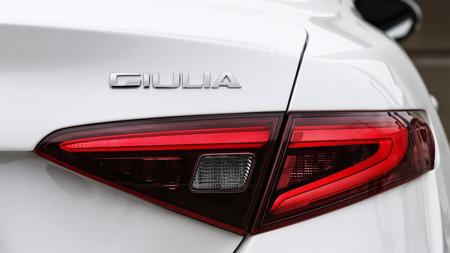 Ahh, yes the new engine. It's good in parts, revving freely throughout most of the engine's range, and 0-62mph takes a claimed 7.1 seconds. However, it becomes strained and intrusive when worked, and won't punch you in the back quite as hard as the equivalent BMW. It's no slouch, but if it were a touch more refined and efficient on CO2 then it could start to threaten the top contenders in this class.

It's also a rather a shame that such a sharp-handling, pointy saloon has such an overly intrusive traction control system. If it operated a little less abruptly, or featured a more lenient sports setting, then this enjoyable car would be even more enjoyable.

That said, the things the people who buy executive saloons really care about are cabin comfort, image and running costs. And whilst the Giulia appears competitive on that final point, matching the BMW 320d's official 67.3mpg figure, its patchy interior may be a sticking point.

Every plus point (comfortable seats, good visibility, lovely steering wheel and gear shifters) seems to have a counterpart that's less impressive. The flimsy indicator stalks, asthmatic climate control and ponderous infotainment system are all merely acceptable, but will feel like a compromise to those stepping out of a German rival.

Interior space is generous, though, with Alfa's claim to having the longest wheelbase in the class being borne out by the plentiful legroom for passengers in the back. Tall adults will feel hemmed in by the sloped roof, but the seats are angled to improve headroom.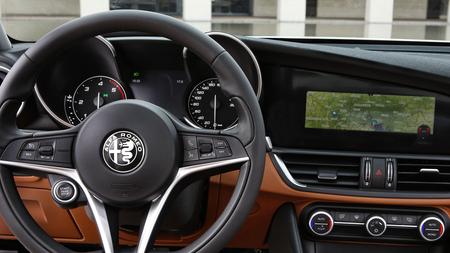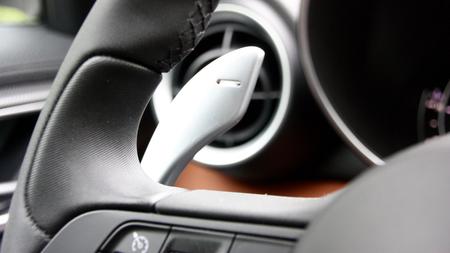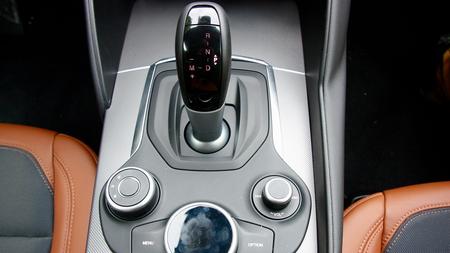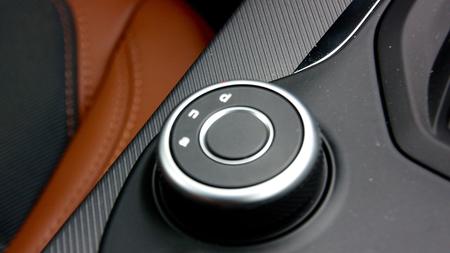 Should I buy one?
People choose their company cars for many different reasons, and if you like the way this car looks, you'll love the way it drives, too. A fine chassis, decent engine and excellent gearbox all hit the mark.

Without detailed UK pricing it's hard to judge the Giulia for value. Alfa claims it'll be on par with rivals from Audi, BMW and Mercedes, but with a more generous amount of standard equipment included when compared spec-for-spec.

Every Giulia gets 16-inch alloys, dual-zone climate control, cruise, a 6.5-inch Connect display, and the latest safety kit; including autonomous emergency braking, lane departure warning, and collision detection. There are still unknowns with buying an Alfa of course - the dealers, resale values and reliability all remain to be proven - but this does genuinely feel like a credible, characterful alternative to the rest of the premium saloon pack.
Key facts:
Price: £32,000 (est)

Engine: 2.1-litre four-cylinder diesel, eight-speed automatic

Power/Torque: 178bhp/332lb ft

0-62mph: 7.1secs

Top speed: 143mph

Economy: 67.3mpg

CO2/BIK tax liability: 109g/km / 21%

Boot space: 480 litres
Also consider:
BMW 3 Series
By a whisker the current class leader, the Giulia is equally good on a twisty road, but its gearbox is not as smooth, and it feels slower
Jaguar XE
Brilliant to drive with wonderful steering, yet like the Alfa it's not quite as refined or luxurious inside as some German rivals
Audi A4
A stunning interior and impressive refinement make the A4 a more grown-up choice of company car, but a much less distinctive one.
Interested in buying an Alfa Romeo Giulia?