First Drive New 2015 Honda Civic Type R First Drive Review
Paul Bond tests the 2015 Honda Civic Type R - can it really live up to the enormous hype?
Auto Trader Verdict
No other hot hatch has carried such a burden of expectation as this Type R. The fact that it never feels like a disappointment is a testament to Honda's engineering skill, and its passion for that little red 'H' on the bonnet. While the car's not perfect, there's a huge amount to like, and despite our reservations about the noise and styling, the Civic is a very welcome addition to the class.

Author: Paul Bond
Location: Bratislava, Slovakia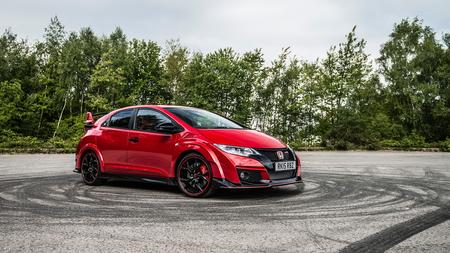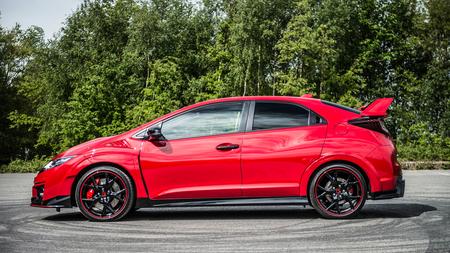 Need to know
New Type R is fastest ever front-drive hot hatch

0-62mph in 5.7 seconds, 167mph top speed

On sale now, priced from £29,995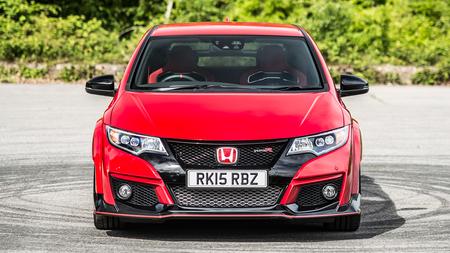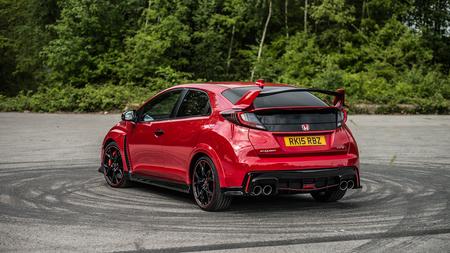 What is it?
The dawn of a new era for Honda, and its first no-holds-barred performance model for close to five years. The all-new Civic Type R has taken a long time to arrive, so the pressure is on for it to prove itself in a vibrant hot hatch market that is hardly short of enticing alternatives.

Can it deliver? After years of concepts and a slow drip feed of technical data, the specs should be familiar, but the headlines are no less impressive. A forced-induction 2.0-litre petrol engine with 306bhp and 295lb ft of torque drives the front wheels, and the 5.7-second 0-62mph sprint time and 167mph top speed put it right at the very sharp end of its class.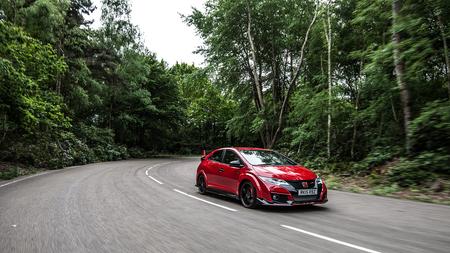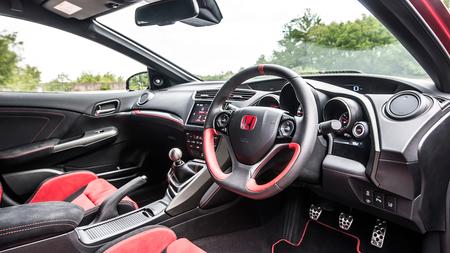 Obviously the Civic has undergone major surgery to cope with its brawny new engine. Apart from the pumped-up exterior styling – sculpted by a genuine need for better aerodynamics – the Type R gains new adaptive dampers, trick front suspension, a Torsen locking diff at the front, and massive Brembo brakes, so it should feel perfectly at home on road and track.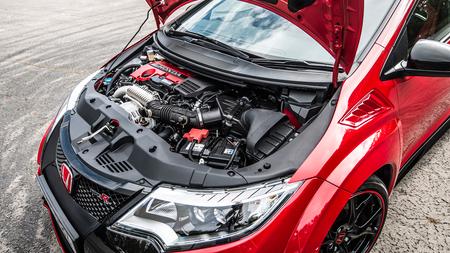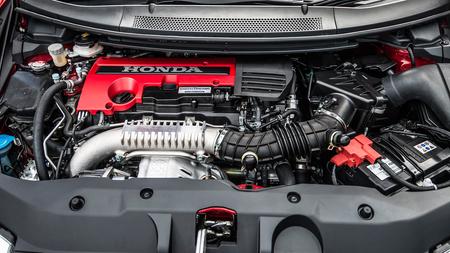 What is it like?
The Type R is a pleasing mixture of old- and new school hot-hatch thinking. The decision to stick with a single transmission (a slick, precise six-speed manual) instantly hands the Civic an advantage over slightly remote auto-only rivals like the Audi RS3 and Mercedes A45 AMG.

Grip the small metal ball on top of the gear leaver, race up through the tightly stacked ratios, and the incredibly short throw makes punching each shift through a real joy. The new engine simply devours revs once it spins up beyond 4,000rpm and the turbo really kicks in, so that gearbox will certainly see plenty of use.

Combining VTEC with turbocharging for the first time gives the latest Type R a different type of performance to its predecessor. Right at the bottom of the rev range, there's a smidgen of lag and a softer throttle response than in, say, a BMW M135i, but once the Type R gets into its stride, it feels every bit as quick point-to-point as its four-wheel drive opposition.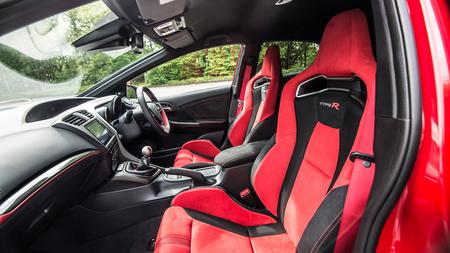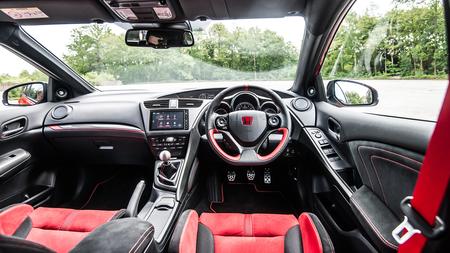 However, sticking with front-wheel drive – especially with the amount of power and torque at the disposal of your right foot – does have an impact on the car's handling. In the dry, the clever front struts and stiffer body shell do a fairly good job of smothering torque steer, although you can still feel the steering wheel squirming if you get greedy with the throttle.

The steering can't quite match the near-telepathic precision and speed of the Renaultsport Megane, with a slightly nervous feeling just off-centre, but once you start attacking corners in earnest, there is so much mechanical grip that you have to be doing pretty serious speeds before there's even a hint of the front tyres starting to run wide. Once they do, you can keep the throttle open and feel the front differential hook up to slingshot you past the apex.

So, the handling and performance both deliver on the hardcore promise of those brash looks, but is this a hot hatch you could live with every day? The ride is definitely on the firm side, but the expensive dampers mean there's no ducking or diving under braking, and It can cope with crests and cambers without shaking you about unduly, or throwing itself off-line mid-corner.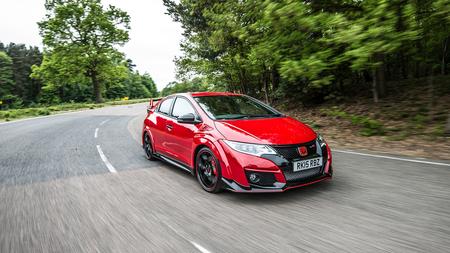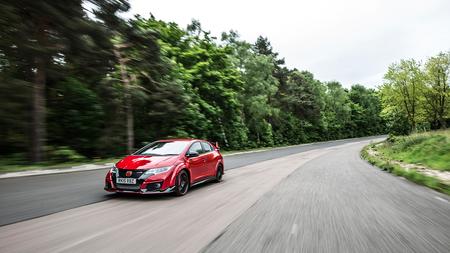 However the exhaust noise is boomy on the motorway and drones away at high revs, and there's a considerable rumble from those wide 19-inch wheels and sticky Continental tyres, which would get a little wearing on a longer, less frenetic drive.

Press the '+R' button to the side of the steering wheel and the dials turn a lurid red, the ride gets even stiffer, and the steering gets heavier as the assistance is dialled down a notch. As you approach the redline, a series of yellow LEDs illuminate the dash, turning red so that you know when to shift up – a nice idea in theory, but like the G-meter and lap timer, at times these features feel a little too much like the kind of gimmicks that Honda usually chooses to avoid.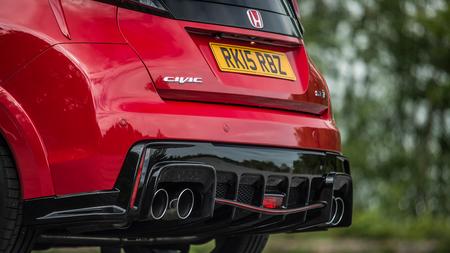 Should I get one?
Honda has certainly made it easy – the standard car features all the kit you really need (apart from sat-nav) and it costs just £29,995, so we wouldn't bother with the optional GT pack. It gets a raft of active safety equipment and some rather garish red highlights on the bodykit.

That price means you can get a new Type R on your drive for just £300 a month on a three-year PCP deal, putting it within reach of plenty of younger hot hatch fans. However, if you drive the VTEC engine hard, you won't get far on a tank of fuel – we got less than 20mpg on our test.

Has this new Type R been worth the wait? The grippy chassis and bonkers high-revving engine give the Civic real personality, but it falls somewhere inbetween its rivals: not as much of a pure track car as the Renaultsport Megane, nor quite as civilised or unshakeable as a Volkswagen Golf R. If you want the best of both worlds, though, the Type R stands proudly alongside its class peers and it stands a real chance of running them close back in the UK.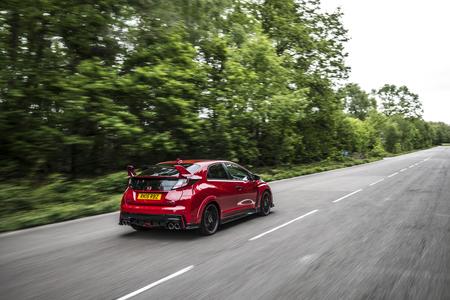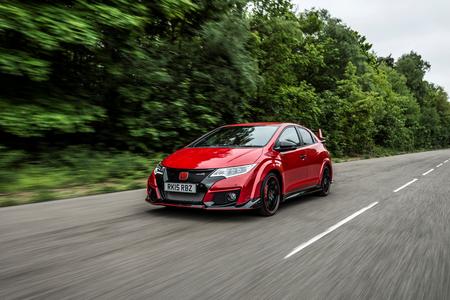 Key facts
Model: Honda Civic Type R GT

Price: £32,295

Engine: 2.0 litre 4cyl petrol turbo, six-speed manual

Power/Torque: 306bhp/295lb ft

0-62mph: 5.7 secs

Top speed: 167mph

Economy: 38.7mpg

CO2/BIK tax liability: 170g/km/29%

Boot space: 498/1,427 litres
Also consider
Volkswagen Golf R
Unflustered in all weathers, with a classy cabin and similar cross-country pace

Ford Focus ST
Down on power compared to the Type R, but lighter, and more playful off the throttle

BMW M135i
It's straight-six sounds terrific, and delivers a sharper throttle response, but it has less grip

Interested in buying a Honda Civic?