First Drive 2017 Land Rover Discovery Prototype first drive review
The Land Rover Discovery's looks may have been softened off, but fear not, the latest Disco is just as rugged as ever. However, we'll need to try a production-ready version on a proper road before we can say how good it'll be as an everyday companion.
Auto Trader verdict:
The Land Rover Discovery's looks may have been softened off, but fear not, the latest Disco is just as rugged as ever. As well as being virtually unstoppable off-road, it provides a cabin that's spacious, practical and high in quality, and there's lots of useful technology available. However, we'll need to try a production-ready version on a proper road before we can say how good it'll be as an everyday companion.
Need to know:
Fifth generation of Land Rover's legendary seven-seat 4x4

As rugged as ever, but now furnished with cutting-edge technology

On sale now, with the range starting at £43,495
What is it?
With its legendary ruggedness and unmatched practicality, the Land Rover Discovery has long been seen as the daddy of the seven-seat 4x4s. However, even legends need rejuvenating every now and then, and the fifth-generation car aims to bring the Discovery bang up to date.

Land Rover says the basic recipe is much the same as always. Unstoppable off-road, smooth and luxurious on it, and with the space, versatility and quality to excel in any family activity. The big news comes in the form of the new technology on board. This includes a suite of semi-autonomous driving aids, a wi-fi hotspot for up to eight devices, up to nine USB ports for charging the family's devices, and electrically folding rear seats that can be operated remotely via a smartphone app, plus many more gizmos besides.

Of course, look beyond the camouflage stickers of the pre-production prototypes that we drove, and you'll see those looks are also something of a departure from what's gone before, with subtler, softer details replacing the chunky Tonka-Toy styling of previous Discos. However, while the no-nonsense looks have been slightly diluted, there's still plenty of visual muscle on show.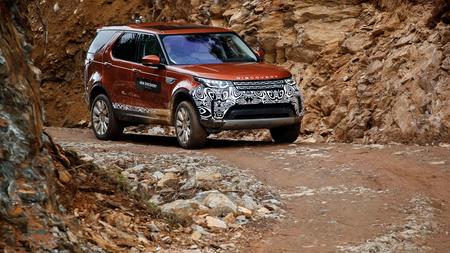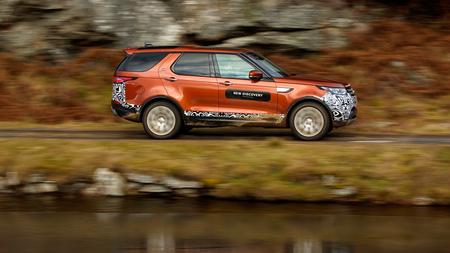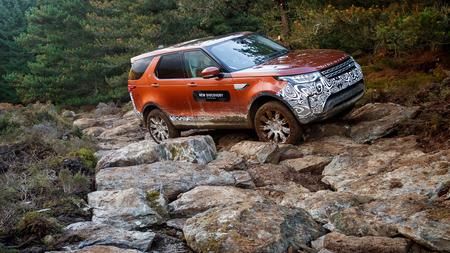 What is it like?
Inside, it's pretty much exactly what you'd expect. The driving position is both comfortable and adjustable, and gives you an exceptionally clear view of the road ahead, while the quality of the interior – both in terms of the materials used and the way they're assembled – makes the Discovery feel like a properly high-quality product. Each of the seven individual seats is surrounded by enough space to comfortably accommodate a gangly adult, while the size of the boot ranges from good, to great, to simply unbelievable, depending on how many of those seats are in place.

It's not perfect, though. The touch-screen infotainment system brings together dozens of different functions, but the complex menus mean finding the one you want isn't very easy. The screen isn't sensitive enough, either, meaning some inputs can require several jabs of the finger to register. Owners of the previous Disco might also be disappointed to hear the car's split tailgate hasn't been carried over to the new model, although you do get a separate 'inner tailgate' that performs most of the same functions.

And what's the car like on the road? Well, unfortunately, we have no idea, because Land Rover only let us drive it on an off-road course in the middle of a Scottish forest, meaning we got nowhere near any asphalt. However, based on what we could feel from behind the wheel, we're expecting the on-road character to be much the same as with previous Discos, with comfort, ease and general luxuriousness being put right at the top of the agenda.

What we can say with conviction, is that – surprise, surprise – the Discovery is all but unstoppable off-road. Not only does it have the latest version of Land Rover's all-conquering Terrain Response 2 system, which uses a variety of mechanical and electronic measures to maximise traction in slippery situations, but the car's ground clearance and wading depth have also been significantly increased. As we found, it'll plough through muddy tracks, scamper up piles of slippery rocks and ford small rivers, all without putting a foot wrong.

Three engines will be available in the UK, but it might as well only be two because virtually nobody will buy the 335bhp 3.0-litre supercharged V6 petrol version due to its thirst. That leaves you with two diesel options, a 237bhp version of the 2.0-litre, four-cylinder found in the smaller Discovery Sport, and a V6 with just 17bhp more, but 74lb ft more torque, which is a whole lot. We tried the latter, and it certainly has the grunt to pull you out of many a sticky situation. The eight-speed automatic gearbox helps, too, because it always knows which ratio you need to keep you moving. It's harder to comment on overall performance, though, because the demanding nature of the off-road course meant we didn't get above 20mph the whole time.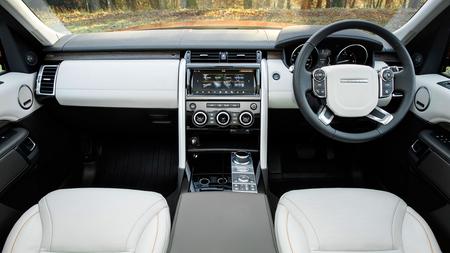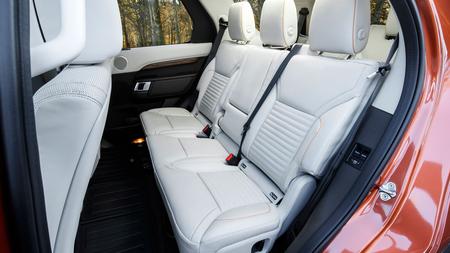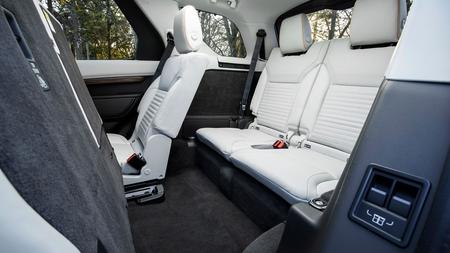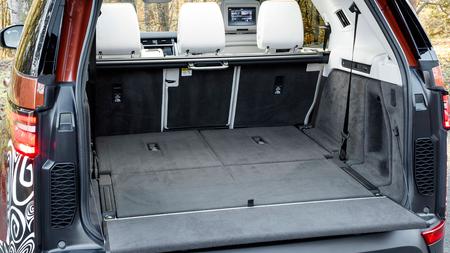 Should I get one?
Due to the limited scope of our drive, it's impossible to answer that question with complete conviction, but the initial signs sure do look good.

The prices aren't outlandish when compared with those of key rivals, either, and thanks to the fact that a whopping 480kg has been shed in comparison with its predecessor, it's a more efficient car than before as well. The 2.0-litre diesel has official fuel economy of 43.5mpg and a CO2 output of 171g/km, while the V6 diesel has figures of 39.2mpg and 189g/km, respectively.

And, if you tow regularly, it's definitely worth earmarking the Disco as your next new car. Not only does it boast an impressive maximum towing weight of 3,500kg, you can also specify Advanced Tow Assist, which takes care of the steering during those reversing manoeuvres that are so difficult when you're coupled up to a trailer.
Key facts:
Model: Land Rover Discovery 3.0TD6 HSE Luxury prototype

Price: £64,195

Engine: 3.0-litre V6 diesel, eight-speed automatic

Power/Torque: 254bhp/443lb ft

0-60mph: 7.7secs

Top speed: 130mph

Economy: 39.2mpg

CO2/BIK tax liability: 189g/km / 37%

Boot space: 258/1137/2406 litres
Also consider:
Audi Q7
Luxurious and practical inside and very competent on the road. A good all-rounder.
BMW X5
The Disco's oldest rival, and certainly feeling its age these cars. Only five seats, too.
Mercedes GLS
Big and brash, but surely, that's what big 4x4s are all about?
Interested in buying a Land Rover Discovery?