First Drive 2016 Toyota Prius first drive review
The 2016 Toyota Prius ushers in an outrageous new look and more mechanical improvements than you can shake a stick at. Think you've got the Prius firmly pigeon-holed? Maybe it's time to think again.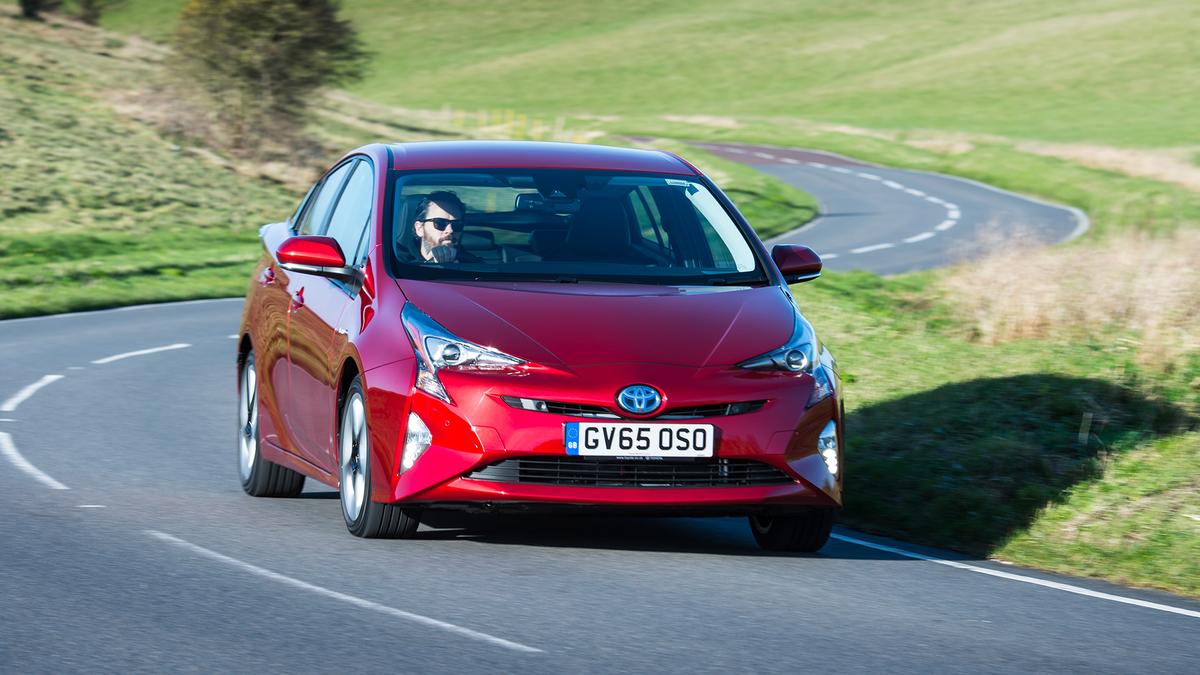 View gallery
Auto Trader verdict:
Both in terms of style and as a thing to drive, the previous-generation Prius had all the appeal of wet lettuce, so in terms of improvements, the new car is nothing short of revolutionary.

Let's not get carried away, though. Yes, it's more refined and more comfortable; and, in terms of numbers, its hybrid powertrain has never made more sense. But, despite all the improvements, the Prius still feels rather sterile to drive compared to many of its European diesel-engined rivals; and, until Toyota cracks that particular nut, the Prius will remain respected, but never loved by those who still enjoy the exhilaration of driving.

Need to know:
Lighter, more-efficient hybrid powertrain

Lowered and sharpened to improve driving responses

On sale now, priced from £23,295
What is it?
You've got to wonder what those crazy cats at Toyota are pouring on their cornflakes these days. Having only just unleashed the outrageous, Thunderbird 4-meets-a-bull dog-chewing-a-wasp Mirai, Toyota's style gurus are at it again, with a similarly outlandishly look for the fourth-generation Prius.

Of course, the one thing you can pretty much guarantee about outlandish styling is that it will appeal and alienate in equal measure. We'll leave you to decide which camp you're in, but as a by-product of the styling and by virtue of the fact the Prius is the first model to benefit from an all-new platform, Toyota claims the new car's stance and driving position are considerably lower than its predecessor's, while the steering wheel exits the dashboard at a more leisurely angle to promote a sportier, sit-in driving position.

Even more significant claims are made about the new platform's rigidity, which is said to be a whopping 60 per cent stiffer than the outgoing model's. That's a remarkable increase and one that bodes well, in terms of crash resilience, as well as providing a solid base to tune dynamic responses around. Toyota has even gone so far as to add independent dual-wishbone rear suspension in place of the old car's basic twist beam arrangement, to further improve ride comfort and handling precision.

In among all the razzamatazz, let's not forget that the Prius is the daddy of all things Hybrid, so it comes as no surprise that this latest car gets the most up-to-date version of the petrol-electric powertrain. Although the basic concept remains the same – a 1.8-litre four-cylinder petrol engine linked to a pair of electric motors that draw power from an under-floor battery pack, with the two working together to drive the front wheels via a continuously variable transmission – the latest powertrain is claimed to be lighter, more compact, more powerful and also more efficient. The upshot, providing you stick with 15-inch wheels, is a headline CO2 output of 70g/km, which equates to 94.1mpg on the combined cycle and a BIK tax liability of just 11%. Oh yeah, and it also means that nice Mr Johnson will let you in to his back yard free of charge.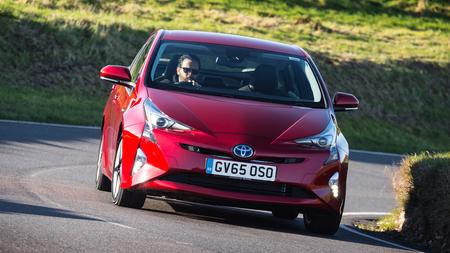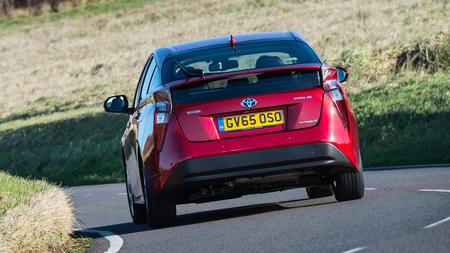 What's it like?
Toyota claims the new Prius is better to drive in every respect than the outgoing car, and you know what, it's not wrong.
For a start, even though it's not really any quicker than the outgoing car, it does feel more connected. The feeling of a lack of initial performance that is part and parcel of the Prius's efficiency-biased transmission is now far less pronounced thanks to faster throttle responses; and, as a result, it's now only mildly annoying rather than downright frustrating.

Bury the accelerator pedal away from the mark and the transmission still feels like it has lost at least half of its connection with the engine, as the frantic leap in revs and under-floor vibration seem totally at odds with relatively leisurely increase in speed. At least, the period while this howling and vibrating persists is far less prolonged than in the previous car. To be fair, it's only really sprints away from the lights where this trait is fully exposed, and above 40mph, where you're less inclined to demand full load from the engine, additional acceleration comes on relatively strong and in a more hooked-up fashion.

At the end of the day, though, you still can't help feeling there's a scolding governess sitting in the rear seat giving you a disapproving scowl every time you go near the accelerator pedal with any kind of intent. Of course, you can win back approval by moderating that right foot to the point where you drive around town purely in EV mode with just the whirr of the electric motor for company.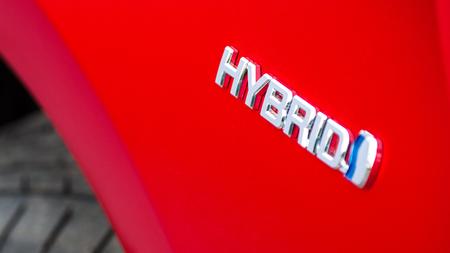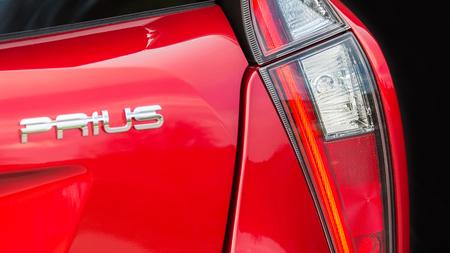 The fitting of more sophisticated rear suspension components has certainly helped reduce the effect of road impacts. There's far less after-shake over bumps and those impacts are also dealt with in a quieter more acoustically refined manner. That lower centre of gravity also means you need to be getting a good lick on in tight bends before the tyres start to get all hot and bothered.

Even so, despite the improvement, there's still the nagging impression that you are driving a distinctly nose-heavy vehicle – although we're not entirely sure why. Sure, there's the additional weight of the electric motors and control units riding up-front, but when you consider the Prius has no starter motor, no alternator and no clutch to contend with, and the additional mass of the battery pack is stored under the rear seat, you could be forgiven for thinking it would be a pretty simple task to engineer in a neutral front-to-rear weight bias.

This nose-heavy feel is not helped by the weightier steering for the new car, either, as all it tends to do is to emphasise the effort involved in getting the nose of the car to change direction.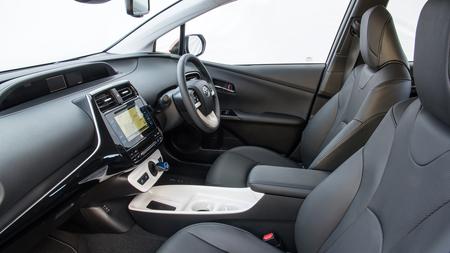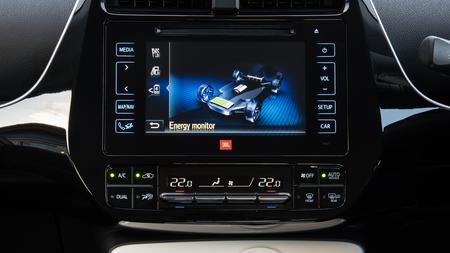 Inside, despite the fitment of some softer-touch materials and a splash of smarter trim, the Prius still feels a wee bit low-rent. Certainly, it's never going to match a Skoda Octavia for perceived quality, but you can forgive some of this austerity because you just know that from the way Toyota screws things together that the Prius isn't going to so much as hint at a squeak, never mind create anything as rude as a rattle, throughout its lifetime.

While a similar central-mounted instrument pack to the outgoing car remains, a dominant feature just below is yet another subtle nod to sci-fi; we swear that the profile of the central touch-screen that displays the sat-nav and various infotainment functions bears more than a passing resemblance to the silhouette of Darth Vader's helmet. Regardless of how the surrounds looks, the crispness of the images, along with the speedy responses of the systems within, is as good as touch-screen technology gets these days.

Porcelain white highlights for the gear selector surrounds, steering wheel inserts and centre storage area are also available if you wish to lighten the mood of the cabin, but to be honest it's all a bit sanitary-ware like for our taste. That said, even we'd stop short of suggesting a lemon-scented air freshener hung from the rear view mirror would complete the lavatorial theme.

The new Prius is also 15mm wider than its predecessor and, although it's no Ford Mondeo, the almost flat floor means three can travel in the rear without playing footsie. The boot has also grown to 457 litres and, although it's still dwarfed by a Skoda Octavia's and is a wee bit shallow under the load cover, it'll cope well enough with a fair few flat-pack goodies; especially with the split/fold rear seats backs folded.

Should I buy one?
We don't want this section to sound like we are damning the Prius with faint praise. To be honest, if Toyota had asked us how they could improve the Prius, then most of our wishes would have been addressed with this new model. It's smoother to drive, more responsive, more refined, more comfortable, even more economical, and now we can't even accuse it of being dull to look at.

For all its virtues, though, we can't help feeling there's still a couple of essential ingredients lacking. One is the rather sterile look of the cabin, but more importantly, the other is the vital lack of driving spark and the disparaging way the car responds should you ask it to throw off its social conscience and indulge in a spot of a spirited driving.

Key facts:
Model: Toyota Prius

Price: £23,295

Engine: 1.8-litre 4-cyl Hybrid CVT Transmission

Power/Torque (petrol/electric): 97/71bhp /105/120lbft

0-62mph: 10.6sec

Top speed: 112mph

Economy: 94.1mpg

CO2/BIK: 70g/km/11%

Boot space: 457 litres
Also consider:
Skoda Octavia
The Octavia is great to drive with a strong range of powerful, fuel-efficient engines. It also provides an upmarket cabin, loads of interior space and an enormous boot
Ford Mondeo
The Mondeo is sensational to drive, offering a great balance of comfort, control and refinement. It's exceptionally spacious, well kitted and is available with some stonking discount deals
Mazda 6
The Mazda 6 is a cracking all-rounder. Not only is it good to drive and affordable to buy and run, it's also well equipped and provides enough practicality for most families
And, if you're considering a hybrid car, you can find even more information in our dedicated
Electric and hybrid cars section.
Interested in buying a Toyota Prius?