First Drive 2016 Mercedes C-Class Cabriolet first drive review
Mercedes has a long history of open-top cars, but the C-Class Cabriolet is a first. We test the four-wheel drive C 43 AMG model to see if it can take on the Audi S5 Cabriolet.
First published: 3rd June 2016
Auto Trader Verdict:
The new C-Class Cabriolet is a near-flawlessly executed open-air version of the excellent coupe. The mini S-Class looks, supple ride and impressive refinement will make it an easy car to live with, and the four-wheel drive C 43 is an interesting new take on the AMG formula which could be a huge hit, especially for us here in the UK.
Need to know:
Mercedes launches first ever open-top C-Class model

Five engines available in the UK, including two AMG versions

On sale now, prices starting from £36,200 on the road
What is it?
The first ever open-air version of the Mercedes C-Class. While that idea might not be as shocking as Land Rover peeling the roof from the Evoque, this is a very different proposition to the SL and SLK.

With four proper seats, and a cloth – rather than complicated metal – roof it'll go toe-to-toe with the BMW 4 Series convertible and new Audi S5 convertible and (Mercedes hopes) eat into the profits of its rivals in a segment of the market the brand has avoided thus far.

Underneath the pretty, mini S-Class bodywork, the Carbriolet is based on the C-Class Coupe, and comes in the same pair of very highly equipped trims: Sport and AMG Line. There'll also be five engines to choose from, with a pair of diesel models, three petrols and not one, but two high-performance AMGs; the C 43 and C 63.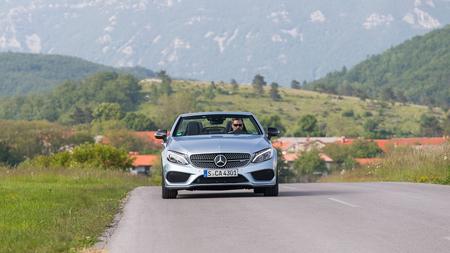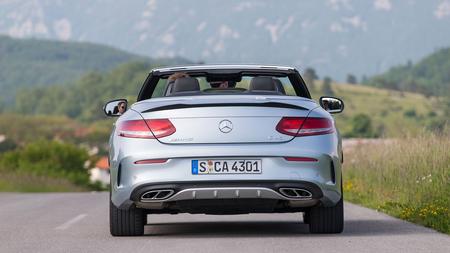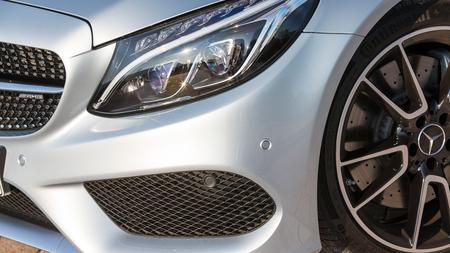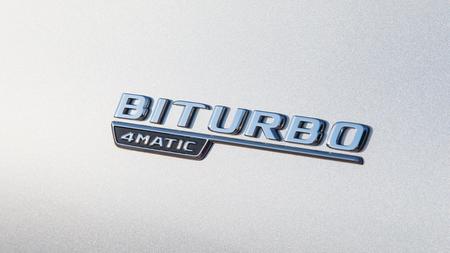 What's it like?
Over the years Mercedes and its tuning division, AMG, have been having a fierce internal game of tug-o-war. The parent company is set on building refined, relaxing luxury cars, while every model to visit the tuners in Affalterbach comes back louder, madder and badder than ever; with more power than you could possibly need.

This schizophrenia has steadily become part of the brand, but this new C 43 AMG Cabriolet (also available as a Coupe) feels like it has split its loyalties right down the middle; with the power, style and aggression of a proper AMG, but the comfort and safety of a Mercedes; so it's quite an exciting proposition to say the least.

Before we get too ahead of ourselves, let's quickly go through the changes Merc has made to turn its C-Class from Coupe to Cabrio. Apart from losing the roof, and gaining around 125kgs depending on the model, the Cabriolet raises the price by £3,000 or so too.

The multi-layered cloth roof is as complicated and well-engineered as the folding metal hardtops in the SL and SLC roadsters, but it stows into a much tighter space, so you still get a reasonable boot and with it up you can carry more luggage in this than any rival.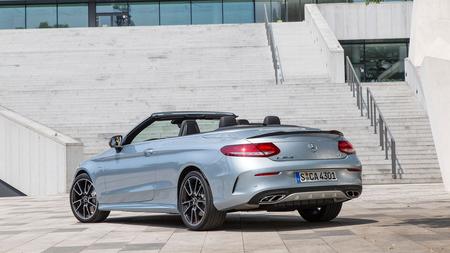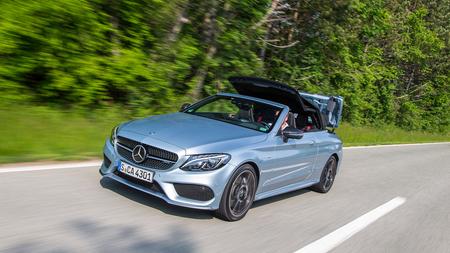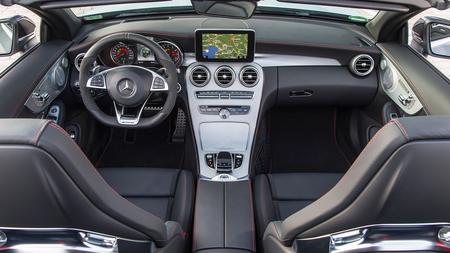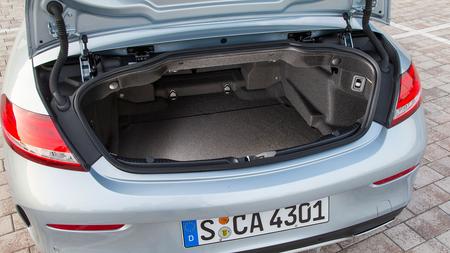 It raises and lowers in 20 seconds, at speeds of up to 31mph, and the whole process looks dramatic enough to draw attention from all you fellow drivers, but you'd feel like a berk if you dropped the roof in traffic and suddenly went above 30mph and halted proceedings.

Once you've got the top down, you'll have a front-row seat for the fireworks from that twin-turbo V6. It's been given tweaks by AMG, with higher boost pressure, so it feels more muscular and raucous than it does in the SL400. It's urgent from low revs and then rushes towards its 6,200rpm redline, and if you're not careful with your shifts it's easy to headbutt the limiter as you try and extract maximum performance.

The nine-speed gearbox is a willing partner to the engine up to a point, and the metal shift paddles are a joy to use. The C 43 supposedly has a quicker 'box than the standard car, but even here the shifts are not instant, and it's better at slurring through the ratios in auto than banging in rapid-fire manual changes, but then this is more of a swift luxury GT than a sports car.

It certainly sounds like one though with crackles on the overrun and a highly-strung exhaust note, and while there's a lot of weight for the air suspension and wide tyres to deal with, the C 43 is still an amazingly capable way of covering ground swiftly and serenely, as we discovered.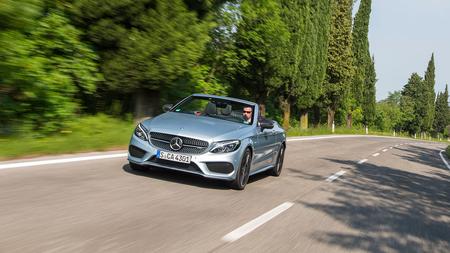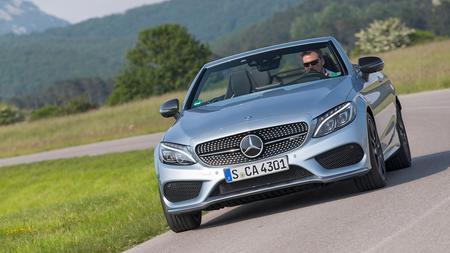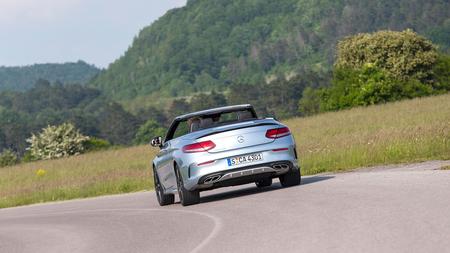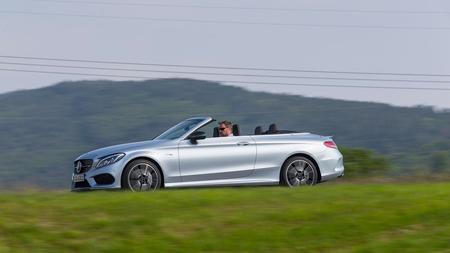 The four-wheel drive system sends most the grunt from the engine to the rear wheels (around 70 per cent) but in reality it feels stable and surefooted, rather than unhinged like the C 63 S. This means you can ask for as much throttle as you want, whenever you need.

The three-way adjustable dampers mean you can pick between a soft supple ride and gentle, gradual body roll in corners or tighten everything up in Sport and Sport + but even in its firmer settings the C-Class Cabriolet never gets uncomfortable or jarring.

It even stops and steers really nicely too, with almost the same accuracy and pleasingly consistent weight as the Coupe, and only the roughest surfaces expose any shimmy or shake in the body.

The only other sacrifices you need to make for having the roof down once in a while are to practicality. With the roof off you can squeeze four adults in without trouble, but close it and headroom becomes quite cramped, with narrow foot wells, and it's dark too.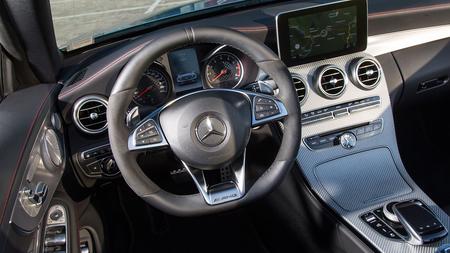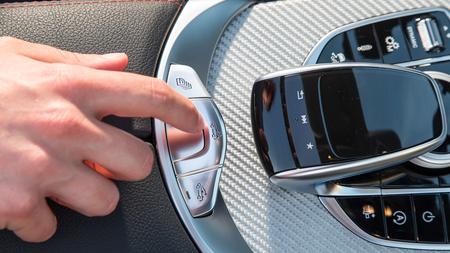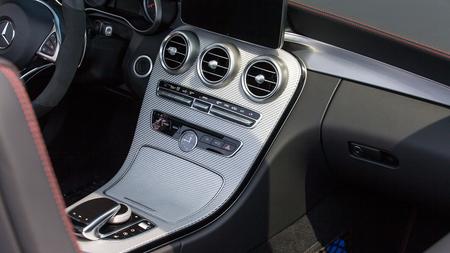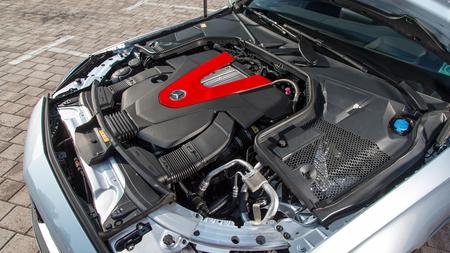 Should I buy one?
With head-turning looks, a snarling exhaust and the right badge, the C 43 is hugely desirable, but how does it stack up to its rivals?

Well, while it's a few thousand pounds more expensive than an Audi S5 or BMW 440i Cabriolet, it's also nicer inside and a fair bit quicker than both, and gets a huge amount of standard equipment thrown in - even more than in the Coupe, with LED headlights, heated, powered faux leather sports seats, the list goes on and on.

Official economy figures of 34mpg and 190g/km actually mean it's not that much cheaper to run than the V8 C 63, but with a list price that sits over £15,000 lower, it gives you a big slice of that car's performance and character, for an awful lot less money.

Key facts:
Model: Mercedes-AMG C43 4MATIC

Price: £50,160

Engine: 3.0-litre V6 petrol twin-turbo, nine-speed automatic

Power/Torque: 362bhp, 384lb ft

0-62mph: 4.8secs

Top speed: 155mph

Economy: 34.0mpg

CO2/BIK tax liability: 190g/km / 35 %

Boot space roof up/down: 360/285 litres
Also Consider:
Audi S5 Cabriolet
Getting rather long in the tooth now, the Audi is spacious, but not as supple or luxurious as the Mercedes, and a fair bit slower too
BMW 4 Series Convertible
Not as special to look at or to sit inside, but comes with the added security of a metal roof, and the 440i is quite a lot more affordable.
Ford Mustang Convertible

You could buy a V8 Mustang drop-top and still pay £10,000 less than the C 43, but the interior is more pound shop than boutique.
Interested in buying a Mercedes-Benz C Class?