First Drive First drive: 2016 Mercedes-Benz A220d
This is the mid-life refresh of the big-selling Mercedes A-Class premium hatch. Has Merc addressed any of our original concerns?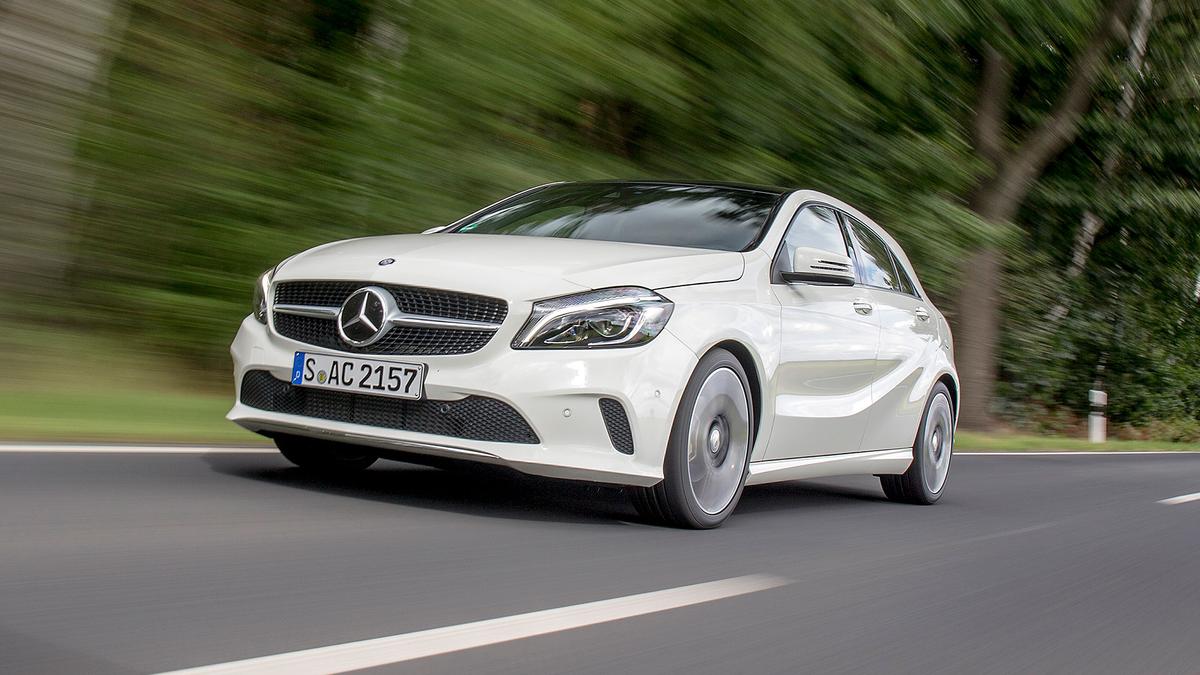 View gallery
First published: 10th September 2015
Auto Trader Verdict:
Mercedes has made the good bits of the A-Class even better, but the fundamental flaws of an average driving experience and mediocre cabin space remain.

Author: Euan Doig
Location: Dresden, Germany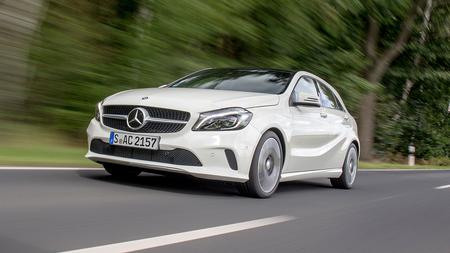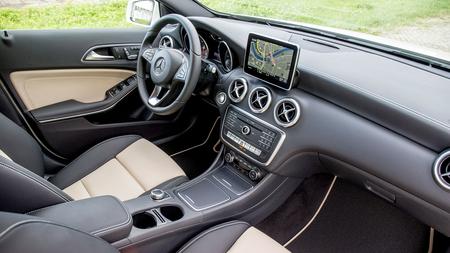 Need to know:
Refreshed version of Mercedes-Benz's top-selling family hatch

More equipment and classier trims

On sale October starting at £28,385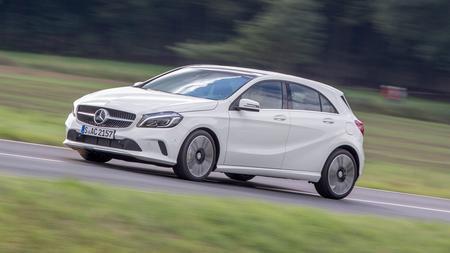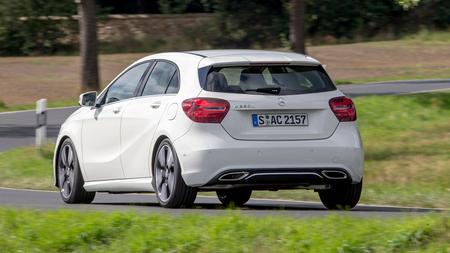 What is it?
The
A-Class
is a small family hatch that aims to offer the prestige of the Mercedes badge to those who may otherwise have looked at a
Volkswagen Golf
. The Merc's problem has always been that the
Audi A3
and
BMW 1 Series
are competing for the same buyers, and they are better all-rounders.
For 2016, Mercedes has given the car more standard equipment, including a Dynamic Select system that allows you to change the car's steering and throttle settings at the touch of a button on the dashboard. If you should specify the £595 optional adaptive suspension, it can be altered under the Dynamic Select system, too. On top of that, extra kit includes a media interface, a reversing camera, under-seat drawers and Artico man-made leather. Diesel models will also no longer be known as 'CDI', from now on they're simply 'd'.
The updates prove that Mercedes isn't standing still with a car that received only middling reviews when launched, so have the updates managed to alleviate our concerns?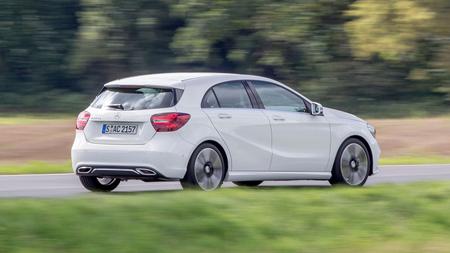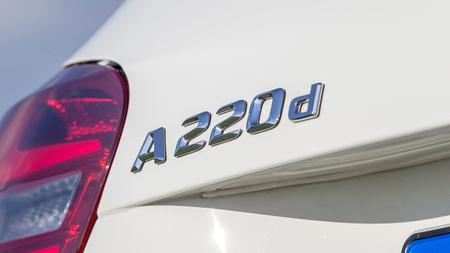 What's it like?
We've always criticised the 2.1-litre (confusingly-titled either 220 or 250) Mercedes-Benz diesel engine for being a fairly uncouth thing, and so it continues to be, albeit perhaps not quite as badly as before. Put your foot down and the engine is happy to let you know exactly how hard it's working – making quite a lot of noise, especially when accelerating from low speeds – and it sends a few vibrations up through the pedals, too.

It's pretty punchy though, giving the A-Class a decent turn of pace away from the lights, and making higher-speed overtaking relatively easy. It works well when linked up to the 7-speed dual-clutch automatic gearbox, which changes up and down through the ratios quickly and smoothly. If we've a criticism, it's that sometimes the 'box doesn't change up exactly when you want it to when using the steering wheel-mounted paddles. Also, if you end up in Sport mode in town, the 'box is rather too keen to hang on to a lower gear than necessary, which causes the engine to blare somewhat overbearingly.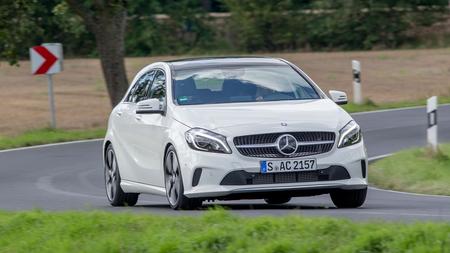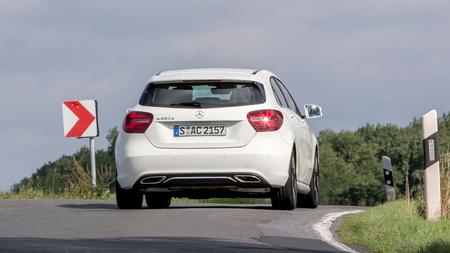 It fades into the background on dual carriageways, but that's partly because the background noise becomes so much louder. Road noise and wind noise both vie hard for your attention, and unfortunately they succeed to the extent that you'll have to raise your voice quite a bit to keep up a conversation.

The car we drove was fitted with the optional (£595) adaptive damping system. In Comfort mode it kept the car's body under strict control at all times, but didn't stumble and crash over surface scars as badly as the pre-facelift car. It still isn't as good as an Audi A3 Sportback or Volkswagen Golf though, and using the Sport setting firms things up to such an extent that the car doesn't deal particularly well with anything that isn't glassily smooth. We struggle to see how it'll cope with typically poorly-surfaced UK roads.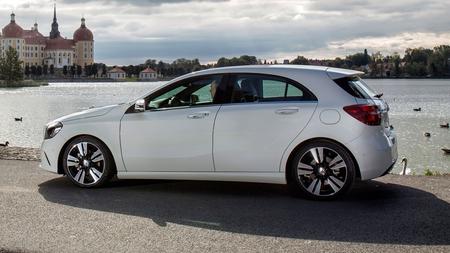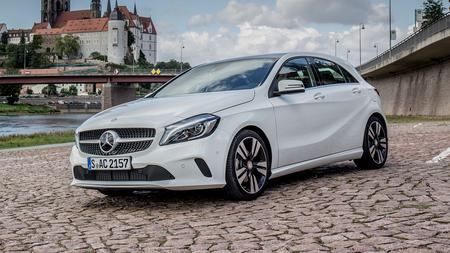 The A-class grips strongly, though, hanging on well beyond what you might expect it to, and the steering is reasonably direct and accurate. As with most cars these days, there's little feedback through the wheel, but the car does at least respond quickly and well to inputs.

Inside, things are largely unchanged, aside from the materials being improved. It's certainly an interior that'll make you feel good about buying your A-Class. All of the buttons and switches work beautifully and the materials used (be they leather or high-grade plastic) manage to feel both luxuriant and robust enough to deal with day to day life.

It's a shame that there are so many similar buttons that are difficult to decipher at a glance, plus some ergonomic issues, such as an electric handbrake switch that you have to pull to release and push to activate; it's counter-intuitive.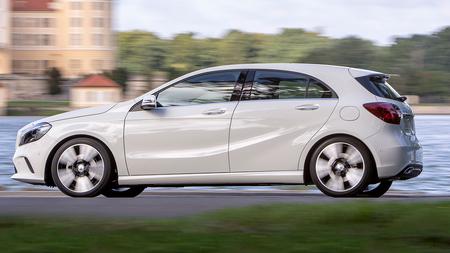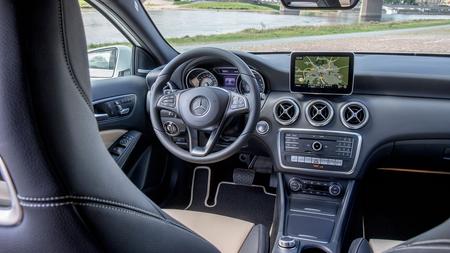 There's a decent amount of space for the two front-seat occupants, even with the optional glass sunroof fitted. The A-Class is less accommodating in the rear however, where two six-footers will feel decidedly hemmed-in, because the rooflining around the door frame comes down right besides your head. The rear seat area is awkward to get into and out of, too, because you have to thrust your hips forward to get around the wheelarch at the same time
as ducking your head low to avoid the top of the doorway. At the rear, the boot space is acceptable, albeit behind rivals' such as the A3 Sportback and BMW 1 Series.

The view forward is good, but the rearwards view is compromised by the car's rising waistline and small rear window. It's just as well that the reversing camera is now standard, although it can't help when you're changing lanes on the motorway; the blindspots are sizeable.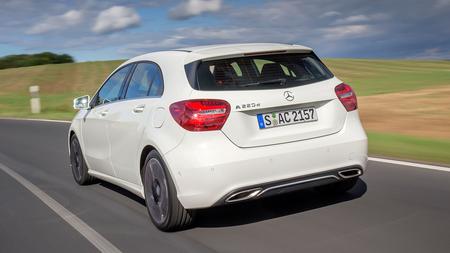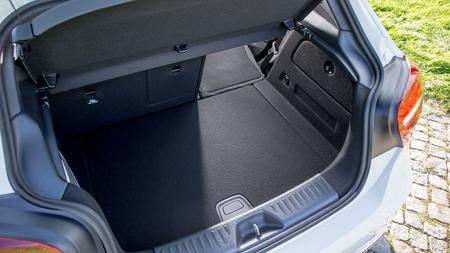 Should I get one?
We can see why so many people are being drawn to the A-Class, because it looks great, it's extremely well equipped, and it feels beautifully put together from top-notch materials.

However, while it may offer more value than before, it's expensive in this trim level. On top of this, the car is far too noisy at all speeds and is let down by an engine that's starting to feel its age. The A-Class's rivals also ride better and offer more space.

Model: Mercedes-Benz A220 d 7G-DCT AMG Line

Price: £28,385

Engine: 2.1 litre diesel, seven-speed dual-clutch automatic

Power/Torque: 175bhp/258lb ft

0-62mph: 7.5secs

Top speed: 140mph

Economy: 70.6mpg

CO2/BIK tax liability: 104g/km/??%

Boot space: 341 – 1,157 litres
Interested in buying a Mercedes-Benz A Class?