First Drive 2016 Ford Focus RS first drive review
Ford's new hyper-hatch has class supremacy firmly in its crosshairs. Question is, does it have the right ammunition for the fight? We test it on road and track to find out.
Auto Trader Verdict:
With its boorish looks and bombastic exhaust note, the RS isn't one of those hot hatches that slips under the radar. However, that's no bad thing. Shake off your inhibitions, and you'll be treating yourself to one of the most engaging and exhilarating hot hatches ever brought to market. Outrageously fast and phenomenally fleet-of-foot, the RS is exceptional in almost every respect. That includes the price, which, given the levels of performance, would seem cheap at twice the money.
Need to know:
Turbocharged 2.3-litre petrol engine giving 345bhp

Straight-through exhaust and a dedicated 'drift mode'

On sale now, costing £29.995
What is it?
The car that any self-respecting hot hatch fan has been waiting for with bated breath. Only the very fastest of fast Fords get to wear the hallowed RS badge, and the arrival of a new RS is a genuine automotive event.

Importantly, the all-new Focus RS looks appropriately theatrical, with more aerodynamic adornments than a Euro-fighter. However, these aren't merely superfluous trinkets designed solely to make the car appear meaner than a 'swamp full of 'Gators'; they genuinely play a part in the car's outstanding performance and scintillating dynamics. Those extravagant wings and ground-hugging diffusers all help minimise lift, while the voracious air ducts force-feed the engine's big-bore turbocharger.

The headlines include a new twin-clutch four-wheel drive system to cope with the prodigious 345bhp output of the new engine, which is a heavily modified version of the 2.3-litre four-cylinder block from the Mustang, which sadly means an end to the rally-inspired five-cylinder warble of the old 2.5-litre Volvo-sourced powerplant.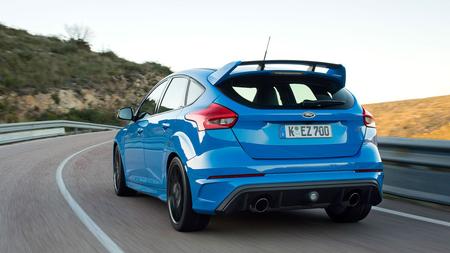 What is it like?
If you're wondering if the RS is hardcore enough to live up to the hype, then stop; this thing is nuttier than a squirrel's shopping list, and in a vast variety of ways.

Firstly, and perhaps most importantly, there's the performance. With maximum power of 345bhp at 6800rpm and a thunderous 325lb ft of torque delivered from just 2000rpm onwards, it's little wonder that Ford has resorted to a trick four-wheel-drive system to manage the turbocharged petrol engine's stellar output.

Set to maximum-attack launch mode, the acceleration you feel is head-bangingly brutal. The 0-62mph sprint is done and dusted in a blistering 4.7 seconds, while the top-end mayhem is pegged at a dizzy 165mph. This sort of speed certainly isn't for the faint-hearted, particularly when you're sitting in what is essentially a souped up family hatch.

And then there's the noise you get from the bespoke exhausts. With an unrestricted straight-through pipe running from the engine's manifold to a largely inadequate rear muffler, an electronically controlled exhaust flap is all that stands between the outside world and the fury that's being stoked under the bonnet.

You're treated to a menacing cacophony of pops, bangs and burbles in Sport mode; and, with a percussion section made up of fusing drive shafts and a chirping rubber on Tarmac, you're fired off towards the horizon at breakneck speed.

Any hot hatch lives or dies by its handling, though, and thankfully, the RS is every bit as dramatic here. The straight-line traction is simply phenomenal, the grip levels through bends will provide you with the ultimate test of ribcage flexibility, and extreme braking (courtesy of some seriously sizeable Brembo brakes) generates enough retardation to drive your chin into your sternum with considerable force. This is a hot hatch at its raw, physical and engaging best.

You'll also love the RS's bespoke steering, which is beautifully weighted, both on turn-in and turn-out, and linear in its feel and response. Ford made sure they spent time engineering the RS to be light and agile, and the four-wheel drive system only adds around 20kgs to the kerb weight, making the Focus feel alive and darty in a way an Audi RS3 or Mercedes A45 AMG never seem to, no matter how fast or aggressively you try and drive them, in an attempt to unsettle their unshakeable grip.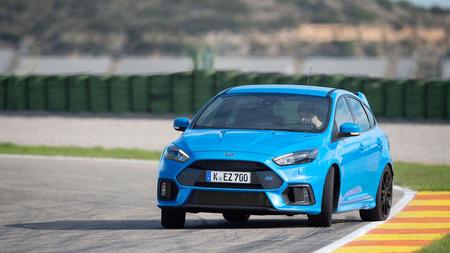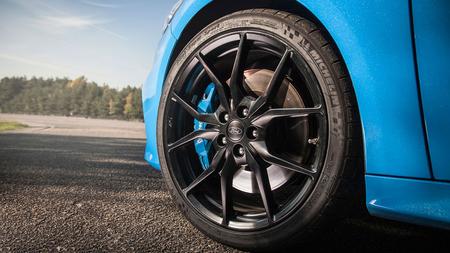 On top of all that, the RS's real party trick is its ability to drift at will. Hit the button that enables the drift function, and you're immediately transported to a world of lurid sideways slides that can be effortlessly controlled with no more finesse than a big prod of the accelerator pedal. Put simply, it's an ASBO waiting to happen.

Granted, the ride comfort is also fairly 'dramatic'. It's not inappropriately harsh – this is a hardcore hyper-hatch after all – but even with the adaptive suspension in its road setting, it's properly firm. You won't often find yourself switching to the even firmer setting, which Ford admits is really for track use only.

The RS isn't quite perfect in other ways, either. The interior design is barely distinguishable from that of its humbler ST cousin, and being a Focus, the build quality can't match that of classier rivals like the Volkswagen Golf R.

Neither can it match it for practicality either, with a fairly snug set of seats in the back row. What's more, the bespoke fuel tank needed to accommodate the four-wheel drive system and various suspension components robs the boot of lots of space (down from 316 litres to just 260 litres) - so this Focus RS is arguably more 'hot' then it is 'hatch' - but that's pure nitpicking really.

However, to dwell too much on these minor shortcomings is to miss the point entirely. In every area that's important to a car like this one, the RS is simply breathtaking.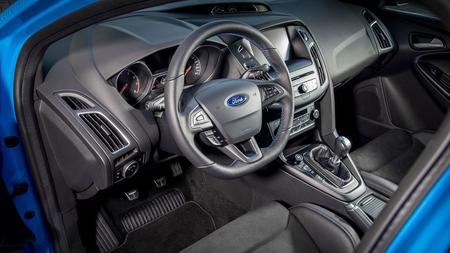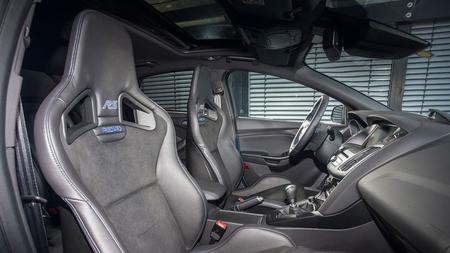 Should I get one?
The prospect of a £30k hatchback doesn't instantly scream good value, but when you consider the depth of engineering excellence you get for your money, it feels like Ford is giving this thing away. You'll also be hard-pushed to find another car that provides this much horsepower for so little cash.

Granted, you'll gobble through unleaded at a fairly alarming rate, and getting insurance cover will be an insurmountable barrier for a lot of younger drivers. However, the four-wheel drive means the RS will be a little easier on tyres than its front-drive predecessor was, and maintenance costs will be low compared with other cars that offer this much performance. What's more, the resale values are likely to be rock-solid – previous-generation examples of the Focus RS are still commanding very strong money now – so you can even feel safe in the knowledge that this less-than-sensible car is, ironically, actually quite a sensible financial investment.

Is it the best hyper-hatch on sale? Well, it's impossible to say conclusively until we've had a chance to drive the RS alongside its key rivals. Rest assured, though, we're very much looking forward to finding out.

Key facts:
Model: Ford Focus RS

Price: £29,995

Engine: 2.3-litre, four-cylinder turbo, six-speed manual

Power/Torque: 345bhp/325lb ft

0-62mph: 4.7secs

Top speed: 165mph

Economy: 36.7mpg

CO2/BIK tax liability: 175g/km/30%

Boot space: 260 litres
Interested in buying a Ford Focus?