First Drive 2015 Porsche Cayman GT4 first drive review
Is the Cayman GT4 the finest road car Porsche has ever made? We drive the limited edition, analogue sports car to find out if it can cut it with the 911 GT3 and RS.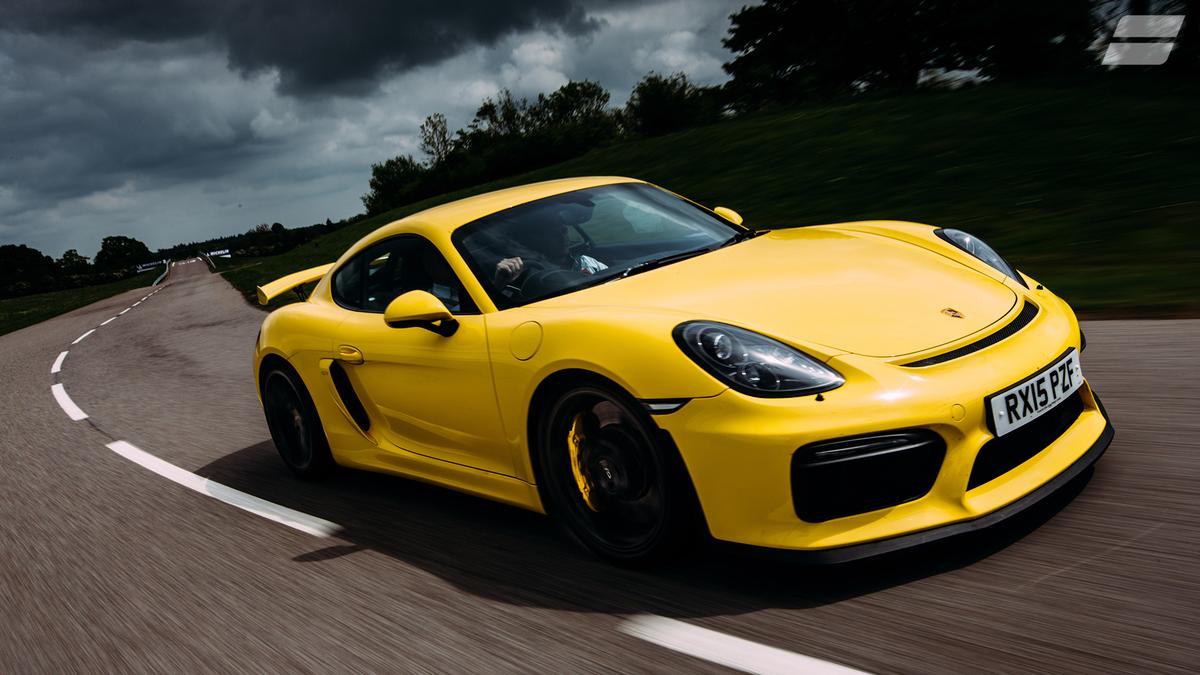 View gallery
Auto Trader Verdict:
As the proof of everything a Cayman could be when given enough firepower the GT4 is a definitive, resounding success. Dynamically peerless at its price range, this is a car that demands and rewards its driver in equal measure. Is it really worth 911 GT3 money? To us, the fact you can even start to compare them only adds to its allure. A true Porsche GT.
Need to know:
Motorsport-inspired Cayman packs the 3.8-litre engine from a 911

Most powerful Cayman produces 380bhp, six-speed manual only

All models sold out – currently available from £90,000 - £110,000
What is it?
The Cayman GT4 is the rarest of things: Porsche's GT department giving its loyal customers exactly what they want; no compromises. For several years the brand has upset its enthusiasts, with electric power steering in the 991, then no manual gearbox in the GT3 and GT3 RS, and then moving to turbocharging for the mid-life refresh.

Those cars were still unquestionably brilliant, but a trend seemed to be emerging, moving away from offering driver engagement, and instead making cars that were quicker than ever, but a lot easier to drive too. Well, the Cayman GT4 is the near-perfect way of silencing the doubters, and proving Porsche still has its mojo.

Another well-trodden myth about the Cayman is that it would be faster than the 911 if only Porsche allowed it. Well, the GT4 has the same 3.8-litre engine as the (now defunct) 911 Carrera S and makes the full 380bhp, wrapped in a smaller, lighter package.

It's also been transformed like no other Cayman has before it, with 911-derived suspension parts, a full suite of aerodynamic upgrades, wider wheels, and a limited-slip diff. So thus armed, time to finally find out what the Cayman can really do…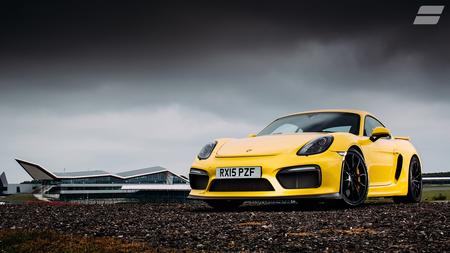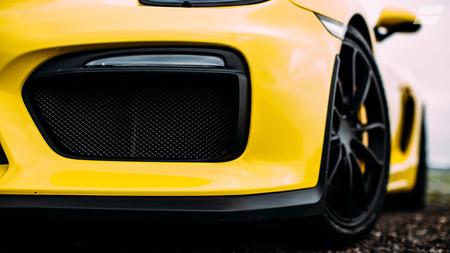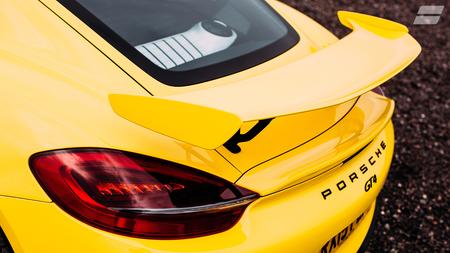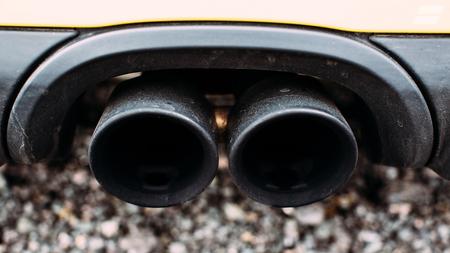 What's it like?
Satisfyingly different than a Cayman GTS; but every bit as brilliant. The standard Cayman is a fabulous road car, but the GT4 strips away its layers and leaves you with a sports car in its rawest form.

Clamber into the optional carbon shell bucket seats from the 918 Spyder (for clambering is the only possible method of entry) and it feels like you're bolted right to the floor of the car. You sit low, and upright, just as you would in a racing car, ensconced in a world of dark Alcantara and leather, brushed aluminium, and carbon fibre.

Everything about this interior reinforces the impression of serious, track-focused performance, and the bark from the sports exhaust as you twist the key settles into a low, mechanical chunter that is authentic and raucous in a way that would embarrass a BMW M3.

After going through the full start-up ritual, your mind sharpening to the task at hand, expecting an intimidating, edgy experience at the wheel. Yet it takes barely any time to tune yourself into the GT4.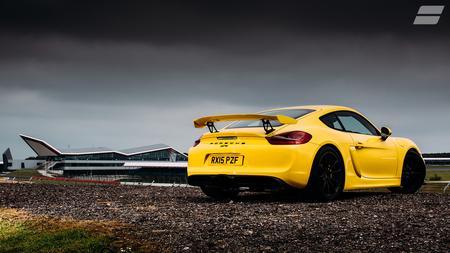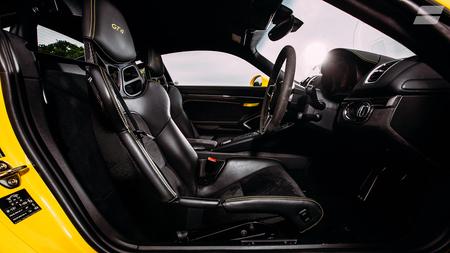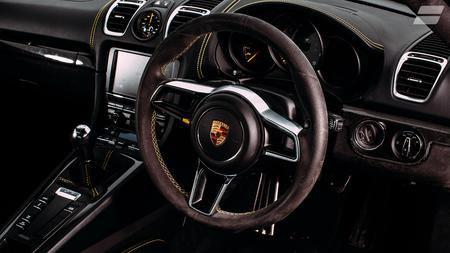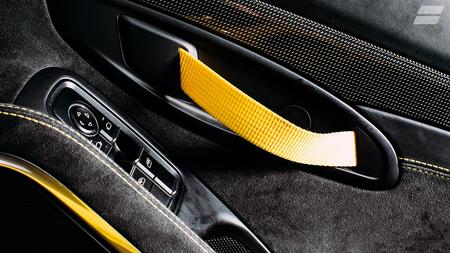 Its relatively heavy steering and clutch, the precise amount of force needed to slot home each manual shift, rolling a foot across brake and throttle to blip the motor on downshifts, is soon second nature.

Work through the long gears, and get the 3.8-litre engine spinning well above 5,000rpm and throttle response is instant. The howling from behind your head becomes ear-splitting, and the Cayman surges towards the redline in an angry, frenzied rush of motion.

It's easy to get carried away by the brilliance of that drivetrain, but in truth it's the chassis, and not the engine that makes the GT4 so enjoyable to drive. On cold rubber (the standard Michelin Pilot Sport Cup 2s are seriously racy) and wet roads you need to build the speed gradually, get greedy and the rear will step sideways.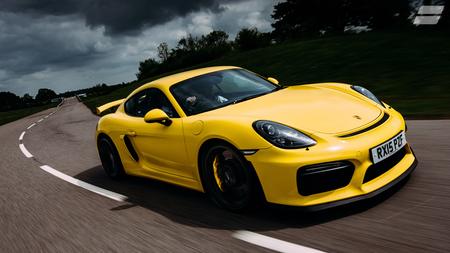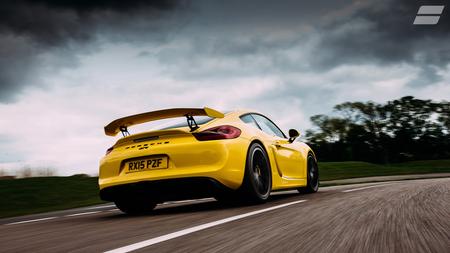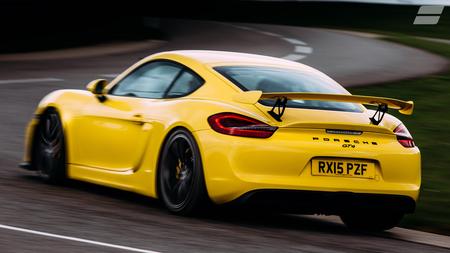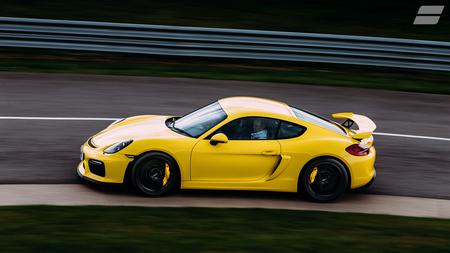 Yet the communicative steering, and the impeccable balance of the GT4's chassis mean you get clear messages through your hands and hips about just how much grip there is at each corner. Once the tyres are warm the grip levels skyrocket, and you can confidently exploit the huge traction through fast and tight bends.

Of course this all sounds like brilliant fun, and on the right road, or indeed a race track, the Cayman GT4 is fantastic, it's not an easy car to drive, but trying to unlock its huge talents it part of the fun.

This is not however, an everyday car by any measure. The price you pay for the incredible poise and exhilaration you feel when its fully on song is paid whenever you try and drive it slowly, or in town, where it's like cajoling a caged animal.

Speed humps become fraught with danger as you tip-toe the low nose up and over them, with millimeters of clearance. The optional carbon-ceramic brakes (which are wonderful and full of feel at speed) squeal and grab in start/stop traffic, and motorway journeys on poor surfaces will have you reaching for a set of ear defenders.

The GT4 does retain the practicality of the standard Cayman at least, with two generous stowage areas for luggage, and creature comforts like air-conditioning, but that's about it for equipment.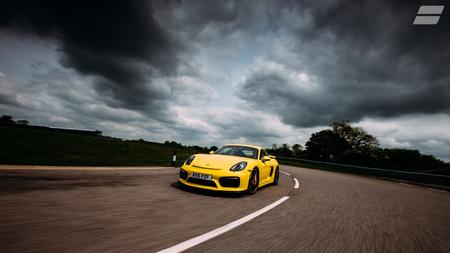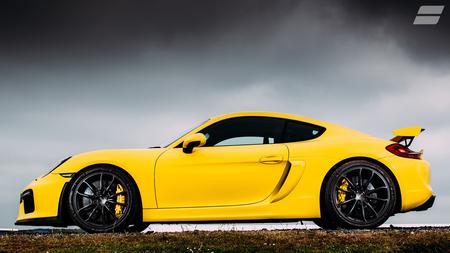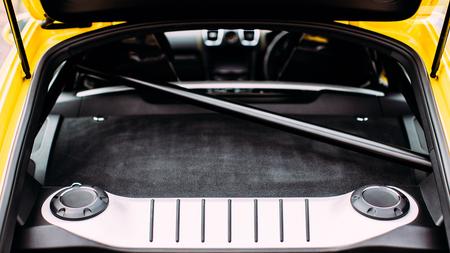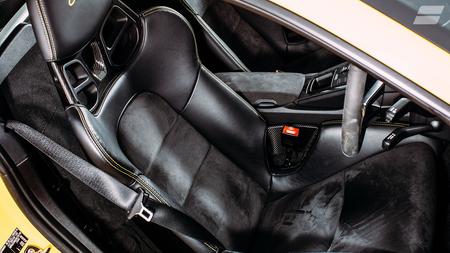 Should I buy one?
My word, this car is good, and like most people with even a passing interest in fast cars, we imagine you probably want one. A limited run and perhaps only 50 or so UK cars means that in some cases you'll have to part with
twice the list price to get one.
So would it be worth the money? For the simple joy of driving, we can think of few cars at any price which are so involving, nor any that handle with such a combination of precision, balance and grip.
Better yet, unlike the 911 GT3 RS, it can be enjoyable and involving at sane speeds on the road. Right now, even if you chose to invest in a GT4, you would be very unlikely to lose money, but its at its best when save for a special journey not used every day.
Key facts:
Model: Porsche Cayman 981 3.8 GT4

Price: £64,451(list price) - £90,000 (lowest currently on sale)

Engine: 3.8-litre flat-six petrol, six-speed manual

Power/Torque: 380bhp, 310lb ft

0-62mph: 4.4secs

Top speed: 183mph

Economy: 27.4mpg

CO2/BIK tax liability: 238g/km / 35%

Boot space front/rear: 150/275 litres
Also Consider:
BMW M2
Offers similar old-school thrills for a fraction of the price, with a wonderful engine and playful chassis, plus a lot more refinement.
Audi TT RS
It's not out just yet – but if you're more interested in straight-line performance than cornering ability, this five-pot Audi is superb.
Porsche 911 GT3
For similar money you could pick up the GT4's bigger, nastier brother, it loses the manual gearbox, but its engine is stunning.
Interested in buying a Porsche Cayman?