First Drive 2015 Ford EcoSport 1.0T EcoBoost first drive review
An unqualified savaging of the original EcoSport has forced Ford to rethink its approach to the burgeoning mini-crossover class. Get it wrong again and Ford can forget about stealing sales from the likes of the Renault Captur, Nissan Juke and Suzuki Vitara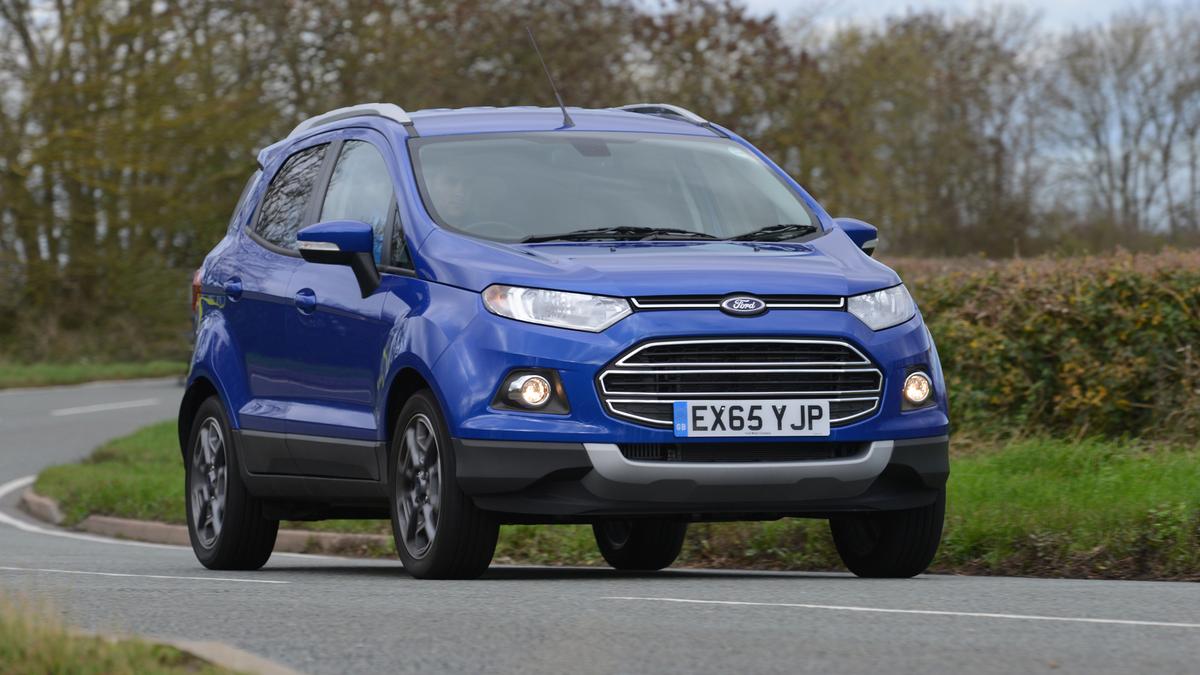 View gallery
Auto Trader verdict:
As much as it pains us to say this, the EcoSport is the worst car Ford has made in many a long year. To a certain extent, the latest dynamic revisions have improved the car compared to the original, but they can't compensate for the acres of cheap plastic trim, shabby build quality, dour refinement and compromised interior packaging. No matter how you dress it up, the EcoSport still smacks of penny-pinching and under-development. As a result, it bears little resemblance to the sparkling Fiesta supermini it is based on.

Need to know:
Hastily revised version of Ford's mini-crossover

Loosely based on the sweet driving Fiesta supermini

On sale now, priced from £15,145
What is it?
You only get one chance to make a first impression - or so they say. My, how Ford must be praying that's not the case with its EcoSport mini-crossover. Born into a storm of negative comments, the original EcoSport's iffy refinement, poor driveability and gawky looks meant it had all the appeal of a tossed-together third-world knock-off.

No doubt stung by this monumental fall from grace, it has taken Ford no time at all to respond to the EcoSport's severe shoeing. With no fewer than 22 revisions, including dumping the rear door-mounted spare wheel, upping the trim quality and re-calibrating the springs and dampers, it's clear Ford's development team have been racking up the overtime in an attempt to turn around the EcoSport's fortunes.

Question is, have they done enough to make a silk purse out of a porker's acoustic appendage?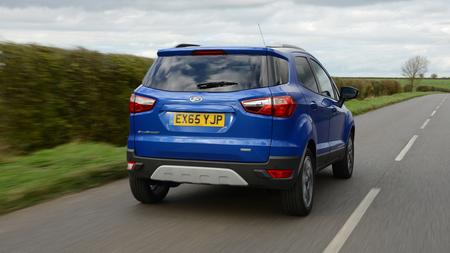 What's it like?
On a positive note, the EcoSport's handling has improved immeasurably. Although the steering still lacks feel and has an overly strong self-centring action, it is a good deal tighter and elicits far quicker responses than before. Equally, there's considerably less of the slack body control, which used to have occupants sliding up against the EcoSport's concrete-firm door trims when indulging in a sprightly circumnavigation of the one-way system.

Unfortunately, thanks to Ford's efforts to tighten things up, including reducing the ride height by 10mm and fitting lower-profile tyres, the revised EcoSport now negotiates battered High Streets with as much compliance as a supermarket shopping trolley.

The firmer set-up has also taken its toll on traction. Pulling out of a wet T-junction immediately sends the front tyres into a proper hissy fit, and even squirting away from the traffic lights, it doesn't take much of a heavy right foot to get the front end squirming.

The 123bhp 1.0-litre three-cylinder engine that's also found in the Fiesta and Focus models gives sprightly enough performance, but it's not without its idiosyncrasies. Although it's extremely hushed at idle, it still generates some distinct vibration, which is especially noticeable if you happen to be perched in the decidedly shaky rear seats. And, because the engine is so quiet initially, the defined three-cylinder thrum that trumpets its presence as you drive off can come as quite a rude awakening.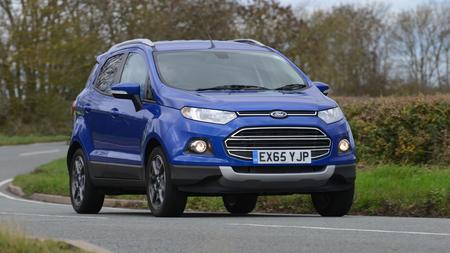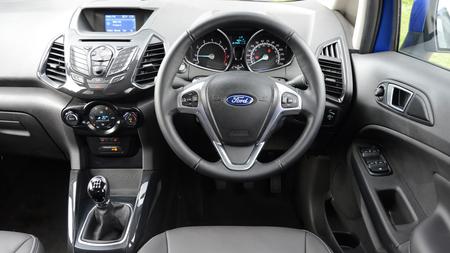 To be fair, it doesn't take long to get used to this defining signature and, despite the engine's diminutive capacity, it's incredibly flexible. Pulling from very low down and seemingly willing to rev for ever, it will easily drag third gear from near walking pace, and carry on right up to motorway speeds. Not that you'll want to sit at higher speeds for long periods, as there's so much road- and wind noise that you'll need to crank your voice up to maximum volume, just to make yourself heard.

Visibility is not particularly great, either, as the dashboard slopes upwards towards the windscreen, blotting out the edges of the bonnet and making it difficult to judge where the extremities of the bumpers are. To make matters worse, the door-mounted mirrors that normally boost side visibility are located so close to the windscreen pillars that they offer no real advantage over pillar-mounted mirrors; but, perhaps worst of all, the windscreen wipers lift and struggle to clear rain from the screen at motorway speeds.

Despite some additional chrome sparkle, you still can't help but sigh at the EcoSport's interior fit and finish. It may be common practice to furnish lower cabin recesses with robust, no-nonsense materials, but the EcoSport takes this approach to a whole new level, and not in a good way.

While swathes of tough, abrasive, plastics dominate throughout, and bolts to fix the seats to the floor are left exposed, many panels look like they've been assembled by a drunk, and some even retain their mould-formed, sharp, unfinished edges.

As for saving graces, there is a decent amount of space for four, along with the additional niceties of reclining rear seats and enough room below the front seats for those in the back to slide their size-10s underneath.

On the other hand, while the spare wheel has gone, the EcoSport's side-hinged rear tailgate remains. Consequently, you'll need to find an exceptionally spacious parking spot if you want to load your shopping; but, even then, it'll be a bit of a squeeze, as boot space is decidedly tight.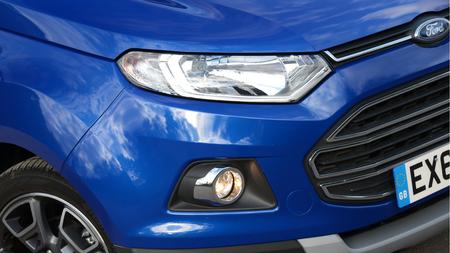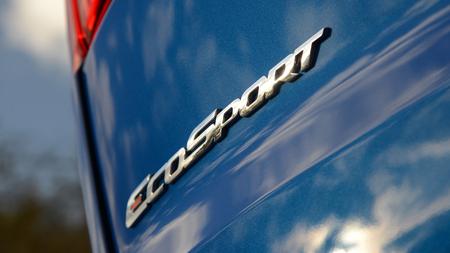 Should I buy one?
How can we put this politely? There are so many superior alternatives in the increasingly popular mini-crossover sector, that unless your Ford salesman offers you the deal of a life-time, you'll be better off with almost any of the EcoSport's rivals. The Renault Captur offers infinitely better quality, comfort and refinement, and unlike the EcoSport, it actually feels like it was designed and built with discerning European customers in mind.

Key facts:
Model: Ford EcoSport 1.0T EcoBoost 125PS

Price: £15,145

Engine: Three-cylinder 1.0-litre turbo, 5-speed manual

Power/Torque: 123bhp/140lb ft

0-62mph: 12.7 secs

Top speed: 112mph

Economy: 52.3mpg

Co2/BIK tax liability125g/km/20%

Boot space 333 litres
Also consider:
Renault Captur
The Captur is sharp-looking mini crossover that's comfortable and easy to drive. It's also provides spacious, smartly-trimmed accommodation.
Nissan Juke
The Juke is a sales phenomenon and it will hang onto its value better than most rivals. It's decent to drive has an imaginatively designed cabin and good levels of on-board tech
Suzuki Vitara
Although not really outstanding in any particular area, the Vitara is attractively priced, well kitted, reasonably spacious and should prove to be a hardy companion.
Interested in buying a Ford EcoSport?