Feature
Interview: Jason Kenny on motorsport, fatherhood and his return to cycling
Auto Trader catches up with Olympic cycling champion Jason Kenny before he races against a grid of celebrities at the Silverstone Classic at the end of July.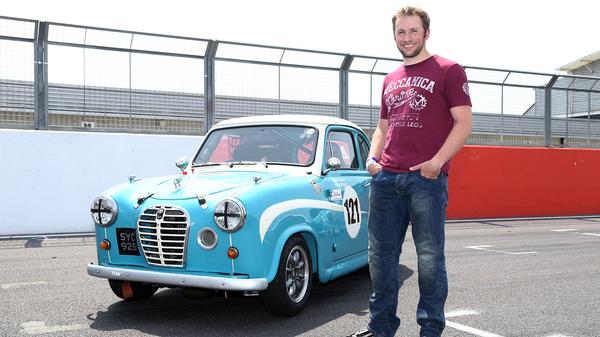 Jason Kenny is one of Britain's most successful Olympians, with six gold medals for track cycling from the Games in Beijing, London and Rio de Janeiro.
His romance and marriage to Laura Trott, herself a multiple Olympic cycling champion, thrust Jason further into the media spotlight and, ahead of what turned out to be a successful Games at Rio 2016, put him under immense pressure to perform in front of an expectant public. After winning three golds in Brazil, Jason promptly took a step back from cycling and hasn't raced since. He's had plenty to occupy his time, though, including preparations for the arrival of his first child, a visit to the British Formula 1 Grand Prix and, at the end of this month, a return to motorsport behind the wheel. After dabbling in competitive driving in recent years, including a season of Ginetta racing and several outings in a Radical sportscar, he'll line up on a grid of ageing Austin A30s and A35s at the Silverstone Classic meeting on July 30, racing against fellow celebrities. Jason's driving enthusiasm kicked in almost a decade ago, when a friend persuaded him to take his Peugeot 309 GTI to a track day. "I caught the bug and it went from there," he says. "A few years ago, I bought myself a track car, a Ginetta G20, and realised that it was eligible for its own race series and thought 'why not?', so just went for it, really. "I like cars, anything with an engine, and I like the idea of the track, going round and round in circles. Some people might find it a bit boring but you never really master it, you just get better and better, and that seems to suit my mentality, that obsession of trying to get it perfect." At the Silverstone Classic, Jason will race against celebrities including fellow Olympians Amy Williams and Greg and Jonny Searle, as well as racing driver Tiff Needell, businessman Theo Paphitis, boxer Carl Froch and AC/DC singer Brian Johnson. The celebs have already had a practice session to get to grips with the little 1950s Austins.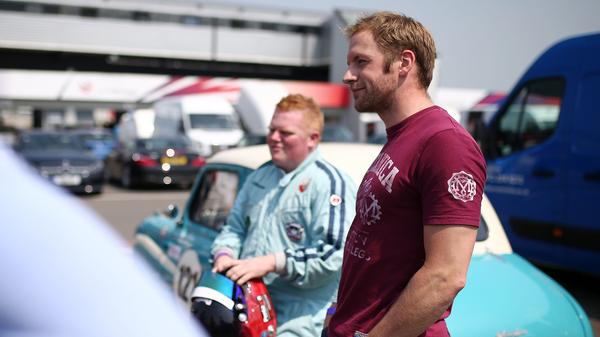 "There are lots of differences to the Radical, with no grippy tyres or downforce, and I expected some wallowy, horrible-to-drive machine," Jason says, "but in actual fact all the principles are the same, although you get to the corner 60mph slower.
"My chances in the race are not great, to be honest. Steve Parrish [former British Superbike champion] was there, and some other motorbike guys that have loads of track experience. I'll be happy if I can keep up with some of those faster boys. It would be nice to be the fastest Olympian, but I'm sure there will be someone on the grid that I'll find that's about my ability, that I can have a good race with." The race at Silverstone follows a trip to the British Grand Prix earlier this month, where Jason and his wife were guests of Red Bull Racing. It was a fun day, Jason says, despite Laura's general apathy towards his motorsport endeavours. "She's not mad keen, to be honest," he says. "I've tried to get her into it and offered her passenger rides and things, but no. But she did come to the Formula 1, and to the MotoGP last year, and we really enjoyed those, so it was good that we could enjoy that together." Although he expected to retire from competition after Rio, the break from cycling has actually helped to renew Jason's love of the sport, and he's now planning a return to the Olympic squad. Watching Red Bull drivers Daniel Ricciardo and Max Verstappen race at Silverstone was an example of how his competitive spirit has been rekindled. "Those boys are effectively where we are in cycling," he says. "They're looking for those tiny, tiny fractions at the absolute pinnacle. It's awesome to watch and see the way they go through it, and how they prepare for the race. "I fell out with watching sport, but I'm getting into it now, and I like watching and seeing it unfold. Even before the Olympics, I'd kind of had enough; I didn't want to do it any more. It's a frustrating road a lot of the time, you're working really hard to try and get better and often, by the end of the year, you could have got worse. It's an obsessive thing to do and I'd just had enough. I stepped away and totally switched off without the intention of ever really going racing again." But, time away from compulsory training removed the pressure, and meant that, when Jason did ride his bike, the passion returned. "As I've spent time away, training because I like it, as opposed to because I have to do it, I've started enjoying it again. I feel like I did when I was 18 again, I feel totally refreshed. I thought I'd changed, as a person and an athlete, but after a bit of a reset I feel much better, more like myself." The goal now is to get back in the British team for the 2020 Olympics in Tokyo, but Jason realises that there's plenty of work to do to prove himself once again.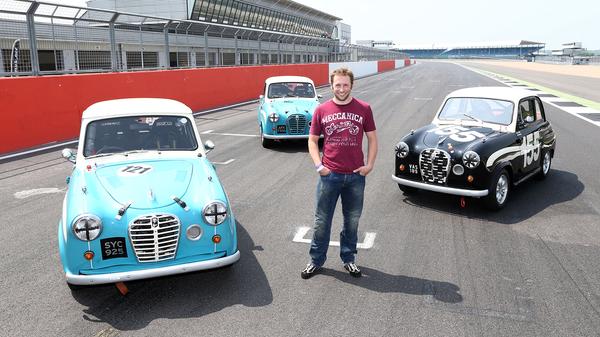 "I've got to get back in the team and it's going to be tough to build back up, but it's now my goal to do that. Obviously, the Olympics is the biggest thing that we can do, but it's one step at a time. I've just written a programme with an eye to coming back and doing my first race in January, all being well. I'm only at the first step of the way and obviously things are going to change massively with my first child on the way in the next few weeks. But hopefully it will be quite nice, as I know Laura's planning to come back as well. We've had a nice time off together and hopefully we can come back together and be successful."
Training to Olympic standards is difficult at the best of times, and Jason is under no illusion that to do so with a baby will be even harder. But he's optimistic. "It's a massive undertaking and I don't know what to expect until the baby arrives. We're obsessive about sleep and nutrition and training at certain times of the day, so to put an unpredictable baby into that is complete madness. I would never have thought that it was possible to do the two, to be a dad and be as good as I was. "But speaking to people that have done it got me thinking 'why not?'. Jonathan Edwards told me that he actually got better after the birth of his first child, and it gave him a new perspective on things. We've now got a gym in our home that means we can train when baby's asleep; little things like that that we can do to make our training as efficient as possible and fit around our family life. We're as prepared as we can be, but we're still diving into the unknown a little bit. Much as it's my intention to come back and be competitive again, there will be a lot of waiting to see what happens." The new addition will also mean family trips will be undertaken in Laura's car, as Jason doesn't have a car; he has a Ford Transit van. "I love my van," he says. "It occurred to me a few years ago that I never, ever used my back seats, and they spent the whole time folded flat for bikes and stuff. In the end, I thought, 'I don't have that many friends, I'll just get a van', and it's brilliant, I can just chuck whatever I like in the back. "Laura's got a Range Rover, which is more family orientated and we've had the baby seat in the car for a good few months now. Laura doesn't like to leave stuff until the last minute; everything's got to be done a long way in advance. About five months ago, we finished painting the nursery, pulling late nights and so on. Looking back, I'm not sure why we were doing it, but Laura likes to be prepared. So the car's done, the house is done, everything's ready for the baby to come and throw it all out of the window."