Feature
Best Car for Long Distances: Hyundai Tucson
Find out why the Hyundai Tucson is the 2018 winner of our Best Car for Long Distances award.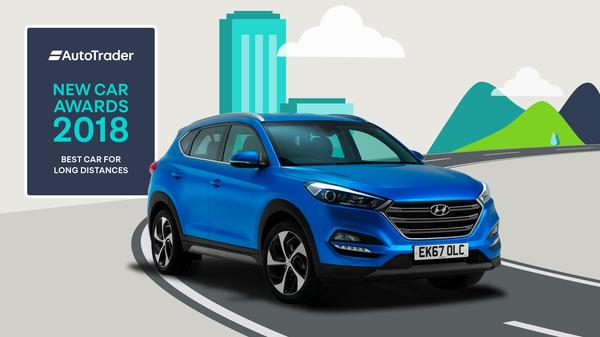 When you've got a long way to go and you know you're going to be sat at the wheel for hours, you want your car to be as relaxing as it can possibly be. And this year's winner of our Best Car for Long Distances award, the
Hyundai
Tucson
, does just that.
Like most of our awards, this category was decided by feedback collated from a survey of more than 40,000 car owners, all of whom rated their car in 16 key areas. That means an Auto Trader New Car Award is a real stamp of approval from people that live with the car day-in, day-out, and it makes each winner a true consumer champion. High-mileage owners were particularly impressed with the Tucson's reliability and durability, giving the car top marks in both areas. It also came out top among regular motorway drivers for the cost of servicing and repairs, and it came second for comfort. Here are just a few of the comments that owners made about the Tuscon…
"For such a big car the economy is very good, even with urban driving."
"I like sitting high up and it is a very comfortable car."
"Cost of running it and how it looks, and also all the safety features and very long warranty."
"The car looks fantastic in Aura Blue. The amount of space in the car is also very liberating."
Commenting on the Tucson's victory in this category, Auto Trader's Road Test Editor, Ivan Aistrop, said: "The Tucson turned out to be the firm favourite with the high-mileage owners in our survey, and that should be no surprise to anyone. The big Hyundai feels comfortable, stable and settled at motorway cruising speeds, and things also stay pretty quiet on a long motorway schlep. The generous luxury equipment also helps keep you comfortable, connected and entertained, and with good space and practicality, the same should go for those in the back."
However, while the Tucson is a fine high-mileage car, it didn't make the list of the very best according to our experts. You can see what did in our
Best Long Distance Cars feature
. You can also see what our experts think of the Tucson in general in our
expert review
. So, will the Tucson take top honours again in 2019, or will another car be voted in ahead of it? Both the
Nissan Qashqai
and
Mercedes A-Class
came close as runners-up, so could they go one better next year? If you spend most of your time munching the miles on the motorway, and you're looking for your next car, you can
start configuring your brand new Tucson on Auto Trader
right now.