Review
Volkswagen Arteon Saloon (2017 - ) review
The Arteon is more than just a replacement for the Passat CC, it's a window into the future of Volkswagen design, and a competitor for premium rivals like the Audi A5 Sportback and BMW 4 Series Gran Coupe.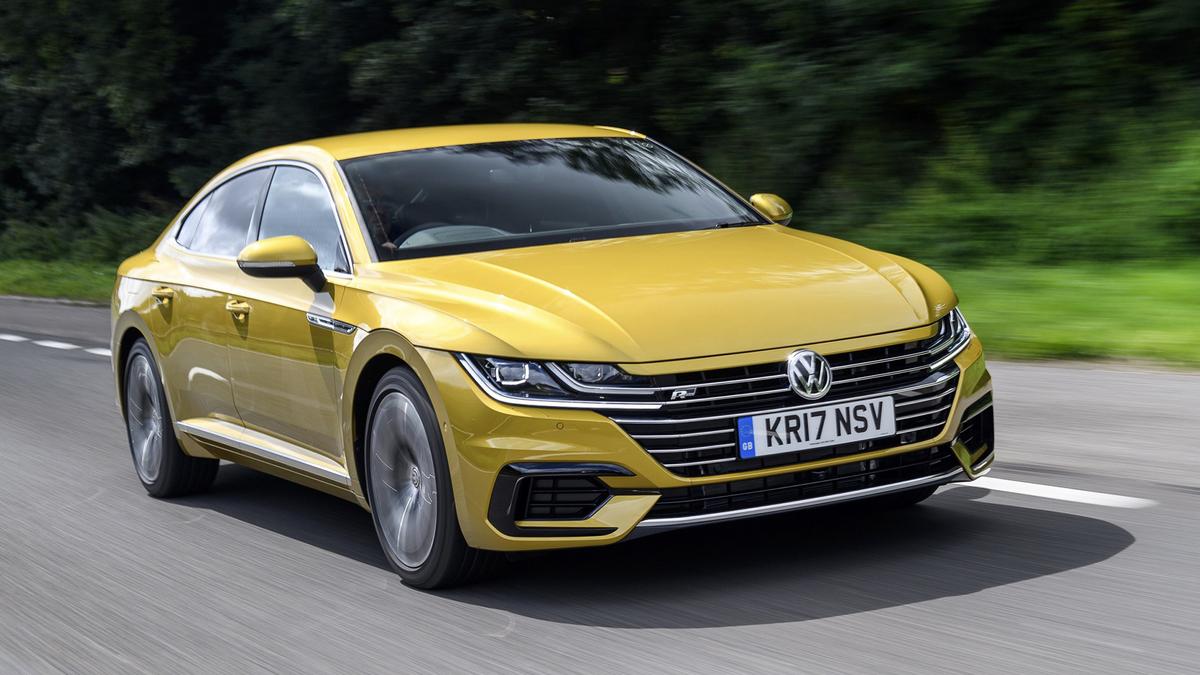 View gallery
The Auto Trader expert verdict: ★★★★★

★★★★★
3.5
The Arteon is an appealing prospect, not least because of the way it looks, how much space there is inside, and how much standard equipment it comes with. Trouble is, the Audis and BMWs it competes with have much the same virtues, along with a more desirable premium badge, and yet these rivals aren't much more expensive than the VW, either to buy or to run.
Pros
Good looking

Well-equipped

Loads of clever technology
Cons
Not all the technology makes life easier

Quality a step below rivals from Audi and BMW

Barely any cheaper than premium rivals
Pick of the range
Arteon Elegance 2.0 TDI 150
One of the cheaper models, but there's no point in spending any more
Most economical
Arteon 2.0 TDI 150 with manual gearbox
Average economy of more than 60mpg makes this the sensible choice in the Arteon range
Best avoided
Arteon R-Line 2.0 BiTDI 4Motion
Simply too expensive to recommend, when you can buy rivals with more prestigious badges for the same money
Interested in buying a Volkswagen Arteon?
How good does it look?
The exterior design heralds a fresh look for VW, with a bold front end and a grille that extends into the headlights. The Arteon has strong lines that are often defined by chrome and stand out from the competition; you're not going to mistake it for anything else. Elegance models are geared towards an understated, classy look, while R-Line cars have a more sporty image, that includes a more aggressive front bumper design with wider air scoops, R-Line badges on the wings, a rear spoiler and tinted rear windows. It also has larger, 19-inch alloy wheels, rather than the 18-inch units fitted to the Elegance cars.
What's the interior like?
Step inside the Arteon and you're greeted by an environment immediately familiar to anyone that's been in almost any modern Volkswagen. That's a good thing in terms of ergonomics, because the dashboard layout is simple and logical. The infotainment touch-screen measures 8.0 inches in its standard form, but you can upgrade to a 9.2-inch unit with the optional Discover Navigation Pro package. This looks fantastic and has plenty of features, but it's not as easy to use as the simpler version, which has more buttons and extra shortcuts. We are fans, however, of the standard Active Info Display; a fully digital, customisable instrument panel that replaces traditional analogue dials.

The driving position is pretty good, with plenty of adjustment, but some driver might wish that the seat lowered slightly more than it does. And, while the interior quality is very nice judged in isolation, it doesn't feel quite as special or as substantial as you get in premium rivals such as the Audi A5 Sportback or BMW 4 Series Gran Coupe.
How practical is it?
Having a sloping, coupe-like roofline can sometimes cause issues with headroom for adults in the back, but only passengers over six feet tall will worry about limited headroom in the back of the Arteon. There's plenty of legroom, too, and the boot is cavernous. Using a hatchback instead of a saloon-style bootlid means easy access to the 563-litre space, and the rear seats fold down almost flat to give up to 1,557-litres of luggage room, which is considerably more than you get rivals. The front gets decent-sized door pockets, two cupholders and several cubby holes to store bits and bobs.
What's it like to drive?
The Arteon is a capable car to drive, but at the same time, it's nether the most comfortable nor the most agile car pf its type. The ride has a hint of underlying firmness, so you feel quite a bit from the surface beneath you, but it still manages to keep you comfortable for the vast majority of the time. In a similar vein, the car feels stable and secure in the bends, but it can't match its counterparts from Audi or BMW for nimbleness or engagement. An adaptive suspension is available as an option (on most versions, but it's standard on the most powerful versions), but from what we've experienced, it doesn't make either the ride or the handling any better, so we don't think it's worth the extra cash.
How powerful is it?
The petrol range kicks off with a 1.5-litre turbocharged petrol engine with 150 horsepower. Performance is entirely adequate when building speed or maintaining a steady motorway pace, but you'll find that the standard twin-clutch automatic gearbox has to work the engine quite hard to achieve this, so the engine can feel and sound a little bit strained at times. You'll also find that the gearbox is a little slow to react, taking its time to decide which gear it wants to be in.

The 190 horsepower 2.0-litre petrol is a little more relaxed in going about its business, even if it doesn't feel a whole lot quicker in most situations. That's not helped by the fact that the auto' gearbox is no speedier in its responses. The gearbox is better when paired with the most powerful petrol engine, a 2.0-litre with 272 horsepower. However, while the upgrade in power is noticeable, it still doesn't feel as fast as you might expect.

On the diesel front, the basic 150 horsepower 2.0-litre TDI engine is all you'll need because, for the most part, it works really well. Paired with the automatic gearbox (you can have it with a manual, which we haven't yet tried), it's a little slow to get the car rolling away from rest, but once you're on the open road, the good low-down torque makes for a very responsive car that's plenty quick enough. Again, the 190 horsepower version is perhaps a shade more relaxed, but doesn't ultimately feel much quicker in the real world, while the range-topping diesel, with 240 horsepower, is more brisk-and-smooth than blow-your-socks-off.
How much will it cost me?
Choosing the Arteon over the equivalent Audi A5 Sportback or BMW 4 Series Gran Coupe will save you a few quid, but it is only a few. If you're expecting it to be a huge amount cheaper, then you might be a little disappointed. The good news, though, is that the Arteon's resale values are no worse than those of its premium rivals, meaning it should protect your investment just as well if you're a private buyer, and that finance rates should be just as competitive. Other running costs – such as fuel economy, servicing and maintenance - are about par-for-the-course, too, and with lower insurance groupings than its rivals, you do stand to make a small saving on your premiums.
How reliable is it?
There's no historical data to call on for the Arteon. But going by Warranty Direct's Reliability Index of general manufacturer performance, there's some cause for concern, as Volkswagen sits in the bottom half of the rankings. However, owner reviews for VW's next biggest saloon/estate, the Passat, are much more positive, so hopefully the Arteon will push the company upwards, but we'll have to wait and see.
How safe is it?
One of the Arteon's big selling points is the amount of technology included, and that includes lots of cutting-edge safety gadgets. One of the headline features is an advanced adaptive cruise control system, which uses cameras to read speed limit signs and update the settings accordingly. When you reach a 30mph zone, for example, the cruise control will automatically slow to meet the new limit. It also uses GPS data to slow the car automatically when you reach a bend or junction. It's a very clever idea, but in practice, it seems hugely conservative in its approach, braking far earlier than you would if you were controlling the speed yourself, and taking the bend at an unnervingly slow pace.

The (optional) system will also spot if you've passed out behind the wheel, jolting you first with the seatbelt and brakes, and then automatically stopping the car on the hard shoulder if you don't respond. In addition, there are two Isofix child seat fitting points and seven airbags as standard.

On top of all that, the Arteon received the full five stars when crash-tested by safety organisation Euro NCAP.

How much equipment do I get?
The amount of kit available in the Arteon will be one of the main reasons for buying one, and it's crammed with the kind of features that will woo Audi and BMW customers. Elegance cars come with sat-nav, DAB radio, Bluetooth connectivity, Apple CarPlay and Android Auto, and three-zone climate control, with separate controls for the driver, front-seat passenger and rear-seat passengers. Over and above that, the differences on the R-Line model are pretty much all stylistic, but there are plenty of attractive options, such as improved audio and infotainment systems, a head-up display, and a panoramic sunroof that brightens up the cabin.
Why buy?
There's a lot to like about the Arteon, including the way it looks, the amount of standard equipment you get for your money and the amount of space it has inside. If you're after a stylish executive car, and you're looking for something out of the ordinary, then it's definitely worth a look.
Interested in buying a Volkswagen Arteon?