Expert Review
Suzuki Jimny SUV (2013 - ) review
The Suzuki Jimny is a miniature 4x4 that's rugged and reliable, but disappointing in just about every other area. Other small SUVs – like the Dacia Duster 4x4 – give you much more ability for even less cash.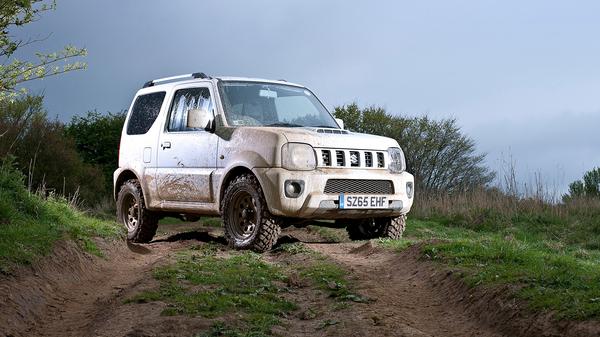 The Auto Trader expert verdict:
By just about every tangible measure, the Suzuki Jimny is a very poor car when compared with its rivals. It's awful on the road, the quality is poor, it's not very practical, it's noisy and uncomfortable, it has barely any equipment and, although it's cheap to buy, other rivals are even cheaper. It's very impressive off-road and it's extremely reliable, and as a result, the car has carved out a very loyal cult following. If you're not one of the hardcore few, though, pretty much any other small SUV will suit you better.
Reasons to buy:
Affordable to buy
Exemplary reliability record
Good off-road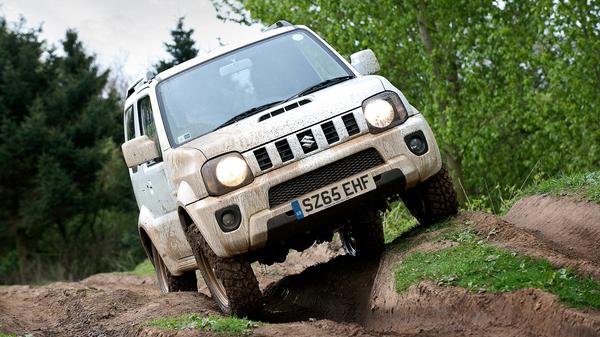 How good does it look?
Picture what you think a 4x4 should look like in your mind's eye, and the chances are you'll see something that looks like the Jimny. Boxy, square, simple, and with a jacked-up ride height and short overhangs, it has textbook off-roader design. The only difference is that while conventional wisdom dictates that off-roaders be massive, the Jimny does all that in miniature. Its footprint is no bigger than that of a supermini, and to some eyes, that can make the car look rather awkward. The entry-level SZ3 looks rather more bargain-basement than the higher grade SZ4, with steel wheels and black plastic door handles, while the SZ4 replaces these with alloys and body-coloured handles, and also adds privacy glass and a body-coloured spare wheel cover.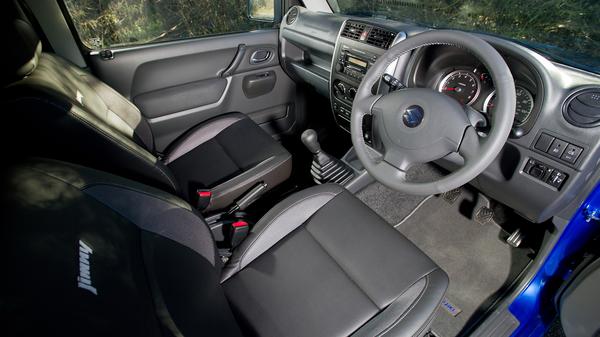 What's the interior like?
The Jimny is unashamedly a no-frills offering, with the purpose of providing four-wheel-drive ability at the lowest possible price. Consequently, very few concessions are made to luxury, and nowhere is this more evident than inside the cabin. Every single one of the grey plastic panels surrounding you are hard and scratchy to the touch, and feel flimsy and unsubstantial if you start to poke and prod. It's all woefully dull to look at, too, and the various switches feel clunky and unsatisfying to operate. The centre console is very simply laid out – mostly by virtue of the fact that there are no clever gizmos provided, just a stereo, ventilation control and a couple of buttons to switch four-wheel drive modes – but even so, the stereo is rather confusing to use. What's more, the fixed steering wheel has no adjustment whatsoever, the driver's seat has no height adjustment and offers very little support, and many will be irritated the indicator stalk is on the right – rather than the left – of the steering wheel. On the plus side, the slab-sided design and comparatively big windows mean it's very easy to judge where the extremities of the car are when parking.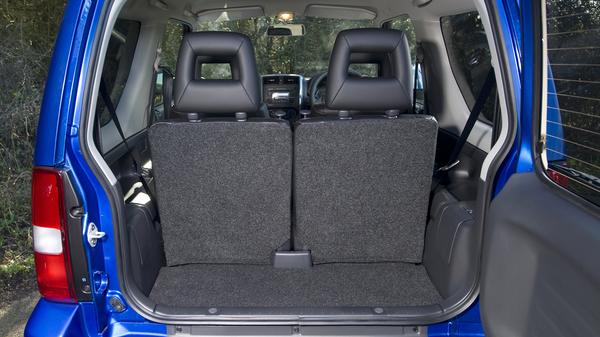 How practical is it?
Another area in which the Jimny doesn't exactly excel. The front seats – although limited for comfort due to the shortage of adjustment and support – are surrounded by enough head- and leg-room for a pair of moderately sized adults to get comfortable. If you're much over six feet tall, however, you might start to struggle on both counts. You don't have to be anything near that tall to be struggling in the two rear seats, which are very short on space all round, and limited access makes getting in and out very difficult, too. You're better off folding them down and using the space to boost luggage capacity, as the 113-litre boot is extremely tiny. Even then, you're only getting a still-fairly-disappointing 324 litres, and your load floor is both stepped and sloped. Add in a hefty load lip and a side-hinged tailgate that'll limit your access to the boot in tight parking spaces, and the Jimny is way behind pretty much every rival for practicality.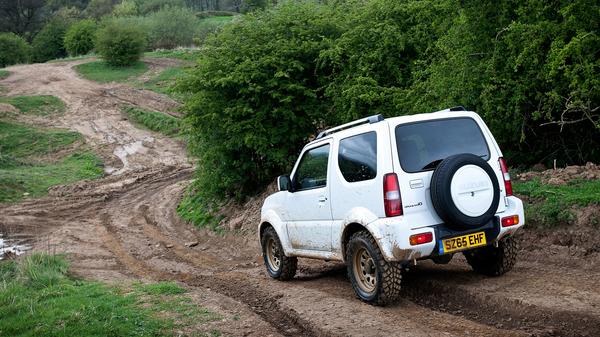 What's it like to drive?
If you view the Jimny simply as an off-road tool, then you won't be too disappointed. The standard four-wheel drive with low-range function gives it plenty of traction in the sticky stuff, and the lofty ride height and short overhangs also help make it way more capable in the wilderness than pretty much any of its road-biased competitors. Stick it on some Tarmac, though, and things go south very quickly indeed. The car bobbles uncomfortably along the road whenever the surface isn't completely perfect, and the bumps don't have to be too much bigger before they start thudding and banging into the cabin. Meanwhile, there's a disconcerting shortage of grip in corners and a just as disconcerting amount of body lean, and this discourages you from pushing beyond anything but moderate speed at any time. The steering – which is both remote and slow – doesn't help on that score, either.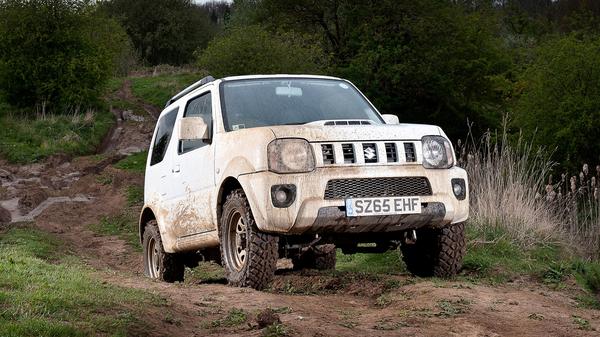 How powerful is it?
There's just one engine available in the Jimny: a 1.3-litre petrol that dates back several years. It serves up just
84bhp
, which in itself isn't that much of a problem, but you have to work the engine mercilessly hard to get it to do its best work, and that can get very irritating. Even then, the 0-62mph dash takes more than 14 seconds, which is very slow, and if you specify the automatic gearbox, it's upwards of 17 seconds. All the while you're subjected to lots of noise and vibrations.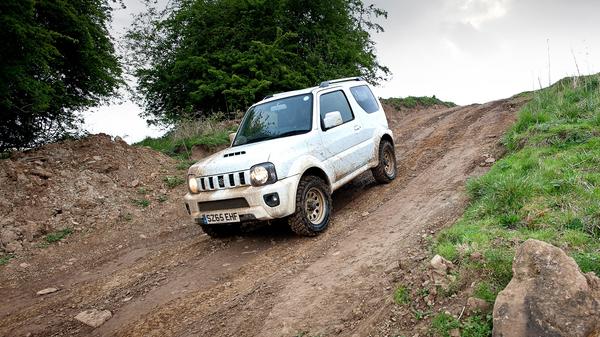 How much will it cost me?
The whole purpose of the Jimny is to provide off-roader ability and ruggedness for as low a price as possible, and on that score, it's pretty successful. It costs about the same as you'd pay for a mid-range supermini, even if you'll have to forego some luxury kit and some dynamic polish. Thing is, the same is true of the Dacia Duster, which is better on both counts and is even cheaper. Resale values aren't all that impressive, either, and neither is the Jimny's efficiency. The official figures suggest a fuel return of below 40mpg regardless of whether you go for the manual or the automatic, and the correspondingly high CO2 emissions are also bad news for your tax bills.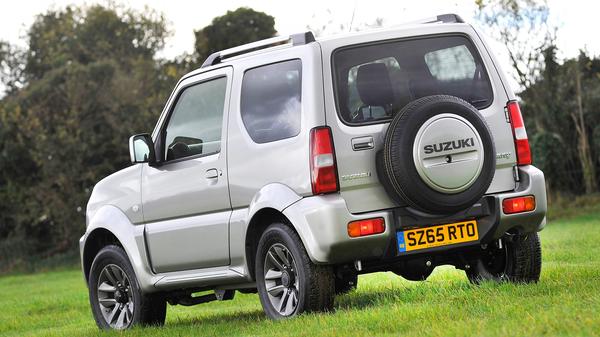 How reliable is it?
This is one area in which we can heap praise on the Jimny. The Car achieves a very impressive score in the Warranty Direct Reliability Index, enough to place it safely in the top 50 performing cars in the study. Suzuki also rides impressively high in the same study's manufacturer ratings. Our owner reviews paint a similarly rosy picture of the Jimny's mechanical dependability, while a par-for-the-course three-year/60,000-mile warranty comes as standard.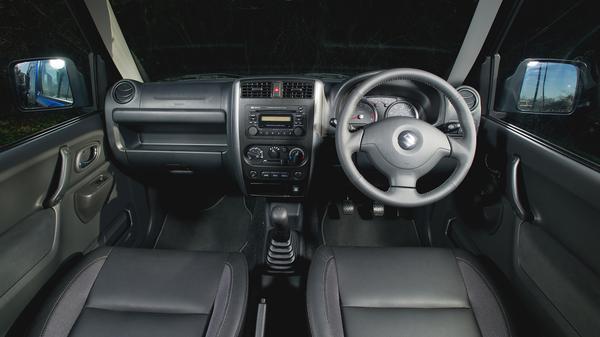 How safe is it?
The Jimny comes with electronic stability control, anti-lock brakes, and tyre-pressure monitoring as standard, but it's worth remembering these are all legal requirements for new cars these days. Beyond that, the safety spec is very disappointing. You only get two airbags, for example, and driver aids like lane departure warning or autonomous braking are nothing more than wishful thinking. The Jimny has never been crash tested by Euro NCAP.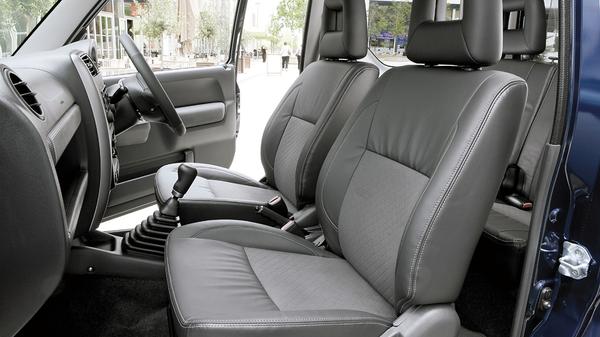 How much equipment do I get?
Choose the entry-level SZ3 Jimny, and your creature comforts will be very limited indeed. Standard equipment includes electric front windows, heated and electrically adjustable door mirrors, and a CD player with
DAB radio
and a USB port. Thing is, you don't get a great deal more if you pay the extra for SZ4 trim, which only adds leather effect upholstery, a leather steering wheel, and manual air-conditioning on top of a few styling bits.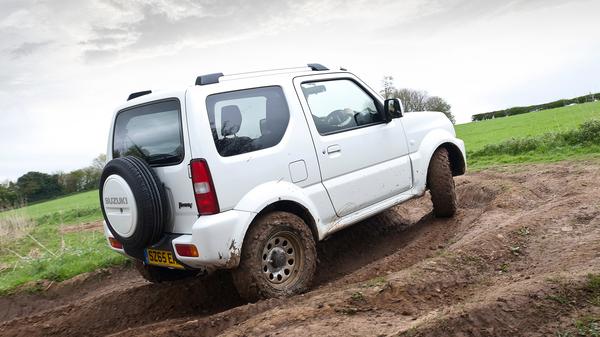 Why buy?
Most likely because you've had a string of Jimnys in the past – this car has an incredibly loyal following – or because you need nothing more from your car than getting you across a muddy field. By any other tangible measure, there are any number of small SUV rivals – including the even-cheaper Dacia Duster – that are better to drive, more practical, and come with more (well, at least some) creature comforts.