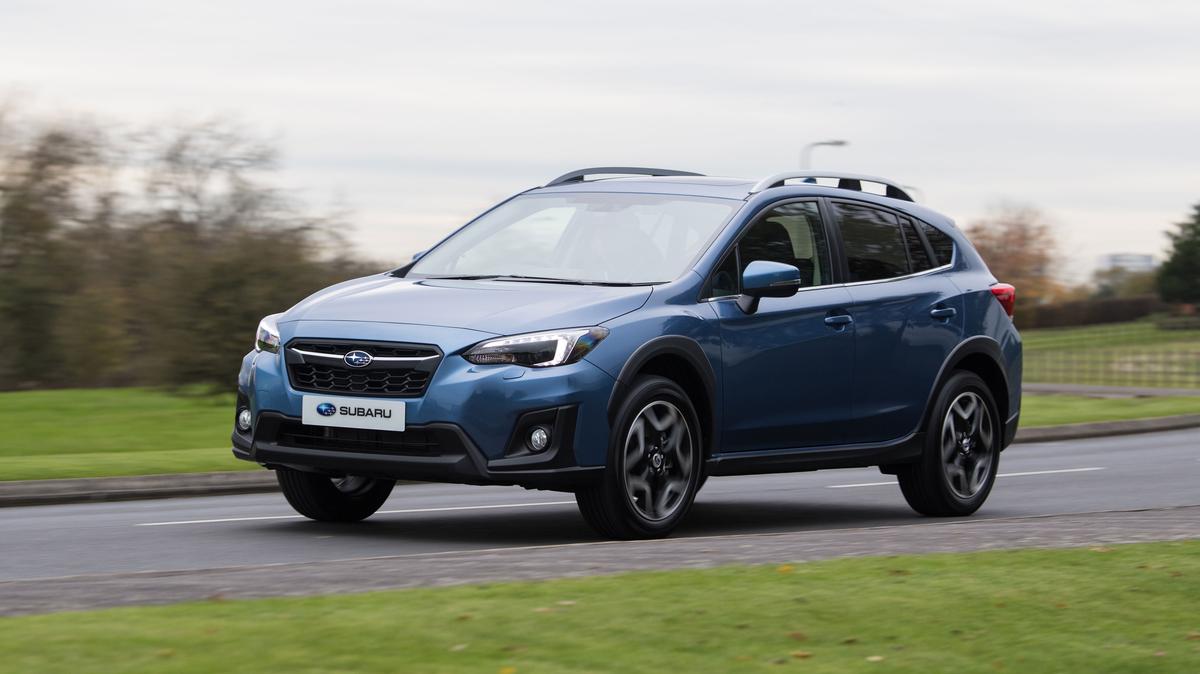 View gallery
The Auto Trader expert verdict: ★★★★★

★★★★★
3.0
If capability in difficult conditions is a priority for you, then the Subaru XV should be on your list of cars to look at. Not many cars at this price are as good off-road. However, if you're unlikely to stray away from the tarmac, then you may find that some of its myriad competitors are more appealing.
Reasons to buy
Excellent all-wheel drive performance

Impressive handling

Strong safety credentials
How good does it look?
Subaru intends to the XV to be functional and tool-like in its image – think of a Swiss army knife, or a Leatherman – and it has a suitably rugged and purposeful exterior look. There are two trim levels – SE and SE Premium – and two engine choices. Cars with the 2.0-litre engine ride on 18-inch alloy wheels as standard, while those with the 1.6-litre engine are on 17-inch wheels. All models get bright LED headlights, while SE Premium cars also have a sunroof.
What's the interior like?
Subarus of the past have had a (just) reputation for poor quality interiors, but the XV is a big improvement on what's come before. Don't expect a proper premium feel – there are still plenty of hard plastics to be found – but everything feels solidly put together and nothing screams "cheapness" at you. The seats are nice and comfortable, too. The infotainment system is mostly straightforward to find your way around, if a bit slow to respond, via a combination of touch-screen, buttons and dials. However, we found the sat-nav rather confusing to use, although it's only included as standard on the higher-end SE Premium model.
How practical is it?
It might be the smallest SUV that Subaru makes, but the XV is still roomy enough for four adults. Being a taller car it's easy to get in and out of with big, wide door apertures. The boot, at 385 litres in capacity, is a decent size for this type of car; smaller than that of the Nissan Qashqai but larger than the Toyota C-HR. Ultimately, it's broadly similar to a mid-sized hatchback for interior space, so don't expect a cathedral-like cabin just because it's an SUV.
What's it like to drive?
We tested the XV on some truly horrendous roads and it dealt with them very well. The suspension soaks up lousy surfaces well, but there's enough firmness to ensure the car feels planted and solid through the corners, with less of the body roll that other SUVs are prone to. The XV's unusual type of engine means it's mounted very low in the car, giving it a low centre of gravity, which aids agility. The XV comes into its own in poor conditions, with the permanent four-wheel drive system giving plenty of traction, meaning it's as surefooted as anything else on the market at this kind of price. The XV also has impressive off-road ability, with plenty of standard technologies to haul you through mud, rocks and steep, slippery slopes. If this all sounds like the type of terrain you're likely to encounter, then the XV is excellent. However, there are other SUVs that are just as comfortable on normal road surfaces.
How powerful is it?
For most potential customers, the engine and gearbox combination will be disappointing. Subaru has stuck with its traditional "boxer" engine, which is a compact unit with horizontally opposed cylinders. This is good for vibration and size, but it's nowhere near as efficient or as powerful as more modern, smaller turbo engines. There's no diesel option, either, which isn't great news for those doing longer distances.

The petrol engines come in two sizes – a 1.6 and a 2.0-litre – and both come with a Continuously Variable Transmission (CVT, which is effectively an alternative to a conventional automatic gearbox). That means the engine revs don't always relate to the speed of the car, which can be a bit odd, and it also means that the revs shoot up and stay up every time you demand anything more than gentle acceleration, which makes the engines rather noisy. In terms of pace, the 1.6 feels underpowered at all times, and while the 2.0-litre offers easier acceleration, it still feels and sounds more strained that the equivalent engines in rivals. At start up, it's noticeably louder than rivals, and accelerating up a hill will also send the decibel levels up beyond what we'd consider reasonable.

There's also a 150-horsepower, 2.0-litre petrol engine with a small electric motor and battery attached, which Subaru calls this the e-Boxer. It's a relatively small hybrid system, with less than 20 horsepower coming from the electric motor, but in the absence of a diesel-powered XV, the extra low-down electric grunt serves to add extra zip when you put your foot down. The petrol engine itself is at its strongest high in the rev range, and this means that performance is zippy when you're revving things hard, but it does lack a bit of punch before that. The CVT gearbox doesn't help, either, as it often sends the revs soaring without a huge jump forward in acceleration.
How much will it cost me?
The XV range is on the pricey side when compared with rivals like the Nissan Qashqai, Seat Ateca and Skoda Karoq, due in no small part to the fact that it's only available with four-wheel drive and a CVT. By the time you look at a 2.0-litre SE Premium, you're into the premium territory of Volvo's very good XC40. The standard four-wheel drive also contributes to the fact that fuel costs will be much higher than with most rivals, and that's the case with both of the Subaru's engine options.

If we compare the XV 2.0 SE Premium to similarly-priced cars with equivalent features - such as the Seat Ateca FR 2.0 with all-wheel drive and an automatic gearbox, and the Volvo XC40 T4, also with an automatic gearbox - then the overall costs are closer, when you factor in service and maintenance, resale value and fuel economy. However, both the Volvo and the Seat feel like more premium products and boast more power and better performance than the XV. Crucially, the Subaru's poor estimated resale values make it a less attractive financial proposition.
How reliable is it?
Subaru has a solid, if not spectacular reputation for reliability. In Warranty Direct's Reliability Index, which ranks manufacturers by reliability performance, Subaru sits mid-table. However, the latest XV is all-new, so we don't yet have specific reliability data for it.
How safe is it?
The XV shines when it comes to safety, with the maximum five stars in crash tests by safety organisation Euro NCAP, and high scores in all areas. Every model comes with Subaru's EyeSight system, which uses cameras in the windscreen to scan the road ahead for danger. Several systems use this information to act in the event of an accident, from automatic emergency braking to Lane Keep Assist, which will gently steer the car back into lane if you accidentally deviate out of it without indicating. Seven airbags and two Isofix child seat mounting points are also included.
How much equipment do I get?
All Subaru XVs come with a decent list of standard equipment. SE models have cloth seats and keyless entry and start, which means you don't need to hit buttons on the fob or twist a key in the ignition to get in and start the car. You just keep the key in your pocket or bag. Heated front seats are also standard, as is smartphone connectivity through the infotainment system, and all of Subaru's clever off-road technology is standard, too. Opt for the SE Premium and you'll get sat-nav, leather seats, an electrically adjustable driver's seat and the sunroof. White paint is included in the purchase price, but you'll pay extra for all the others.
Why buy?
The Subaru XV will mainly appeal to a niche group of people; those that value off-road ability above everything else. They need a car that will work hard for them, a tool for the great outdoors, and if that's you, then you'll find a great deal to like about the XV. However, if you don't need the XV's ruggedness and you're simply looking at the XV as an alternative to some of the other compact SUVs on the market, then you're unlikely to find much to tempt you away.