Review
Mercedes-AMG GT four-door Coupe (2018 - ) review
The Mercedes-AMG GT four-door is a large grand touring coupe with huge power and performance, so in that sense, it's a rival for the fastest versions of the Audi A7 and Porsche Panamera.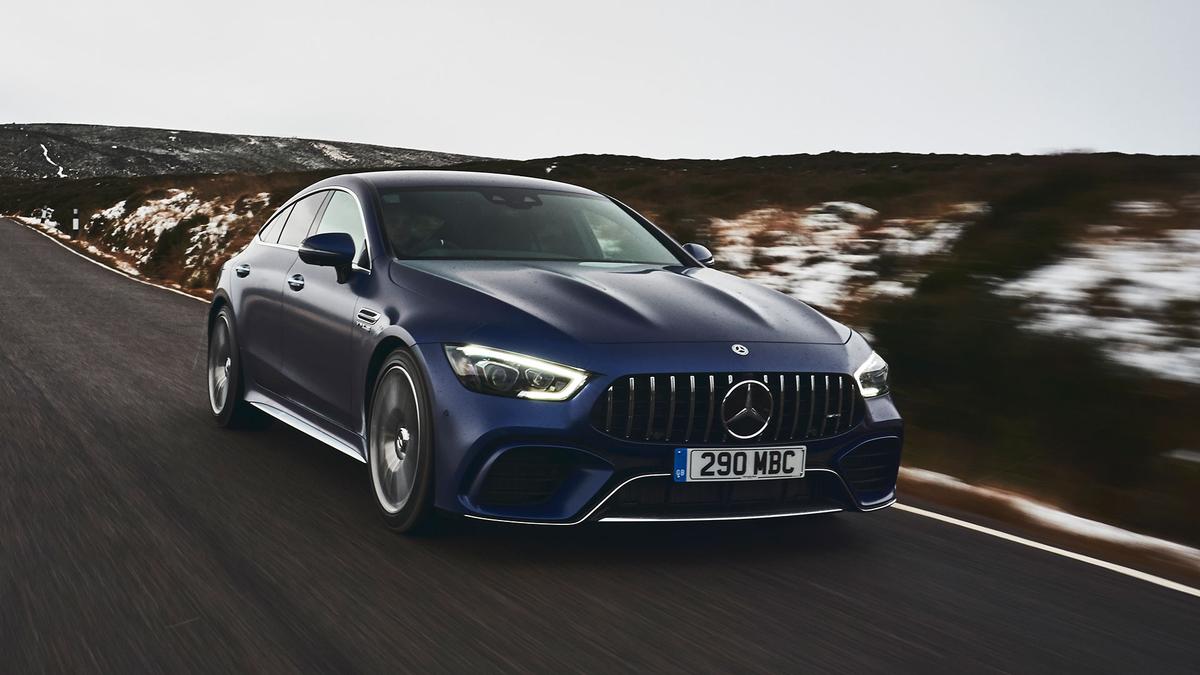 View gallery
The Auto Trader expert verdict: ★★★★★

★★★★★
4.0
The Mercedes-AMG GT four-door Coupe isn't simply a bigger version of its two-door namesake, it's a different car entirely, both mechanically and conceptually. As big, four-seat, grand touring coupes go, it's very capable indeed, with a good spread of dynamic abilities and a spacious and luxurious cabin. Oh, and it also happens to be ludicrously fast. If you're after an executive express many sports cars would struggle to keep up with, you could do much worse than one of these.
Pros
Imposing looks

Unbelievably fast

Interior is roomy and luxurious
Cons
Expensive to buy and run

Only two rear seats as standard

Not the sports car the two-door is
Interested in buying a Mercedes-Benz AMG GT?
How good does it look?
If you're thinking the Mercedes-AMG GT four-door is simply a version of the two-door GT Coupe with an extra set of doors grafted on, you'd be very wrong. This car is very different to its namesake in a variety of ways, and as a result, it has a look all of its own.

While the two-door is comparatively small and svelte, the four-door is a large, angry-looking car with lots of visual menace. If you imagine a pumped-up CLS with a bad attitude, you're just about there. All versions come with alloys wheels of at least 20 inches in diameter, and full LED headlamps. The S version is further marked out by yellow brake calipers. There are also various option packs that make your car look even more aggressive, by adding various carbon fibre elements or extra splitters and spoilers.
What's the interior like?
Again, if you're expecting to be greeted by a mirror image of the two-door GT's cabin when climbing into the four-door, you're in for a surprise. The four-door is far more reminiscent of an E-Class or CLS, with two massive digital screens to take care of all your information and entertainment functionality, which are controlled with either a trackpad on the centre console or thumb controls on the steering wheel. The controls take some getting used to, although the menus seem sensibly laid out and the graphics and response times are pretty sharp.

The centre console houses a bunch of buttons for controlling various aspects of the car's dynamic performance – exhaust note, spoiler position, adaptive suspension and the various driving modes that make adjustments to all of the above – and confusingly, there are also different controls on the steering wheel that do pretty much exactly the same. Seems like overkill to us. The small rear window means your rear view isn't the clearest, but the seats are really comfortable and come with bags of electric adjustment. And importantly in a car this expensive, the plush materials and impressive fit and finish make the cabin of this car feel very luxurious.
How practical is it?
The GT is a car that's supposed to provide supercar performance in a package that'll take four people and their luggage, and it fulfils that brief well. The rear seats (of which there are only two as standard, but you can add a third as a cost option) have enough headroom and legroom for tall adults to get comfy. The boot is pretty big at 461 litres, too, so suitcases and golf bags aren't out of the question, but the space is a rather off shape and you'll have to lift items over a very large lip to get them in.
What's it like to drive?
Mechanically, the four-door GT shares far more with the E-Class than it does with the two-door GT. It's built on the E-Class' platform rather than the GT's, albeit braced and stiffened to within an inch of its life. It's no great surprise, then, that the car behaves much more like the E-Class than it does it's namesake. It's a big, heavy car, weighing in at just over two tonnes, and although it does a good job of disguising its weight, it can't shake it off completely, and you can feel all that mass shifting around as you change direction.

That said, it's very nimble and responsive for a car of its size, helped in no small part by the four-wheel steering system that comes as standard on all versions. The tight body control and mammoth grip also help make this car even more capable, and even though the car is rear-wheel drive most of the time, power can be diverted to the fronts when wheel slippage is detected to give you stronger four-wheel-drive traction. But while it's good on twists and turns, the GT really excels on the motorway. The adaptive suspension that gives great control in the sportier modes can also deliver impressive comfort in the less hardcore modes, and that helps the car feel imperiously smooth, stable and civilised at a steady cruise.
How powerful is it?
All GT four-door models are powered by the same twin-turbocharged 4.0-litre V8 petrol engine found in all of AMG's flagship products, and it comes in one of two states of tune. The 'standard' four-door has an output of 585 horsepower, while the S version hikes this up to a frankly ludicrous 639 horsepower. So far, we've only had the chance to drive the latter, and it'll come as no surprise whatsoever that it's preposterously fast. This huge two-tonne behemoth is hurled from 0-62mph in just 3.2 seconds (3.5 in the less powerful car), and flat out, it'll fall just 4mph shy of entry into the 200mph club. But the really impressive thing is the explosive way it picks up speed. Even when you're already travelling at a fair old rate of knots, leaning on the throttle pedal with any meaningful force will result in a sudden, violent surge of acceleration, and if you happen to find yourself in one of the sportier modes, this sensational speed is accompanied by a deep metallic bellow – punctuated by plenty of coughs and crackles – from the exhaust. Just as impressive is the nine-speed automatic gearbox, which channels all that power through its various ratios quickly and smoothly.
How much will it cost me?
To be fair, this is not a car you choose if you're overly worried about running costs. It's a very expensive car to buy – even more so than the coupe or roadster versions of the GT – and even though solid resale values should help monthly finance costs stay lower than they otherwise would be, you'll still be looking at a very hefty sum. Official fuel economy is stated at around the 25mpg mark, and that's likely to be a best-case scenario. Use the car's full performance potential, and that'll quickly plummet. The car's mix of lofty price and gargantuan performance will also make insurance costs very steep, and you'll also face hefty bills for tyres. However, if you can afford to even think about buying this car, it's likely you're wealthy enough not to be worried about how much it costs to run.
How reliable is it?
Obviously the GT four-door is too new for there to be any meaningful reliability data available on it. What's more, it's too mechanically different to the existing GT models – and the E-Class and CLS, for that matter – to be able to make any reliable conclusions by looking at their data. Mercedes has ranked slap-bang in the middle of the manufacturers table in the last couple of JD Power Vehicle Dependability Studies, and while the Warranty Direct Reliability Index rankings don't place Mercedes quite so high, it's not far behind the industry average there, either. Like all Mercedes cars, this one come with a three-year/unlimited mileage warranty.
How safe is it?
If you're unlucky enough to have a smash, the car comes with seven airbags, including one to protect the driver's knees, along with a system that'll automatically alert the emergency services. There are plenty of systems on hand to help prevent you from having a smash in the first place, though, such as a three-stage stability control system, a blind-spot warning system, a system that steers you back into your lane if you start to wander around, and another that applies the brakes automatically if you fail to respond to warnings about an impending collision.

Even more driver assistance systems are available as part of an optional pack that includes cruise control that keeps you a safe distance from the car in front, and automatically adjusts your speed to the limit displayed on traffic signs. The car hasn't been crash tested by Euro NCAP, and as it'll sell in very low numbers, we don't expect that to change. However, both the E-Class and CLS achieved the full five-star rating when they were tested.
How much equipment do I get?
Anyone spending this much money would rightly expect a whole raft of luxury kit to come included in the price, and luckily, the GT doesn't disappoint. Every version comes with keyless go, climate control, leather upholstery, parking assistance with 360-degree camera, heated front and rear seats, and an all-singing-all-dancing infotainment system complete with sat-nav, wireless phone charging, a Burmester sound system and Apple CarPlay (no Android Auto, though). The S gives you plenty to help you go faster, but not a lot more in the way of luxury kit.
Why buy?
If you're after a big executive express that's ballistically fast, capable yet comfortable on the road, and luxurious, practical and well equipped inside, the Mercedes-AMG GT four-door could be right up your strasse. Expensive, but exciting and theatrical enough to justify it.
Interested in buying a Mercedes-Benz AMG GT?