Review
Kia Proceed hatchback (2018 - ) review
The Proceed is part-hatchback, part-estate, a stylish and slightly more premium version of the Ceed that offers a cheaper alternative to cars like the Mercedes-Benz CLA Shooting Brake.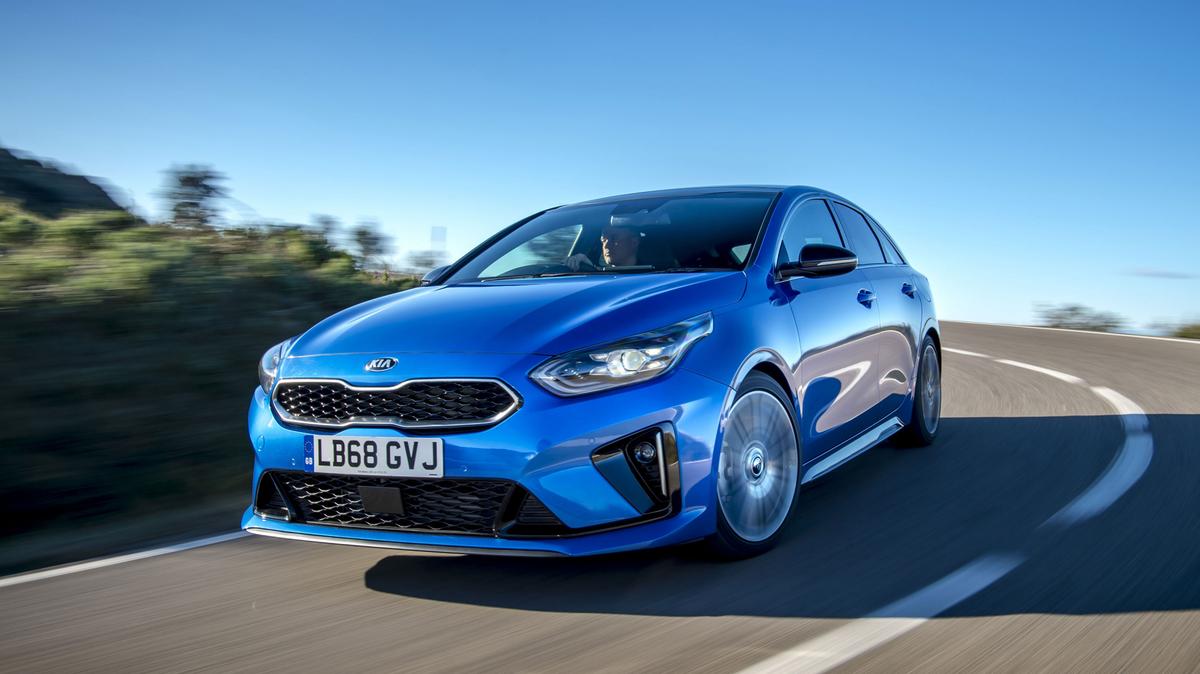 View gallery
The Auto Trader expert verdict: ★★★★★

★★★★★
4.1
The Proceed sits in a niche as a car that's more practical than a regular hatchback, and less practical but more stylish than an estate. It's got a premium vibe to it, and eye-catching looks, which combined with generous equipment levels and an impressive seven-year warranty could win it plenty of fans. Oh, and it drives pretty well, too.
Pros
Stylish looks

Plenty of equipment

Decent to drive
Cons
May not suit taller occupants

Poor rear visibility

Not as practical as a "proper" estate
Best on a budget
Kia Proceed 1.4 T-GDi manual GT-Line
A decent spec, with the cheapest engine but still decent performance.
Blow the budget
The performance Proceed is zippy enough to put a smile on your face.
Most economical
Kia Proceed 1.6 CRDi manual GT-Line
The best fuel economy, although the engine's a bit noisy.
Interested in buying a Kia ProCeed?
How good does it look?
The Proceed's looks are a major selling point. Gone is the three-door hatchback that was the first-generation Proceed (actually spelled pro_cee'd, a convoluted name now thankfully ditched), and in its place is a shooting brake-style body shape, with an elongated boot rounded off in the name of style. Across the back are some eye-catching rear lights that could be lifted straight from a Porsche Panamera Sport Turismo. Beauty, as we always say, is in the eye of the beholder, but we suspect the Proceed's sleek looks will win it plenty of fans.

As Kia is going for a sportier and more premium image for the Proceed compared to the Ceed that it's based on, there are no entry-level, base spec models available. The range starts with the GT-Line, which has 17-inch alloy wheels, front fog lights and heated door mirrors.

The GT-Line S model adds 18-inch wheels and brighter LED headlights, as well as a sunroof, while the performance GT model can be distinguished by red elements on the wheels, brake calipers and bodywork. It also has dual exhausts at the back and different bumpers.
What's the interior like?
Kia seems to take a step forward in quality with each new car it makes, and the Proceed reflects that. The materials, by and large, are of a solid quality and feel well screwed together, although there are a few little bits, such as the flimsy glovebox door, that don't quite fit the more premium image. Overall though, the impression is of a well built cabin. All models get an 8.0-inch touchscreen infotainment system that we've found easy to use.

Less impressive are the front seats which, although comfortable to sit in, don't adjust low enough.
How practical is it?
The high front seats could cause issues for taller drivers and passengers, especially in cars equipped with a panoramic sunroof. Unless you favour a particularly reclined driving position, your head could be wedged into the headlining. It's less of an issue in cars without the sunroof, but there's not a huge amount of space in the rear either. Again, taller adults may struggle for headroom and legroom isn't particularly generous, but kids should be fine.

A side effect of the high front seats, combined with a relatively small rear window, is that visibility out of the back of the Proceed is poor. You look down through the rearview mirror and many will find that they can see 20 feet of tarmac behind them, rather than a comprehensive view of the following traffic.

Kia is keen to stress the Proceed isn't an estate, despite its large hatchback boot. Sure, it's not quite as capacious as the Ceed Sportswagon (which is an estate), but it's not far off and certainly bigger than a regular hatchback.
What's it like to drive?
Kia wants the Proceed to have a sportier image than the Ceed, and so it's tweaked the suspension to make it lower and more agile. It's worked well, feeling confident and composed through the corners with steering that has a nice amount of heft to it. It's not the best handling car of this type and price, but it's certainly competitive, and the stiffening of the chassis hasn't overly affected the ride. We wouldn't exactly describe it as 'wafty', but we'd be surprised if anyone finds it uncomfortable.

The GT model has further changes to increase agility and, again, they're positive, with increased sharpness that should be able to put a smile on your face on a nice bit of road. Again, it's not quite up there with the best hot hatches, such as Volkswagen's Golf GTI, lacking that final edge of accuracy and precision, but it's good fun nonetheless and more than happy to cope with a bit of spirited driving. Once again, the ride, though firmer, is entirely acceptable when it comes to comfort.
How powerful is it?
In the regular Proceed you have a choice of one petrol and one diesel engine. The petrol is a 1.4-litre, turbocharged unit with 140 horsepower, which is just enough for peppy progress without the need to work it hard. If you do work it hard, you won't find much extra performance, but for 95% of people it'll be more than sufficient.

It's a similar story with the diesel, a 1.6-litre engine with 136 horsepower that has plenty of grunt, although it sounds quite coarse and gritty on acceleration, without the kind of refinement that you get from other elements of the car. Again though, it does the job.

The Proceed's six-speed manual gearbox isn't the slickest on the market, but it's fine. An automatic is also available, and more on that in a moment.

The GT model has a 1.6-litre turbocharged petrol engine with 204 horsepower, which isn't quite up there with modern hot hatches, making it more of a 'warm hatch'. It's a very capable engine with plenty of power at the top of the revs and enough grunt lower down to mean that you don't need to switch gears all the time.

Gears in the GT are changed with the Proceed's seven-speed automatic gearbox (there's no manual option) that's not bad, but could be a bit quicker and sharper to respond. It has a manual mode with paddle shifters behind the wheel, if you want a bit more involvement, but some will be disappointed that it won't hold the gear at the top of the revs in manual mode, instead choosing to shift up regardless.
How much will it cost me?
The Proceed sits in a slightly unusual not-a-hatchback-and-not-an-estate position, so it's difficult to compare it directly with many rivals. An obvious one is the Hyundai i30 Fastback, although that's a bit less premium and a bit less estate-like. There's also the Mercedes-Benz CLA Shooting Brake, but that's considerably more expensive. Then you've got the rest of the Ceed range, comprising the hatchback and Sportswagon estate. The estate isn't available with the same levels of equipment as the Proceed, and the premium you'll pay for this new car over the equivalent hatchback is in the region of £1500, like-for-like.

We've crunched some numbers based on industry estimates for the different costs involved in running a car over three years. These suggest the Proceed will be slightly more expensive to run than the equivalent Ceed hatch, due mainly to slightly poorer resale values, but there's not much in it. Both work out cheaper than an equivalent Hyundai i30 Fastback and far cheaper than the Mercedes, which is pricier in every area. Overall, the Proceed looks like it'll be pretty friendly on the wallet, albeit slightly more expensive than the hatchback.
How reliable is it?
Kia has an excellent reputation for reliability, and one that's back up by industry reports. JD Power's 2018 Vehicle Dependability Study puts Kia third of all manufacturers, behind Suzuki and Kia's parent company Hyundai. It sits mid-table in Warranty Direct's Reliability Index, although that looks at older cars, so the picture is of a firm that's improved its reliability considerably over time.

Should anything go wrong with your Proceed, Kia offers a very impressive seven-year, 100,000-mile warranty.
How safe is it?
The Proceed is based on the standard Ceed, which at the time of writing hadn't been crash tested by safety organisation Euro NCAP. But with Kia's cars regularly scoring the maximum five stars, we'd be surprised if that doesn't continue here. Automatic emergency braking and lane-keep assist systems are included on all cars, and manual cars have pedestrian detection systems included as standard too. Automatic cars can get this as an option with the Advanced Driving Assistance Pack. Each car also comes with six airbags and Isofix child seat mounting points on the two outer rear seats.
How much equipment do I get?
As a more premium offering within the Kia range, all Proceeds are well kitted out. The range starts with the GT-Line, which features cloth and faux-leather upholstery, a heated steering wheel, dual zone air-conditioning and keyless entry and start. Apple CarPlay and Android Auto are included on the infotainment system, which is easy to use, and we've found the sat-nav instructions easy to follow too.

Upgrade to GT-Line S and you'll get a handy luggage rail system in the boot, which helps stop bags and other cargo being thrown around. You'll also get an automatic parking system, plus front parking sensors, an electric driver's seat, heated rear seats and adaptive cruise control. Not enough? It also comes with a JBL premium sound system, wireless phone charging and an electric boot lid. And black leather and faux-suede upholstery.

The performance GT model comes with very similar spec, with extra red stitching on the upholstery.
Why buy?
If the Proceed's blend of eye-catching styling and extra zing compared to the standard Ceed appeals, you'll find lots to like here. The Proceed is well made, well equipped and good to drive, with a stonking warranty and Kia's strong reliability record, and it doesn't really have many rivals.
Interested in buying a Kia ProCeed?