Expert Review
Ferrari 812 Superfast Coupe (2017 - ) review
Read our review of the Ferrari 812 Superfast, the amazing 800 horsepower GT as capable of blitzing supercars as it is covering long distances in comfort and luxury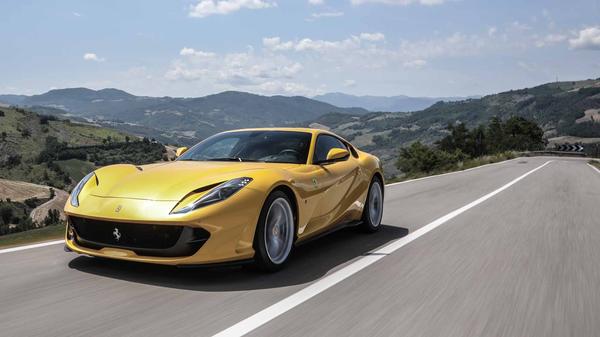 The Auto Trader expert verdict:
Available new from £265,100
The 812 Superfast is the successor to the F12berlinetta. It is Ferrari's fastest car built for the road instead of track, with its most powerful V12 engine to date. Yet it has ample boot space for proper luggage and is comfortable enough for long distances. Is this the ultimate Ferrari?
Reasons to buy:
Amazing looks
Ultimate status symbol
Usable grand tourer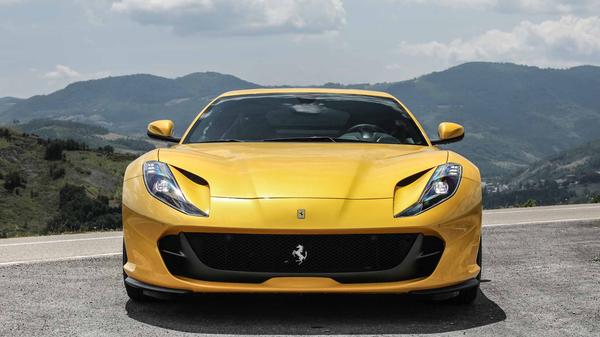 Running costs for a Ferrari 812 Superfast
Once you've paid the predictably high price tag, and added on the extras you want, the six-figure price for your 812 Superfast will probably start with a three. Caveat emptor: while the cost of some extras like the extravagant carbon fibre trim embellishments won't surprise you
Apple CarPlay
remains a £2,400 option. Sure, you'd expect to be paying through the nose for fuel, insurance and everything else with a V12 supercar but paying this much extra for a feature many city cars now include as standard does rather sting. In terms of other running costs every Ferrari comes with a seven-year scheduled servicing agreement and a four-year warranty, which is transferrable to second owners. With luck depreciation probably won't be an issue – keep the mileage down, hold onto this car until all V12s have disappeared (shortly) and you might sell it on for more than you paid. Whoop.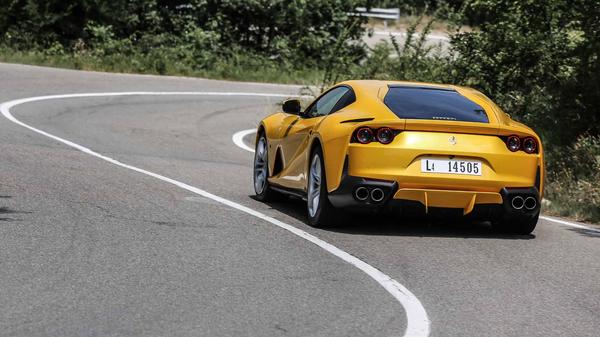 Safety for a Ferrari 812 Superfast
There's a colossal 800 horsepower surging through the rear wheels, so on paper this is not what most would consider to be a sensible car. Safety here is very much in the hands of the driver. Don't be silly, is our advice, having momentarily lost the back end in a straight line on a dry road. And definitely don't turn the F1-inspired 'manettino' switch on the steering wheel to "CT off" or "ESC off" unless you're on a track and know what you're doing. There's a reason those settings are coloured orange and red. There are airbags, and a tyre-pressure monitoring system, and the new electric power steering feeds back a corrective movement when the car reaches the boundaries of physics, to help you save yourself from embarrassment and possible injury. There's also a tracker for the car in case of theft.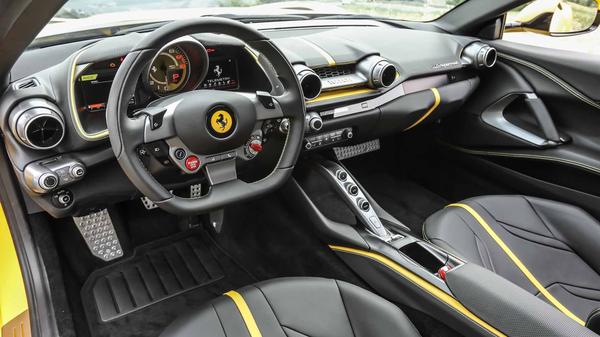 How comfortable is the Ferrari 812 Superfast
Again, it's all relative. If this was a Ford Focus, it would get one star. But compared with equivalent supercars like the
McLaren 720S
and
Lamborghini Aventador
the 812 Superfast excels in space, comfort, visibility and usability. Drawing on Ferrari's grand tourer traditions it's surprisingly suitable for long trips with plenty of room in the cabin (for two occupants, at least), supportive seats and excellent visibility forward and behind. There is lots of storage, too, including a glove box, door bins, small tray between the passengers, storage nets behind the seats, a large luggage shelf behind that and another smaller shelf by the rear window. Unlike those rivals from Lamborghini and McLaren the Ferrari's engine is in the front so popping the boot reveals a surprise in genuine space for a proper suitcase or two weekend bags. Add to that the relatively soft suspension, and the engine's ability to trickle along happily at low revs and you have a worry-free, stress-free Ferrari, which is pretty much a first.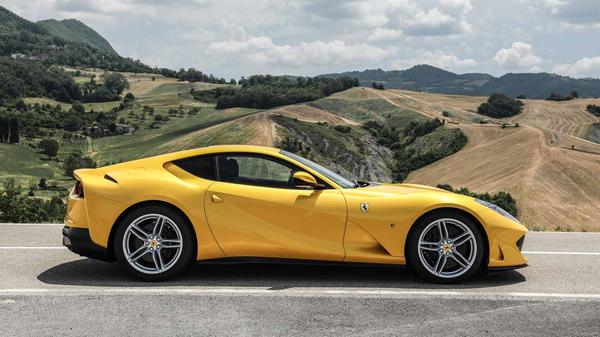 Features of the Ferrari 812 Superfast
Compared with other Ferraris, it's not at all bad. The infotainment system appears entirely behind the steering wheel, in the driver's display, but there's a cool secondary screen above the glove box (there's a glove box!) showing revs, speed, sat-nav and so on, so the passenger can constantly nag you about how fast you're going. Probably best to turn it off. There are also some surprise-and-delight details like the honey-coloured suede luggage straps on the shelf behind the seats, which featured red stitching and big silver buckles in our test car. They were matched by the red embossed Prancing Horses on the head rests of the suede-covered bucket seats. As well as Apple CarPlay and sat-nav, our car had carbon-fibre on the steering wheel, gearbox tunnel and rear shelf lip as well as lots outside on the rear diffuser, boot trim and mirrors. In a nod to F1, the steering wheel has red rev lights on the top half which come on sequentially as the engine spins up. Our test car also had black ceramic exhausts, a big red rev counter and front and rear parking cameras.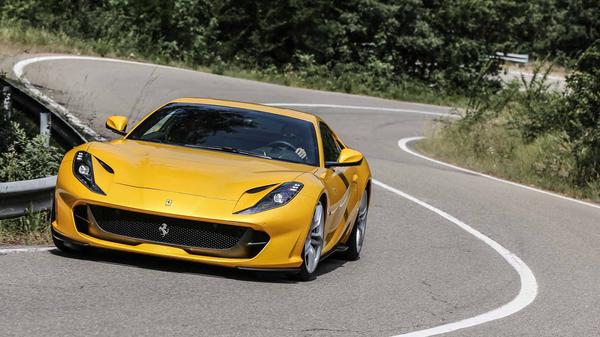 Power for a Ferrari 812 Superfast
The surprising quality, practicality and comfort of the 812 Superfast's cabin pours scorn on the old joke you bought a Ferrari for its engine alone and considered everything else an afterthought. Saying that it's reassuring to know the engine remains the heart and soul of this car and what a glorious, lyrical, howling V12 Ferrari has assembled. It's been bored out from the 6.2 litres of the F12 to 6.5 litres (like it needed it) and output is now a staggering 800 horsepower, achieved at an ear-splitting 8,500rpm. Torque is an equally monstrous 718Nm and 80% of that is available at 3,500rpm, meaning it's equally potent at low or high revs. Whatever speed you're doing, and whichever gear you're in, if you floor it,
amazing things
happen. This car is a licence loser, so you have been warned. The clever seven-speed dual-clutch transmission now changes gears a third quicker than before but is still butter smooth so there's no nasty neck ache. And the steering, now electrically assisted, should offer you some gentle assistance should you get carried away thanks to two functions known as Ferrari Peak Performance (FPP) and Ferrari Power Oversteer (FPO). In both case, steering-wheel torque will "provide the driver with an indication that the car is getting closer to its limit of grip", which is very nice of it, and could save you quite a bit of money in insurance excesses.