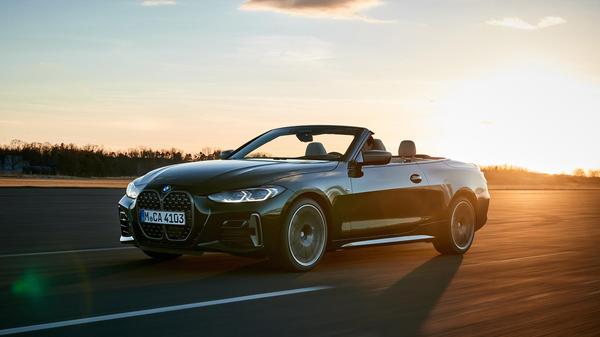 Expert Review
BMW 4 Series Convertible (2020 - ) review
The BMW 4 Series Convertible has all the charm and sophistication of its coupe brother with the added bonus of fun in the sun for four
The Auto Trader expert verdict:
A soft-top version of the already impressive 4 BMW Series coupe, the 4 Series Convertible ticks an awful lot of boxes, given it's stylish, desirable, fast and fun. Upgrade to M Sport trim and, with the top of the range M440i's xDrive all-wheel drive traction, you'll be in automotive heaven. Rivals at this level include the Mercedes-Benz C-Class Cabriolet and Audi A5 Cabriolet but the BMW is the freshest model on the block and takes the lead on tech as well.
Reasons to buy:
Beautiful styling, inside and out
Immensely rewarding to drive
Fresh-air convertible fun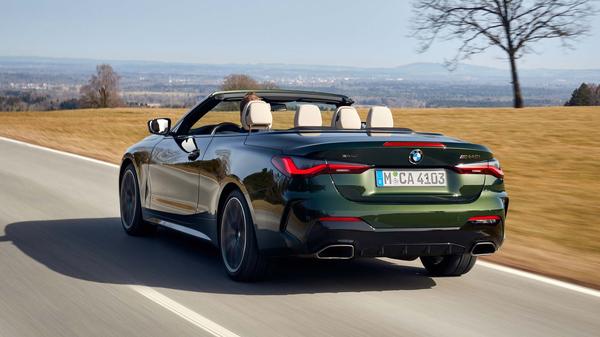 Running costs for a BMW 4 Series
BMWs aren't cheap, but then you're paying for a hell of a lot of car. The 4 Series is BMW's sporty, two-door version of the popular
3 Series
, so although you're not getting much practicality for your money (especially so when the roof takes up half the boot space - see below), you do get a lot of satisfaction and smiles. This is not a car you'll regret buying. Pricing is in line with the competition from Mercedes-Benz, Audi and their ilk but about 10 per cent more than the equivalent 4 Series coupe on most models, while our favourite – the M440i – can be closing on £70,000 with a few options. Then there are the insurance and fuel costs. BMW is, however, smart at hitting CO2 numbers to help
company drivers
, the 420i petrol and 420d diesel scoring well here and the latter getting 'mild' hybrid technology for the most attractive
Benefit In Kind
numbers. Just be aware certain options like bigger wheels can increase the CO2 rating and, along with it, monthly costs. Private buyers will, meanwhile, appreciate BMW's strong residuals and how that helps
finance
costs.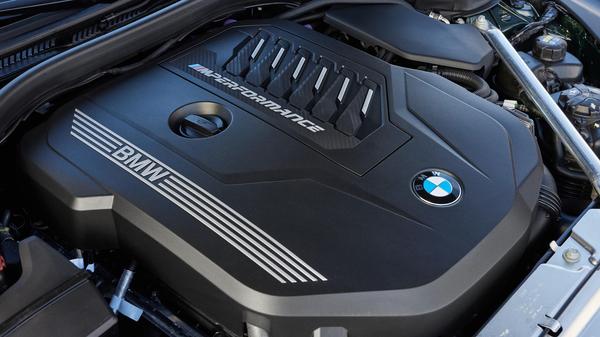 Reliability of a BMW 4 Series
At the time of writing there isn't yet sufficient reliability data available to make an informed judgement on how the 4 Series Convertible will perform here. The fact it shares its foundations and most of its engines with the 3 Series does offer a sense, though, and going by Warranty Direct's appraisal of the previous generation the news isn't especially encouraging. It's the same story in the JD Power Vehicle Dependability Study, BMW sitting at the bottom of the table below rivals like Mercedes-Benz, Audi and Lexus.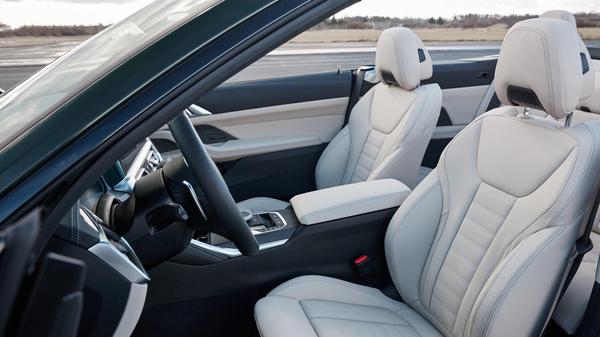 Safety for a BMW 4 Series
BMW is a very tech savvy brand and, as a brand-new model, the 4 Series Convertible comes with the latest driver assistance systems as standard. Various sensors and cameras monitor the car's surroundings and can intervene when required, braking the car in city driving if you fail to spot a pedestrian or cyclist in your path and steering you back into lane on the motorway if you start drifting out of it. Self-parking and a reversing assistance system are also standard. All these can be optionally upgraded to a further level of sophistication if you so wish.
How comfortable is the BMW 4 Series
The fabric roof (goodbye clunky hard top) on the Convertible is a stunning concoction of moving parts that will lower or raise while the car is moving at speeds up to 31mph, but it does take up an awful lot of boot space. We struggled to fit a large weekend bag under the lowered roof of the boot although, once in, you can shove the bag far back. Hence the docked star from the rating compared with the more practical coupe. But only one, because the rest of the interior is typical BMW. Which is to say smart, refined and clever. Our M440i Convertible test car came with BMW's pale Oyster leather, contrasting beautifully with the sparkling metallic Tanzanite Blue paintwork, the latter an 'Individual' option exclusive to this top model but worth every penny. There is plenty of room inside for four - the central fifth squab is replaced with cup holders, as if to highlight the emphasis on luxury over practicality. But there's more room up front than in its predecessor. And at motorway speeds with the roof up all is quiet. You really wouldn't know the car had a fabric ceiling.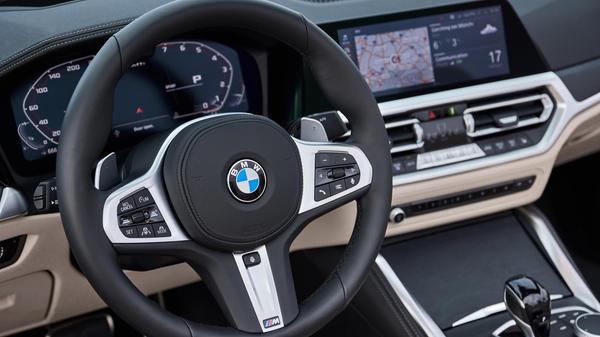 Features of the BMW 4 Series
BMW's familiar M Sport trim level is the base for all 4 Series Convertible models, reflecting its more premium position against the 3 Series. As such the standard kit is generous, including a fully digital instrument display and an impressive central touch-screen which you can control from the wheel, by voice, gesture or a large turn-and-push dial. Compared with the fiddly touchpads on many rivals the latter is an absolute blessing. Standard features include Live Cockpit Professional with various connected services, including live traffic updates, music streaming and an online personal assistant. If you prefer to run things from your smartphone it's fully compatible with both
CarPlay and Android Auto
, too. Beyond that there's huge scope to add to the tech (and price…) with more gizmos and luxury features as your wallet permits.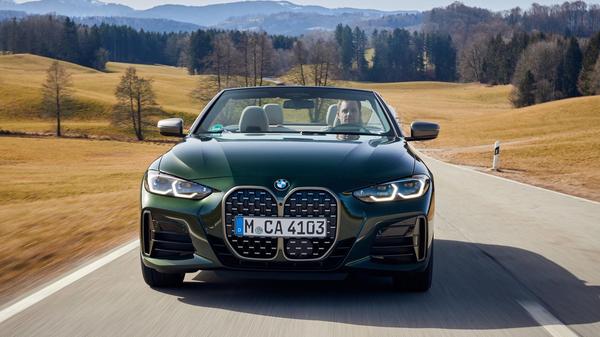 Power for a BMW 4 Series
Whether you're a fleet driver after good economy and low emissions, or a petrolhead in search of a last fling with something wearing an M badge, the 4 Series Convertible provides the fresh-air answer. Sadly, there's no hybrid right now but you do get 2.0-litre diesels and petrols, with rear- or all-wheel drive (branded xDrive), plus the amazing M440i, a 3.0-litre petrol version that puts out 374 horsepower, and an M440d hot diesel coming later in 2021. A 510 horsepower, all-wheel drive performance flagship based on the
M4 coupe
will also be coming, though that will be in a different league of pace (and price) compared with the rest of the range. As it stands if you're purely after a precision-focused, dynamic drive the M440i coupe remains your best bet, because keener drivers will notice the extra weight and slightly flexier bodywork of the Convertible. But for something that leaves you smiling on a sunny day go for that gorgeous fabric droptop.