Expert Review
BMW 1 Series Hatchback (2019 - ) review
Read about the BMW 1 Series hatchback, the German brand's premium hatchback with a classically sporting twist.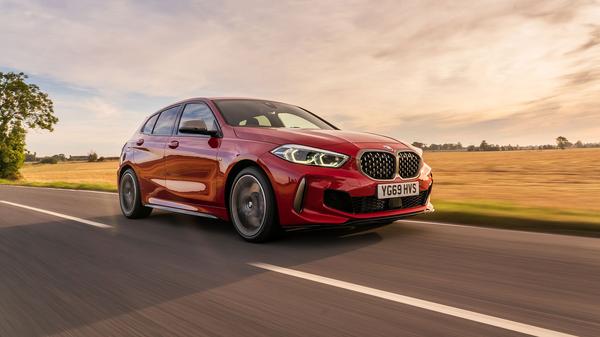 The Auto Trader expert verdict:
Available new from £25,915
BMW's fresh take on the 1 Series formula adopts the more conventional front-wheel drive layout of its rivals, with the goal of improved interior space and practicality. Technology has also been expanded, with increased connectivity and expanded infotainment functionality. This, combined with a slick reinterpretation of BMW's traditionally sporty handling, adds up to a compelling premium hatchback.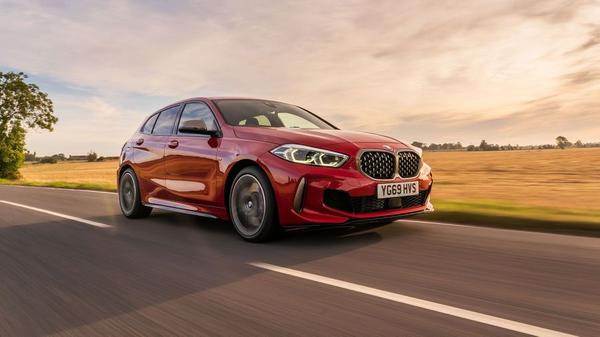 Running costs for a BMW 1 Series
The fierce rivalry between the three prestige German brands means there's often little to pick between their cars in any area, and that's especially true when it comes to ownership costs in the small family hatchback class. They all cost a similar amount to buy, whether you're paying outright or monthly, and they all have similarly strong resale values, meaning they all protect your investment about as well as each other. They all have similar figures for fuel economy and CO2 emissions, and there's very little to separate them on insurance groupings or servicing and maintenance costs. So, while it's undoubtedly true that the Audis, BMWs and Mercs of the world will cost you a significant slice more to buy and run than the Fords and the Vauxhalls, at least the more comparable cars are all on a par with each other.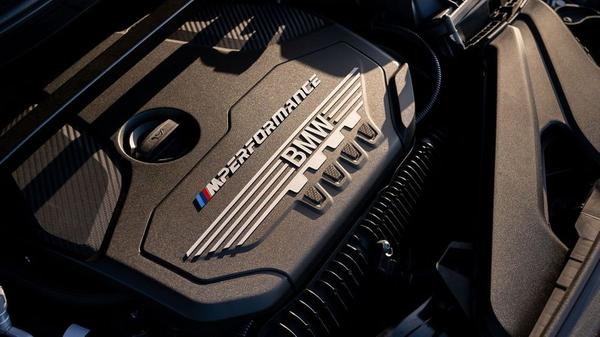 Reliability of a BMW 1 Series
Being a new car, it'll be a while before there's sufficient data to confidently assess how
reliable
the latest 1 Series will be. However, it is true that BMW has finished stone-dead last of all ranking manufacturers in the 2017, 2018 and 2019 versions of the JD Power UK Vehicle Dependability Study. On the brighter side, our owner reviews paint a far rosier picture of BMW ownership, with very few problems reported, and like all BMWs, the 1 Series comes with a three-year, unlimited mileage warranty that includes BMW Emergency Service.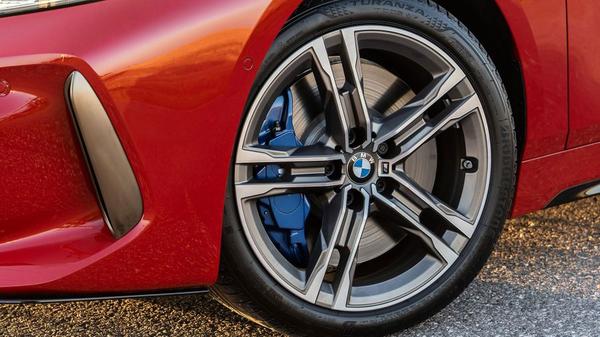 Safety for a BMW 1 Series
All the
safety
measures you'd expect are present and correct, things like tyre pressure monitors, an electronic stability control system and six airbags to keep those on board from harm if an accident becomes unavoidable. The car also comes with emergency city braking as standard, along with a speed limit display on the dashboard and lane departure warning. If you're prepared to delve into the options list, you can also add enhancements to these systems; your city braking system is upgraded to be able to sense pedestrians and other approaching objects, while your lane departure system is upgraded to include blind spot warnings.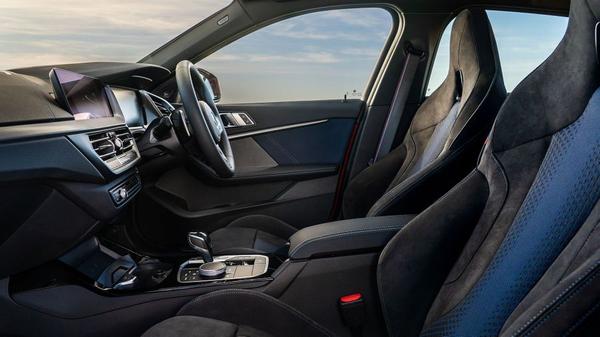 How comfortable is the BMW 1 Series
The 1 Series' new front-wheel-drive layout means it's much roomier than the car it replaces. There's enough legroom for a pair of six-foot adults to sit comfortably behind front-row dwellers of a similar size. Headroom is adequate, too, although cars with the panoramic sunroof will make tall passengers feel a little more hemmed-in. Bulky side bolsters also mean the useable bit of the rear bench is narrower than it would otherwise be, so some rivals are better at taking a third passenger in the back. The boot is also now bigger – pretty much the same is in the
Audi A3
and
VW Golf
, and slightly bigger than in the
Mercedes A-Class
– and the boot also has a handy false floor for levelling out the load area when you fold the back seats down. They go pretty flat when you do, too. The driving position has lots of adjustment, although the pedals are rather offset to the right. This isn't a massive issue on automatic versions, but it can cause things to feel a little awkward in cars with a manual gearbox. Thick rear pillars and small rear windows also mean your over-the-shoulder visibility is rather hampered, and it causes the rear of the cabin to be a little on the dark side. The 1 Series may have switched from having its rear wheels driven to having its fronts doing all the work, but it still has a distinctly
sporty character
. The steering is quick, responsive and nicely weighted (although it does tug you from side to side as you accelerate in some versions), and with lots of grip and tight body control, the car feels sharp, eager and alert when changing direction. This focus on agility does mean the 1 Series isn't the smoothest-riding car of its type – you can feel more of bumps and potholes than you do in some rivals – but it stops short of being uncomfortable. Besides, we've only had the chance to drive the car on the lower, stiffer suspension that M Sport cars get, so cars with the standard setup might well be cushier. We've also driven the high-performance M135i version with optional adaptive suspension fitted. This changes its stiffness according to which driving modes you select, and there is an appreciable difference between the settings. Regardless of the mode, it's comfier than the other version we've driven, and it also handles even more sharply. It's not an expensive option, either, so we'd say it's well worth the investment. The M135i's standard four-wheel drive also means upgraded grip and traction in corners, which with the amount of power on tap, is probably just as well.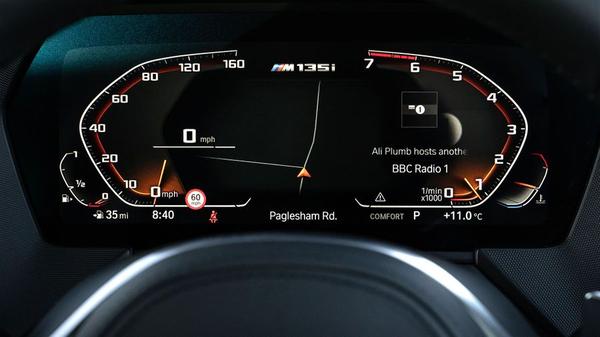 Features of the BMW 1 Series
The entry-level SE version has alloy wheels and LED foglights, while Sport models get redesigned bumpers and some sparklier exterior trim pieces. M Sport versions get different bumper treatments again with even more sparkly bits to make them look even meaner, while the raciest M135i kicks the visual meanness up a notch further with yet more bespoke body styling elements. The SE comes with a decent level of standard equipment including air-conditioning, automatic lights and wipers, front- and rear parking sensors, cruise control, four powered windows and an infotainment system with sat-nav, Bluetooth, DAB and all the other techy stuff you expect. Sport models uprate the air-con to dual-zone climate-control, and add sports seats, while M Sport trim brings leather upholstery and heated front seats. Plenty of other clever stuff is available on the options list, too, but you'll quickly hike up the cost of your car if you go too mad. The dashboard layout of the 1 Series will look familiar to anyone who's recently been anywhere near one of BMW's newest products. That's a good thing, because the infotainment system is very simple to navigate despite its complexity and its vast range of functionality, and it can be controlled in a number of different ways – via a rotary controller, via touchscreen, via voice control or (if you specify the right optional extras) via gesture control – depending on what you find easiest. You'll recognise the quality from other BMWs, too. It's not quite as plush as the firm's bigger saloons and SUVs, but it's really not far behind and it's easily a match for anything else in the class.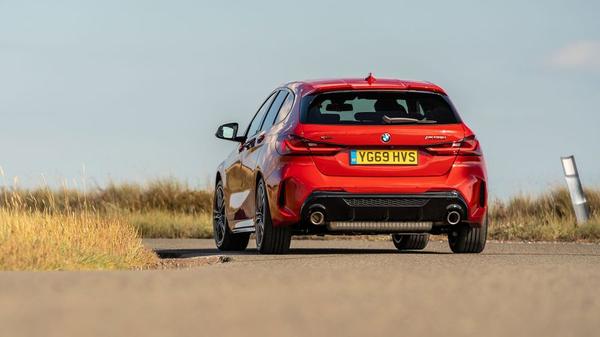 Power for a BMW 1 Series
So far, we've had the opportunity to experience two of the engines available, all of which are turbocharged. The first of these is the 118i, which despite what the badge suggests, comes with a 1.5-litre three-cylinder petrol engine with 140 horsepower. It's absolutely fab. It's got all the punch and perkiness that most drivers will ever need, and it's exceptionally smooth and quiet, no matter how hard you need to work it. The six-speed manual gearbox is slick and satisfying to operate, too. The other version we've tried is the high-performance M135i, which comes with a 2.0-litre four-cylinder petrol punting out a whopping 306 horsepower. It'll crack the 0-62mph dash is less than five seconds, and the shove is just as mighty when you're picking up speed on the move. The gearbox reacts super-quickly when you select one of the racier driving modes, too, although its reactions are a little more leisurely if you find yourself in one of the less hardcore settings. All in all, the sensation of speed and acceleration doesn't feel quite as bonkers as it does in rivals like the Mercedes-AMG A35, but it'll still be plenty quick enough for even the most dedicated hot hatch enthusiasts.