Expert Review
Audi RS 3 Saloon (2017 - ) review
This RS 3 has an uprated version of what was already the most powerful five-cylinder engine in Audi's history. Read our review to find out if that's enough to make a top-class performance car.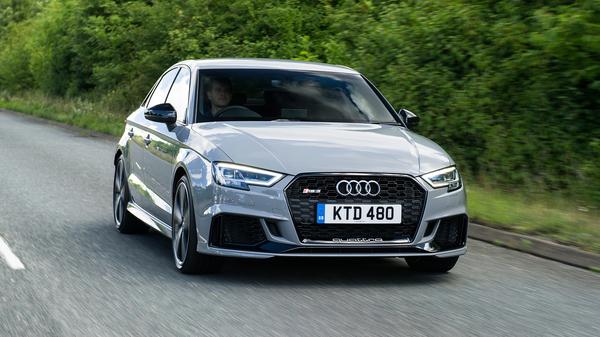 Words by: Auto Trader

Additional words by: Ivan Aistrop
Last updated on 5 December 2019 | 0 min read
The Auto Trader expert verdict:
The Audi RS 3 Saloon is one of the fastest and most powerful cars of its type available, which gives it some real appeal. There's no denying how fast you can go in it in all weathers, and it's as well-built as we've come to expect from Audi.
Reasons to buy:
Supercar performance in a small hatchback
Excellent build quality
Four-wheel drive gives superb traction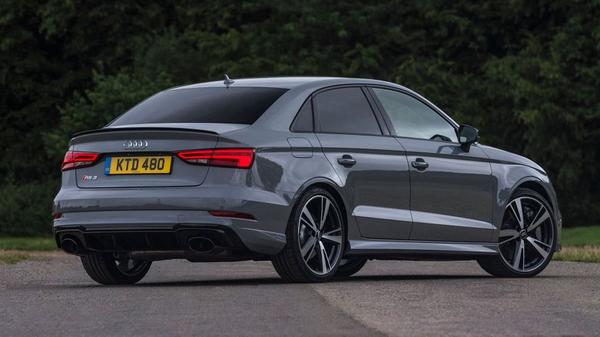 Running costs for a Audi RS3
When the Audi RS 3 Saloon was given a revamp in 2017 it was considerably more expensive and more powerful than its rivals. But since then Mercedes-Benz has brought out the even-more-horsepower-filled AMG CLA 45, and BMW has its M2 Competition, which also has more grunt, albeit not by much. Both are more expensive, too. What's more, you'll lose less money over time on the RS 3, thanks to strong resale values. Servicing, repairs and maintenance should be cheaper in the Audi as well. In the grand scheme of things, it won't be cheap to run, but within the realm of ludicrously powerful, premium hot saloon, the RS 3 seems like a bit of a bargain.
Expert rating: 5/5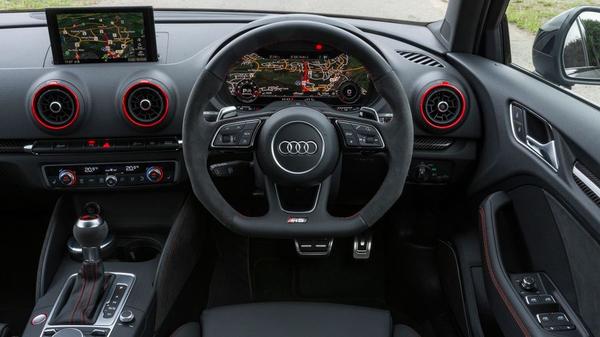 Reliability of a Audi RS3
Despite what you might expect, Audis are not renowned for their reliability. Figures from Warranty Direct put Audi well below average as a manufacturer, and it's the same story with previous generations of the A3, although it's often the actual cost of repairs rather than their frequency, which is the problem for owners. JD Power's Vehicle Dependability Study has placed Audi firmly in the bottom three of all manufacturers for several years in a row, which isn't a positive sign. Should anything go wrong with your RS 3 Sportback, Audi offers a standard three-year, 60,000-mile warranty.
Expert rating: 2/5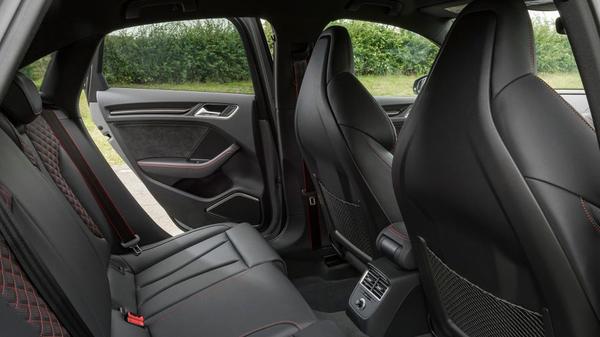 Safety for a Audi RS3
The Audi A3 Sportback, upon which the RS 3 Saloon is based, was crash-tested by safety experts Euro NCAP and scored a maximum five stars in tests in 2014. That's very good, but it was some time ago and standards have moved on since then. The RS 3 Saloon does come with seven airbags, including one for the driver's knees, as well as Electronic Stability Control and an electronic differential lock. But some systems that rivals include as standard – such as automatic emergency braking – are only options, which is a shame.
Expert rating: 3/5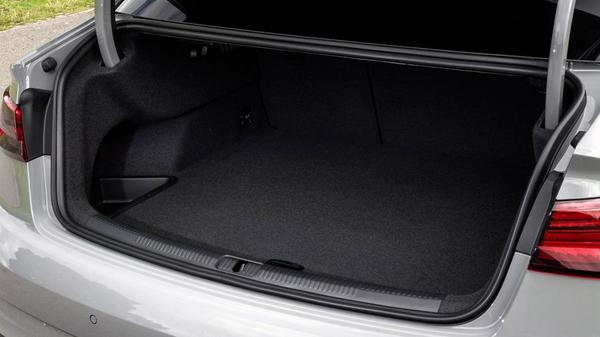 How comfortable is the Audi RS3
Inside, there's no mistaking this is a cabin from the range-topping version of the A3. Open the door and you step over aluminium door sills to see plenty more aluminium-look bits and pieces all over the cabin, as well as a leather and Alcantara flat-bottomed steering wheel and Nappa leather upholstery on the front sports seats, complete with embossed RS 3 logos. The materials and build quality are superb, and the driving position excellent, with a wide range of adjustment on the driver's seat and steering wheel. Audi's 'Virtual Cockpit' (which replaces the traditional dials and instruments with a 12.3-inch fully digital and customisable display) is standard, but easy to use once you get used to it. Similarly easy to use is the MMI system that controls the infotainment system through a dial and buttons on the centre console, although isn't quite as neat as BMW's iDrive system. Not only is there impressive head and legroom for a couple of adults in the front, it's not too hard to fit another couple of six-foot adults in the rear in comfort. Mind you, the RS 3 isn't all that comfortable for five, because the large transmission tunnel in the floor limits the foot space for whoever is lumbered with the narrow middle seat. Still, the boot is pretty impressive, putting 425 litres at your disposal. However, this saloon version of the RS 3 isn't quite as versatile or practical as the Sportback, as the shape and size of the boot opening makes it harder to access. As you would only expect of a car set up to go quickly and drive in a sporty way, the RS 3 does have a firm feel to its step. However, it's far more comfortable than you might expect of an uber-powerful hot hatch, especially with the optional Audi Sport Pack, which includes adaptive dampers that adjust to suit the driving conditions. Thus far, this is the only version of the RS 3 Saloon we've driven, but our experience with the previous-generation car suggests this could be a worthwhile investment, so we'd suggest taking a test drive of this system, if you can. Trouble is, strong body control isn't the only thing that makes for good handling, and the RS 3 is case-in-point. The car feels surprisingly nose-heavy in briskly taken corners, when rivals feel sharper. Indeed, the RS 3 understeers more than most front-wheel drive rivals, despite the fact the Quattro four-wheel drive system helps give lots of traction and grip in most situations. To make matters worse, the steering gives you virtually nothing in the way of weight, feedback or engagement, and the brakes, too, are short on feedback through the pedal (although more than up to the job of stopping such a quick car). As a result, the RS 3 will leave you feeling cold – which is very disappointing from a car that promises so much on paper.
Expert rating: 4/5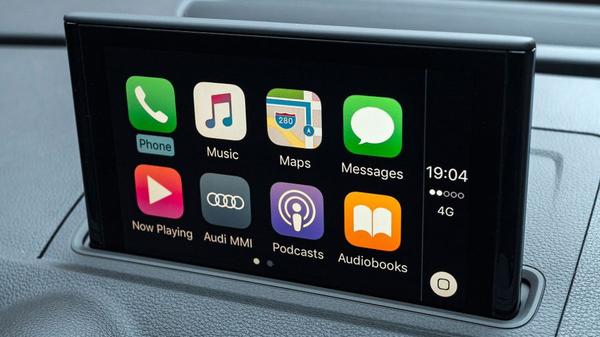 Features of the Audi RS3
Just one glance at the RS 3 is enough to tell you this is a very high-performance A3. Not only is the car wider and sits lower to the ground than the regular A3 it's based on, it's also positively overloaded with features that will earn you lots of ticks in the 'I Spy' book of hot hatches. There's the unique RS bodykit, for a start, featuring extended side sills, a honeycomb grille and spoilers front and rear. Then, to top it off, the car has aluminium-look door mirrors, twin oval tailpipes, and LED lights all-round. The standard 19-inch alloy wheels are gleaming silver, but there are some attractive alternatives on the options list, and they contrast with the black (or, as an option, red) brake calipers you can see through the wheels. One thing worth remembering is that the RS 3 is also available with the Sportback body (dealt with in a separate review), although to our eyes, this body style – which is longer and lower – looks a little sleeker and is the more attractive of the pair. As befits the flagship model in A3 range, the RS 3 comes with plenty of standard equipment. On top of its unique bodykit and sports suspension, you get luxuries such as dual-zone climate control, heated front seats, DAB radio and Bluetooth connectivity. Beyond that, there's a huge range of options, but among the most tempting are the Magnetic Ride suspension, the Comfort and Sound Pack (with an uprated Bang & Olufsen stereo and rear-view camera) and enough styling tweaks to be able to make your RS 3 almost unique. Get carried away, though, and you might be surprised by just how much those options cost when totted-up, so it's best to choose them wisely.
Expert rating: 4/5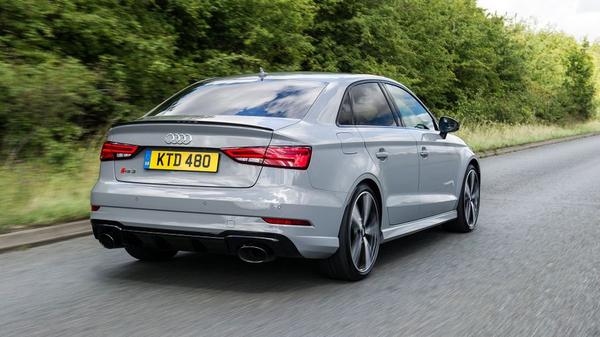 Power for a Audi RS3
If there's a star of the show in the RS 3, it's the turbocharged 2.5-litre five-cylinder engine that produces 400 horsepower. Mind you, when you first pootle away in the RS 3, it's so benign and smooth – especially in combination with the standard seven-speed S tronic semi-automatic gearbox – that there's not even the slightest hint of what awaits you when you get the chance to floor the throttle. When you do, you experience the kind of acceleration you'd expect only supercar owners can understand. Astonishingly fast. Because its peak pull comes at just 1,700rpm, not only is it tremendously easy to drive fast, it's also amazingly responsive. Combine all that with the benefits of four-wheel drive traction, allowing you to accelerate very early after a corner, even in very wet conditions, and there's precious little that can keep up with a hard-charging RS 3 across country. The one thing we would say, though, is that having at least the option of a manual gearbox might appease enthusiasts after a bit more engagement – even if that means doing a bit more legwork in town.
Expert rating: 5/5