Expert Review
Audi R8 Coupe (2019 - ) review
The R8 sits right at the top of the Audi range and is a full-on supercar. Read our review to find out how it stacks up against the exotic opposition.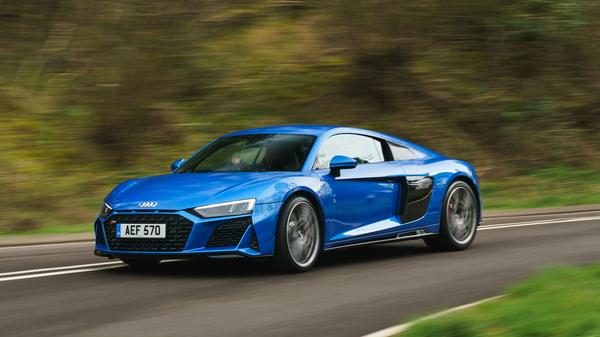 Words by: Phill Tromans
Last updated on 29 November 2019 | 0 min read
The Auto Trader expert verdict:
Available new from £135,045
This updated version of the R8 merely tweaks the features and engineering that made it so special when it was first launched in 2015. It's a proper supercar in a smart suit, capable of mind-bending performance while also being perfectly functional as an everyday cruiser. If you've got north of £100k to spend on something exciting, then make sure this is on your list.
Reasons to buy:
Scintillating performance across the range
Excellent build quality
Quiet on the motorway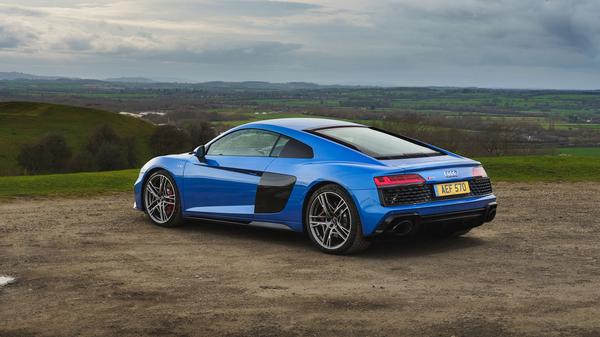 Running costs for a Audi R8
This kind of performance comes at a price, but when you look at the cars the Audi R8 is competing against, it's actually very reasonable, coming in thousands of pounds cheaper to buy than rivals from McLaren, Aston Martin and Mercedes-AMG. Compare the running costs of an R8 Performance against an Aston DB11 V8 and a McLaren 570S, and the Audi is the best part of £10k cheaper than its rivals, although it'll drink more fuel than either. That'll bump up the overall costs, and the resale value might not be quite as high as you'd expect. On paper at least, the R8 is a better financial buy than the McLaren, but the Aston's superior resale value makes it better still.
Expert rating: 3/5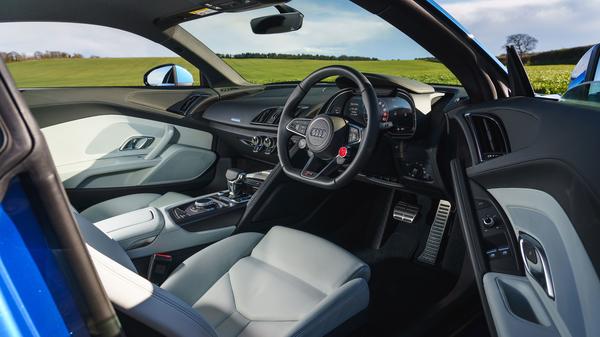 Reliability of a Audi R8
While Audi is excellent at building a quality interior, it doesn't have quite such a good reputation for reliability. Warranty Direct ranks the brand below average in its Reliability Index, which looks at out-of-warranty cars from the major manufacturers, and ranks the first-generation Audi R8 as Poor. Data for the more recent generation isn't available, but JD Power's 2018 and 2019 Vehicle Dependability Studies, which looks at more modern cars, have Audi third from bottom of all manufacturers, which isn't very encouraging.
Expert rating: 2/5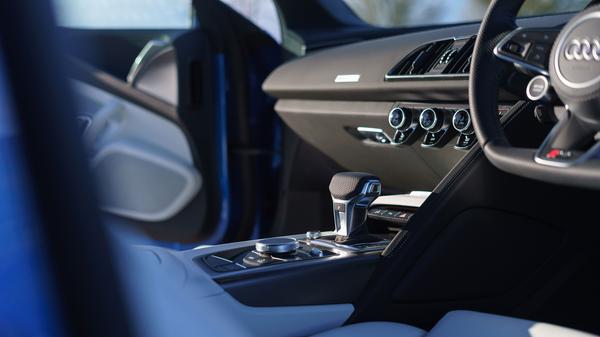 Safety for a Audi R8
Being something of a dedicated driver's car, the R8 isn't loaded with the state-of-the-art safety kit that some other cars in the Audi range feature. To be fair though, that's true of lots of its rivals as well. So while there are driver and passenger airbags, and side and curtain airbags too, there's no automatic emergency braking, lane keep assist system or anything like that. You do, however, get an Isofix child seat mounting point on the passenger seat.
Expert rating: 3/5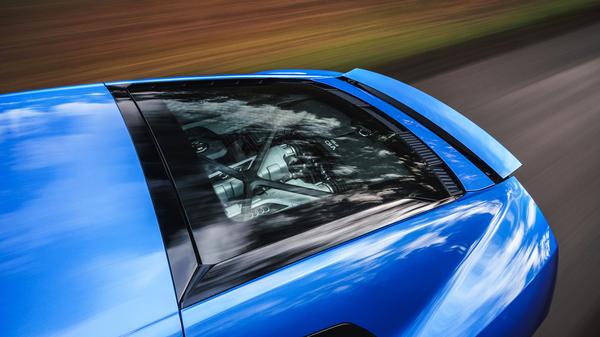 How comfortable is the Audi R8
With Audi carrying a well-earned reputation for quality across the range, you'd expect its flagship to be very nice inside. And it is. The build quality and materials are excellent, creating a premium and luxurious feel. The seats are low as befits a sports car, and both seats and steering column have plenty of adjustment to find your preferred driving position. All the infotainment and driving information is displayed via a single digital screen in front of the driver. This is where you'll find graphical representation of the speedo and rev counter as well as sat-nav, driving data, entertainment and so on. The controls are either via buttons and dials on the steering wheel, or on the centre console, and once you've got your head around what does what, it works very well. A mid-engined supercar like this is never going to major on practicality, but with that considered, the R8 doesn't do a bad job of making life easier on longer drives. There are two cupholders under the centre armrest, and a reasonable-sized front boot under the bonnet, big enough for a couple of weekend bags. Don't expect to fit a suitcase in, though. The R8 is a two-seater, but that means there is a bit of space behind the seats, where you can happily chuck a couple of small bags. The revised R8 has had small tweaks to its suspension and steering, but having not driven it back to back with the earlier car, it's hard to notice any difference. That's not a bad thing; it still feels incredibly confident, poised and agile, and you'd have to really throw it around on the road to make it feel out of shape. The capability and quality of engineering is astounding. On the road, at legal speeds, you don't get the full crazy supercar experience, even with all that power behind you. For many, that's a plus, as it makes the R8 entirely usable every day, and it remains a very quick and impressive machine to pilot. Even in Dynamic mode, with the steering, throttle and suspension sharpened and stiffened, the ride is entirely tolerable even on rather battered B-roads. It won't shake your fillings out, and in comfort mode you should be quite happy on long motorway drives. This is the case on both the standard suspension and the optional magnetic suspension. Plus, such is the quality of the cabin that only the slightly elevated levels of road noise will remind you that you're not in an A6. If you do want to unleash the insanity, you'll have to find a racetrack, where it's well capable of a proper white-knuckle ride, of sending the heart rate sky-high with excitement when you take it towards the ragged edge while still being accessible and relatively non-threatening for the non-professional driver. A purist might be able to get slightly more from a McLaren, but we doubt you'll walk away from the R8 feeling short-changed.
Expert rating: 4/5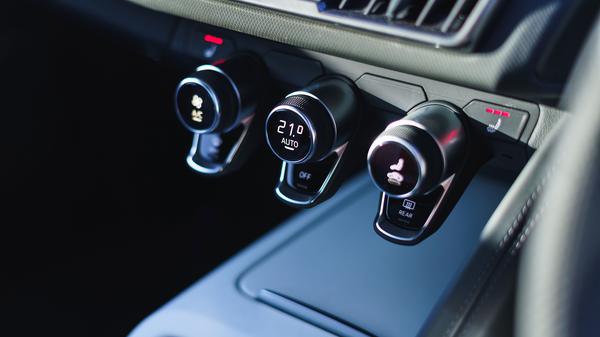 Features of the Audi R8
This version of the Audi R8 comes as standard with 19-inch alloy wheels and full LED headlights, as well as dual chrome-plated oval exhaust pipes, as well as parking sensors and a reversing camera. The R8 Performance model upgrades to 20-inch wheels over ceramic brakes, and has black exhaust pipes and a fixed rear spoiler. You can also specify a Performance Carbon Black Model which has black 20-inch wheels, upgraded magnetic suspension as standard and various black elements on the outside, together with carbon elements such as the engine cover and bodywork. The R8 is not a cheap car, and accordingly it comes with plenty of features as standard, including automatic air-conditioning, leather upholstery and a feature-packed infotainment system with sat-nav. Electric heated seats are also included, although these are replaced by sportier bucket seats in the R8 Performance. The higher-spec car also includes extra paint options. Meanwhile the Performance Carbon Black model upgrades are largely restricted to the exterior. That means that you'll have to pay extra for the features like magnetic suspension, carbon-ceramic brakes and an upgraded Bang & Olufsen sound system. There's also a range of extra leathers and fabrics that you can festoon your car with.
Expert rating: 4/5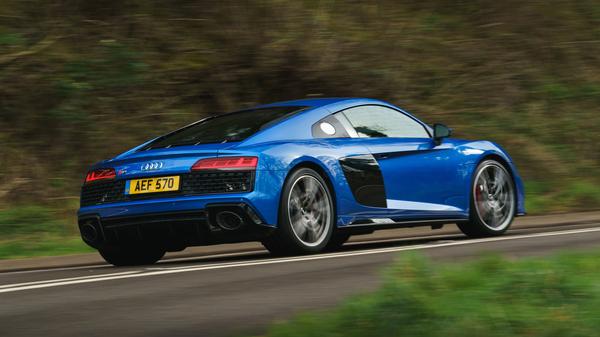 Power for a Audi R8
All Audi R8s come with a naturally aspirated V10 engine, which is a rarity in this turbocharged age, and it's an absolute peach. The standard car comes with 570 horsepower, which is a huge amount in anyone's book and up 30 horsepower on the previous version of the R8. The engine will soar to very high revs if you want it to, and make a pretty awesome noise while doing it. If you prefer, you can call on the buckets of grunt down low to make your progress. Either way, it's bonkers fast, but again, it's impossible to use more than a fraction of its potential on the road without risking your licence. Still, if you want even more power – and Audi reckons the majority of customers will – then the Performance cars are tuned to 620 horsepower. That, combined with all-wheel drive and a seven-speed automatic gearbox, takes the 0-62mph time from 3.4 seconds in the standard car to 3.1 seconds, which is really, really fast. The delivery is smooth but such is the force that you'll be squeezed back in your seat in an intoxicating way. Audi has also introduced a rear-wheel drive version, called the R8 RWD. We haven't tried it yet. It has 540 horsepower from the V10. While that's less than the all-wheel drive cars, having the power going through only one axle should make for an entertaining experience.
Expert rating: 5/5