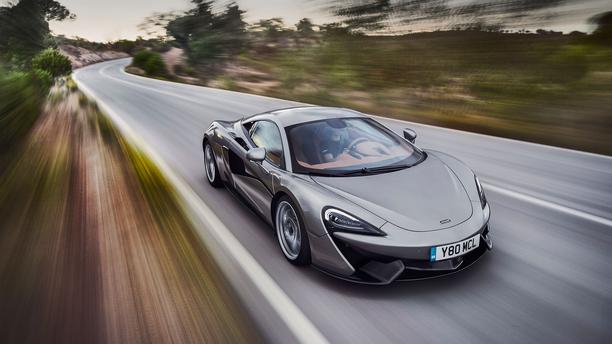 Discover the
McLaren 570S
New from £149,055
2 doors

2 seats

Automatic

Petrol
Is the McLaren 570S Coupe a good car?
Read our expert review

Words by: Ivan Aistrop
"The 570S is a bit less technologically sophisticated than McLaren's other models, but it's no less enjoyable. The handling is sensational, the ride is comfortable and the engine delivers truly devastating pace. Chuck in the appealing interior and looks that are more exotic than the price tag suggests, and you have a very tempting sports car package."
Read the review by category
How good does it look?
You'd expect any McLaren to look as glamorous and as exotic as anything else on the road, and the 570S delivers. There are some truly breathtaking details on the car, like the P1-inspired LED-strip tail lights, the flying buttresses next to the base of the rear window, and the heavily grooved air channels running down the doors. The doors themselves are pretty cool, as they're dihedral ones that open in a very theatrical way. The car looks every ounce the supercar, then, but it's easy to forget that this isn't really a supercar. It's a sports car rivalling the Audi R8 and high-end versions of the Porsche 911. Compare the 570S with those cars aesthetically, and it looks (to our eye, at least) like a far more expensive machine.
Standard equipment
Expect the following equipment on your McLaren 570S Coupe. This may vary between trim levels.
Other vehicles in the 570S family 570S Convertible
Looks more exotic than similarly priced rivals

Delivers a simply sensational driving experience

Folding roof has no discernible impact on dynamics
Related articles and reviews
McLaren 570S Convertible (2019 - ) review
Weighing up the merits of a Porsche 911 Cabriolet versus an Audi R8 Spider? Well stop right now, because for similar money, you could be driving the simply sensational McLaren 570S Spider.
McLaren 570S Coupe (2015 - ) review
Despite its supercar looks, the McLaren 570S is a sports car to rival the Audi R8 and high-end versions of the Porsche 911. Does it compete with these talented rivals? You bet it does.