Mercedes-Benz AMG GT Coupe
New from £96,795
Is the Mercedes-Benz AMG GT Coupe a good car?
Read our expert review

Words by: Ivan Aistrop

Additional words by: Auto Trader
"Compared with the polished all-round appeal of a Porsche 911 the AMG GT has a sense of rawness about its looks, character and performance to stand out as something different. It's not without its flaws but its combination of muscle car driving style with classic Mercedes sophistication is attractive and the sound of that mighty V8 engine will be enough to sell it to many enthusiasts. It's also a more distinctive and unusual choice."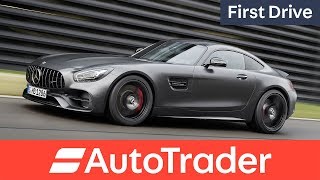 Read the review by category
Running costs for a Mercedes-Benz AMG GT
Purchase costs for the AMG GT are obviously astronomical, and running it won't be much better given its outrageous thirst and the expense of tax, insurance and consumables like tyres. That's to be expected of course and nobody buying into a car like this will be under any illusions. The wide range of options and encouragement for owners to indulge in them skews direct comparisons but the starting price is broadly equivalent to a Porsche 911 Carrera S, which is marginally less powerful but has the advantage of two small rear seats and a more recognised image. The AMG GT shares an engine with the Aston Martin Vantage and has a similar character and, against that car, looks like relatively good value. For cars of this nature depreciation is the biggest ongoing cost you need to consider and here the Porsche could prove to be a more solid bet, especially if you intend to cover a lot of miles.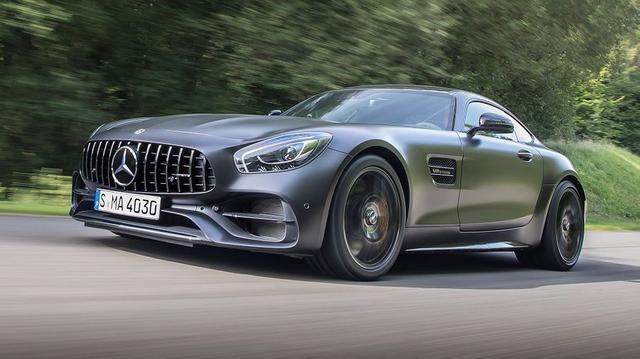 Reliability of a Mercedes-Benz AMG GT
Unfortunately, we can't be awfully helpful here. The GT carries a lot of specialist parts, the drivetrain and chassis to name but two, for which there is pretty much no reliability data. It also means you can't really take much of a steer from Mercedes' historical reliability record, but perhaps that's just as well. The brand ranks rather too near the bottom of Warranty Direct's manufacturer standings for comfort. The other issue is that the GT will sell in such penny numbers that there might never be enough data to give us a decent idea. If you buy a GT, you'll be putting your faith solely in the skill and diligence of AMG's engineers, but to be fair, that's not a bad place to put your trust.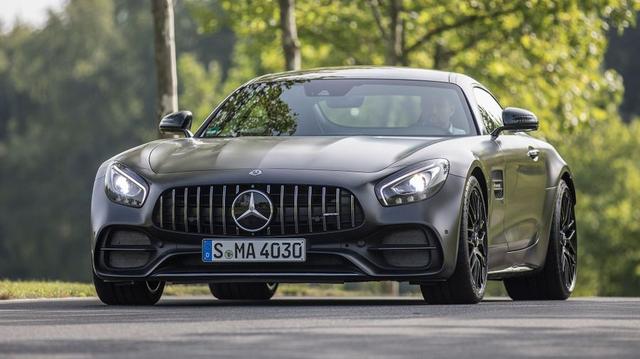 Safety for a Mercedes-Benz AMG GT
The GT comes with all sorts of traction and stability aids to help keep all that power going in the right direction, and it has six airbags to protect you and your passenger if your exuberance turns into over-exuberance. A system that detects fatigue in the driver and warns them that they need a break is also standard, while the Driver Assistance Package, which comes as standard on the GT C (though it isn't available on the more track-focused models), adds things like lane-keep and blind-spot assistance. The car hasn't been tested by Euro NCAP, and with the tiny numbers it's likely to sell in, it probably never will be.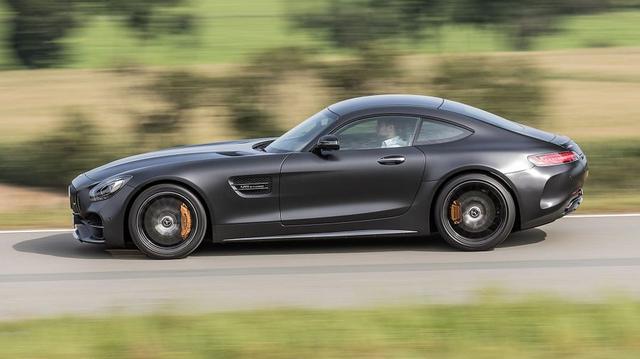 How comfortable is the Mercedes-Benz AMG GT
Climb inside the GT and you'll discover every bit as much visual theatre as you saw from the outside, with the top of the dashboard dominated by the four circular air vents and a tablet-style screen for the infotainment system. This system isn't the most intuitive you'll ever use, but it becomes simple enough with practice. That's as long as you use the rotary dial to control it, as the additional touchpad that partially hangs over the top of the rotary controller is pretty tricky to operate when driving. There are some other ergonomic issues, too. The shallow windscreen, plunging roofline and thick pillars mean all-round visibility isn't in the same league as in a McLaren 570S. That said, the driving position is excellent, with a wide range of adjustments for the supportive sports seat and the neatly proportioned steering wheel. A two-seat supercar is never going to be the most practical choice, but in the grand scheme of things, the GT doesn't do a bad job. Unlike many mid-engine supercars, which have boots at both ends of the car, the front-engined GT only has one luggage area located at the rear. The hatchback-style opening gives decent access and the luggage bay itself is a decent size, with more than enough room for a few weekend bags. Depending on the model parameters including suspension stiffness, steering feel, shift speed for the automatic gearbox and even the volume of the exhaust can be controlled by a mode selector on the wide centre console but even in the Comfort mode the low-speed ride is pretty firm and you'll feel the car shimmy from side to side when it hits bumps. It settles down as the speeds build and you can select sportier modes to reduce roll in the corners and improve the steering feel. For such a big, potent machine the controls are light and easy to use, especially the steering. This sensation is more obvious in models fitted with the rear-wheel steering system, with a noticeable sensation of the car rotating around your hips and incredibly sharp response to the wheel, which takes a little getting used to. Once you do so you'll appreciate just how agile the GT feels, though it's a very wide car and takes up a lot of road space. The wide tyres also kick up a significant amount of road noise, which can be tiresome on long motorway journeys. Overall, though, the car is far from uncouth and we'll happily sacrifice a degree of refinement for the sheer driving pleasure that the GT delivers.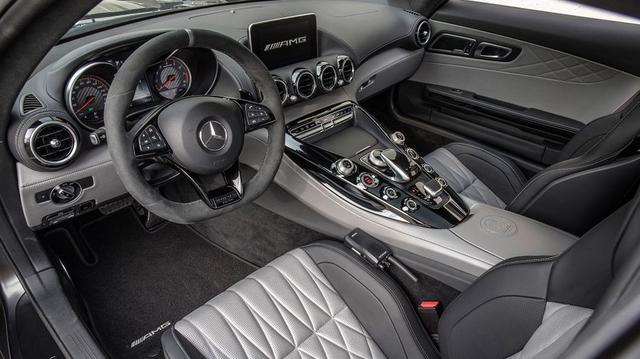 Features of the Mercedes-Benz AMG GT
Mercedes is frequently tweaking the AMG GT line-up and models come and go from the range along with various special and limited editions, so it pays to do a little research on what is currently available. Suffice to say though, this is an expensive and luxurious car as well as a fast one so you can expect a high level of standard equipment. Power adjustable seats, steering column and mirrors are standard, all with memory function to store settings, as is a configurable digital instrument display. The central infotainment screen wraps up a number of functions, including DAB, Android/CarPlay connectivity, a connected navigation system with live traffic updates, driving mode selector and parking sensors. Artificial leather and soft-touch fabric upholstery is standard, with leather only available as an option on fancier models. This seems stingy but Mercedes would argue this permits a greater level of customisation. Under the skin the fancier models like the GT C gain rear-wheel steering, extra driver modes and a more sophisticated transmission system to go with the extra power of the engine while the R version (not currently in the price range) is a more track focused variant with an even more aggressive look and some race car inspired trimmings.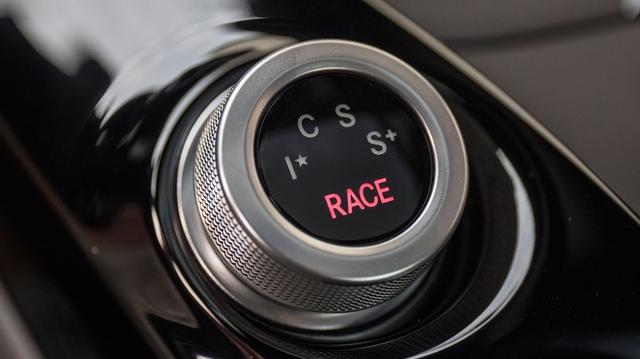 Power for a Mercedes-Benz AMG GT
All GTs are powered by a 4.0-litre twin-turbo V8 engine driving through a dual-clutch style automatic gearbox, the engine offering increasing levels of power as you move up the model range. Given the starting point is 476 horsepower in the entry-level version you get a sense of just how fast the GT actually is, the limited-edition R version delivering a mighty 585 horsepower. No matter which version you're driving the response to the engine to even light pressure on the throttle inspires savage bursts of acceleration and a suitably thunderous sound from the exhausts. In some ways response at low speeds is even better in the lower-powered models, though once in their stride the more powerful ones display relentless acceleration, especially above 100mph. Obviously you won't be going anywhere near that on the public road but if you are considering driving your GT on track or places where you can really let it off the leash you'll appreciate it. At this point, you might also reflect that the £6,000 you forked out for the optional ceramic brakes was money well spent. In more mundane circumstances, the V8 engine works really well, with just the odd thump from the gears notable when driving around town. Overall, though, there's so much power that the engine will pull strongly from really low revs, meaning the GT is surprisingly docile car to drive when you just fancy pootling along.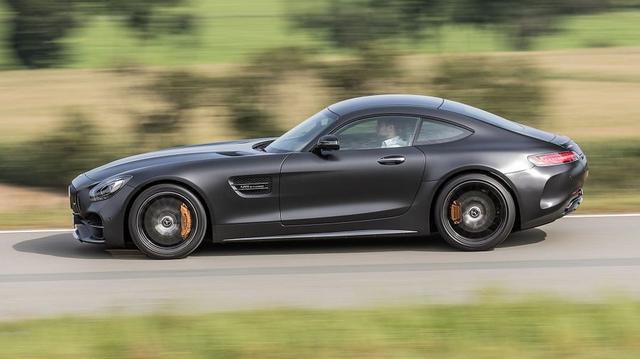 Standard equipment
Expect the following equipment on your Mercedes-Benz AMG GT Coupe. This may vary between trim levels.
Other vehicles in the AMG GT family Related articles and reviews