Mazda Mazda2 Hatchback
New from £23,610 / £343 p/m
Read the review by category
Running costs for a Mazda Mazda2
Mazdas, like Hondas, aren't cheap to buy, but brilliant Japanese engineering and build quality ensure reasonable residual values. And that mechanical nous means the engines are fuel efficient, giving you low petrol costs, low emissions and therefore low VED/'road tax' and company car tax over the course of your ownership. The standard SE-L term also gives you quite a decent list of standard features. A standalone full hybrid model based on the Toyota Yaris will also be joining the range, promising 70mpg-plus and limited range electric running that could save fuel costs, especially around town.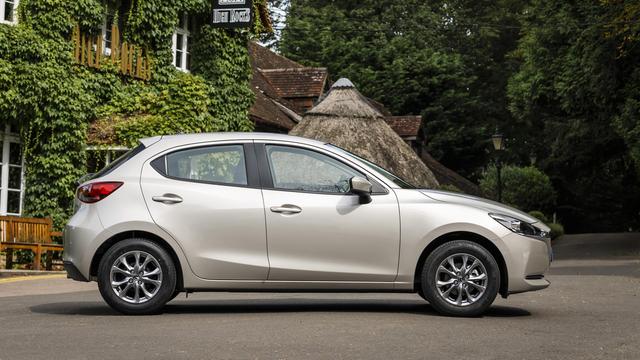 Reliability of a Mazda Mazda2
Mazda has a great track record for reliability, thanks to great engineering know-how and attention to build quality, inside and out. The brand usually stays well inside the top 10 in reliability league tables. That means that while you'll pay a relatively large upfront cost for a Mazda compared with rivals, like Honda, its residual value stays strong. Mazda offers the industry-average three-year/60,000-mile warranty.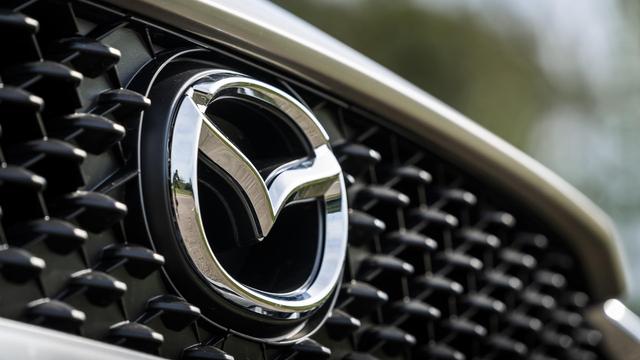 Safety for a Mazda Mazda2
You get quite a lot as standard, considering the price. Parking sensors are standard, as well as hill hold, tyre-pressure monitoring and emergency stop signalling. It feels safe because you sit quite high for a car this size, which gives you great views of the road ahead. there are Isofix anchors in both rear outer seats and six airbags. GT Sport trim gets a reversing camera and GT Sport Tech trim, the highest level, gives you a rear cross-traffic alert system and a 360-degree camera. Lane-keep assist, which steers you back inside your lane if you drift over the marking without signalling (and which we hate on all cars and actively turn off because it is overly sensitive) is standard on all but the base model, as is Smart City Brake Support which brakes the car if it senses a potential collision with car or pedestrian in front of you.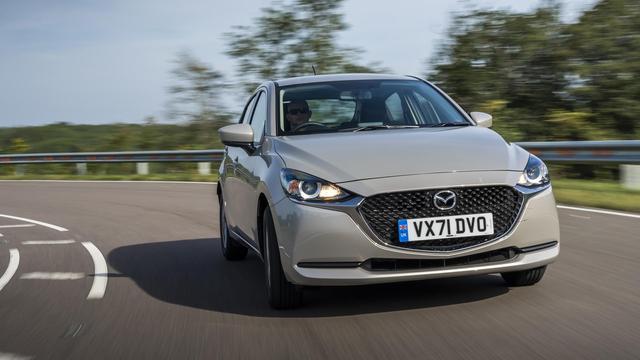 How comfortable is the Mazda Mazda2
Our test car, in GT Sport trim, had an unusual and smart interior design of blue/grey leather with black inserts and smart contrast stitching. There's no doubt that Mazda does things differently, which we consider a major bonus in the world of homogenous car design. The biggest benefit Mazda2's biggest benefit, however, is its comparative space. There is a happy amount of legroom in the rear with two six-foot adults up front, but it is the boot that astonishes. It's very deep, and we fitted in a weekly food shop for six plus a family-size 24 loo roll pack. Apologies for deviating from the industry norm of measuring boot volume in litres but loo rolls are just a better universal metric sometimes. And there was room for more!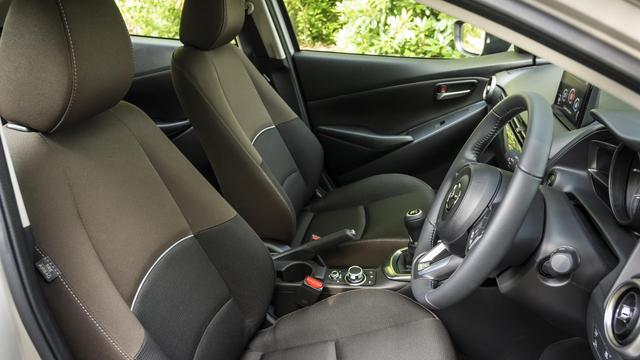 Features of the Mazda Mazda2
Mazda's infotainment system is in serious need of an upgrade. Where competitors offer either a touch-screen or, at the very least, clear, colourful graphics laid out in a modern design, Mazda's screen of red and black graphics is controlled with a rotary knob (it says it's a touch-screen but we only got one random response out of the screen in four days), so every function, including flicking between songs on Apple CarPlay, has to be done with a turn of the dial. It drove us nuts. We also couldn't seem to flick between the main BBC stations without going back to this weird DAB 'ensembles' that radio used to provide. Venture up the trim levels and you can choose things like head-up display and wireless CarPlay, but it would be better to update the basics.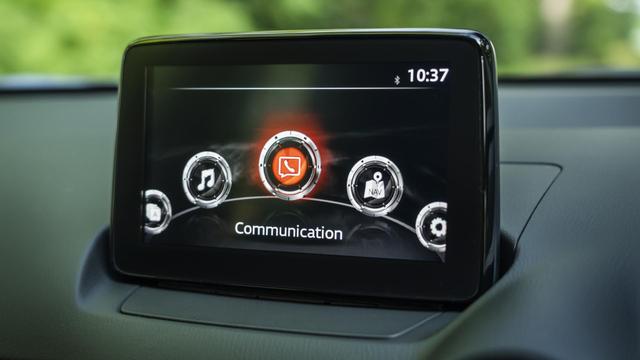 Power for a Mazda Mazda2
Mazda petrol engines have always loved to rev, which is great in the MX-5 sports car, but rather less enjoyable in a small city car. You either have to keep revs above 3,000rpm to enjoy acceleration, which means it's noisy and a bit fraught, or stay below 2,000rpm with absolutely no pick-up whatsoever. We tested the mid-range 90 horsepower (there are 75 and 115 horsepower versions also), all versions with the manual gearbox like ours including so-called hybrids now branded as e-Skyactiv G. We appreciate that Mazda has made the engines even less polluting, with CO2 emissions dropping by 13 per cent, but one still has to get from A to B, and we couldn't do that by venturing much beyond fourth gear, even on motorways. We'd suggest you go for the 115 horsepower version, unless you rarely venture beyond urban 30mph limits.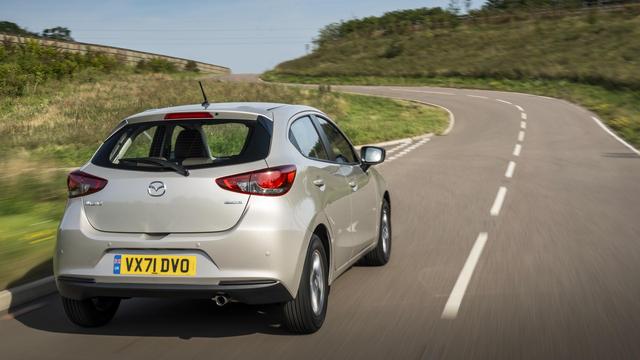 Lease deals
These deals are based on terms of 8,000 miles, for a 36 month lease with a 6 months initial payment.
Standard equipment
Expect the following equipment on your Mazda Mazda2 Hatchback. This may vary between trim levels.
Related articles and reviews