News
Porsche shows off new Panamera Sport Turismo
Effectively an estate version of the Panamera, the Sport Turismo provides - a little - more room for passengers and luggage.
Effectivley an estate version of the new Panamera
Has more passenger and luggage space than standard car
On sale now, with prices from £73,071
Porsche is expanding its Panamera range by launching the new Sport Turismo body style. Larger and more spacious than the standard car, it will be seen in the flesh for the first time at next week's Geneva Show.
Although the company doesn't use the 'E' word, the Sport Turismo is effectively an estate version of the current
Panamera
, with more room for passengers and luggage. It is identical to the standard car at the front, but from the rear doors backwards, the Sport Turismo is a unique design, with an elongated window line and higher roof that mean it is less coupe-like in profile. However, the two cars are actually the same length overall. Where the new car scores over the standard Panamera is that the re-shaped rear end makes it easier for rear-seat passengers to get in and out, and it gives them more head-room once they're inside. Plus, for the first time in a Panamera, there are three rear seats, although even Porsche refers to it as a 2+1 layout. Buyers will also be able to specify the Sport Turismo as a four-setaer, just as the standard car is.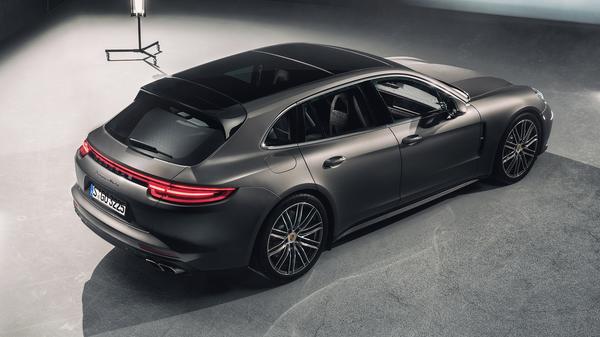 The boot space is also bigger in the Sport Turismo, although the gains over the basic Panamera are pretty minor: 20 litres of extra space with the seats upright, and 50 with the 40/20/40-split rear seats folded down. To make the car easier to load and unload, the Sport Turismo has a larger (electrically operated) tailgate, with a lower load sill.
Where the new car is identical to the regular Panamera is in having all the innovations that were introduced with the new Panamera last year. That includes the Porsche Advanced Cockpit, rear-axle steering and Porsche Dynamic Chassis Control, while every model also comes with all-wheel drive and S models also get adaptive air suspension. The Sport Turismo is already available to order, and prices start at £73,071, just over £3,500 more than the equivalent Panamera. First deliveries are expected in October.