News
Frankfurt Motor Show 2015: Peugeot 308 R-Hybrid
Production-ready version of Peugeot's high-performance hybrid hatchback shown at Frankfurt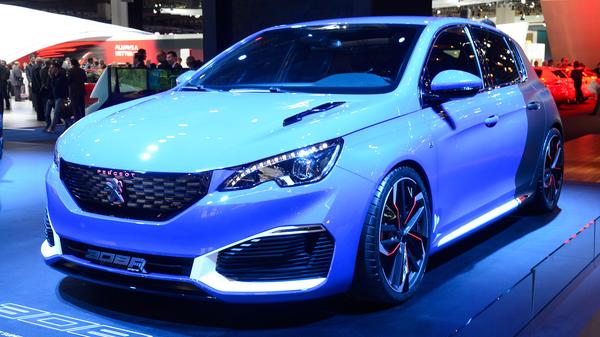 High-performance flagship 308 hatchback
493bhp petrol/hybrid drivetrain; 0-62mph in 4.0 seconds
Four-wheel drive; 70g/km CO2 emissions
Peugeot has revealed a production version of the high-performance 308 R Hybrid at the Frankfurt Motor Show. The firm has previously shown concept versions of the car but this time it's production-ready.
The 308 R Hybrid is powered by a combination of a 1.6-litre petrol engine and two electric motors, which together produce a mammoth 493bhp and 538lb/ft of torque. That makes it good for 0-62mph in 4.0 seconds and an electronically limited top speed of 155mph – tremendously fast for a family hatchback, although the R Hybrid does have four-wheel drive rather than the standard 308's conventional, front-wheel drive set-up. Despite all that power, the hybrid drivetrain means the car only emits 70g/km of CO2. A fuel economy figure or details of how far it can travel solely on electric power has yet to be revealed. The engine, which is borrowed from the Peugeot RCZ R coupe, has 267bhp and the motors make up the remaining 226bhp – one at the front and one at the rear of the car. The R Hybrid also has a six-speed automatic gearbox with steering wheel-mounted paddle shifters. There are four different driving modes: Hot Lap, Track, Road, and ZEV. Hot Lap unleashes the full 493bhp, while Track limits the power to 395bhp, but uses one of the motors to boost acceleration. Road has a similar set-up, but caps the power at 296bhp, and ZEV uses only the electric motors for zero-emissions driving. The batteries for the motors can apparently be fully charged in 45 minutes on a fast charge.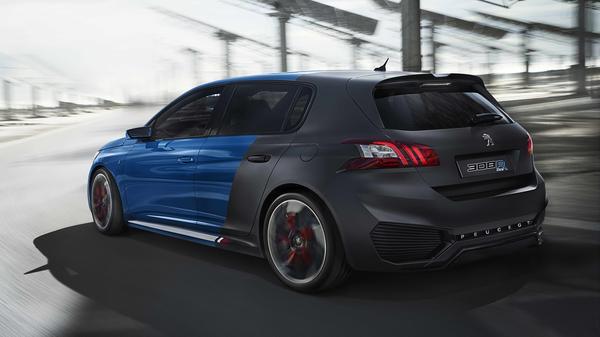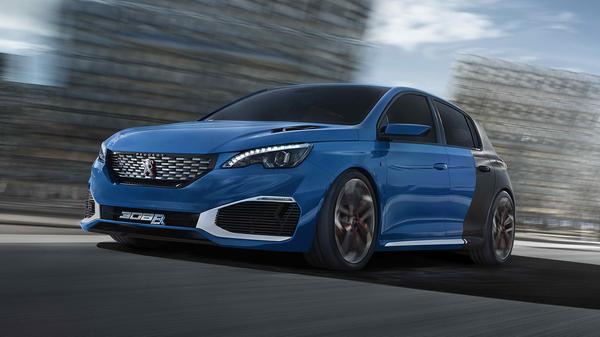 In terms of styling, the R Hybrid is still clearly a 308, but it has beefed up wheelarches, 19-inch alloy wheels and aggressive styling such as bonnet vents and huge air intakes in the front bumpers. The production model is a little toned down compared to the seriously garish earlier show cars, but it's still a mean-looking hatchback.
Inside, it's much the same arrangement as the conventional 308, but R Hybrid is a four-seater, with four individual sports seats, the two in the back replacing the normal 308's rear bench. There's also a head-up display that projects speed and other important information onto the windscreen. There's no word on prices or on-sale dates yet, but the 308 R Hybrid will be the most powerful and extravagant car in Peugeot's range by some margin and is likely to be sold in strictly limited numbers.