News
Frankfurt Motor Show 2015: Lamborghini Huracan Spyder
The drop-top version of Lambo's Huracan supercar shown at Frankfurt
Open-top 602bhp supercar
Over 200mph; 0-62mph in under 3.5 seconds
Expected to cost from £200,000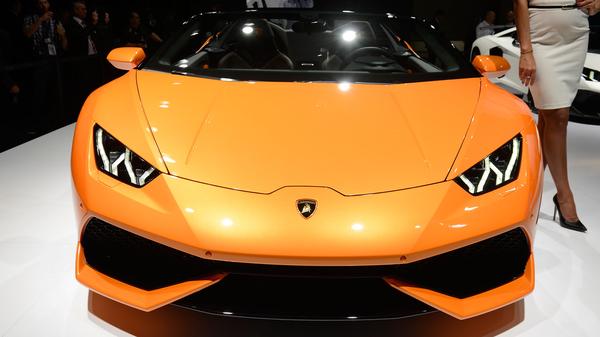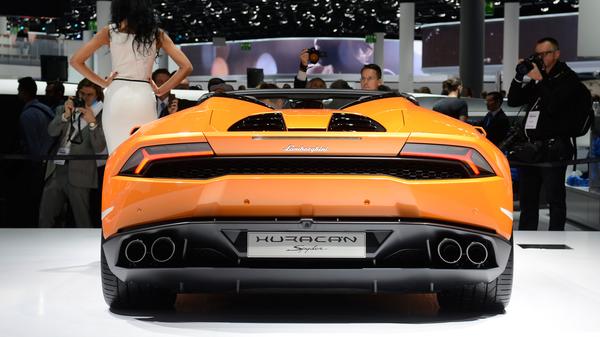 Lamborghini has revealed the convertible Huracán Spyder at the Frankfurt Motor Show. The Huracán replaced the long-serving Gallardo as the 'entry-level' model in the Italian supercar manufacturer's line-up, sitting below the £260,000 Aventador, and the open-top Spyder is the next installment in the Huracán range.
It will go up against fellow open-top supercars such as the Ferrari 488 Spyder and the facelifted Porsche 911 Cabriolet, both of which have also been revealed at the Frankfurt Motor Show, along with existing rivals such as the Audi R8. The Huracán Spyder is powered by the same 5.2-litre V10 engine as the fixed-head model and produces an identical 602bhp at a screaming 8,250rpm. Performance figures have yet to be released, but it's expected to be almost - if not as - fast as the coupe, which is good for an electrifying 0-62mph in 3.2 seconds and 202mph flat out. Unlike fellow supercar manufacturers such as Ferrari and Porsche, Lamborghini has steered clear of turbochargers in the interests of more power and efficiency, opting instead for the most potent naturally aspirated engines it can. The Huracán Spyder also gets the same seven-speed dual-clutch transmission as the coupe and the optional Lamborghini Dynamic Steering system, which is said to make the steering easier and more direct at low speeds with gentler responses at higher speeds to improve stability.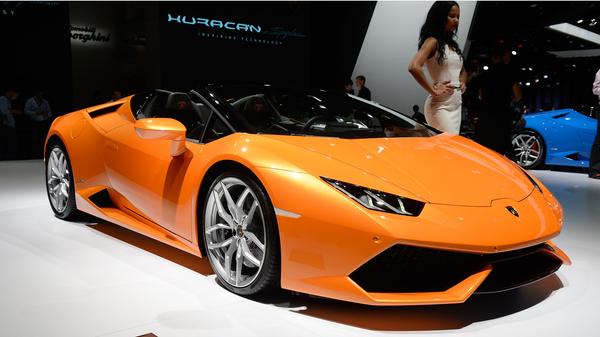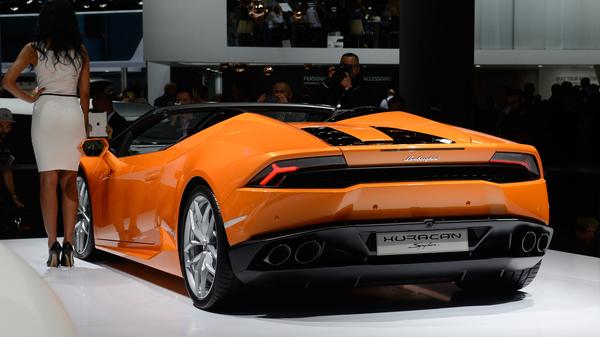 Lamborghini hasn't mentioned whether or not there will be a weight penalty as a result of fitting a convertible roof, but its seems likely that there will be. Its chief rival, the Ferrari 488 Spyder, weighs 50kg more than the 488 GTB coupe on which it's based, so it's likely that the Huracán Spyder will bear a similar additional load over the coupe.
There's said to be more to come from the Huracán, too. Lamborghini is believed to be planning a rear-wheel drive version, and stripped-out, lighter models with even higher performance are expected to follow. The firm is known for its four-wheel drive supercars, too, although this isn't exclusive, as the Gallardo LP 550-2 was rear-wheel drive only and it also produced the lighter and faster Gallardo Superleggera. Lamborghini has alluded to the possibility of several different variants of the Huracán to cover off more of the high-performance market, so there's no reason to think it won't go the same way as the Gallardo. Prices have yet to be announced, but given that the coupe starts at £180,720, the Spyder is likely to cost around £200,000.