News
Coming soon: Volkswagen ID.7
VW ID.7 offers a fresh twist on the brand's all-electric range, taking it upmarket with a sleek, aerodynamic luxury saloon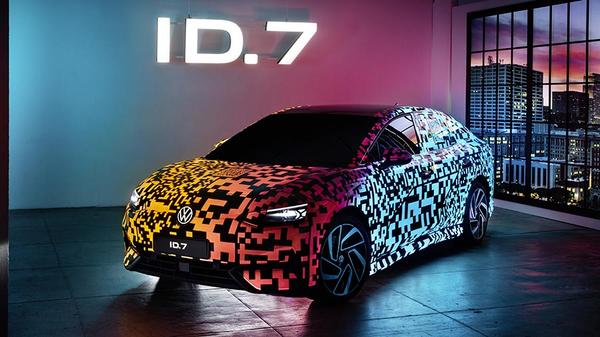 Words by: Dan Trent
Published on 9 January 2023 | 0 min read
While it all started with the
ID.3
Volkswagen's all-electric line-up has quickly expanded to take in
ID.4
and
ID.5
SUV versions and even provide the basis for the super cool
ID.Buzz
MPV. The same technology can also be found underpinning models from Cupra, Audi and Skoda, Volkswagen making the most of the
flexible foundations
it has created for a whole generation of all-electric cars from its extended family of brands.
This ID.7 is just the latest, and takes VW's electric ambitions upmarket with a large and luxurious saloon incorporating various lessons already learned on the existing ID cars. These include more in-car tech based around an even bigger central screen and greater connectivity and customisation through your phone to help personalise it to your tastes.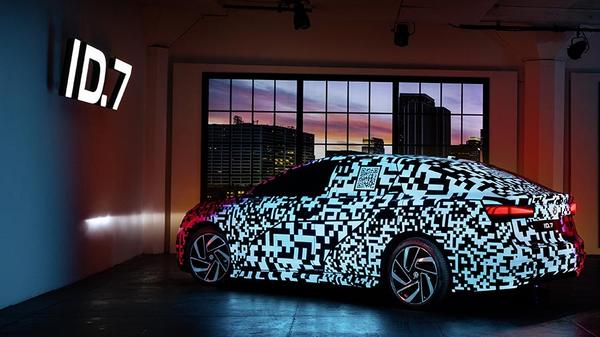 Sadly, that won't include the cool electric camouflage colourscheme developed for its debut at the CES tech show, this eye catching, multi-coloured bodywork intended to both catch the eye but also trick it by hiding the final shape for the ID.7 until VW is ready to reveal it fully later in the year.
The basics are clear, though, and VW is promising a focus on slippery aerodynamics to get the best possible range. Similar tactics have already been seen in rivals like the
Mercedes EQS
and eagerly awaited
Hyundai Ioniq 6
, the idea being a car that carves cleanly through the air can go further for
every kWh of energy you put into the battery
. While VW hasn't confirmed many details yet about the ID.7 it is suggesting this aerodynamic engineering could mean a range of well over 400 miles, or nearly double what you'd get out of some other ID-based cars.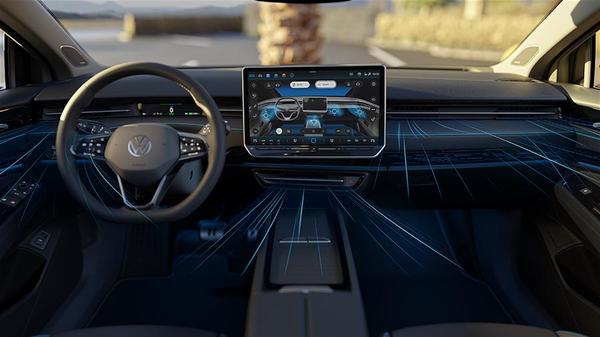 Another advantage of the electric foundations is the long wheelbase, this being the distance between the front and rear wheels where the occupants are positioned within the body and meaning plenty of legroom whether you're up front or in the back.
Other innovations include a 15-inch central touch-screen, an improved 'augmented reality' head-up display projecting essential driving information onto the windscreen and tweaks to the operating system and switches in response to complaints about the fiddly system in the current ID cars. These include putting the screen-based heating and ventilation controls on the 'first page' of the screen and illumination for the touch-controlled surfaces used to adjust things like interior temperature. Not that you'll have to do that yourself, given one of the ID.7's neater tricks is recognising when you're approaching the car and pre-warming or cooling it according to the ambient temperatures. So, no more having to find a shady parking spot on a sunny day or digging out the ice scraper on a chilly one, on the basis by the time you reach the car it will be ready and set at a comfortable temperature before you even open the door. Expect more information – and a true image of what it looks like without the funky digital camo – in due course.