News
Audi e-tron unveiled, the company's first all-electric SUV
The Audi e-tron, a serious rival to the Tesla Model X, Jaguar I-Pace and forthcoming Mercedes EQ C has been revealed in San Francisco.
.
Audi's first all-electric car
Between Q5 and Q7 in size
Range of around 250 miles, and 0-80% charging in less than 30mins
Audi has revealed its first all-electric car, the e-tron SUV. It's going to be a serious rival to the Tesla Model X, Jaguar I-Pace and forthcoming Mercedes EQ C.
It's almost a guaranteed success, with a decent range, reasonable charge time, Audi quality interior, and of course, the fact that it's an SUV.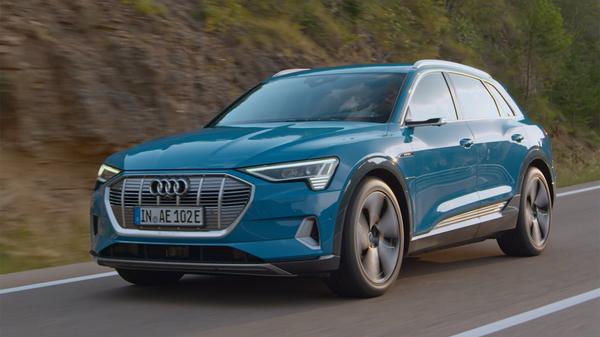 What does the Audi e-tron look like?
The Audi e-tron SUV is between Q5 and Q7 in size. It looks like a relatively normal car, which will probably attract more buyers.
The front end is different to Audi's other SUVs though. It's got e-tron signature headlamps, and a smaller, mostly closed grille. Audi wanted to keep the SUV shape and stance, but had to be mindful of too many blisters or bumps on the body so as not to adversely effect aerodynamics. Every aspect of the design has been thought of with aerodynamics in mind, so there's a long tail giving it a sleek shape, and a low shoulder line. One of the key points for improving aerodynamics, and one of the more futuristic aspects of the e-tron, is that the door mirrors have been replaced with cameras. They are an option, but a very cool one. You get two 7.0-inch touch-screens on the door inside. They zoom in and out automatically – or you can do it yourself - and they also incorporate blind spot awareness, too. As standard the e-tron comes with 19.0-inch wheels, with 20, 21, and 22-inchers as optional extras. As well as Audi's usual paint palette, there will be two exclusive colours; Siam Beige and Antigua Blue. And plenty of scope for personalisation, including two-tone paint.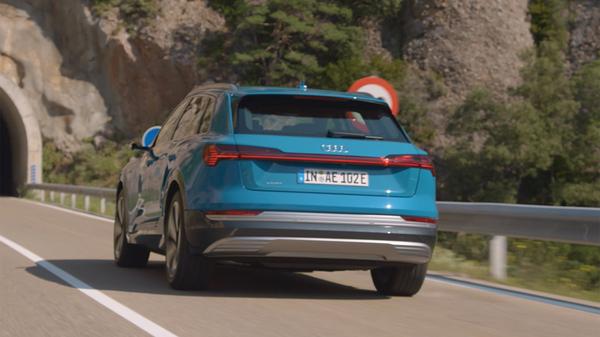 What is the Interior of the Audi e-tron like, and how practical is it?
The interior follows Audi's latest premium offerings, so it's very much like the A6, A7 and Q8, with a few e-tron touches.
The big differences are the door mirror screens, and an optional e-tron illuminated panel in front of the passenger. As ever in an Audi, the interior quality is seriously impressive. The materials are fab, and it's all very tactile, plush and sophisticated. Like in some of Audi's other cars, you get an all-digital central console, with two touch-screens that look great with super-sharp and super-slick graphics. There's also Audi's 12.3-inch digital cockpit display. While it might seem like a lot of information to contend with at first, it's intuitive and easy to use. There's also a touch-screen to control the air-con in the back. Space wise, three adults will be more than happy, partially thanks to the lack of a transmission tunnel in the middle, leaving you with a flat floor. In the boot, there's 600-litres of space, with a bonus 60-litres under the bonnet, where you can store your charging cables, or other bits and bobs.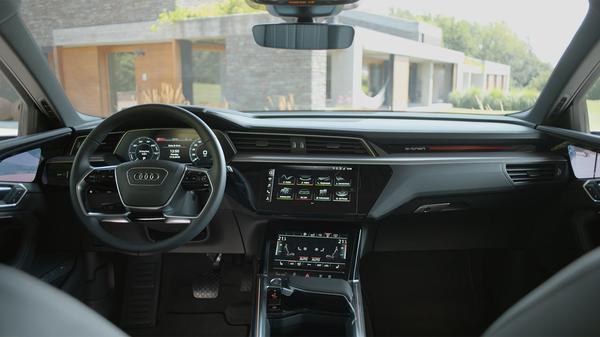 What is the range and power of an Audi e-tron?
The e-tron is still going through the homologation process which gives the official range figure, but it's expected it will be able to do around 250 miles on a single charge, under the latest (and stricter) WLTP tests.
The e-tron's battery powers two electric motors, which have a combined output of 360 horsepower. However, if you pop it into Sport mode, that gets pushed up to 408 horsepower. As ever in an Audi, you'll be able to select a Drive Mode – dynamic, sport, offroad, efficiency etc. – which will change things like the suspension, traction, throttle response and steering. And just for the e-tron, there's a range mode, which maximises the distance you can travel by limiting things like air-con and speed. You can also change the amount of regenerative braking, so you can effectively drive it with one pedal. Audi says 90% of the braking will be done by the electric motors, with only 10% using the actual brake system. Audi claims the e-tron will do 0-62mph in 5.7seconds, and it's got a top speed of 124mph, so it's definitely not slow, especially for a big SUV.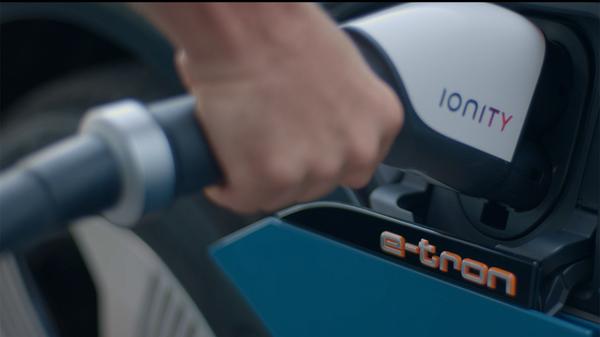 How long does an Audi e-tron take to charge?
The e-tron will charge from 0-80% in less than 30mins on a fast 150kW charger, which is faster than a Tesla, with normal at-home charging (11kW) taking eight hours. A wallbox charger is included in the price of the car.
The charge points are accessed on the driver's side, with an option to also have one on the passenger side. A panel slides open, and automatically closes once the charger is removed. It feels really high in quality. Audi is also launching a Charging Service to give buyers access to 80% of charging points across Europe, regardless of operator, which is a significant bonus. And going forward, you won't need a card to charge at all. One of the drawbacks of electric cars has been how antiquated the charging network is, with buyers only able to use charging points from companies they have signed up with. Audi is looking to change this with its Charging Services plan.
When can I buy an Audi e-tron?
The Audi e-tron will be on sale from the end of the year, with first deliveries at the start of 2019. It will start at around £75,000 for the entry level model, which will come very highly equipped, up to a bit more than £90,000 for the top end model.