News
Aston Martin Valkyrie 2021: The F1-inspired road car
The Aston Martin Valkyrie 2021 is a monster on wheels and scarier than riding a rollercoaster. Watch Rory Reid hold on for dear life at the Goodwood Festival of Speed.
When a sports car manufacturer joins forces with a Formula One racing team, you get the Hulk of cars. And in an exciting preview, Aston Martin and Red Bull's collaborative efforts blessed this year's Goodwood Festival of Speed with the Aston Martin Valkyrie. Like the Hulk, it's even green in colour.
Valkyrie is a road-legal car with F1 performance capabilities – its massive V12 engine produced by Cosworth, in conjunction with an electric motor produce a total of 1,160 horsepower and 900 Nm torque. The only thing scarier than riding in this beast is its price tag. With only 150 Valkyries being produced, it is priced at £2.5 million. While we may only be able to dream of driving this Aston Martin, we can live vicariously through Rory's exclusive chance to sit and experience the pure joy of Valkyrie, which you can watch here.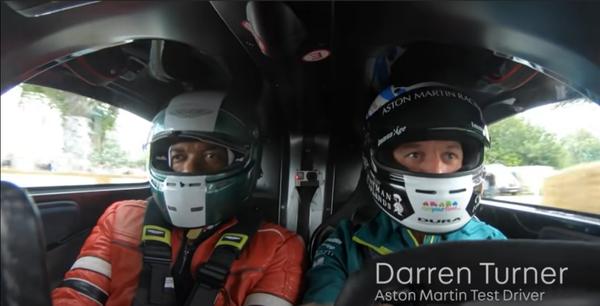 Valkyrie is made entirely from carbon fibre for weight-saving along with magnesium wheels with carbon ceramic brakes. To reach its peak aerodynamic efficiency, Red Bull Racing's Chief Technical Officer and the winner of 10 Formula One Constructors' Titles, Adrian Newey has been called on-board.
Since Valkyrie doesn't have to follow F1 regulations, it comes with bargeboards that are bigger than those used on F1 cars to reduce drag. On the flipside and given it's a roadgoing car the Valkyrie needs things like windscreen wipers. But these are no-ordinary wipers – they're made by a company that produces for NASA. It also comes with three cameras in lieu of a rear-view and wing mirrors. Inside, the car feels compact with just enough space to manoeuvre. The sheer speed and power of Valkyrie makes it near-impossible to hear what the passenger is saying. All in all, Valkyrie feels just as incredible as it looks. Every minute spent in the car feels as thrilling as a rollercoaster ride and this supercar is definitely not for the faint-hearted. Want to see more such videos? Head to our
Youtube channel
, and like and subscribe!