Long Term Review
Mazda 3 2.2d Sport Nav long-term test review – fourth report
This month, web producer Rachael Hogg defends the Mazda from critics of its appearance, and may have unexpectedly hit upon 2017's summer anthem...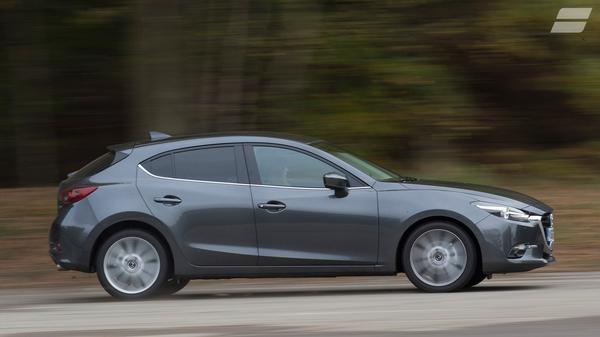 "I really like it, it's just a bit unexciting to look at." I've heard this more than once from my friends about my Mazda 3, and I always leap to its defence. Look at the other offerings in the class, for example - the likes of the
Volkswagen Golf
,
Ford Focus
, and the
Vauxhall Astra
. Each looks pretty smart in its own right, but it won't exactly set pulses racing: the Jeremy Renner of cars, rather than the Tom Hardy.
On the plus side, you won't see quite as many 3s as Golfs or Focuses on the road, so it has a degree of exclusivity. However, when it comes to hatchback design, things are pretty conservative across the class, and I do see where my friends are coming from when they describe the Mazda 3 as unexciting. Like them, I'm considered a 'millennial'. You know, that Generation Y lot responsible for all the world's ills, including the downfall of soap sales, golfers, and the napkin industry; not buying houses or cars; being in love with ourselves etc. etc. Most of my fellow millennials that drive live in cities or towns. They don't have the need for a big car, and perhaps more importantly, don't have the money for a big car. Instead, they drive around in one of the vast array of funky looking small cars currently on offer – things like the
Citroen C3
,
Renault Clio
, and in the future, I expect, the
new Seat ibiza
. No wonder my Mazda looks a bit tame in comparison. The message appears to be, If you want something a bit bigger and, in most cases, better to drive – a family hatchback – you have to abandon those funky looks. However, as I've said before, the Mazda 3 is a great choice for those who need practicality and refinement, but who still want something they can fling into corners with a bit of gusto. And, if friends of mine haven't necessarily been thrilled by how the Mazda 3 looks, they've certainly been more impressed by how it drives, and by the interior.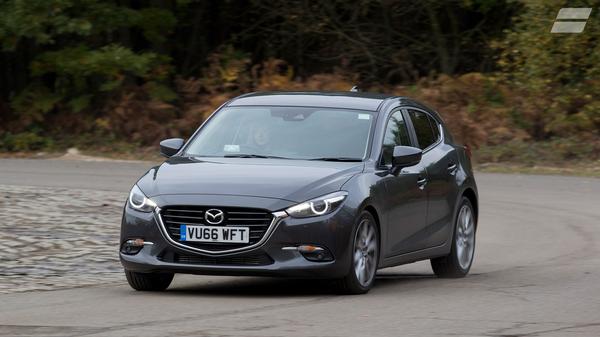 It helps of course that I chose Sport Nav trim, so there's a host of luxury extras including a head-up display (cue 'oohs' and 'aahs'), leather seats, a heated steering wheel which I can't stop using even though it's considerably warmer now, and as the name would suggest, a built-in sat-nav.
However, despite being impressed by how everything looks on the inside, the sat-nav in particular has caused a few annoyances. It's developed a bit of a habit for suggesting new routes – to avoid traffic jams or congestion – that are, well, a bit odd. I could have saved ten seconds the other day by changing a few metres on my route (no idea how), and was taken through the centre of Slough during rush hour to avoid… a quiet motorway. And, I really don't like being forced to go to Slough. On trips where the car has been five-up, everyone has seemed pretty happy in the back, including in the middle seat. Mind you. with many supermini-owners as friends, there is likely to be more space on offer in the Mazda than they're used to. The panicked cry from the sat-nav of 'speed camera', 'speed camera ahead', 'speed camera', 'speed camera' on managed motorways has also caused a few titters from people that don't have to put up with it all the time. The best was when it slotted in perfectly to a song I had on. The 'Mazda 3 sat nav speed camera jam' could be the unexpected hit of 2017. In rather more annoying news, the powertrain malfunction warning light popped on the other day, which means a trip to the dealer for me to find out what's going on. I'm not expecting it to be anything major, and the car's still driving the same as it was before, just with an added pesky spanner staring at me from the dash. Maybe it's trying to tell me something…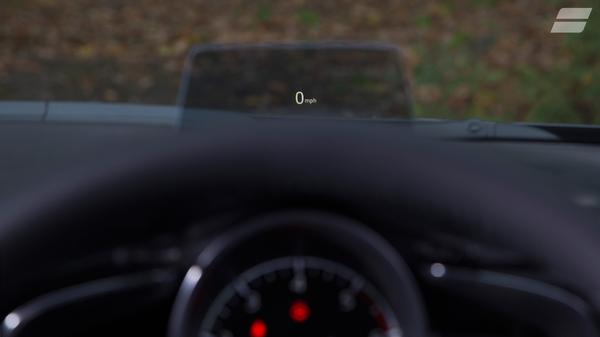 Key specs:
Model: Mazda3 2.2d Sport Nav
List price: £22,995
Price as tested: £24,665
Engine/gearbox: 2.2-litre, four-cylinder SkyActiv diesel
Power: 148bhp
Torque: 280 lb/ft
Top speed: 130mph
0-62mph: 8.1 seconds
Economy: 68.9mpg
CO2/BIK tax liability: 107g/km/21%
Boot space: 364 litres
Optional equipment:
An exhaustive list of everything fitted to our long-termer, and the price of each item:
Machine Grey metallic paint: £670 Black leather interior: £1,000