Long Term Review
Mazda 3 long-term test review – first report
Web producer Rachael Hogg is spending six months living with the sporty hatchback to see how well it can cope with the challenges of everyday life.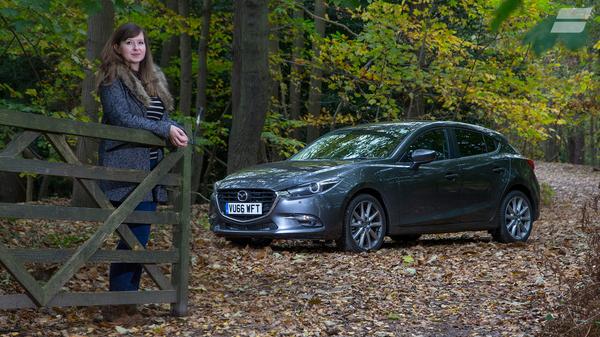 While it might seem that many people are jumping up to the bigger SUVs of the world, the sensible five-door family hatchback continues to be a very popular option among car-buyers.
When it comes to hatchbacks in the UK, there is an almost obscene level of competition. The obvious ones that jump to mind may be the Vauxhall Astra, Volkswagen Golf, Ford Focus, Renault Megane, Seat Leon, Skoda Octavia, BMW 1 Series, Audi A3, Peugeot 308, Kia Ceed… but perhaps not necessarily the Mazda 3. That's one of the reasons I thought it would make a great addition to our long-term test fleet. It's still a sensible and sophisticated family car, but enjoyable to drive and with a hint of exclusivity. While I may come across a bit middle-aged – well, most of the time – I still really wanted something that I was going to have some fun with. As I started to look at spec-ing my Mazda, I was pleasantly surprised at how straightforward it is, with SE, SE Nav, SE-L Nav, and Sport Nav trims available. Instead of the complicated process of picking a trim and then whacking on a load of individual options, you pick a higher trim level if you want more.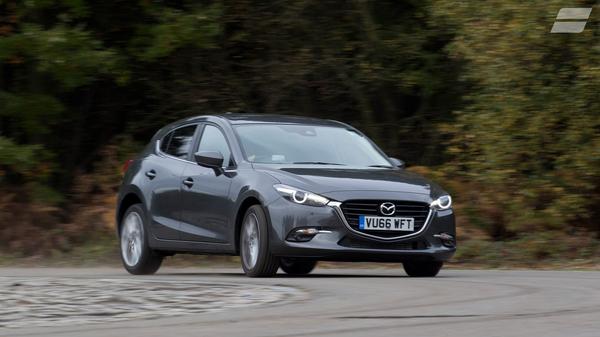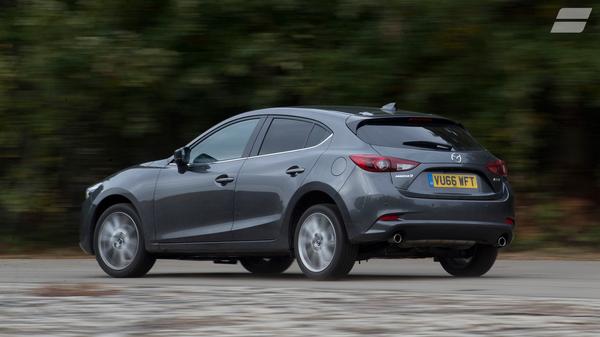 It's true that the Mazda 3 range doesn't have the lowest entry price for a hatchback at £17,595, but the SE trim that gives you does get a decent amount of standard kit, including 16-inch alloys, a 7.0-inch colour touch-screen display, Aha and Stitcher app integration, DAB radio, Bluetooth, stop/start, dynamic stability control with traction control, emergency stop signalling system, and hill hold assist.
But all that just wasn't enough for me, so I opted for the most powerful 2.2-litre diesel engine, paired with the top Sport Nav trim. On top of all the kit you get with SE-L Nav (which is considerably more than SE), you also get 18-inch alloys (which do look better than the 16-inchers), LED headlights with automatic headlight levelling and cleaning, LED daytime running lights and LED rear lights, adaptive front lighting, a reversing camera, and rear parking sensors. On the inside, you get a colour head-up display, traffic sign recognition, a digital speedometer, heated steering wheel, Bose sound system, and smart keyless entry. And I wanted it to look a bit different, so I've got the optional black leather interior, and Machine Grey metallic paint, which looks smart, but not in any way garish (I'm clearly still getting over spending the weekend with the '
Turbo Banana
').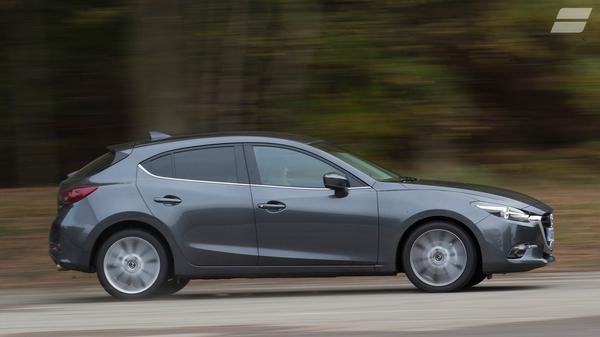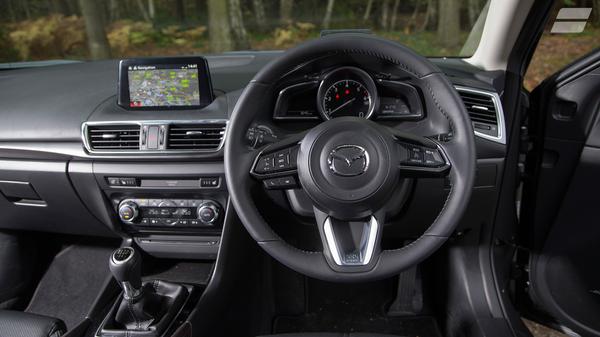 I've already spent a month with the Mazda 3 as the weather's turned, and first impressions are good. In particular, I'm really appreciating the heated steering wheel and heated seats. They may be a small luxury, but as one of those people who's always cold, and particularly loathes mornings, they make the chilly starts a little more bearable.
And as I've been excited about Christmas since about October, I have been taking full advantage of the nine-speaker Bose system, and blaring out Wham, Chris Rea, Shakin' Stevens et al. The sound is great, with clear high- and mid-range audio, but the bass is pretty full-on, so you may want to reduce it a notch or two. Over the next month, I'll be getting into the nitty gritty of how the car drives, and whether or not I've found any annoying niggles.
Key specs:
Model: Mazda3 2.2d Sport Nav
List price: £22,995
Price as tested: £24,665
Engine/gearbox: 2.2-litre, four-cylinder SkyActiv diesel
Power: 148bhp
Torque: 280 lb/ft
Top speed: 130mph
0-62mph: 8.1 seconds
Economy: 68.9mpg
CO2/BIK tax liability: 107g/km / 21%
Boot space: 364 litres
Optional equipment:
An exhaustive list of everything fitted to our long-termer, and the price of each item:
Machine Grey metallic paint: £670 Black leather interior: £1,000