Long Term Review
Mazda 3 2.2d Sport Nav long-term test review – second report
This month, web producer Rachael Hogg discusses how the Mazda 3 drives, and a few niggles she's found...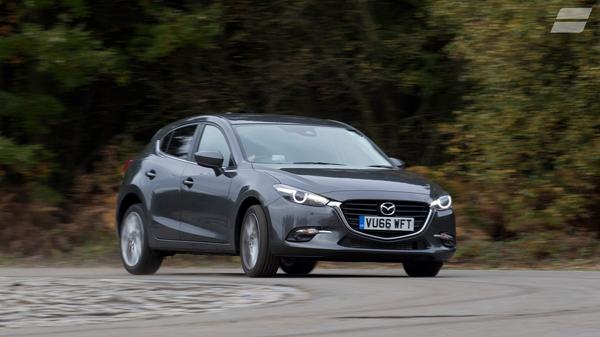 Month two has been and gone in the Mazda 3, and I've been clocking up the miles, with various festive trips up to Macclesfield and down to Swanage. That has meant a lot of motorway driving, along with plenty of twisty B-roads, so I've had a real chance to see how the Mazda copes on all fronts.
Above all, I'm glad I went for the 2.2-litre diesel engine. It's smooth, and pleasingly quiet at low and high speeds, at least in part thanks to a sound-deadening device in the engine that also reduces vibrations. However, despite all that effort to keep the engine hushed, there is some wind- and road noise at higher speeds. The engine responds well, too, so even when you need to overtake that person firmly plonked in the middle lane doing 60mph on the motorway, there's no need to drop a gear. And it's pretty fast, too, developing 148bhp and with a 0-62mph time of 8.1 seconds.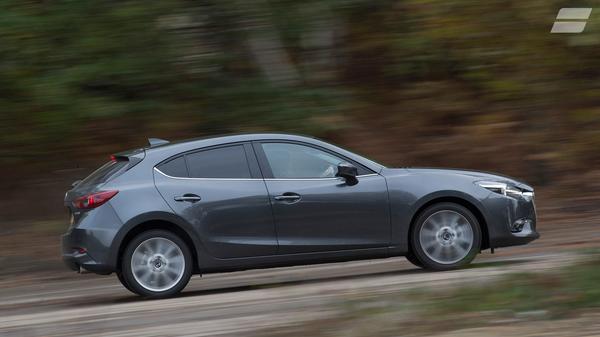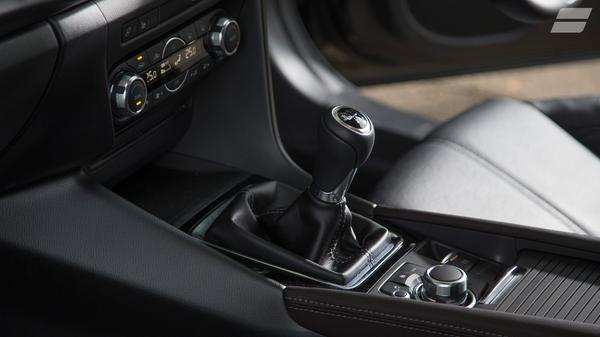 I really rate the steering, too: it's well weighted, and you never have to guess where the front wheels are going in the corners. The suspension definitely helps in this respect, too. It may be a little firmer than on your common or garden family car, but it's still comfortable and ensures the car stays nicely balanced when tackling the tight corners of the Peak District.
Speaking of corners, one interesting piece of tech on my car is Mazda's Skyactiv G-Vectoring control. This measures various things, including the steering angle, throttle position, and how quickly you're moving the steering wheel; and, when the system decides it's necessary (when turning into a corner, for example), it very slightly reduces the torque the engine is producing. This transfers weight to the front wheels, giving them more grip and improving cornering response and stability. Mazda says the effects of the technology are most pronounced in snow or on other low-grip surfaces, keeping the car going in the intended direction without needing loads of tiny steering wheel inputs. All this is in the pursuit of what Mazda calls 'Jinba-Ittai' – a feeling of unity between driver and vehicle (or, literally translated, 'horse and rider as one'). It's a very clever and effective system, and the only irony is that you can't actually tell from the driver's seat that it's working.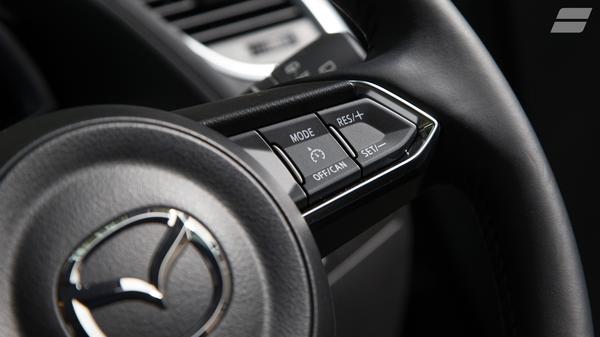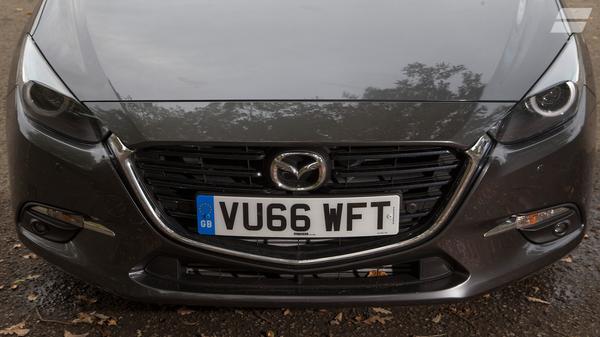 Niggles
The sat-nav is fine, once you've got used to it, but inputting a destination is a little strange. You have to click on 'town' when you want to put in a postcode, and 'select town centre' to navigate to that postcode; you also have to put a space into the postcode to make sure the system recognises it, otherwise you can't select the right place. And, it seems I'm not alone in finding this a little odd: quite a few folk on various Mazda forums have expressed frustration/confusion over these issues, too.
Once you're on the way, you may also get a little annoyed that, when the sat-nav is issuing instructions, the voice cuts out the driver's side speaker, and so much so that I thought it was broken for a while. That's especially fun when you're on a 'smart' motorway, and it's warning you of 'speed camera ahead', 'speed camera', 'speed camera ahead' every ten seconds, when all you want to do is to belt out your favourite tune while being sufficiently drowned out. Finally, although the Mazda hasn't got the biggest boot in its class (364 litres or 1263 litres with the seats folded down), I didn't have any problems with all my Christmas luggage, presents and all. I also successfully transported four adults – including two around the six-foot mark in the back – without too many complaints, although if this had been a long journey, I think I may have heard a bit more grumbling.
Key specs:
Model: Mazda3 2.2d Sport Nav
List price: £22,995
Price as tested: £24,665
Engine/gearbox: 2.2-litre, four-cylinder SkyActiv diesel
Power: 148bhp
Torque: 280 lb/ft
Top speed: 130mph
0-62mph: 8.1 seconds
Economy: 68.9mpg
CO2/BIK tax liability: 107g/km / 21%
Boot space: 364 litres
Optional equipment:
An exhaustive list of everything fitted to our long-termer, and the price of each item:
Machine Grey metallic paint: £670 Black leather interior: £1,000