Long Term Review
Living with a... Kia Sorento
Erin Baker and her family are spending six months with the Kia Sorento, to see how it copes with life with four boys and a new puppy.

Words by: Erin Baker
Last updated on 25 April 2019 | 0 min read
Month one: First impressions
Mileage: 2,331
Costs: £0 Ahhhhhh. The space! The space! The Kia Sorento is a big seven-seater. Big as in, with the third row up, space for seven adults and still enough boot to put a few shopping bags in, big. When you are a blended family and have four kids, it's the space wot wins it. We've been through most seven-seaters on the market. We adored the Volvo XC90, and the Land Rover Discovery, but by the time we got to the Hyundai Santa Fe, we'd had enough of trying to squeeze such a big SUV into the small parking spaces on our road. Then we tried a Land Rover Discovery Sport, which is really a five-plus-two and, for the first month, we loved our new-found freedom to park at will but, by month two, realised that in order to take anything with us, we had to use a top box, such was the lack of room inside the car. So it's back to 'big is best'. Especially as we're getting a dog next month, which means we need enough boot space for the mutt to lie down. What could go wrong with four young boys and an excitable dog in one car? Our Kia Sorento is a handsome beast, painted a very dark metallic blue which looks a glossy black in some lights, and is the only optional extra fitted to an already blinged-up GT-Line-spec car. GT-Line is near the top of the tree for trim levels and specification, with just GT-Line S above it, which explains why this car is pretty much ten grand more expensive than the base model. Tick the GT-Line box on the online configurator, and you get 19-inch alloys, an 8.0-inch infotainment touchscreen with sat-nav, DAB and a much-needed rear view camera (I wondered the other day how we survived for so long without parking cameras, then I remembered how much smaller cars used to be…). There are also front and rear parking sensors, Android Auto and Apple CarPlay, black leather seats with smart pale grey stitching, which really makes this interior seem a world away from what one might consider to be bog-standard Kia fare. Then there are the two front seats which adjust electrically in eight different ways, including lumbar support for the driver. The only thing we'd like to have nicked from the GT-Line S version, which sits above our trim level, is the adaptive smart cruise control. We just have your bog-standard cruise control. So far, after one month, we have no complaints about the way the Sorento feels to drive, or travel in from a passenger's perspective. It's not fast, but then the only way to make a seven-seat SUV quick is to give it a V8 engine and chuck fuel down its open throat at a financially crippling rate. As ever, we're getting nowhere near the claimed combined mpg figure of 46mpg: our best effort, a two-hour motorway drive at a sedate 70mph, produced 35mpg, which is fair to middling for such a large, heavy car. I feel like we can't complain too much, because this gorgeous premium interior has already been utterly wrecked by carting four young boys about in it for just one month. It's a salutary reminder never to order an interior with light materials. Kia's leather, however, is both soft and hard-wearing: we've successfully wiped off melted chocolate, dog hair and mud already. Just one complaint: the engine stop-start and auto hold functions. The Sorento's engine automatically stops when at a standstill in traffic, and restarts when you lift off the brake, as many do. But it's not the quickest to restart, and in the moment it takes for the engine to start, and car to move forward, it rolls back before it applies gear and throttle. If you come to a stop on a hill, the delay before the car moves forward is enough for you to roll back a considerable distance. If you don't want that to happen, you have to remember, each time you start the car, either to deactivate the stop-start function via a little button, or to press the 'Auto Hold' button. But who wants to do that each time you start the engine? As my partner says, under what circumstances would you want the car to roll back? Why do you have manually select these things? Argh. On the other hand, my partner is 6ft 1in and a big lad, and is enjoying the Sorento's space far more than that if the Discovery Sport. Big men need big cars, it turns out. We'll see how the rest of the family fares over the coming months.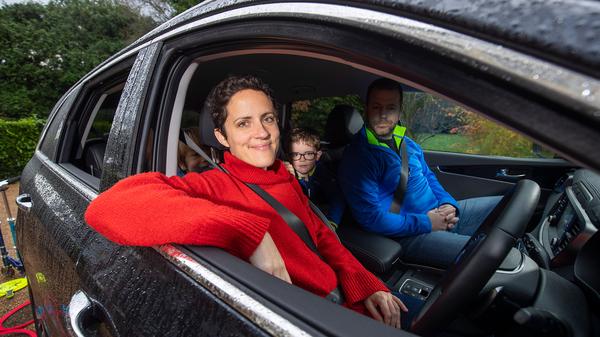 Month two: A new addition to the family
Mileage: 4,169
Costs: £0 We've gone from needing space for six – hence our seven-seater Kia Sorento – to space for seven. Our family has been joined by a two-month-old black Labrador. We drove from Kent to Norfolk to collect him last week (minus the kids), with a dog cage in the boot. With one of the two third-row seats folded flat, the cage fits nicely wedged on the floor by the remaining upright seat. Kia does a few dog accessories, such as a plastic mat to protect the boot floor, which we will investigate this month. I took copious wet wipes and towels in case of emergencies, but thankfully didn't need them. One great thing about the Sorento is its black leather, which looks smart but wipes clean in a jiffy – the interior has been thoroughly abused by the boys already, but after a hoover and a wipe with a cloth, the surfaces come up good as new. Continuing the animal theme, I've recently discovered the most important car accessory for rural dwellers – besides night-time vision and pedestrian detection systems which can be a pricey optional extra. Yes, it's the deer whistle. My mother has one fitted to the grille of her Audi A3 and is the only person I know near us not to have collided with a deer on the country lanes in the past year. You shove the device into the bars of your grille and it works at speeds over 35mph. When the air goes through the whistle, it emits a noise that in theory stops deer in their tracks so they don't bound onto the road as you drive past. I've just fitted one to the Sorento, so we'll see. The engine stop-start function is still driving us nuts, as mentioned in the first report: the car restarts quickly enough when you lift off the brake, but doesn't engage gear fast enough to move forwards in time. You're either left trickling out into traffic too slowly or, if on a hill, rolling back, at which point you have to reapply the brake before you can move off. The only answer is to deactivate stop-start at every junction. It's very tiresome. All that is a shame, because in every other respect this is the perfect car for us: relatively low list price and running costs, a seven-year warranty, loads of space and a little bit of premium feel from the leather, touchscreen, sound system, and heated seats and steering wheel (my god it's a wonderful invention. It's normally a pricey option, but it is standard on our GT-Line trim).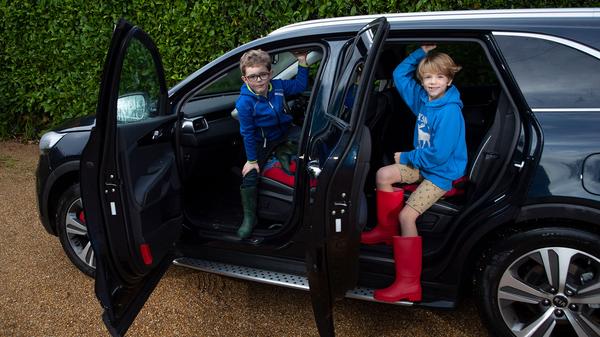 Month three: blame the dog
Mileage: 6,459
Cost: nearly £353 "Ooops" sums it up, I think. For the first time in 23 years' motoring, I lost the car key. I say "I"; obviously it was my partner who lost it. We still haven't found it. Something tells me the dog swallowed it. We discovered we'd lost it late one weekday evening. My partner and I both had urgent work meetings the next morning, plus school and dog drop-off. I phoned the RAC, Kia's breakdown service partner. I don't know why really; was just panicking. They said they'd tow the car to the nearest dealer, but it was late and the car was in our driveway. So being the pampered, spoilt, over-protected journalist I am, I texted the communications director of Kia, who was on holiday. Two days later, a fresh key arrived by recorded delivery. Which is why the above cost is a "nearly", because, if I'd been a proper person with a proper job, instead of writing about cars for a living, I'd have had to pay £353 and wait three to four days for a new one to arrive, courtesy of our local dealer. That aside, the car gets better all the time. We haven't had to spend any money on anything other than fuel and the odd tyre pressure check. It's still doing anywhere between 32mpg and 35mpg. I've been in and out of Ferraris, Mercedes, Land Rovers and Fords in the meantime, and every time I get back in the Sorento, I sigh with happy relief at the total ease with which you can drive it: light steering, thin steering wheel, simple automatic gearlever, good visibility, reversing camera, parking sensors, Apple CarPlay that never glitches… it's just such an decent all-round family car. Not that we've done it any favours: it's all right on the outside, but what is it about man's inability to take his rubbish with him when he gets out of the car? There are chocolate bar wrappers, school books, dog treats, empty Coke cans and broken sunglasses everywhere. It smells. Man blames dog. I blame man. We will have to get it valeted before it goes back.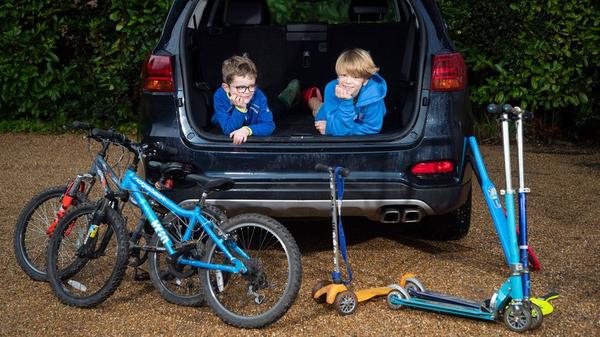 Month four: Time for a urea top up...
Month 4
Mileage: 9,859 Cost: £90 Apart from diesel, the Sorento seven-seat SUV has racked up a £90 bill this month, courtesy of an AdBlue refill and a roof rack. A warning light came on saying our 'urea level' was low. "Isn't that wee?", asked my partner, confused. Yes and no is the answer. If you Google 'urea', one of the first things that comes up is, "Can I just pee in the tank?" The answer, unsurprisingly, is no, despite Adblue and urine having the same essential ingredient. Sadly, you must visit a filling station and spend a tenner on ten litres of AdBlue, the solution which treats exhaust gases and removes harmful pollutants caused by diesel engines. The Kia Sorento takes 18 litres to fill it up from empty (refer to the handbook if in doubt), and our warning light said we had 500 miles left before the engine shut down. Best not to put that to the test, we thought. The AdBlue cans come with filling hoses to help you decant the solution into the small tunnel next to the diesel cap, and job done. Easy peasy: the Sorento's digital display even tells you how high the level is when you start the engine. And that pretty much sums up the usability of the Kia. Every time during our tenure that I've climbed out of something fancier, more expensive or more powerful and back into the Sorento, I've breathed a sigh of relief at its ease of use. The steering wheel is thin, light and linear in its responses, the automatic gear selector is the right size for my palm, and it's always a pleasure to sit up that high on the crowded school run. Also, we're a few months into our ownership, and we've gone through the muddy rigours of winter with it, yet the interior remains remarkably unscathed. When we deign to pass a hoover and cloth over it, it comes up good as new every time, despite four boys and a dog sometimes appearing to treat the interior more like a climbing frame than a place to sit. We did need to get a roofrack this month for taking the six of us, plus dog, to Snowdonia, camping. With the best will in the world, and the roomiest car, once six people and a dog are loaded in, plus a rucksack for each child, there's not a lot of space leftover for sleeping bags and wellies, so that all went in a box on top. Even with us all on board, there wasn't a murmur of complaint from the kids (or dog) about feeling cramped. There are very few cars on the market you can say that about, that don't either cost twice as much or look like a bus. We're starting to feel all warm and fuzzy about the Kia.
Key specs
-Model: Kia Sorento 2.2 CRDi GT-Line Auto
-List price: £30,225 -Price as tested: £38,040 -Engine/gearbox: 2.2-litre 4cyl turbo diesel, eight-speed auto -Power: 197 horsepower -Top speed: 127mph -0-60mph: 9.1 seconds -Economy: 46.3mpg -CO2/BIK tax liability: 161g/km / 37% (2018/19) -Boot space: 142 (3rd row up)/605 litres (3rd row down) Everything extra fitted to our long-termer: Premium paint: £615