Guide
A complete guide on practical driving test
The practical driving test is a chance for you to show off your driving skills on the road. But before you do so, find out everything you need to know about what all is tested on the practical test and how to prepare for it.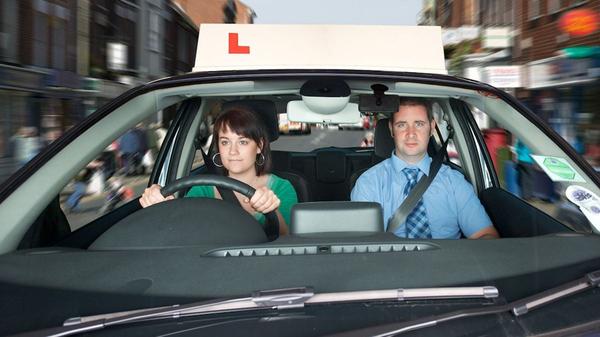 How to book driving practical test?
You can
look for a driving test centre
, closest to you and easily
book a practical driving test appointment online
between 6:00 am and 11:40 pm. You can choose the date and test centre of your choice from the available options shown on the screen.
You'll need the following documents: • UK driving licence number (found on your provisional licence) • Credit or debit card details • Driving instructor's personal reference number (if you want to check if they're available) You can book your test up to 18 weeks in advance. To book your driving test, you need to have spent at least 185 days in the last 12 months in England, Wales or Scotland. Evening and weekend appointments are not always available or offered, so check if your preferred driving test centre is offering this choice or not while making your booking.
How much does a practical driving test cost?
Can I change my practical driving test date?
You can reschedule your driving test appointment to an earlier or later date or change the test centre on the
Gov.uk website
You can make changes to your appointment up to eight times. If you still need to make changes after that, you'll have to cancel and rebook your appointment. If you need to
cancel your driving test
, do so a minimum of three working days before, and you'll get a full refund. You can also
check your appointment details
at any time between 6:00 am and 11:40 pm. If you're taking the driving test in Northern Ireland, you can
book your practical test online on nidirect.gov.uk
.
What to bring to a practical driving test?
You'll need to bring the following to your practical driving test:
• A photo ID, preferably a provisional driving licence • Your theory test pass certificate • Your instructor's or your own car • A face covering If you have a licence from Northern Ireland, you need to bring your photocard and paper counterpart licence. If you have an old paper licence (with no photo), you need to take a passport, as no other form of ID is accepted. If you have neither a licence with a photo nor a passport, you can't take the test and need to either update to a photocard licence or get a passport. Remember, if you don't bring the right documents, you'll lose your fee and the test won't happen. It's also handy to carry a warm jacket with you as you're required to keep the windows open at all times due to coronavirus.
What if I lose my provisional licence before the driving test?
If you lose your provisional licence, you'll need to
apply online for a replacement driving licence
before your driving test on Gov.uk.
You need to present your provisional driving licence at the test, so if you cannot find it and have not ordered a replacement in time you may have to re-arrange your test.
What if I lose my theory test certificate before the driving test?
If you've lost your theory test certificate, you don't need to apply for a replacement as the examiner checks your theory test qualification before starting your driving test.
If you don't have your theory test pass certificate number, you can
find it online on Gov.uk
using your driving licence number.
What happens during eyesight check at the practical driving test?
At the start of the test, the driving examiner will ensure you meet the standards of vision for driving.
During the eyesight check section, you'll have to read a new-style number plate from 20 metres away or an old-style number plate from a distance of 20.5 metres. If you need contact lenses or glasses, you should wear them to ensure you can see the required distance. If you can't correctly read the number plate, you will fail your driving test. The DVLA (Driver and Vehicles Licensing Agency) will be informed, and your licence will be revoked as you do not meet the standards for safe driving. You will have to reapply for your driving licence. To get your licence back, you'll have to take an eyesight test with the DVSA (Driver and Vehicle Standards Agency), at the driving test centre. If you're successful, you'll get a new provisional licence. You'll have to pass the standard eyesight test of your next practical driving test.
What are the 'show me, tell me' questions?
The examiner will ask you two vehicle safety questions. For one question, you'll have to show the examiner how you'd carry out a safety task (such as demisting the windscreen or switch to dipped headlights). For the other, you'll have to tell the examiner how you'd perform a safety task (such as testing the brakes work).
The 'show me, tell me' questions were introduced to the practical driving test on 1 September 2003. You'll get a minor driving fault if you get the questions wrong, but if your driving is dangerous, or potentially dangerous in the 'show me' question then you could fail your test.
Prepare for 'show me, tell me' questions?
For the 'show me, tell me' questions, you can be asked the following:
• How can you tell that the brakes are working? • Where can you find information on the correct tyre pressure for your car and how to check the pressure? • How should the head restraint be adjusted so that it provides maximum protection in case of an accident? • How can you check if the tyres have sufficient tread depth, and they're safe to be used? • How to check if the front and rear lights are working? • How can you know if the anti-lock braking system is working properly or not? • How can you tell if your car's direction indicators are working or not? • How can you check if the brake lights are working or not? • How can you check if the power-assisted steering are working or not before you start driving? • How and when do you switch on the rear fog lights? • How can you switch your headlights from dipped to main beam and how can you tell if they're switched on? • Open the bonnet and tell how you can check that there's enough oil in the engine • Open the bonnet and tell how you can know that there's enough engine coolant in the engine • Open the bonnet and tell how you can check if the hydraulic brake fluid is at a safe level You can find the answers to these questions online on
Gov.uk.
They also have some videos that show you what this part of the test is really like on the day of the test.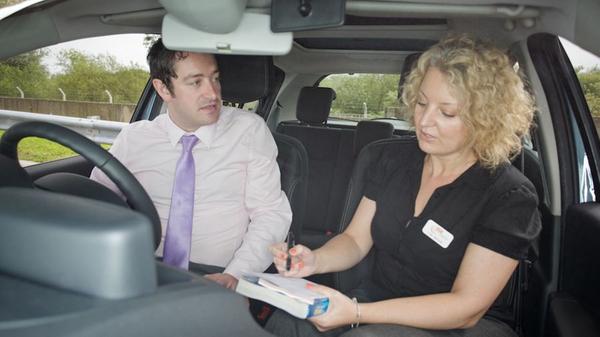 How is my driving ability tested?
To test your actual driving, the examiner will direct you where to go and will make you drive in different road and traffic conditions. The instructor will, however, not as ask you to drive on any motorways. This section lasts about 15-20 minutes.
Top tip: get in the habit of checking your mirrors as it shows that you're observant of your surroundings The driving route that the instructor tells you to follow will not be disclosed to you beforehand. Once you've booked your test and know which driving test centre you'll be starting from, you can start to practice local routes and get familiar with the roads you'll be starting on. During the test, you'll also be asked to pull over and pull away. You must prove you can safely park your car without the risk of danger to any pedestrians or other road users. This part of the test could include pulling over at the side of the road, pulling out from behind a parked vehicle, or a hill start. It may also include performing an emergency stop.
Common mistakes when pulling over:
• Don't hit the kerb when pulling over • When the examiner asks you to park, take your time and find a spot that is easy to park in • Don't try to park in a tight spot • Keep an eye out for any road signs that prohibit you from parking in that spot, for example, parking in front of a school entrance or in the cycle lane • When parking close to a junction, ensure that you're at least 10 metres away, facing the flow of the traffic and parking close to the kerb • Remember to secure the car once parked
If you're asked to perform an emergency stop:
• Make sure you have proper control of the steering wheel with both your hands • Quickly apply the foot brakes and get your car to a stop • Press the clutch fully to the floor to stop the car from stalling • Once the car fully stops, use the hand brakes and shift the gear to neutral
What does the 'reversing your vehicle' section include?
During this section of your practical driving test, the examiner can ask you to:
• Parallel park by the roadside • Park in a parking bay, either by driving in and reversing out (in any parking bay), or reversing in and driving out (in a driving test centre car park), • Pull up on the right-hand side of the road, reverse for about two car lengths, and re-join the traffic The examiner will ask you to perform only one of these tasks and will specify what to do. If another vehicle pulls up behind your car when you're reversing, and the vehicle stops you from doing so, the examiner will ask you to drive on and give you another exercise to complete.
Learn more about reversing errors and other commonly made mistakes along with how to avoid them.
Independent driving
This section of the practical driving test makes up for roughly half of the entire test.
You'll be asked to drive around for about 20 minutes. You'll have to either: • Follow route set up on the examiner's sat nav (you can't use your own sat nav) • Follow traffic signs to a specified destination The examiner will specify which one you have to follow. If you take the wrong route while following the sat nav, your test won't be negatively marked. Most learner drivers are asked to follow the sat nav and only one in five candidates are now asked to follow the road signs.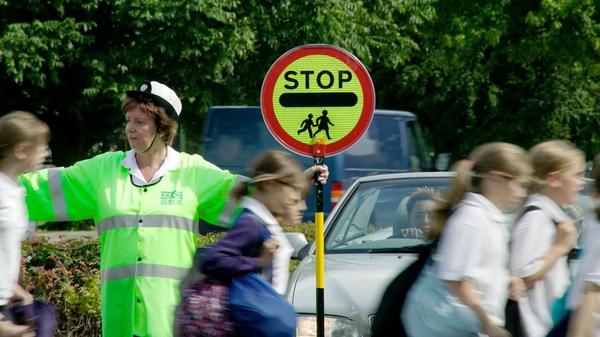 How long is the practical driving test?
The entire practical test lasts for about 40 minutes.
If you've been banned from driving before and are now attempting an extended driving test, the test be around 70 minutes long. Before the test starts, you need to fill in some paperwork related to the documents that you've to carry which takes another six to eight minutes to do. After the test ends, the examiner spends another two to four minutes telling you if you've passed or failed the test along with explaining if you made any mistakes during the test.
What are the pass marks for a practical driving test?
You'll pass your practical test if you make no more than 15 minor driving faults and no serious or dangerous faults.
What are minor faults? A minor fault is like a silly mistake that doesn't cause any serious harm or damage to the passengers, car or pedestrians. While up to 15 such mistakes are overlooked, any more than 15 will result in you failing the test. What are serious faults? A serious fault is when you repeatedly make the same mistake throughout the driving test or if you make a mistake that is potentially dangerous. Such faults are labelled as 's' in the test report sheet. What is a dangerous fault? A dangerous fault, labelled as 'd' in the report sheet, is when you're an immediate danger to the passengers or people close to your car like pedestrians, cyclists or other drivers. If your driving is too dangerous, the examiner might stop you and take over the car.
What to do if I fail my driving test?
If you fail your driving test once, you're allowed to re-take the test whenever you want. If you fail the test a second time, you have to wait for eight days until you can try again. If you fail three or more times, you have to wait a minimum of 29 days to re-sit the test.
You have to pay the full amount again if you don't pass your test and want to book another one. You don't need to re-sit your theory test again to re-take your practical driving test. We recommend taking some time out to practice first before resitting the test so that you're absolutely confident the next time you take the test. Showing your driving test report to your instructor can help them understand which areas in your driving need improvement for the next time.
Can I drive home after passing the test?
Yes, you can drive back after you've passed your driving test, as long as your car is taxed and insured.
The examiner will take your provisional driving licence from you, but your paper pass certificate will act as proof of your qualification until you receive your full driving licence.
What to do after you've passed your driving test?
Once you've passed your driving test, you'll need a full
car insurance policy
that allows you to drive without anyone accompanying you. It's illegal to drive without insurance, so always ensure you have the proper coverage.
You can put up P-plates on your car to tell the other drivers that you're a new driver. Although this is not compulsory, it's recommended as it can help you feel less anxious. If you want to improve your skills further and drive more safely, you can apply for the
Pass Plus qualification
.