First Drive Suzuki Vitara S first drive review
The Vitara normally trades blows with urban crossovers like the Renault Captur, Skoda Yeti and Nissan Juke but an ambitious price point for a new top-of-the-range model may prove a step too far.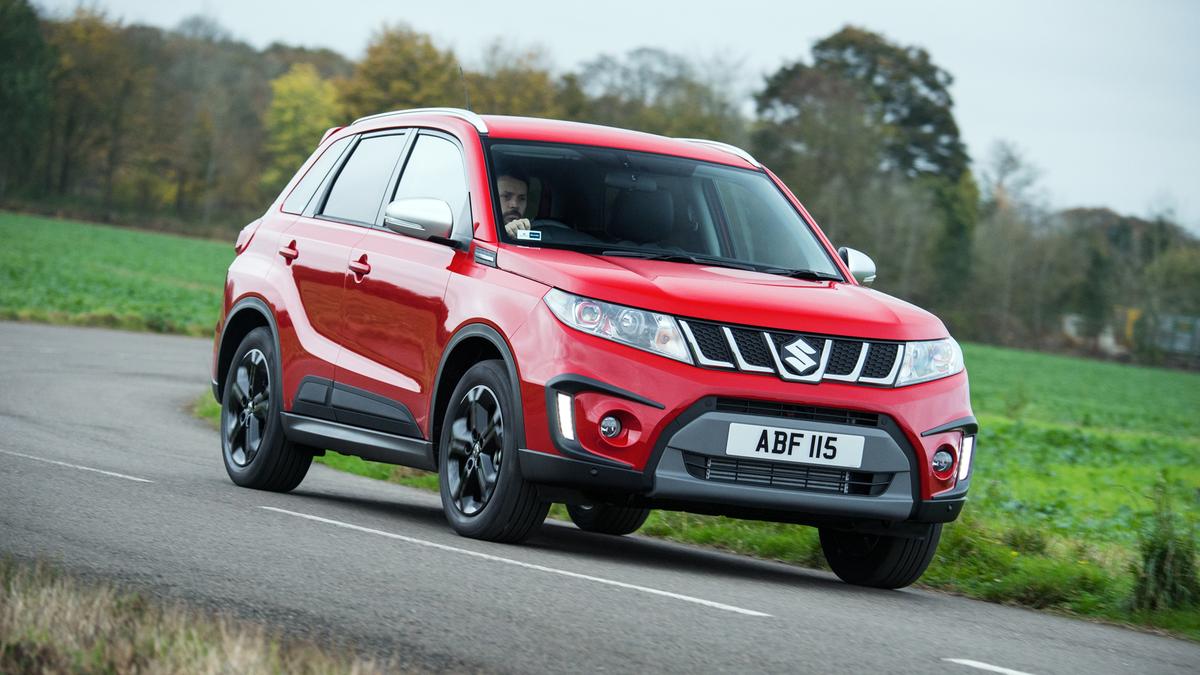 View gallery
Auto Trader verdict:
The Vitara has finally got the engine it deserves, giving Suzuki's crossover the verve to match its sprightly character. Unfortunately, as things stand, this turbo engine is only available with a top-end specification, which makes it a pricey proposition. This may prove prohibitive for many prospective buyers and also places the Vitara uncomfortably close to many more accommodating and more accomplished competitors. Match the engine to a more affordable spec, however, and all of a sudden, the Vitara will look like a serious contender. Over to you, Suzuki.
Need to know:
New 1.4-litre turbocharged engine joins Vitara range

Available only with top S specification

On sale now, with price expected to be around £21,000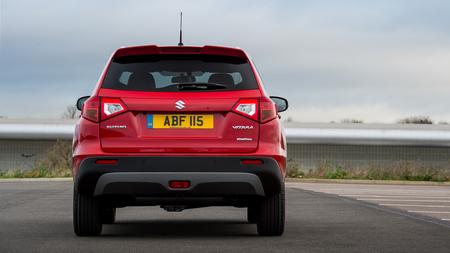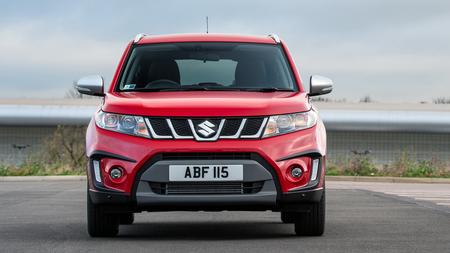 What is it?
Despite the obvious appeal of its contemporary styling and easy driving characteristics, the Suzuki Vitara always seems to end up getting damned with faint praise.

Perhaps it's simply that, despite all its virtues, there's not a lot whole lot about the Vitara to fire the imagination. Well, Suzuki is hoping that's all about to change with the Vitara S.

Complete with 1.4-litre turbocharged 'Boosterjet' engine (obviously someone's been reading too many vintage sci-fi comics), the S is the most potent Vitara to hit UK streets thus far.

That said, don't go thinking Suzuki's urban crossover has gone all 'street' and 'garage' on us. Despite the bigger bumpers, roof-mounted spoiler, chunky side-cladding and smoky 17-inch alloys, the meek 138bhp simpering under the bonnet pretty much tells you all you need to know about the mojo factor. Or does it?

What's it like?
Admittedly, these days, 138bhp is a pretty modest output for a 1.4-litre turbocharged engine – the equivalent Volkswagen motor produces 10bhp more, for example – but let's not get fixated on numbers, because what's more important is the way the Boosterjet delivers its power rather than its ultimate output.

Producing loads more torque than the previous range-topping naturally aspirated 1.6-litre petrol engine, the new turbocharged engine creates a solid band of power right from the get-go and maintains that forcefulness throughout the rev band.

That works in harmony with the Vitara's relatively light kerbweight, so the S seldom, if ever, feels underpowered; and, unlike the old 1.6, it never needs to be whipped until the valves pop to blow the Vitara's skirts up.

Simply flick the sweetly weighted six-speed manual shifter from sixth to third, give the accelerator a healthy shove, and you'll fly past slower-moving traffic with loads of breathing space to spare.

If you can't be doing with all that gear-stirring malarkey, the S is also available with a six-speed automatic transmission. It's a pretty slick unit, too, and well suited to the engine's strong torque band. With little discernible slur when moving off the mark, it shuffles up and down the gears with no obvious shunt or bumps.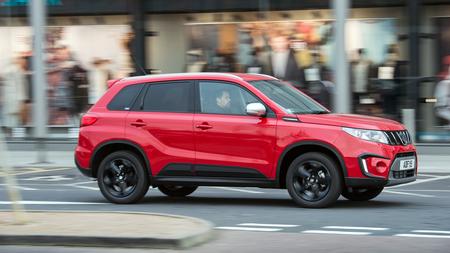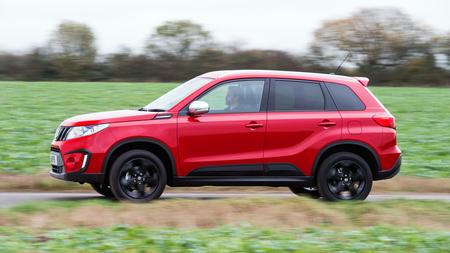 The S does get some mild chassis upgrades to reign in body roll and tighten up the Vitara's handling, but there's no need for alarm, as its still nowhere near hot-hatch firm.

If anything, it's the discrepancy between the way the front and rear wheels deal with lumps and bumps that gives the S a bit of an unsettled nature. Even when driving on fairly innocuous surfaces, you're readily aware of the rear end rattling around far more than the front.

If you fancy a spot of spirited action, the S's handling is reassuringly foolproof, with plenty of grip thanks to its four-wheel-drive set-up. This extra traction will no doubt also come in handy when the mercury plummets; and, together with hill hold and hill descent control, the S will drag you out of most sticky situations.

In common with a lot of Japanese cars, the Vitara doesn't seem to have much sound-deadening in its wheelarches, and as a result, there's a fair amount of road roar, which becomes quite pronounced at motorway speeds.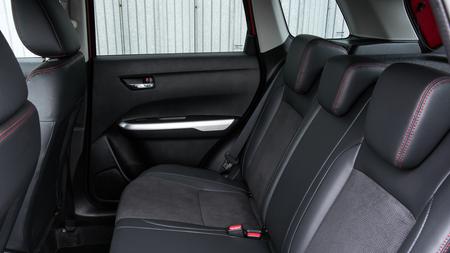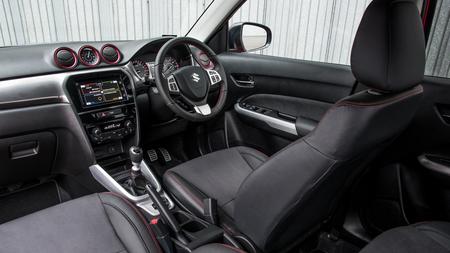 Despite the proliferation of 'robust' trim (we're being kind here), it is amazing what can be achieved with a little bit of imaginative interior design.

By using red stitching to coordinate the neatly proportioned front seats and chunky sports steering wheel, as well as employing some additional scarlet on the air-conditioning vents and instruments, the S's interior gains a real lift.

The exception to an otherwise logical dash layout is the touch-screen infotainment system. Finding the function you need is a bit tricky due to the way the menus are presented and arranged, and the screen isn't anywhere near sensitive enough.

The Vitara is far from cramped, but it's not as roomy or as versatile as some similarly priced rivals. There's enough head- and legroom to house four adults, but the narrowness of the middle seat – and the cabin as a whole – means shoehorning in a fifth will be a bit of a struggle. At least the boot is a decent size and there's a false floor that gives you a hidden storage compartment and helps level out the steps at either end of the load area when you drop the rear seats.

Besides, what the Vitara S lacks in space, it more than makes up for in terms of standard kit. How many cars at this kind of money do you know that give you radar brake activation, cruise control, sat-nav, climate control, LED headlights and keyless entry?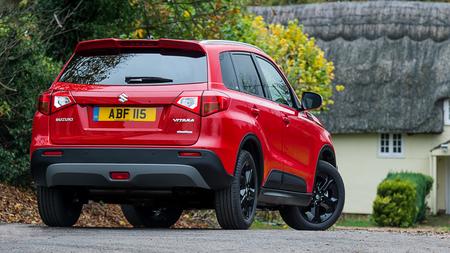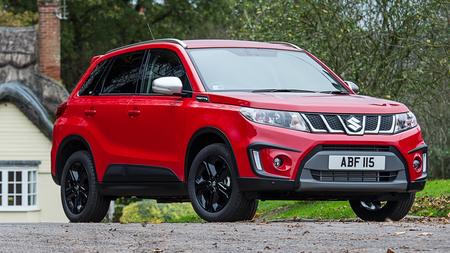 Should I buy one?
This is the engine that the Vitara has been crying out for to match its sporty looks and breezy driving character. It's no firebrand, but it is smooth, flexible and pretty economical, too. You also get loads of kit with S trim, but that hefty sticker price means it bumps up against some pretty auspicious opposition. Granted, you won't get four-wheel-drive, but for £21K, you could be driving a pretty tidy version of Nissan's highly polished Qashqai.
Key facts:
Model: Suzuki Vitara S

Price: £21,000 (tbc)

Engine: Four cylinder 1.4-litre turbo, six-speed manual

Power/Torque: 138bhp/162lb ft

0-62mph: 10.2 secs

Top speed: 124mph

Economy: 52.3mpg

Boot space: 375 litres
Also consider:
Nissan Qashqai
No rival can match the Qashqai's stunning mix of style, quality, practicality, refinement, comfort, efficiency and affordability.
Renault Captur
The Captur is particularly impressive on comfort, refinement and practicality; and, overall, it's one of the best of the urban crossovers.
Skoda Yeti
The sweet-driving Yeti is reasonably cheap to run, comes generously equipped and, when specced properly, it can tackle some surprisingly tough off-roading.
Interested in buying a Suzuki Vitara?