First Drive Peugeot 308 GTi 270 first UK review
Fast hatches have gone from sizzling to downright scorching recently, but where does the latest 308 GTi from past masters Peugeot sit in overall hot hatch hierarchy?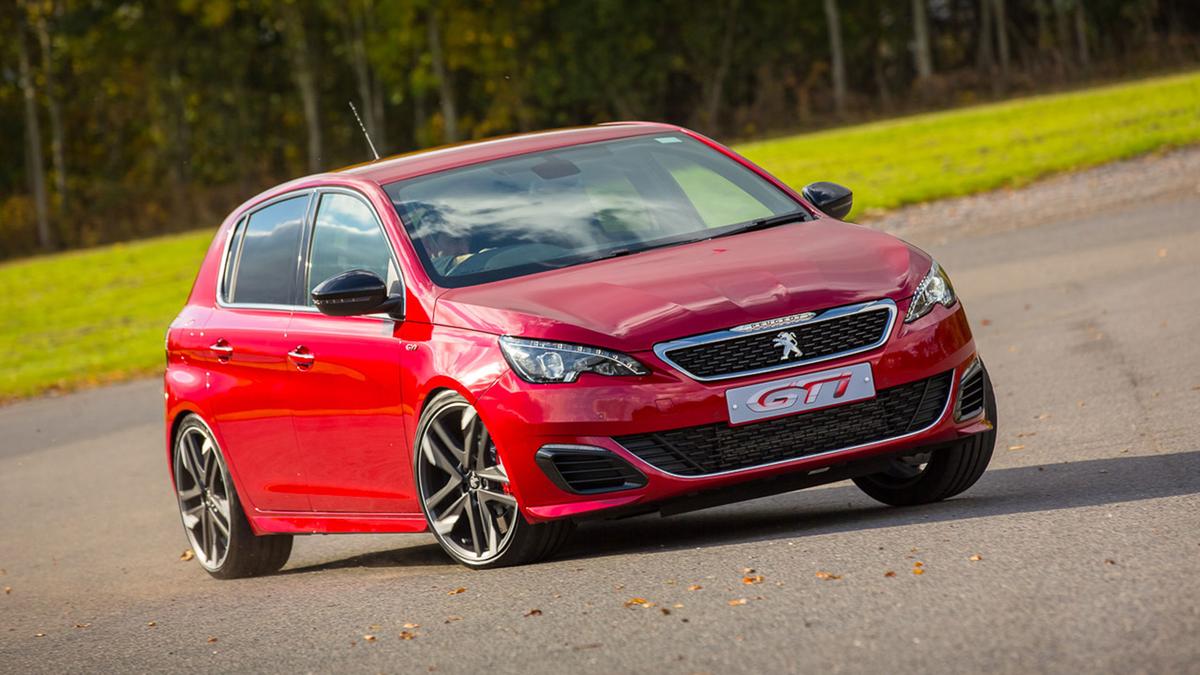 View gallery
First published: 16th February 2016
Auto Trader Verdict:
A striking hot hatch that neatly melds an appealing exterior, smart interior and finely judged dynamics. This is the best Peugeot GTi for a decade, and while not perfect, it provides a welcome, mature alternative to the hardcore, Nurbürgring-obsessed cars littering the top of the class.
Need to know:
Hottest version of new 308 GTi by Peugeot Sport

0-62mph in 6.0 seconds, limited-slip differential

On sale now, priced from £28,155 on the road
What is it?
Our first taste of what is currently the fastest 308 on British roads. The 308 is the best car from Peugeot for some time, so the ingredients for a decent hot hatch are all right there.

To give it its full title, it's the '308 GTi by Peugeot Sport 270' and the top rung of the ladder. The one you really ought to buy if you're thinking about something fast and French. Why?

Well, this version is the brand's full-fat take on a hot hatch, so it gets more power than standard GTi (270bhp, and from just a 1.6-litre capacity) bigger brakes, and that all important thing on anything this powerful and front-driven; a limited-slip differential.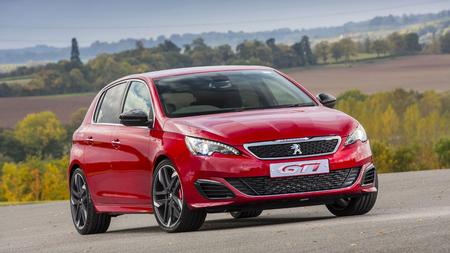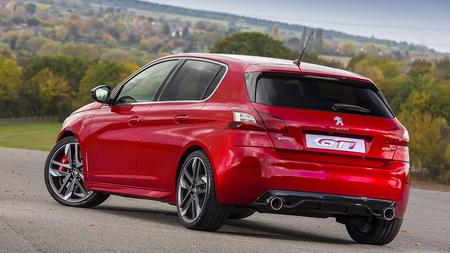 What is it like?
Now here is where it gets interesting. The latest crop of hot hatches, including the Honda Civic Type R, Ford Focus RS and SEAT Leon Cupra, are serious machines.

These are cars for people with a burgeoning interest in lap data, stickier tyre compounds, and racing harnesses. They are great for buyers who want to be seen too, with wings, and vents and spoilers, orange wheels and gaping grilles.

But has the current power war taken us away from what hot hatches are really about? Fast, fun cars that make you feel good about driving, but remain discreet, wrapped in the familiar costumery of an ordinary, practical family car.

Enter the Peugeot 308 GTi. Make no mistake, it's a really good looking car, with gorgeous two-tone wheels, twin exhausts and subtle skirts on the body work. Yet it also feels like a car for grown-ups, and you never feel a sense of embarrassment driving it, as you might in its rivals.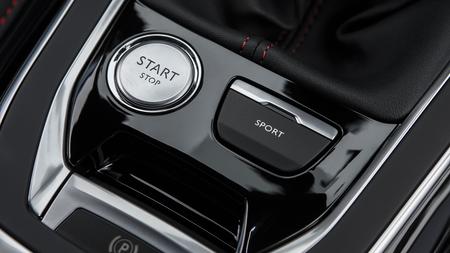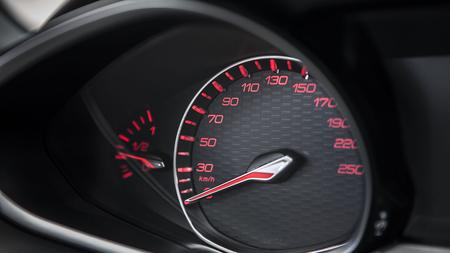 That sensible streak continues to the interior, which for the most part is nicely appointed, tastefully trimmed and a pleasure to spend time in. The 'bucket' seats in truth are pretty cushy, but thickly bolstered, and fine details like the metal gearknob and flat-bottomed steering wheel do just enough to get the pulse racing, without going overboard.

The real question of course, was what is the 308 GTi like to drive here in Britain? This country is fast becoming a Mecca for hot hatches in Europe, so if it doesn't perform here then the time spent on design and trim is for naught.

Fortunately, it delivers, and drives in a way that manages to be really engaging, while remaining just the right side of refined. On a sodden, frosty January morning, though, you do quickly discover the limitations of a front-drive setup.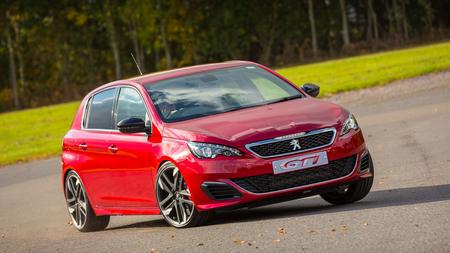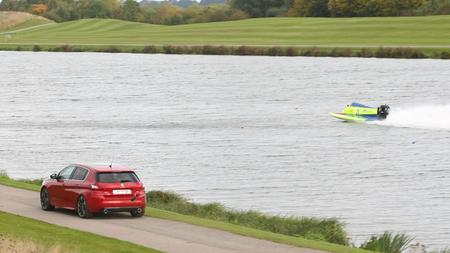 On cold tyres, get too greedy with the throttle and as the turbo kicks in you'll be managing the wheel spin - traction control light flashing - all the way to the top of third gear.

It's a great engine though, it feels rabid when it's wound up right, thriving on revs and forcing you to work your way through the six-speed manual gearbox with some speed.

It never feels as downright rapid as the current crop of 300bhp plus hatches, but it's not far behind. At normal speeds though it'll trawl along in a quiet, pleasant manner, but the large wheels do create a fair bit of tyre roar.

The handling is tidy too, with quick (occasionally artificially quick) steering giving it a darty feel, decent body control and just enough suspension travel to cushion the blows from any potholes or uneven crests and dips you find.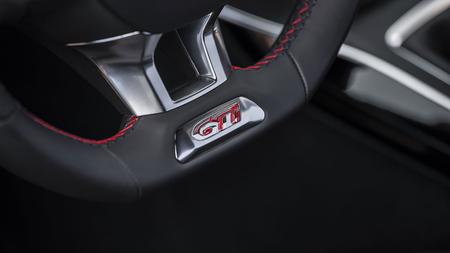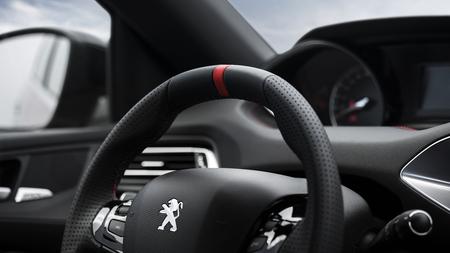 Push the 'Sport' button on the centre console and the dials flash red, the exhausts get rortier, and the Peugeot finally lets its devil out to play. Drive it fast though, and you need to be awake. The steering snatches left and right as it hunts out cambers in the road, it'll torque steer happily on half throttle, and you have to trust the diff to do its work.

Hook into a corner, start feeling the drag of understeer, and then keep your foot in and the differential will work to drag you round, but it's not as cultured or slick as the same type of diff you get in the Renaultsport Megane 275.

Other downsides? Well, in this hatchback guise the 308 has a massive boot, but poor rear leg- and headroom, a problem made worse in 'our' GTi by the bulky front seats and optional (£500) panoramic glass roof. Secondly, the infotainment system, which includes all the climate controls, infotainment and navigation, is slow to respond, and tricky to use on the move, and proved very distracting.
Should I get one?
If you want a hot hatch for the whole family, the Peugeot 308 GTi makes a very good case for itself indeed. Unlike more focused rivals it won't guzzle a tank every journey, shake your teeth out, or draw unwanted attention to itself.

However, while it's has an appealing blend of driving thrills (lift-off oversteer is alive and well at Peugeot) and creature comforts, the Golf R is a better, faster all rounder, and it costs just a bit more (which you'll get back when you sell).

Still, this hottest 308 GTi 270 is now good enough to be mentioned in the same breath as the fastest Golf, and that alone proves that Peugeot has definitely got its mojo back.
Key facts:
Model: Peugeot 308 GTi by Peugeot Sport 270

Price: £28,155

Engine: 1.6-litre turbo petrol, six-speed manual

Power/Torque: 270bhp/330Nm

0-62mph: 6.0secs

Top speed: 155mph

Economy: 47.1mpg

CO2/BIK tax liability: 139g/km/22%

Boot space seats up/down: 470/1,309 litres
Also consider:
Ford Focus RS
This 4WD beast has 342bhp, but costs similar money
Audi RS3
A similarly minimalist cabin, and a cracking engine too
Honda Civic Type R
Pulls harder and handles better, but looks quite extreme
Interested in buying a Peugeot 308?