First Drive New Fiat 124 Spider first drive review
Fiat got into bed with Mazda to produce the new 124 Spider. Has the love child been worth the charm offensive?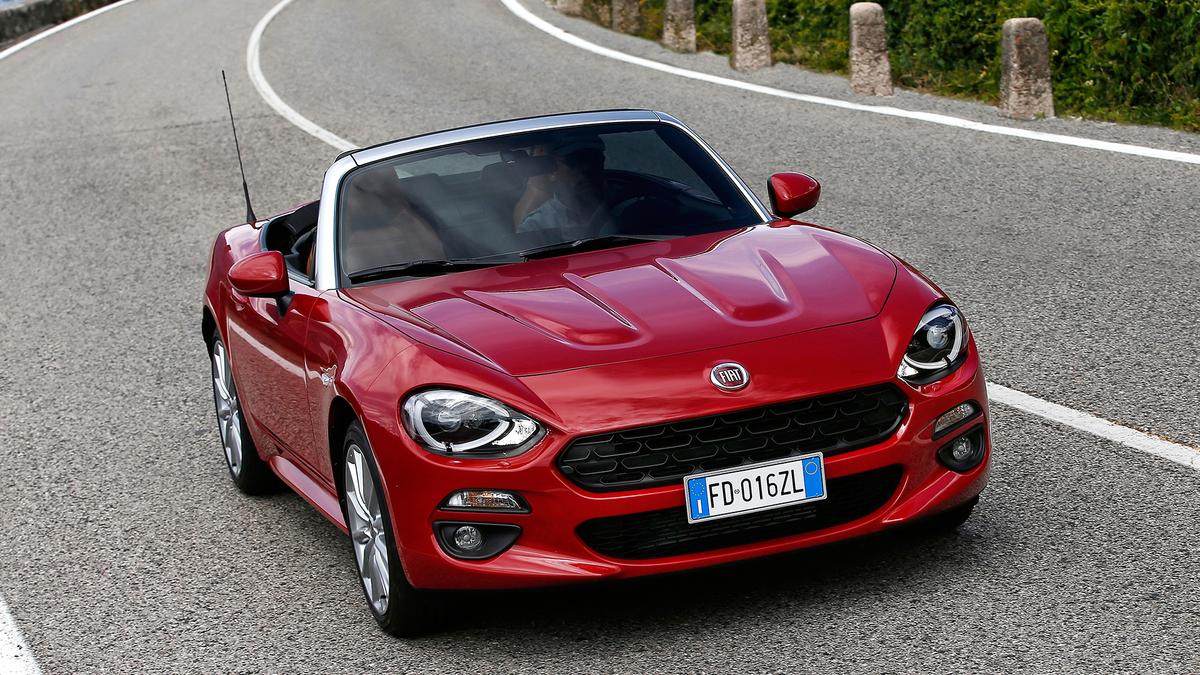 View gallery
Auto Trader verdict:
It may not be the quickest or the sharpest kid on the block, but the 124 Spider does provide genuine driving thrills at a very attractive price.

Yes, the excellent chassis is capable of handling a lot more performance than the little 1.4-litre engine can dish out – so we look forward to driving more powerful versions in the future – but, as it stands, on the right road, the 124 is still an absolute hoot.

Obviously, there's the spectre of the Mazda MX-5 lurking in the background, so we'd suggest you try both cars before committing. It can only be a win-win situation.

Need to know:
Japanese engineering meets Italian styling

Powered by a 1.4-litre turbocharged engine

On sale September; priced from £19,545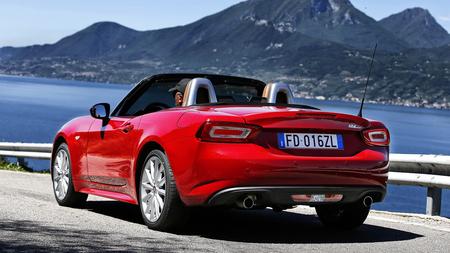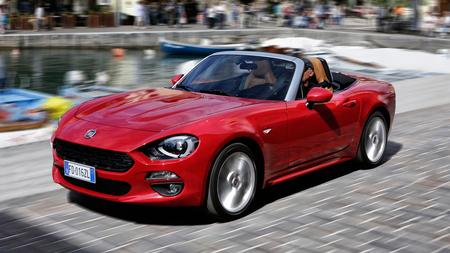 What is it?
Car manufacturers are thought of in many different ways, but kindred spirits is probably not a description that readily springs to mind.
All the more astonishing, then, that Mazda has agreed to hand over the underpinnings of its fabulous
MX-5 roadster
to help Fiat build the all-new 124 Spider. This philanthropic attitude is all the more amazing when you consider Mazda has effectively built an MX-5 dynasty and completely dominated the two-seat roadster class for decades, whereas Fiat has simply floundered in this sector.
You have to think back to the last time England won the World Cup to recall the introduction of the original 124, while more recently, the pretty-as-a-picture Barchetta fell from grace, spectacularly. Priced to compete against the MX-5, the Barchetta was based on the humble front-wheel-drive Punto hatchback and was available in left hand-drive only. To its credit, it did offer stylish, wind-in-the-hair motoring for the masses, but unfortunately, it also suffered from epic levels of body shake and variable valve timing failure.
So much for the history lesson.
Mechanically, the new Fiat 124 Spider is near-identical to the latest and much lauded version of the MX-5, but there are some key differences. Although the two cars run side-by-side down Mazda's production line, the exterior metalwork is completely bespoke, so they bear little visual resemblance to each other. The Fiat is also a smidgen longer and a tad wider around the derriere, so you get a slightly larger boot, but it's still only big enough to store a couple of overnight bags.
Additionally, instead of employing the Japanese company's 1.5- and 2.0-litre naturally aspirated engines, the 124 is powered by the same 1.4-litre 138bhp turbocharged engine that's found in the 500 Abarth. What's more, unlike the Mazda, which sticks with a six-speed manual transmission, the Fiat will be available with the option of a six-speed automatic gearbox when it launches a more powerful 168bhp version of the 1.4-litre engine later this year.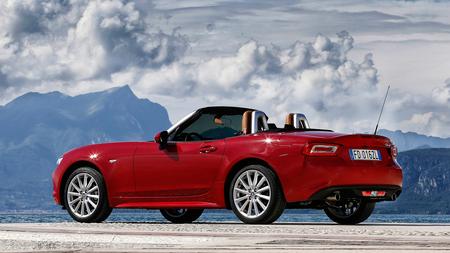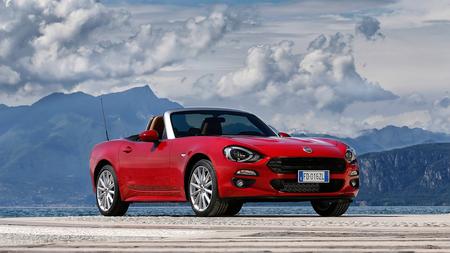 What's it like?
Well, pretty tidy, really.

If you're coming out of a motor with a metal roof, then it will take you a little time to get accustomed to the 124's low-speed body shake. To be fair, though, nearly every open-top car suffers from this affliction to a greater or lesser degree, and the 124 suffers less than most. Then, once you're over this initial 'surprise and delight', it's very easy to fall in love with the 124.

The shakes are especially noticeable at lower speeds with the roof down; and, even though the roof is fabric, it has a hard panel built in, which doubles as a tonneau cover when the lid is down, as well as adding some extra rigidity when the roof is up.

Once you're up to speed, though, even with the roof down, the various surface imperfections seem to have far less impact on the 124's equilibrium. Maybe this is because, once you're thrumming along at a decent lick, you're having far too much fun to notice the odd quake or two.

In isolation, the 124 doesn't feel as directly connected to the road as its Mazda cousin – only a UK-based twin test will prove or disprove this theory – but it's still a neat and tidy-handling car. With an inherent natural feel, it's easy to bomb along a meandering country lane, pivoting around the rear axle in a real old-fashioned, seat of the pants kind of a way.

At the same time, with a neutral front-to-rear balance and negligible body roll, it also feels incredibly light-footed. As a bonus, under heavy braking, there's little evidence of the body pitching forward and loads of stopping power.

Granted, the steering has a wee bit of a soft edge, but at the same time, it's quick and responsive, so the nose of the car follows your inputs faithfully and enthusiastically. As a result, there's no need to resort to whirling dervish-style elbow-flailing when tackling tight bends.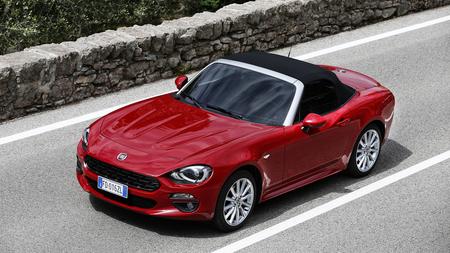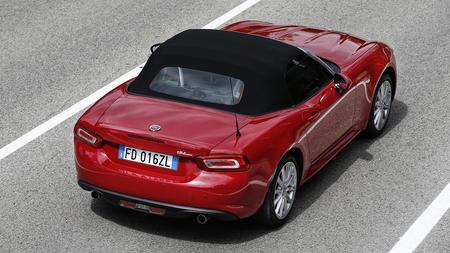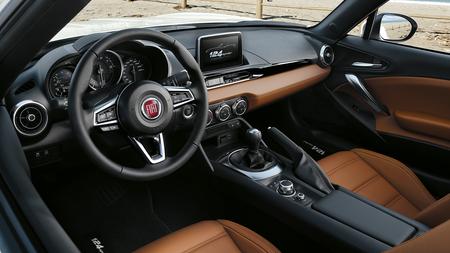 The car is also blessed with a very decent turning circle, something that'll no doubt come in handy when you need to a do a quick U-turn down the High Street.

Despite all this good work, Fiat may have dropped a bit of clanger by insisting on using its own engine.

On paper, the little turbocharged four-cylinder unit produces more torque than Mazda's naturally aspirated equivalent, but that's not really saying a lot. That's because anyone who has ever driven an MX-5 (of any vintage) will tell you that, although the engines are happy to rev long and hard, they're not exactly blessed with excessive low-end grunt.

Sadly, the Italian engine is also pretty dead below 2000rpm, before the turbo spins into life; and, what seems like an overly tall second gear means you often find the motor bogging down in traffic and particularly when encountering uphill hairpins. Equally, whereas the Mazda engine is screaming and goading you to thrash it ever harder, the Fiat's has flat-lined and effectively given up the ghost long before it reaches the upper echelons of the rev counter.

Inside, Fiat has lifted the cabin almost wholesale from the MX-5, and the only differences are a Fiat badge on the steering wheel, revised door panels and upgraded material for the dash.

The Fiat's cabin also has the same space-robbing bump as the Mazda in the right-hand footwell, and it's not overly blessed with legroom as the seats don't go that far back. Also, because the steering wheel can only be adjusted for height and the seats are short of lumbar support, if you're planning that touring holiday, then best try a few longer journeys to see how you get on before you setting off on your odyssey.
Should I get one?
The 124 offers a whole lot of style and no little substance for not a lot of money. It's a sharp-looking drop-head motor that provides barrels of fun and genuine seat-of-the-pants thrills.That said, it's clear the excellent chassis is capable of handling a lot more power than the little 1.4-litre engine can dish out.

Even as things stand, however, the 124 is worthy of any sports car fan's consideration, albeit with one proviso: ignoring the pint-size boot, ergonomically, the 124 will not suit everyone. Taller folk especially should take an extensive test drive to be sure they can live with the limited interior space and cramped driving position.

Key facts:
Model: Fiat 124 Spider Lusso

Price: from £22,295

Engine: 1.4-litre 4-cyl petrol engine, six-speed manual

Power/Torque: 138bhp/177lb ft

0-62mph: 7.5sec

Top speed: 134mph

Economy: 44.1mpg

CO2/BIK tax band: 148g/km/26%

Boot: 140 litres
Also consider:
Mazda MX-5
Up until now, the Mazda MX-5 was the default choice for drop-top buyers after something fun to drive and easy to live with. Now, though, we suggest you drive the 124 Spider before you decide.
Mini Convertible
The soft-top Mini is great to look at inside and out, and it strikes a good balance between driving fun and passenger comfort, However, it still produces more body flex than its two-seater rivals.
Audi TT Roadster
It'll mean pushing the boat out, but if you can run to it, the Audi TT Roadster is every bit as convincing as the Coupe. Consequently, you'll get bags of performance and sharp-handling fun.
Interested in buying a Fiat 124 Spider?