First Drive New 2015 BMW 730d M Sport first drive review
The BMW 7 Series has always been the most advanced car in the company's line-up, but the new one is even more hi-tech. We find out if it's ready to take on the Mercedes S-Class.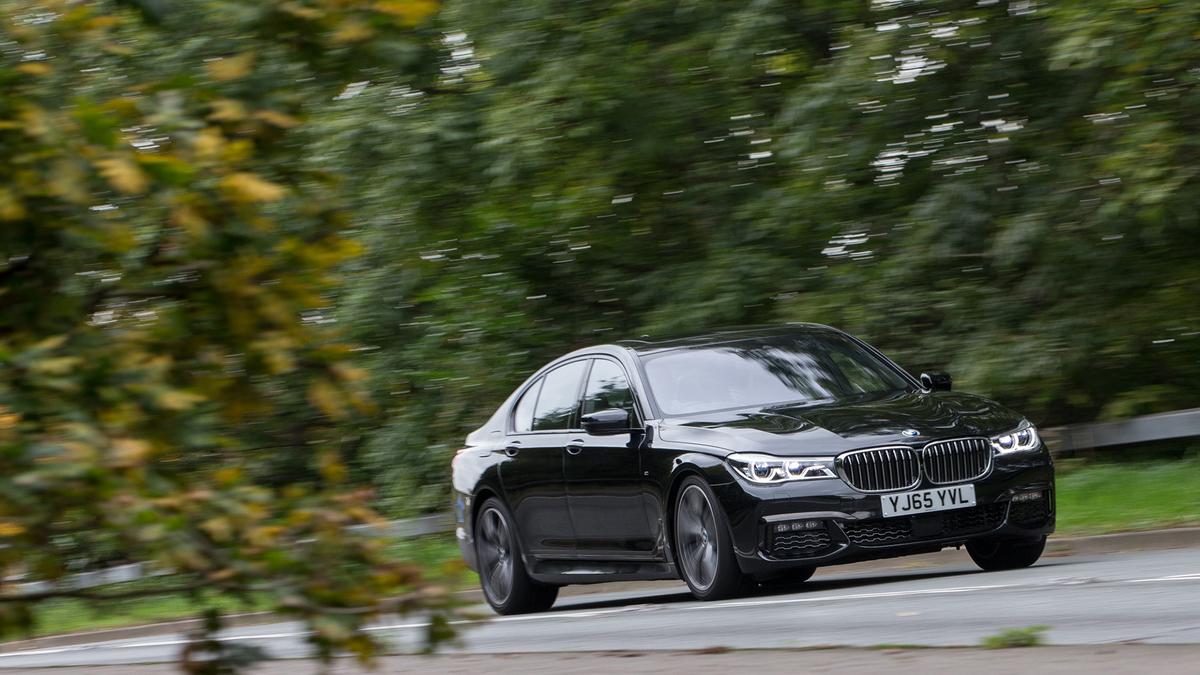 View gallery
First published: 23rd October 2015
Auto Trader verdict:
With this generation, the new 7 Series leapfrogs all the other contenders in the class, and becomes the de facto alternative to a Mercedes S-Class. Luxury, interior quality and kit all count in its favour, and some of the technological wizardry on show is plain brilliant. It drives nicely, too, but the firm ride still needs some work before we declare it the new class leader.

Need to know:
New luxury saloon now into its sixth-generation

Innovative new technology and incredible luxury

On sale now, priced from £64,530 on the road
What is it?
A fine return to form, and the sixth generation of BMW's executive flagship: the 7 Series. It takes a few leaves (probably a whole branch in fact) out of the book written by Mercedes, but also forges its own path, ushering in clever new technologies that are certain to trickle down to more mainstream models in a few years, and innovating in a way that really impresses.

Boundaries are being pushed wherever you look, starting with the integrated 'carbon core'; in other words, carbon fibre reinforced plastic (CFRP) being used to strengthen the chassis, using know-how from the i8. The 7 Series also features sci-fi gadgets such as gesture control for the infotainment system, laser beam headlights, and remote control parking via the touch-screen key fob.

The engine and powertrain are more conventional, though, with a 3.0-litre straight-six diesel engine (petrol options are available, and next year, a pair of plug-in hybrids and a big V12). The suspension has been revised, with self-levelling air springs all round to increase comfort levels for those in the back, and xDrive four-wheel drive is available for the first time on a 7.

Like most cars in this category, there are two different wheelbases available, so for a few thousand pounds extra, you can choose to increase the rear legroom by 14cm. This extended model comes with the option of executive lounge seating for maximum rear-seat comfort.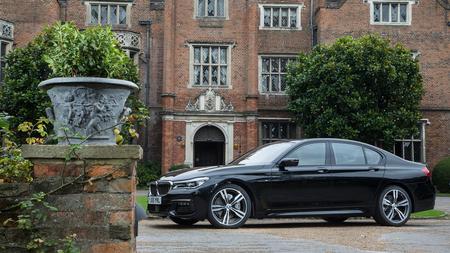 What's it like?
Stunning in parts, and a touch confused in others. The previous 7 Series was a long way off the pace – the pursuit of handling poise spoiled the ride, so it was too firm to compete with the S-Class as a limo, and arguably was less fun than the equally firm Jaguar XJ.

This time around, BMW has learned its lessons, and placed a far greater emphasis on the two things that matter most to the high-flying CEOs who are usually ferried about in cars like this: luxury and interior comfort. Ideas have definitely been taken from the S-Class, with metallic finishes on the switchgear, squishy Alcantara pillows for the back seats, and softly glowing ambient cabin lights in a choice of six colours all helping to put those inside at ease.

These changes help the new 7 Series look and feel like a big step up from both the 3 and 5 Series on the inside, with soft Nappa leather covering most surfaces, a wide choice of wood veneers (which manage to look smart, rather than dated) and plenty of tech on show.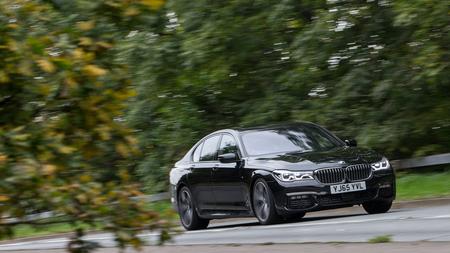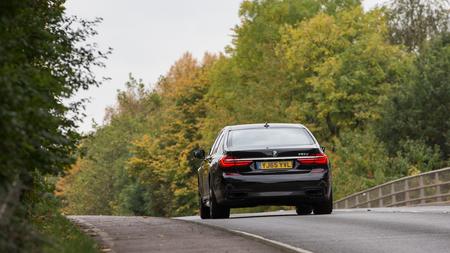 The exterior though, can still be accused of lacking real visual impact. Once you do get up close there is lots of fine detail to appreciate, from the huge grilles, which close automatically to improve the airflow and cut CO2, to the smart chrome swooshes down each flank.

However, from afar the new 7 still looks much too similar to its cheaper siblings – Mercedes starts at the top down, with the styling of the S-Class shaping the look of all the lesser cars in the range, whereas with BMW, it feels as though they have run this process in reverse.

Inside is a different story, though, and the new Seven arguably feels more hi-tech than any other new car this side of a Tesla. The newfound luxury elements are interwoven with some really innovative gadgets that push the boundaries of what's possible within a car.

That starts with something as simple as the key. Normally a humble fob, the Seven's key is integrated with a 2.2-inch touchscreen, so you can remotely preheat the climate control, check how much fuel you have left, or make sure you left the doors locked and the lights off without having to walk outside and check.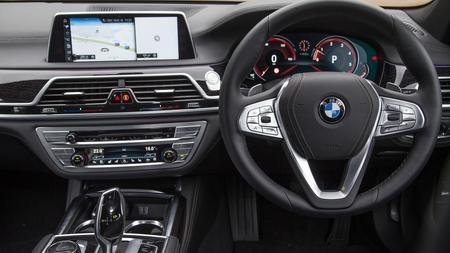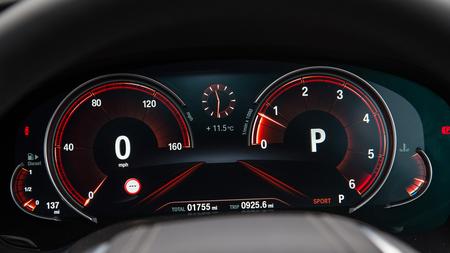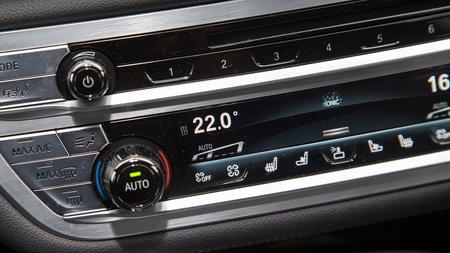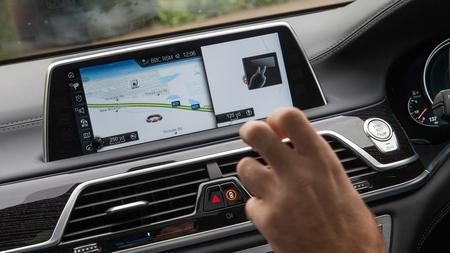 From next year, you'll also be able to use this key to park in narrow spaces; simply line the car up into a spot, stand next to it and press and hold the display key and your 7 Series will glide gently into place, making that awkward sashay through tiny gaps a thing of the past.

Another new innovation is gesture control. There is a small camera that can recognise preset hand signals, so you can twirl the volume up and down in mid-air, answer or dismiss calls with a nonchalant wave, or mute by simply waving your fingers. It feels like a gimmick, but soon becomes intuitive, and the novelty failed to wear off even after hundreds of miles.

The driving experience is, by contrast, more conventional than the technology on board. Power comes from the smooth, torquey, but familiar 3.0-litre straight-six diesel, with 261bhp. It's beautifully refined, and mates perfectly with the near-flawless eight-speed automatic gearbox.

Performance is brisk when you want it to be, too, with 0-62mph dispatched in 6.1 seconds, and an autobahn-ready 155mph top-speed to keep German customers happy. The ride, though, does feel rather like a case of history repeating.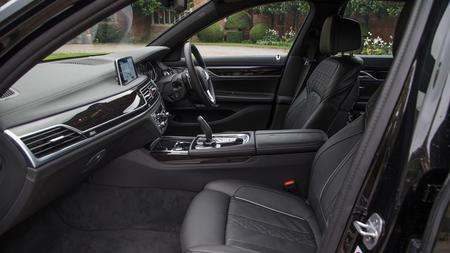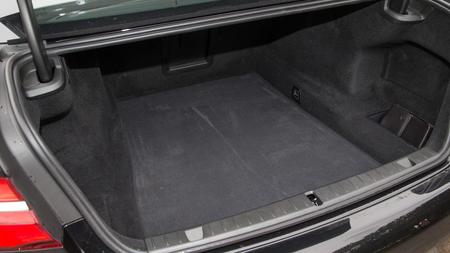 Yes, the new 7 Series is considerably more refined than it was before, and the standard air-springs make it pillowy soft on a smooth motorway. Rough roads, expansion joints and lower speeds all expose an all-too-familiar shortage of pliancy, though. Our test model wasn't helped by its optional 20-inch alloys, but the way it fidgets over pot-holes will still grate with anyone who has forked out close to £70,000 for the pleasure of sitting in the back.

The handling is certainly more satisfying than that of the average barge, with the steering, throttle and gearbox all getting progressively more urgent as you cycle through the various driving modes. In 'Sport', the 7 Series shrinks around you, allowing you to thread it down challenging and narrow roads with surprising accuracy for such a large car. Still, with this type of car, we'd trade some of this admittedly impressive dynamic verve for the magic-carpet ride offered by some rivals.

In other areas, the 7 Series passes with flying colours. It's longer than before, with a longer standard wheelbase than any of its competitors, so room in the back is really generous, and your passengers can be soothed with an array of optional extras, from a £410 tablet integrated into the rear armrest, to a heated massage, or even a waft of bespoke, in-car fragrances.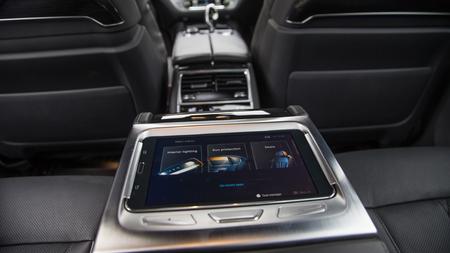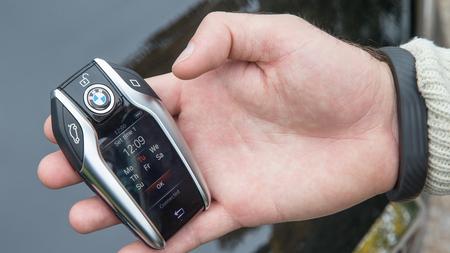 Should I get one?
There is not one area in which the new 7 Series hasn't significantly improved when compared with its predecessor. That alone warrants praise, but the 730d is an even more compelling proposition on paper. Prices for the rear-drive standard wheelbase car start at £64,530, several thousand below the equivalent S-Class, and you get a more generous kit list.

Better still, it returns a remarkable 124g/km (on 18-inch wheels) and claims over 60mpg on the combined cycle. While we struggled to get close to the official fuel economy on a long distance run, 40mpg is easily achievable in normal driving, without having to constantly drive in the ultra-conservative Eco Pro mode.

If you want a discreet, cutting-edge limousine that's good to drive, then the 7 Series ticks every one of those boxes. Still, if you want the ultimate in comfort and refinement, or to look like you've truly arrived, then the S-Class remains a better (but pricier) option.
Key facts:
Model: BMW 730d M Sport auto

Price: £67,400

Engine: 3.0-litre 6-cyl diesel, eight-speed auto

Power/Torque: 261bhp/457lb ft

0-62mph: 6.1 secs

Top speed: 155mph

Economy: 57.6 mpg

CO2/BIK tax liability: 129g/km/23%

Boot space: 515 litres
Also consider:
Mercedes S-Class
Current class leader beats BMW on image and luxury, but cost more to buy and run 
Audi A8
Cheaper than the 7 Series, but no where near as well equipped, nor as good to drive 
Tesla Model S
Not anywhere near as luxurious, but just as hi-tech, more powerful, and all-electric
Interested in buying a BMW 7 Series?